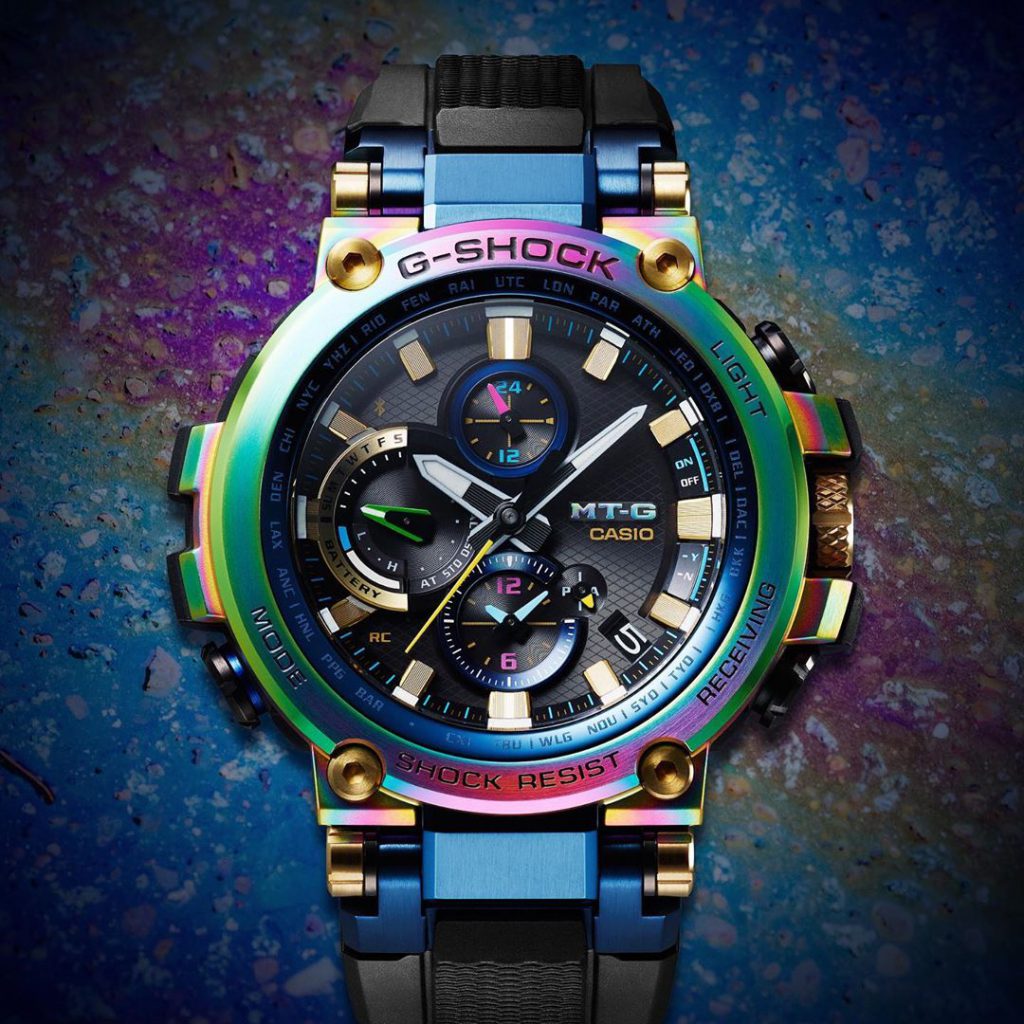 When the going gets tough, the tough get going – the recurrent theme that chimes in with Casio's perpetual mission. This year's Baselworld saw Casio raise the bar for its trajectory of material development, evolving from resin to metal and now, carbon, hailed as "The Third Toughness".
It was in 1983 that Casio introduced G-Shock, which developer Kikuo Ibe had dreamed of in "creating a watch that never breaks." Embodying toughness in addition to resistance against electric shock, gravity, low temperature, vibration, water and shock, it rose to become a universal favourite. The timepiece resonated among different generations, classes and ethnicities everywhere being durable and affordable. On top of that, it was also accurate, functional, and packed with Casio innovations and technologies that protect the internal components and suspended timekeeping modules within from being adversely affected by direct shock.
Significantly, its 36-year journey – G-Shock celebrated its 35th anniversary in 2018 – truly showcases the evolution of materials. From the first material of resin used for G-Shock's inaugural square-case 1DW-5000C-1A in 1983, with a resin surface offering superior shock absorbency, to the utilisation of metal as the second material starting with the stainless steel MRG-100-1 in 1996 and running the whole gamut that includes titanium and Cobarion, G-Shock now lifts the veil on its third material – carbon.
Tough yet lightweight, G-Shock's latest novelties feature a carbon fibre-reinforced resin case that forms the shock-resistant structure's core – Casio has christened this technology "Carbon Core Guard." Used in everyday objects like golf clubs and bicycle frames to cutting-edge ones such as racing cars, aircraft and rockets, carbon is deemed perfect for the requirements of G-Shock according to Takehiro Deguchi from Casio Computer Co.'s Strategic Marketing Department (Planning Section 1). It is a durable material like metal while boasting the design flexibility of resin. Essentially, it is multiple times harder, stronger and lighter than iron, besides being resistant against temperature, ageing and deformation, he added.
Casio's forte is always to equip its watches with high utility and technology quotients that match their design. The latest G-Shock watches are powered by a plethora of technological features such as watch functions on a smartphone app; solar-powered systems for acquiring time data with Bluetooth, which include radio-controlled and GPS-controlled functions, and smartphone link functions with automatic time adjustment, world time for over 300 cities, stopwatch, alarm setting and phone finder; LED lighting and more.
Ushering in a new era for Casio, these Carbon Core Guard-fortified novelties are absolute and distinct statements of timekeeping in and of themselves, as well as a notable affirmation of G-Shock's next level of toughness.
GG-B100 MUDMASTER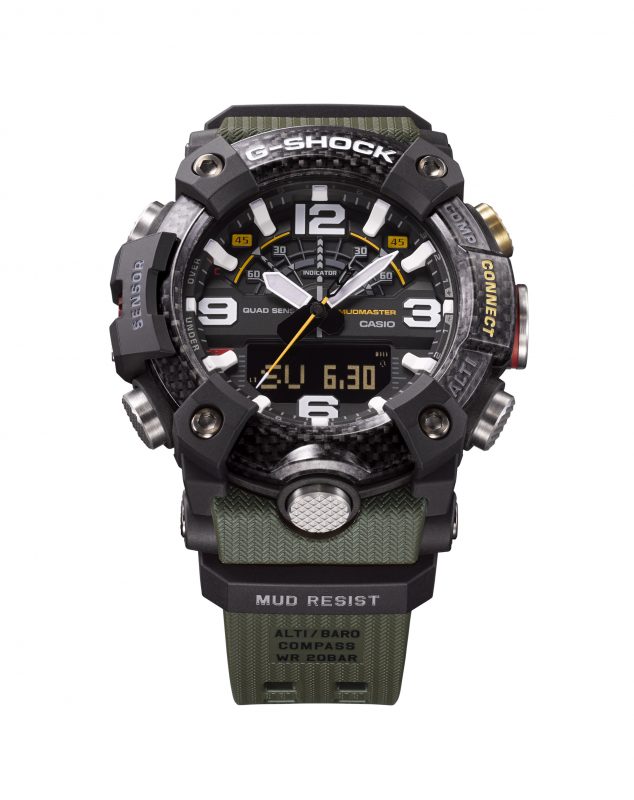 The timepiece's Carbon Core Guard construction is defined by a new, highly shock-resistant case structure integrated with carbon fibre. Its exterior design leverages carbon's toughness and lightness for a new structure of buttons that resists shock, and also a triple-layered carbon sheet-inserted bezel. After undergoing stringent tests including one involving ash from Mount Fuji, the watch is certified dust and mud-resistant. This watch is ideal for the outdoors and adventurous lifestyles as it withstands the punishing elements found in harsh environments. It is fitted with miniature sensors to measure altitude and atmospheric pressure; an accelerometer to count steps; a thermometer; mission log function; calorimeter; location indicator; thermometer and other useful functions geared towards those with an inclination for exploration.
GST-B200 G-STEEL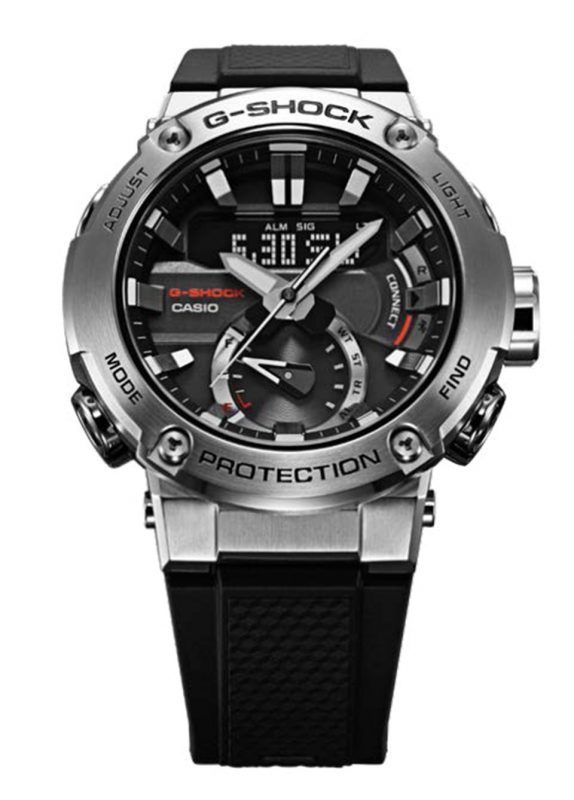 Also strengthened by a Carbon Core Guard structure, this watch testifies of how carbon is integral to a downsized case. The reason being since carbon is stronger than resin or iron, thickness can be reduced without compromising on toughness. This model features a larger face with more compact proportions – a dial measuring 2.8mm in diameter with a decrease of 2.6mm in overall size – compared to the previous G-Steel. Paired with a stainless steel bezel, this G-Shock is imbued with a sleek and stylish effect. Similar to the Mudmaster, it also features shock-resistant buttons.
MTG-B1000RB MT-G 20TH ANNIVERSARY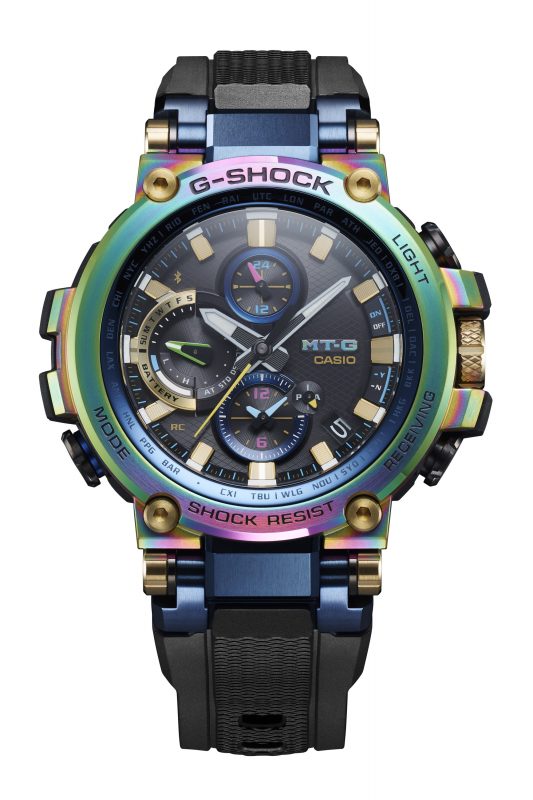 This striking watch with a rainbow IP bezel echoing a lunar rainbow formed by the light of the moon. Commemorating the 20th year after the creation of the MT-G range, each limited edition piece has unique colour gradations and together with the vibrant dial design, the timepiece emanates an otherworldly vibe with scifi undertones. Its Carbon Core Guard connection comes in the form of a box-shaped frame held by screws to link the bezel, case back and band with a carbon fibre-reinforced resin case.
GWR-B1000 GRAVITYMASTER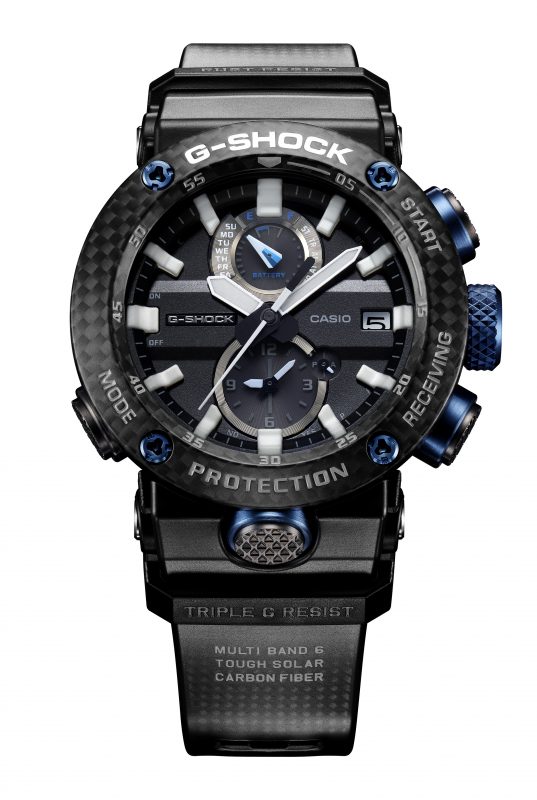 This aviation concept model's shock-resistant carbon monocoque case seals the case and back cover for airtightness. With this, the module is protected from impact, centrifugal and vibration forces due to gravitational acceleration. Together with titanium push buttons, carbon is used for the bezel and band resulting in a lighter and stronger watch – weighing merely 72g – that is further enhanced with resistance against damage and rust. A boost to comfort, the carbon fibre insert band is moulded into urethane resin to resist cut and tear. The limited-edition watch features a stopwatch with flyback function.
MRG-G2000GA GASSAN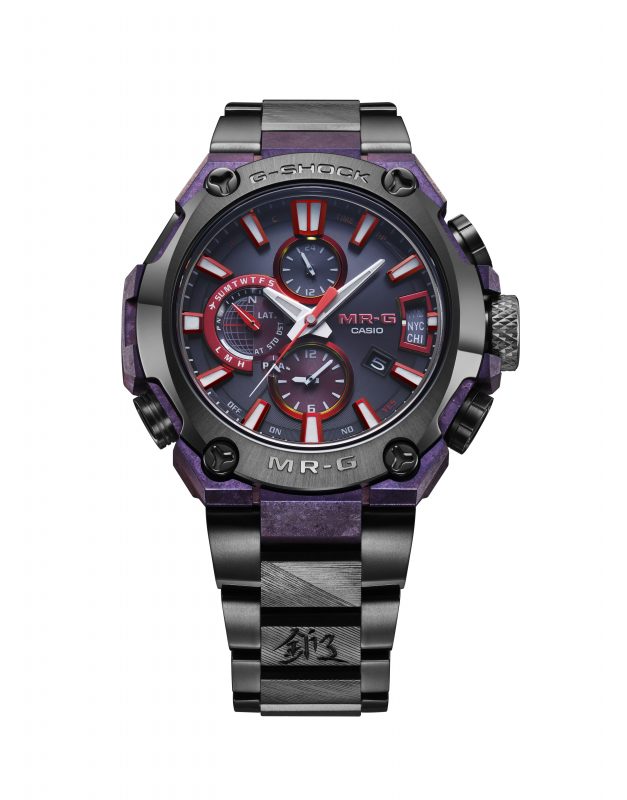 Though not of Carbon Core Guard construction, this limited edition follow-up in the G- Shock MR-G line deserves a special mention. Reflecting the traditions and beauty of Japanese craftsmanship, the model is distinguished for its "yasuri-me" (rasp mark) hand-finished bracelet by Japanese swordsmith Sadanobu Gassan, and a mirror-finish Cobarion bezel. Its recrystallised titanium case parallels the "nie" (iron particles) of a Japanese tempered blade. The colour purple pays homage to the Japanese "koki-murasaki" (deep violet) hue of heated and hardened steel. On the band's second central link is an inscription of the first character of the motto of the Gassan family, depicting the artful fusion of Japan's time-honoured skills with Casio's modern technologies.
By Tan Siok Hoon