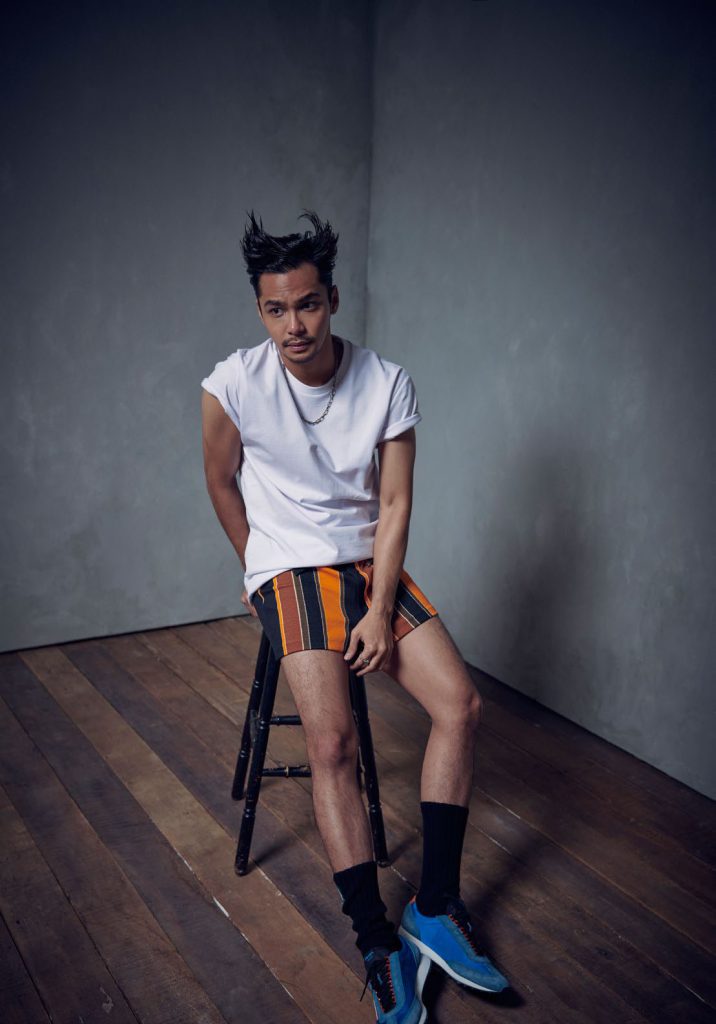 The perfect cover candidate for our "Obsessive" April 2019 Issue, Syafiq Kyle (@syafiqkylez) is "obsessed" with acting and one of the hardest working actors in Malaysian showbiz.
Now dressed in Salvatore Ferragamo and Cartier, the actor tells it as it is for our cover story – covering everything from love, passion, hate and his coming film "Nur 2".
Seven years ago, a 19-year-old Syafiq Kyle participated in Hero Remaja. That was when he got his first taste of serious acting, ultimately walking away as the first runner-up (he lost the top spot to Fattah Amin).
Syafiq admits that it was challenging competing against actors with more experience. Subsequently, he was only offered minor roles in dramas – but instead of raising the white flag – he took them on as opportunities to fine-tune his craft.
Fast-forward to today, the challenge for Syafiq is to find a good script. "You can be the best actor, but that doesn't mean anything if you don't have a good script to showcase your talent," he says. "This is why I love Nur so much; I love how the director [Shahrulezad Mohameddin] is able to find a way to create a huge impact on the audience with a simple storyline."
At the end of the day, work satisfaction isn't demarcated by whether it meets your expectation, but also that of your fans.
What is the importance of time in your life?
It is very important. I try to balance my personal life and my work schedule properly a week in advance; in between, I try to squeeze in things I like to do such as exercise. I prioritise them according to how important and urgent each task is. Besides that, I also have a monthly schedule prepared by my manager.
What are your secrets to keeping up with your busy schedule?
My incredible management team that is always supporting me and there for me whenever I need help. That's my one and only secret.
Your fashion must-haves are…
A watch, bracelets and sneakers.
Every actor whom I have spoken with has a love-hate relationship with the industry. Do you?
I think being in this business, you need to learn to "love what you hate" and be positive about it. I'm not hating it because I choose to be an actor so I have to be prepared to deal with the extra baggage that comes with it.
What are the traits of a successful actor?
Be humble. People will remember you not just for your hair colour, your face or your talent, but also because of your attitude.
I'm sure you have come across plenty of false rumours about you. how do you deal with them?
Just let them go. People will stop talking about them eventually.
Who do you look up to – and why?
When I was still new to the industry, I looked up to the seniors like Remy Ishak, Aaron Aziz and Rosyam Nor. I really wanted to be like them. In fact, I still feel that they are unbeatable even until today. I'm inspired by those who are hardworking and know what they want to achieve.
And who do you really want to work with but haven't yet?
I really want to work with Bront Palarae. I admire his work ethics – and he is such a great actor. Another person I dream of working with is Nam Ron – I respect him as a director. I feel that if I get a chance to work in one of his projects, I would be able to learn a lot.
You have starred in a lot of love films and dramas. What is your definition of love?
Love is about understanding. Only be in an intimate relationship when you are ready to be committed to one another.
Are you able to share with us your upcoming projects?
I would consider Nur 2 to be something big. The plot is more complicated than the first season and I strongly believe that people are going to like it.
Where do you see yourself in the near future, say five years from now?
Five years from now, people will see me doing more memorable dramas. And maybe at the same time, doing more films.
Read the full interview feature with Syafiq Kyle and see his full photoshoot with us in our latest Men's Folio Malaysia April 2019 issue, now out on newsstands, bookstores and online via magzter.com.
Credits:
Photography: Chintoo; Styling: Monica Mong; Hair: Chiaki Sabata; Grooming: Chu Fan; Assistant: Nawaf Rahman.