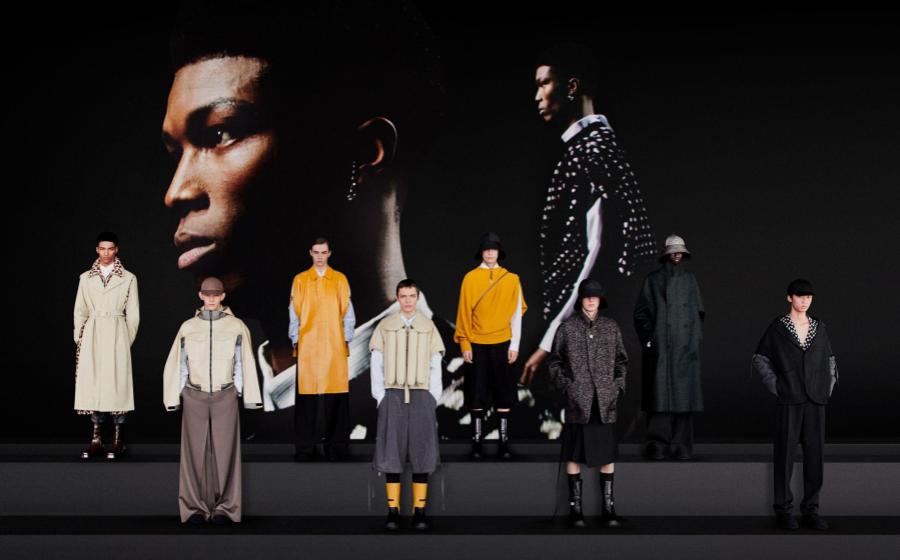 With close to five years of experience at Dior Men leading up to its Winter '23 show, Kim Jones has reopened an age-old technique for his most recent endeavour — to form ideas based on literature. Perhaps not just any form of literature, but poetry — a strategy that unfolded in a dimly lit venue in Paris late January this year, where hushed anticipation enshrouded what would become his most reasonable sentiment of fashion yet.
Huge screens relayed the resonant voices of Robert Pattinson and Gwendoline Christie, narrating the echoes of T.S. Eliot's haunting verses of "The Waste Land" — a five-section masterpiece of the poem, born from the embers of a post-World War I world. Finding its counterpart on the runway as a mere spectacle, it wove together echoes of the past, the pulse of the present, and a promise for the future. The symphony of a harmonised tradition that expresses the changes in times was conducted by none other than Jones himself. He captured the ephemeral beauty of Eliot's timeless poem with the house's storied history. The show was a nod to the revival of post-Dior after its founder passed, and a tribute to the rebirth of the house which was led by Yves Saint Laurent — the successor did so at the mere age of twenty-one years old. It was an embodiment of the exquisite marriage between tailored refinement and audacious modernity.
Water—both a source of life and a symbol of emotional depth—seeped into the narrative and undoubtedly the clothes. Among the most captivating were the Wellington boots and fishing hat, an unexpected addition that is aligned with the utilitarian fashion trend and perhaps a peek into fisherman fashion. The appearance of short-sleeve vests evoked the visual language of life jackets as their buoyancy pads playfully reimagine form and function. The theme of water flowed like a gentle river, connecting references to Dior's legacy and Jones' unique vision. The garments and their aquatic elements spoke to the fluidity of fashion as it constantly transforms its archives to the contemporary.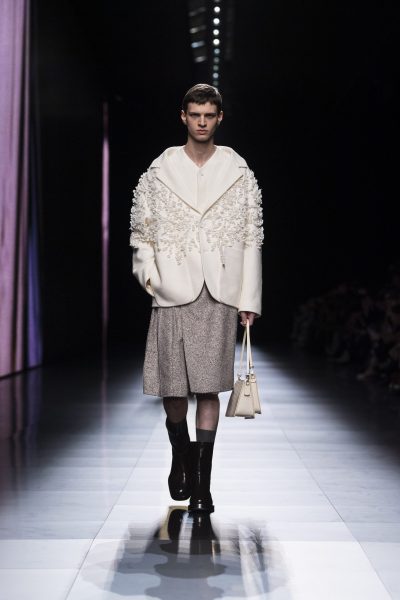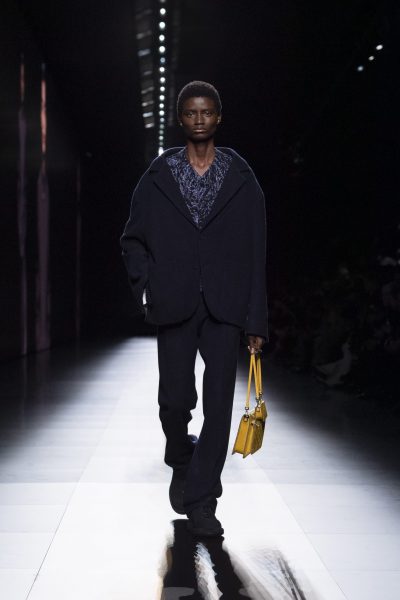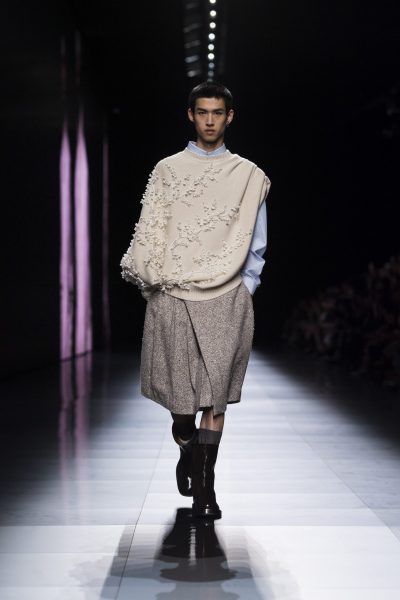 As the models paraded down the runway, a particular visual poetry unfolded as gauzy ribbons trailed off the backs of shirts, skirts, and coats, creating an illusion of movement and flow with every step. An overarching minimalistic colour palette of charcoal greys, deep navy blues, earthy brown tones that we are familiar with Dior, and pops of yellow and orange that are reminiscent of traditional fisherman workwear makes waves in this collection too.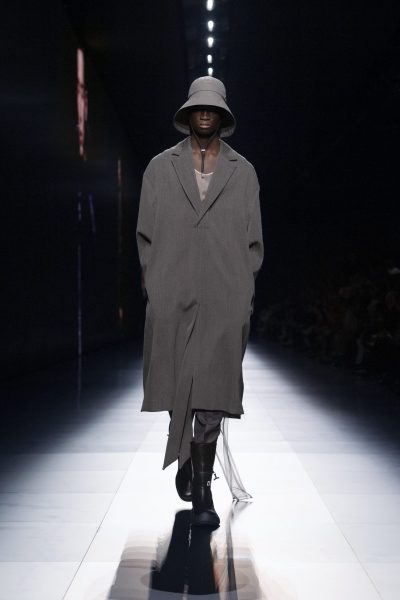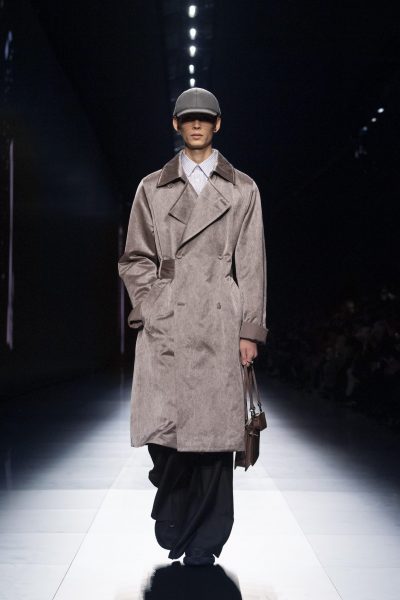 The tailored suits with single-breasted jackets, paired with oversized flowy trousers not only channelled Jone's style, but its silhouettes also echoed the codes of Christian Dior's womenswear designs. Jones while sticking true to himself, had preserved the overarching narrative. Wool tops with cutouts and open sleeves embellished with acacias were a repeated motif coupled with skirts, embodied by a slouchy silhouette which maintained a delicate elegance. These originated from Yves Saint Laurent's Dior collection archives and flawlessly translated into Jones' menswear psyche.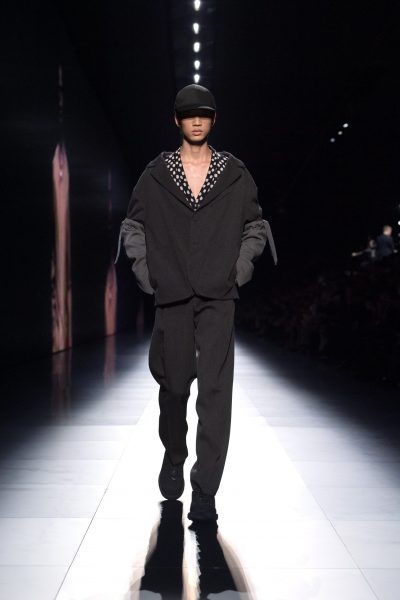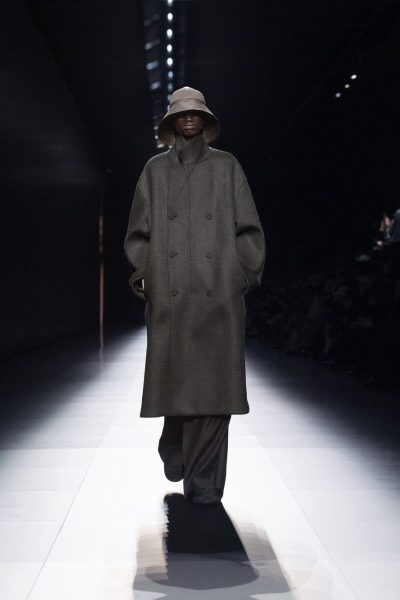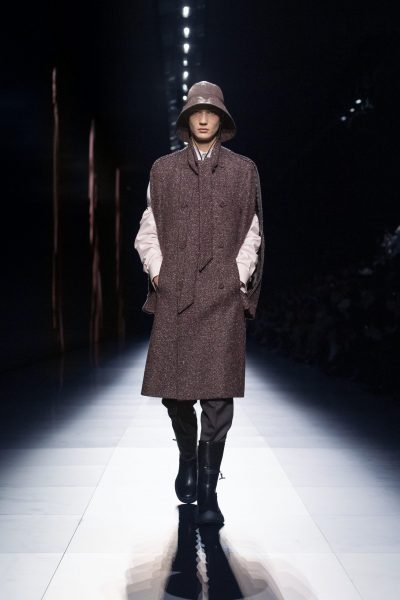 While the artistic director had taken Eliot's words and spun them into garments, he weaved a fabric of powerful emotions that replaced the usual music to resonate with our senses. This forged a profound connection with the garments and the two legendary designers, Christian Dior and Yves Saint Laurent themselves. The practice of seeking references from literature is an underrated yet inclusive approach of his — which was first explored in Fall '22 and not his last — allowing a diverse audience to seek connection. Furthermore, just as Eliot's words held depths within depths, the collection too, unfolded as a multi-dimensional narrative, inviting layers of interpretation as though clothes could become poetry as well.