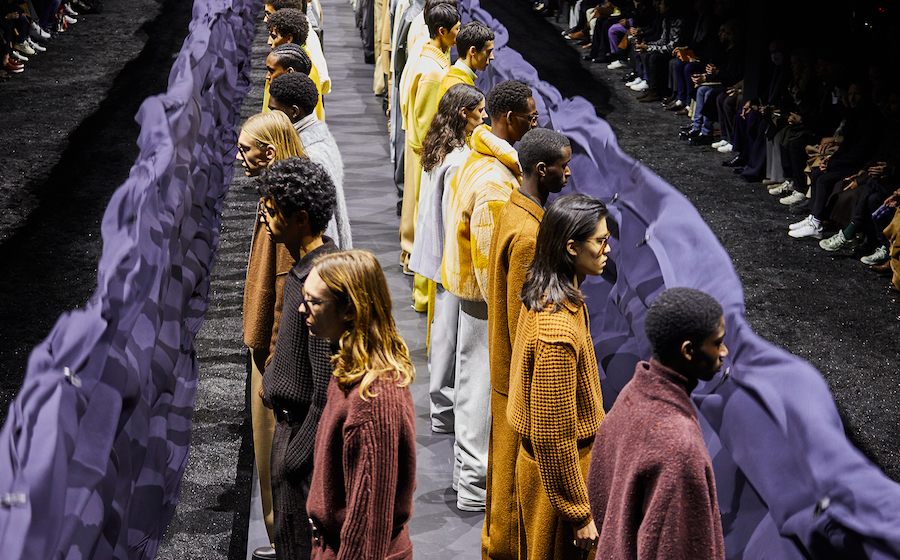 Where peers find impact in first impressions, ZEGNA's FW23 menswear show triumphs in the revelations of study instead. Artistic Director Alessandro Sartori began his tenure at the Italian House last season focusing on shapes, silhouettes and textures, and this presentation did not veer off course. In fact, it further clarified his stance on sustainable design — only this time by many-fold a humble fibre.
While defining sustainable design is a big feat, Sartori's sophomore show challenged it head-on and with finesse. In a proud display of transparency, a room on the runway revealed a crucial yet often-unseen process in producing Oasi Cashmere — evidence of pride in the House's vertically integrated system at Oasi Zegna. It's a message that says, "every one of our gears is accounted for, so there is nothing to hide. So here is our work served in honesty and ease, attitudes that will sustainably pillar and guide the looks to come."

With this calm state, Sartori could lean into the finer feats of design, weaving the decorum and structure of formalwear directly into fabrics. From fibre alone, we got everything from double-faced jacquard melton, coated and uncoated bouclè, to frisè jacquard, felt and jersey. Held and not fixed, with movement in mind. Then, harnessed from #UseTheExisting sources is a supplementary feature of alpaca, cotton-blend corduroy and tactile wool twill; pieces of fabric are transformed into blazers, cropped bomber jackets, elongated coats and blousons — poised for both presence and performance.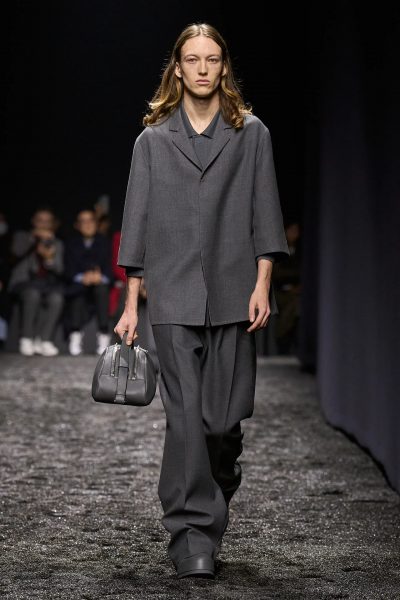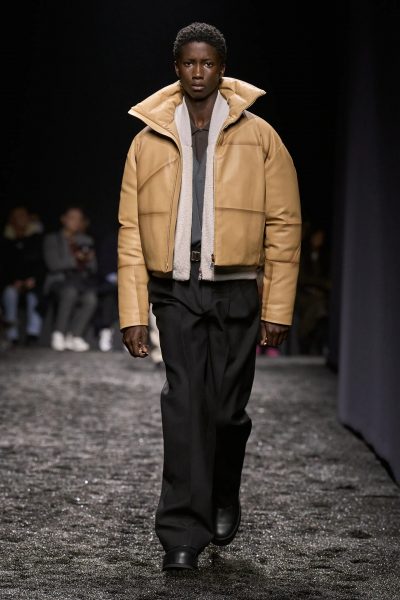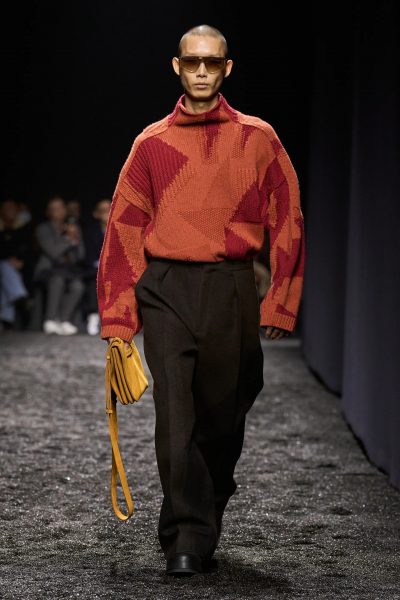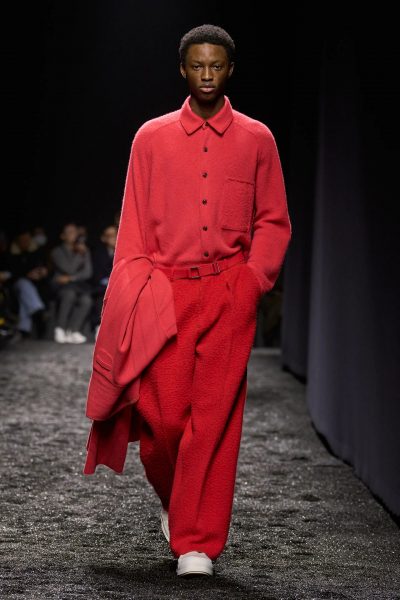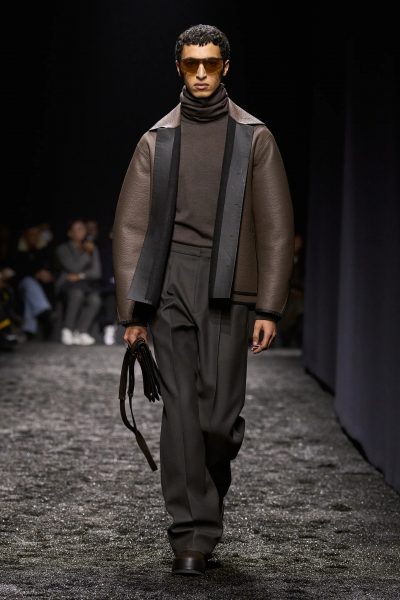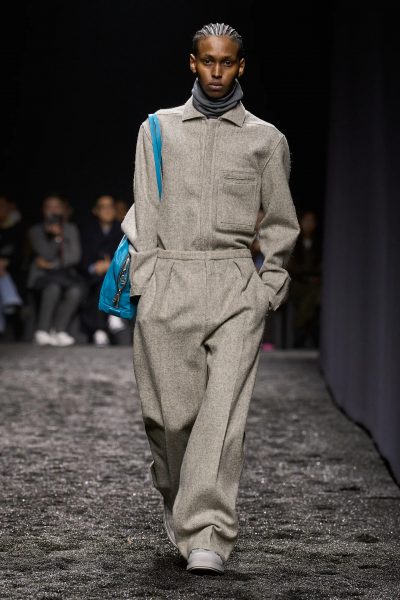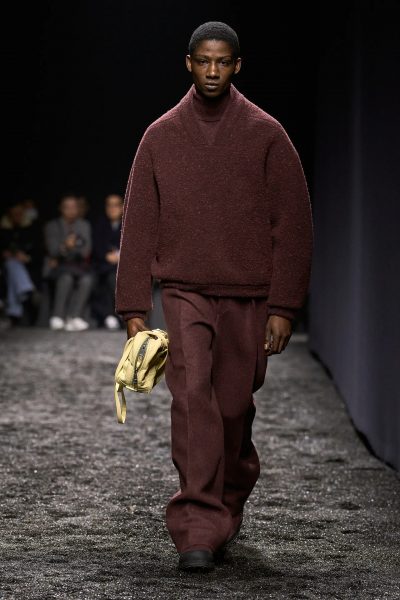 While Sartori did share once in an interview that he designs monochromatic looks to not distract a garment's silhouette and shape before its colour, that does not mean he has no interest in the palette. It means he chooses what to colour his sartorial stories, albeit more meticulously, and we see that here. While the show started with grey shades, it gradually warmed up with stone neutrals, soft to sunny yellows, bushy browns, and berry reds. Occasional flares of geometric prints gave the collection more dimension. Still, just as the colours were clearly springing off of nature in a certain manner, these translations of fibre were all harnessed with the final form firmly in mind — the various arms of craft working organically in tandem.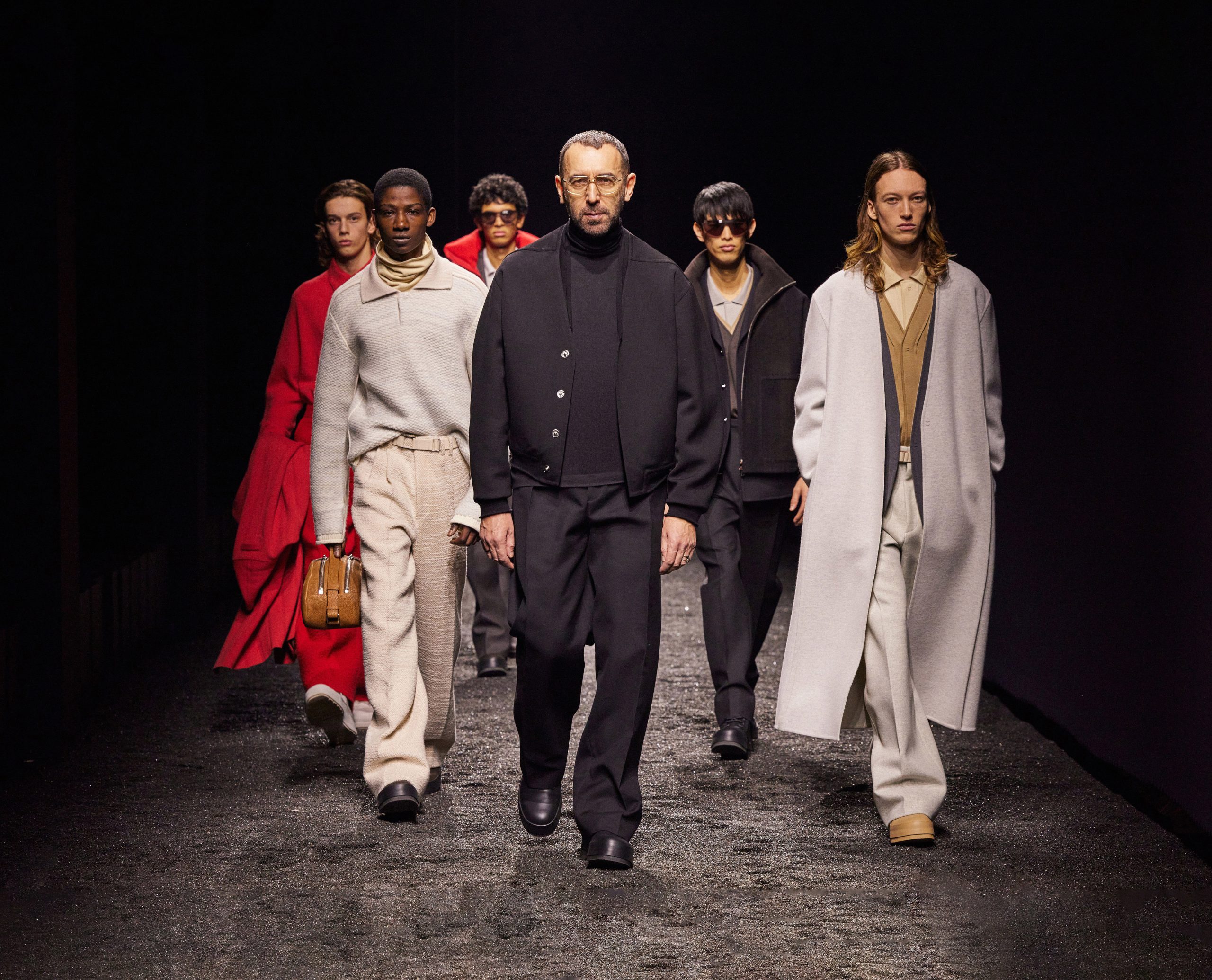 To top it all off, these clothes are already situated in the everyday. Simple yet smart cuts and fits have already found longevity in runs to the store or a day at the office. This seamless transition from runway to real life is no thanks to seamless production and a peace of mind from Sartori and ZEGNA's close study of sustainable design. Is this kind of harmonious human-garment-environment conversation enough to dare the industry to give better thought to fine-tune the tools of its trade? Only time will tell, should the world permit a true sustainably-fashioned future to see the light of day.