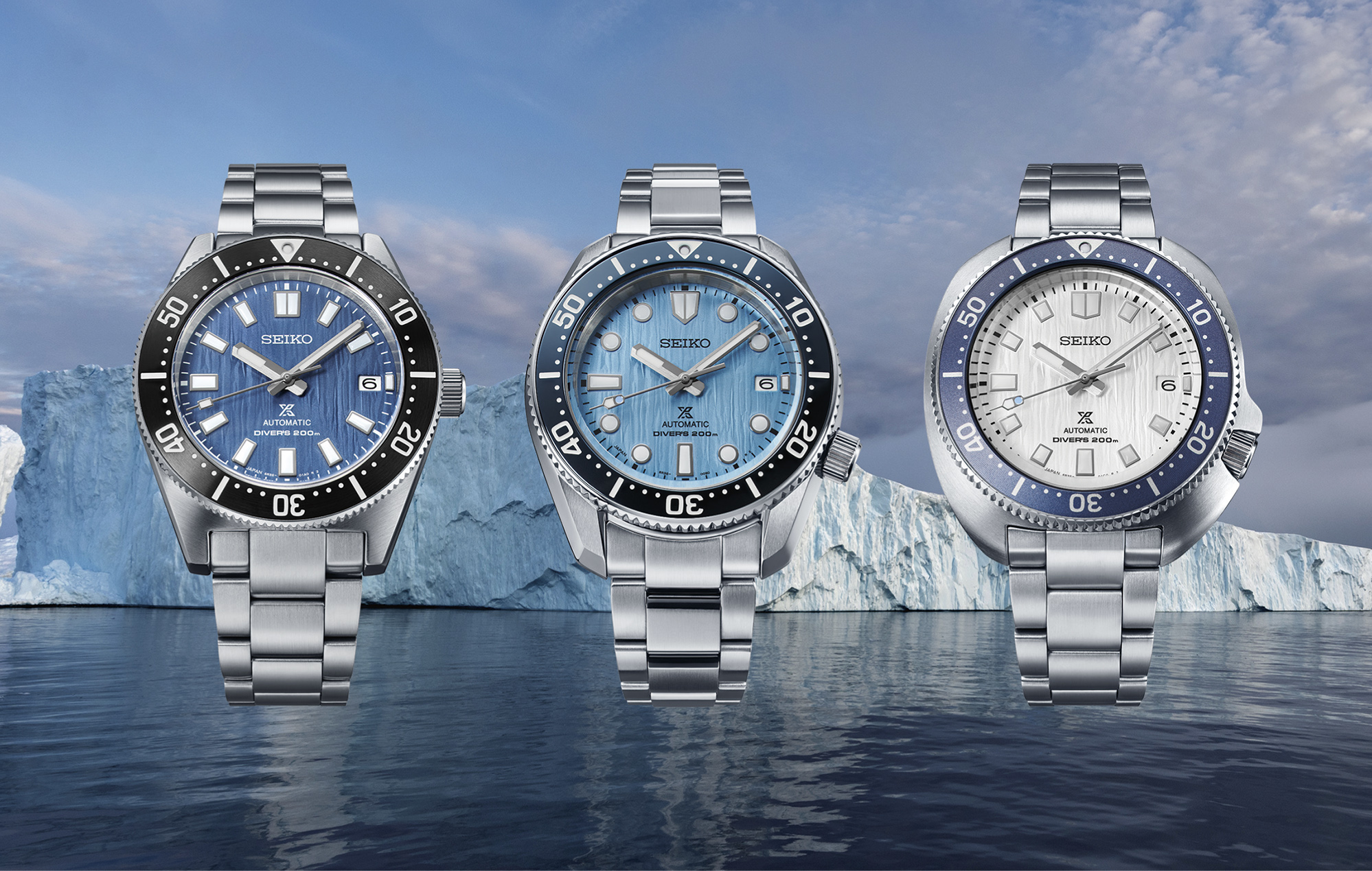 The first Seiko diver's watch was used by members of the Japanese Antarctic Research Expedition from 1966 to 1969. In the years of 1974 to 1976, the Japanese watch manufacturer's reputation for robust and reliable diving watches was put to the test again when Naomi Uemura completed a 12,500km solo dog-sled run from Greenland to Alaska wearing a Seiko 6105. Ocean exploration and conservation are important initiatives to Seiko, especially when it come to the Prospex diving collection. Through the Save the Ocean programme, Seiko delivers financial and other support to charities that are contributing to the well-being of the marine environment.
With its latest releases, Seiko expands the range with the introduction of Seiko Prospex Diver's Modern Re-interpretation Save the Ocean SPB297, SPB299 and SPB301 Special Editions. All three new iterations are crafted with contemporary elements that of iconic dive watches from the archives, turning them into instant novelties. Each of them houses a patterned dial influenced by the hypnotic beauty of glacial ice.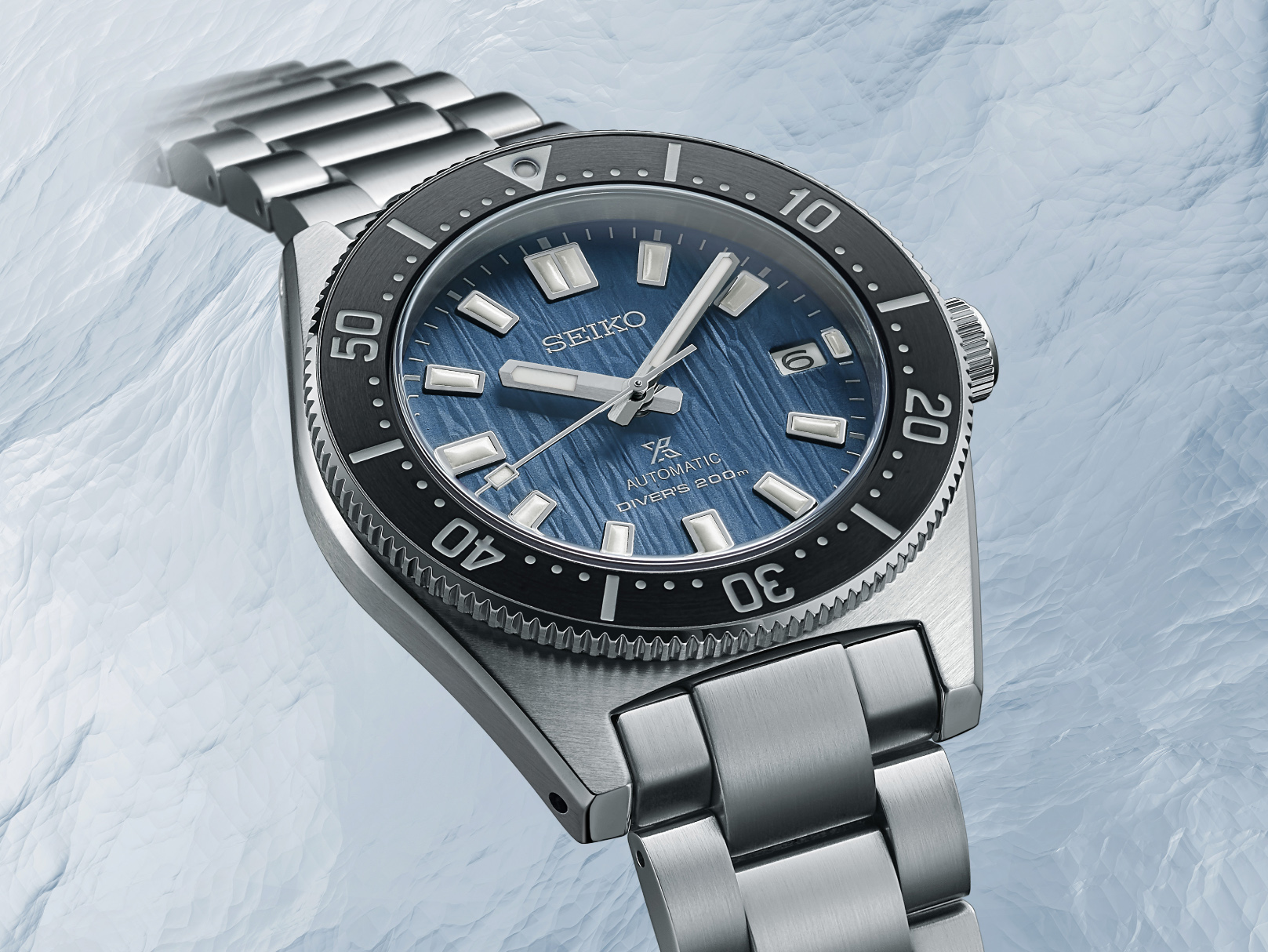 1965 Diver's Modern Re-interpretation: SPB297
This model looks to Japan's first-ever mechanical dive watch from 1965 for inspiration. Over the years, it has gone through numerous renditions – and now, it displays 440.5mm diameter and 13.2mm thickness of stainless steel case with super-hard coating as well as a steel bracelet with extender built into the clasp, a unidirectional rotating bezel with a black insert and a dark blue textured dial with indices and hands coated with Lumibrite for maximum legibility in the dark. Powered by the tried and trusted Calibre 6R35, the watch provides a power reserve of 70 hours and 200-metre water resistant. The SPB297 retails for RM5,600.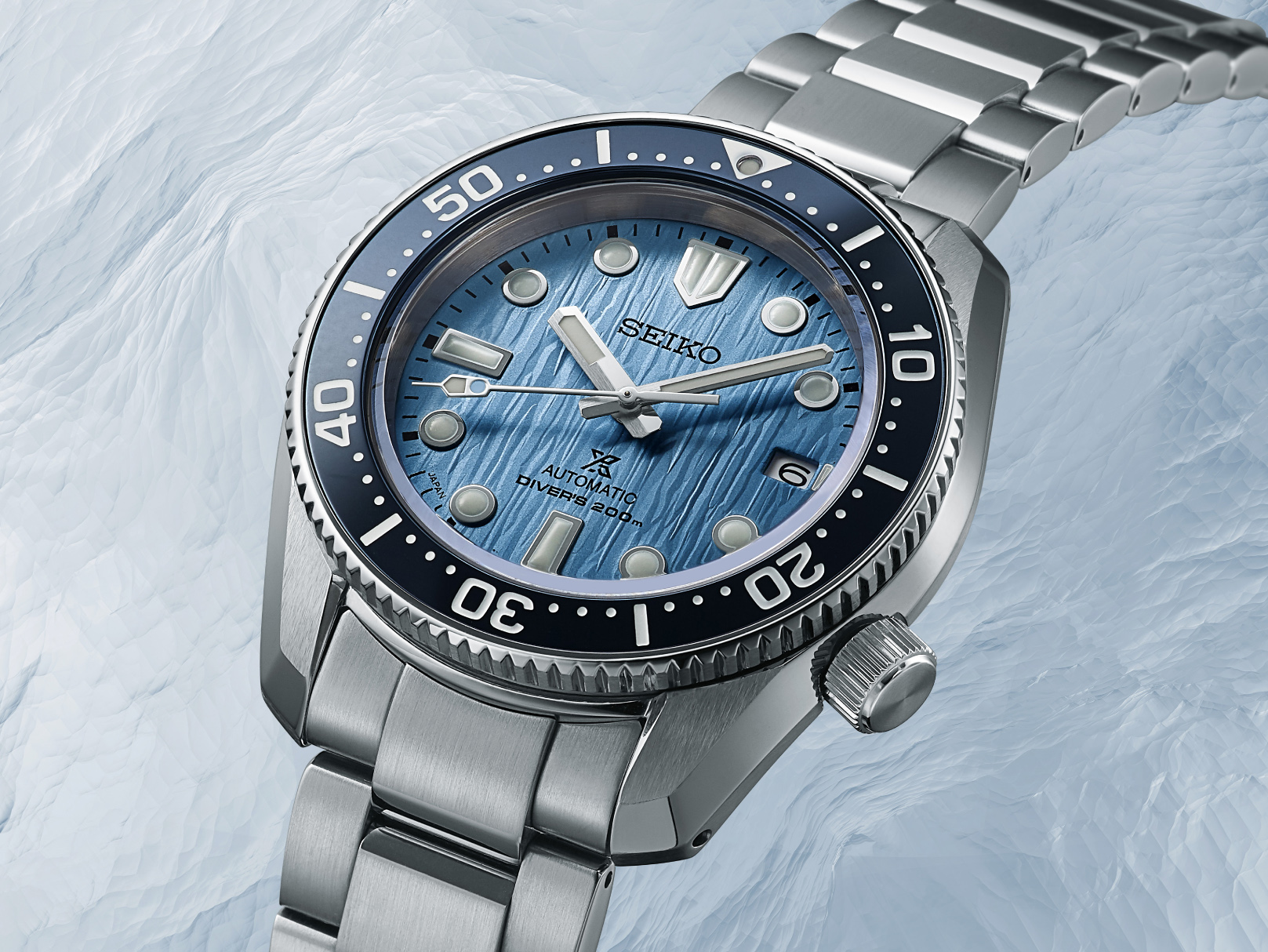 1968 Diver's Modern Re-interpretation: SPB299
Taking cues from the 1968 model, there is a noticeable relocation of the crown from 3 o'clock to 4 o'clock on the angular stainless steel case with super-hard coating. Measuring at 42mm x 12.5mm, the dark blue bezel surrounds an anti-reflective sapphire crystal which sits atop a light blue textured dial with indices and hands coated with Lumibrite. Like the SPB297, this model is also equipped with the 6R35 automatic movement and outfitted with a steel bracelet with secure clasp and extender. The SPB299 retails for RM5,600.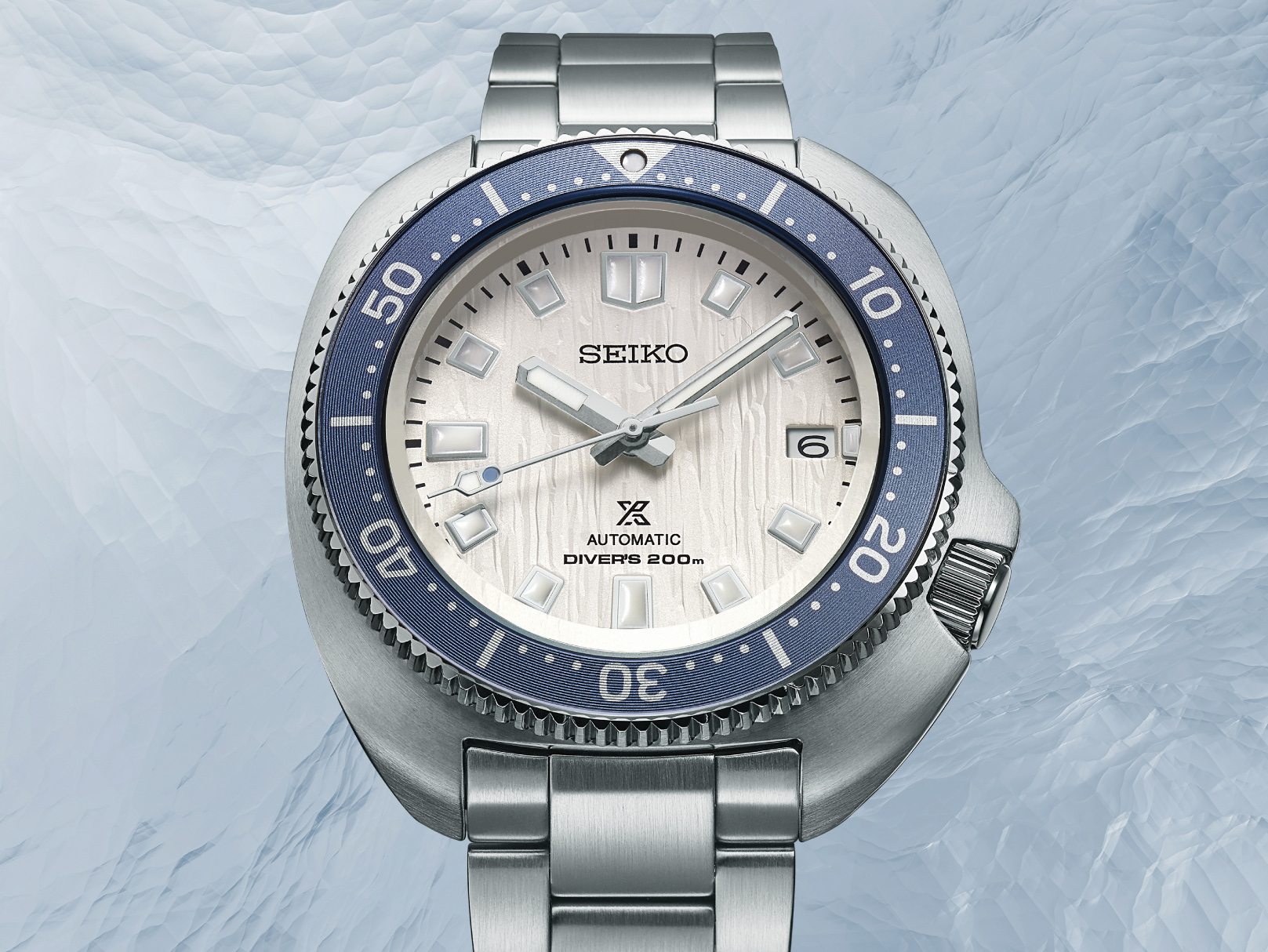 1970 Diver's Modern Re-interpretation: SPB301
Last but not least, the SPB301 is a reincarnation of the 1970 model worn by Naomi Uemura. Commonly known as the "Captain Willard" for its in the movie Apocalypse Now, the 42.7mm x 13.2mm super-hard coated stainless steel case – with a steel bracelet with extender fitted to the clasp – comes with an integrated crown protector at 4 o'clock, a baby blue bezel, a 60-minute scale on a white-coloured dial and, indices and hands finished with Lumibrite. This watch is also powered by Calibre 6R35. The SPB301 retails for RM5,900.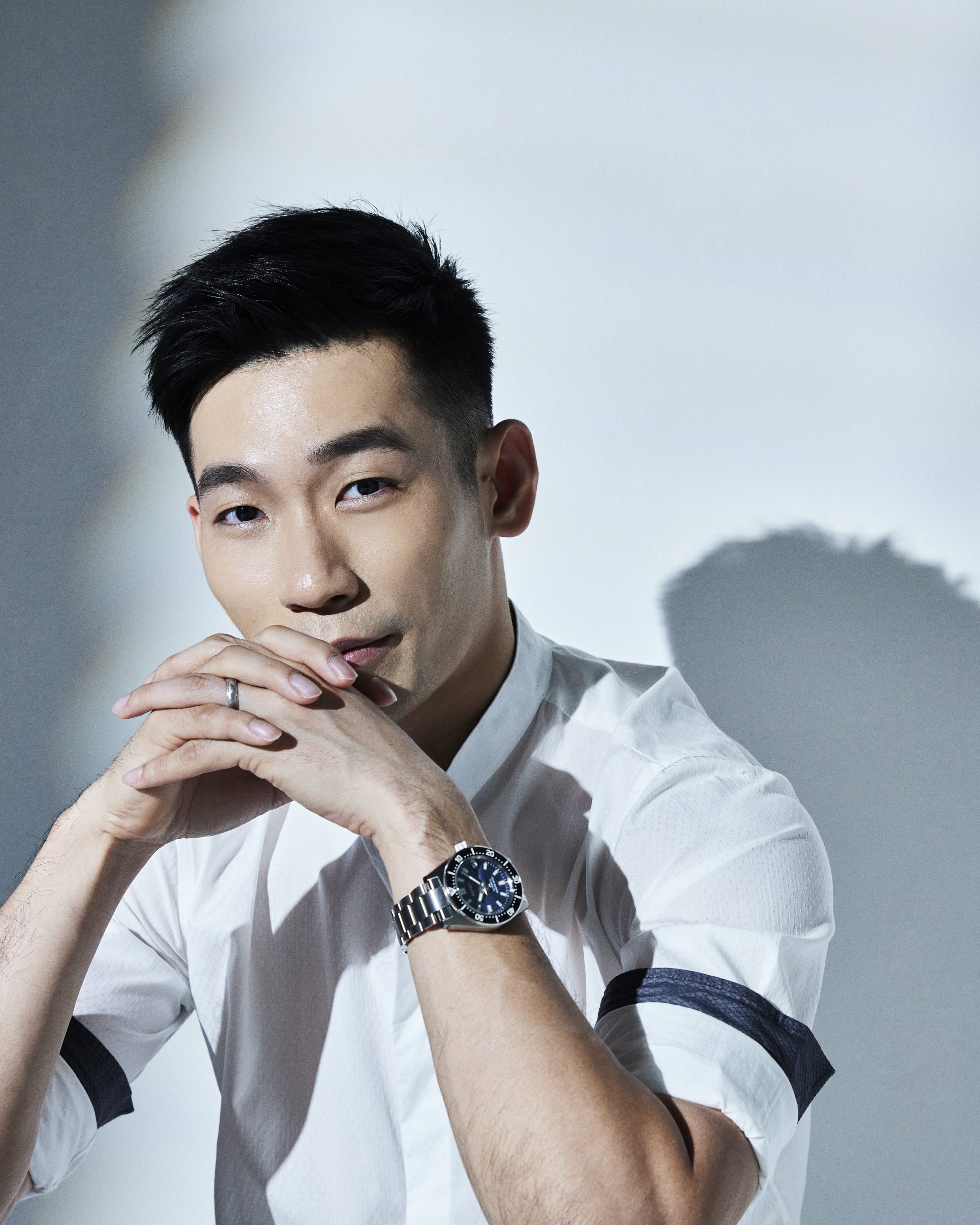 Here, Men's Folio spoke with professional Malaysian badminton player and Prospex Friends Chan Peng Soon about everything badminton and his favourite Seiko timepiece just before the Commonwealth Wealth 2022 Games.
Men's Folio: As a professional mixed doubles badminton player, what qualities define a good team player to you?
Chan Peng Soon: To be a good team player, you should not bring negative emotions into a practice session or a match. It will hurt your partner's and your physical and mental state, and lead to bad on-court performance. My advice is to be sensible about handling your own emotions, whether it's through talking to your coach, your badminton partner or a psychologist. Avoid negativity and stay focused on the task at hand.
Men's Folio: How do you quickly pick yourself back up after a defeat?
CPS: Finding out why you lose and then improve on your weaknesses are most important to all athletes. It isn't realistic to expect to be winning all the time. As long as when you're defeated, you don't lose confidence and self-esteem because they would be difficult to recover from. If you think about it: there can only be one winner in a competition, so you should be content with knowing you have done the best that you could instead of feeling too much pressure to win.
Men's Folio: Competing at the top level of badminton puts you under constant stress and pressure, how do you keep your mental wellbeing in check?
CPS: It comes from experience competing professionally over the years. Of course, I did feel nervous at the beginning of my career. I mean I still feel the pre-match butterflies but I'm able to get in the zone so that I can focus on my performance quickly. What's more, you can feed off the crowd energy if you can get the crowd to be on your side.
And no matter how confident you feel, it helps to allocate adequate time in pre-match preparation. Studying your opponent's game such as style and movement at the current moment as opposed to before when you beat him or he beat you will keep you relaxed and ready for anything that might happen.
Men's Folio: Can you share with us the training regime of a professional badminton player?
CPS: My training regime is extremely vigorous. I train six days a week where Wednesdays and Saturdays are half days. I practice on the court for three hours in the morning and work out at the gym lifting weights or doing cardio like running or swimming for three hours in the afternoon on Mondays, Tuesdays, Thursdays and Fridays.
In terms of diet, I don't follow a specific eating plan but I'm aware that I should stay away from eating junk and fast food and also what I absolutely shouldn't eat – such as anything oily and spicy – before a training session or a match. I do consume my vitamins and minerals, as well as pre- and post-workout supplements like protein shakes.
Men's Folio: Besides winning a silver medal with Goh Liu Ying in the 2016 Rio Olympic, what are some of your proudest achievements?
CPS: I'd say competing in my fourth Commonwealth Games. It is special for me because not only is it the second largest sporting event after the Olympics, but also only five males and five females are chosen to represent Malaysia. I cannot wait to make my country proud!
[Update: Congratulations to CPS for winning three mixed team golds at the Games!]
Men's Folio: Who is one sporting personality that truly inspires you?
CPS: Dato' Lee Chong Wei. Being as fully committed and dedicated as he was in every aspect before bidding farewell to badminton due to illness in 2019, he's the epitome of a sports icon. It's motivating to see how he was still training and competing at the highest level where most players in their 30s would have already taken their foot off the gas.
Men's Folio: Why is Seiko your watch brand of choice?
CPS: I chose Seiko because it was the first watch brand that I was introduced to as a child, so I guess you can say it has a sentimental value for me.
Men's Folio: Which Seiko model do you wear and why is it your favourite?
CPS: My Seiko watches are from the Prospex collection. I find them to be extremely versatile. You can wear them to work, on the weekend or when playing sports.
Men's Folio: Why is good time management essential?
CPS: It's very essential, especially for a professional sportsman like myself who is also a husband, a father of four children and a son. My spent time with two of them in the morning when I wake up to get ready for my morning training session and them to school; I go home for lunch and send the other two to school and that's also when I spend time with my wife; they are usually already in bed by the time I get home. There are just not enough hours in a day.
Of course, I do feel tired at times but I shouldn't complain because I knew those were the responsibilities that I'd assume when I decided to take on those roles. If anything, I should figure out how to manage my time even better – which brings me back to why the flexible and reliable Seiko Prospex watches go so well with my personal and professional life.
Men's Folio: What are some of your goals in the not-to-distant future?
CPS: In addition to still being a part of the Seiko family, I hope to play in the 2024 Olympic Games, which could possibly be my last one, as well as the major tournaments. I will decide whether to go into coaching or start my own business after I have retired because I want to stay focused on competing professionally at the moment.
For more information, visit www.thongsia.com.my or www.seikoboutique.com.my