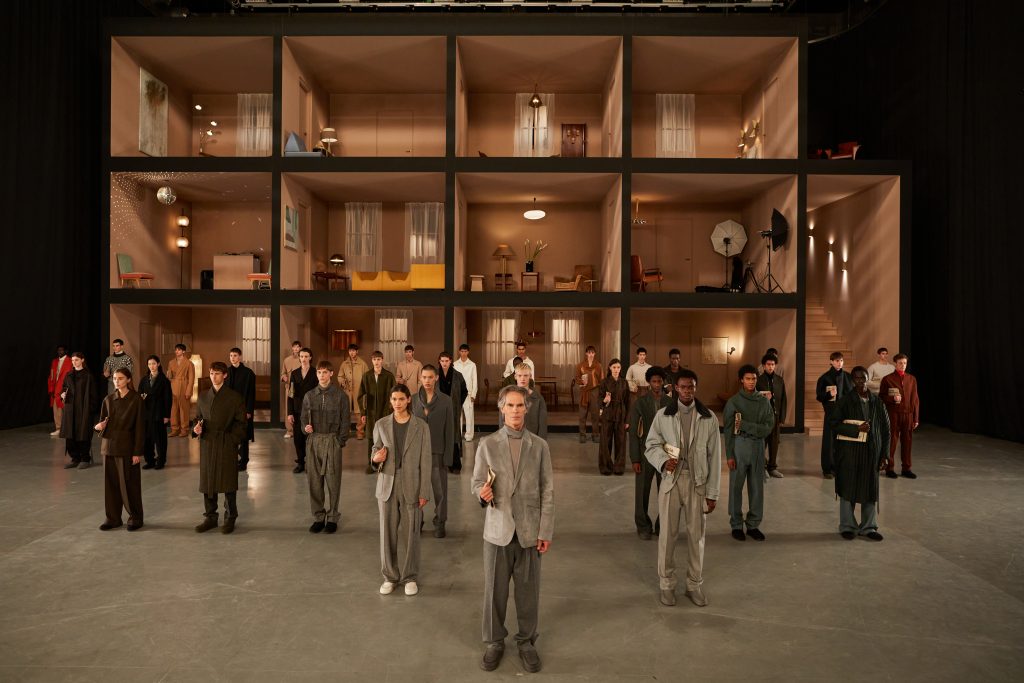 Ciao Milano! Milan Men's Autumn/Winter 2021 Fashion Week has officially drawn to a close. And while it's primarily on digital again, fashion brands are continuously proving that the Italian fashion capital has still got it, as each brings a refreshingly unique perspective in their navigation of the digital realm.
From Raf Simons' Prada menswear debut to Fendi's "New Normal" collection and Zegna's "(Re)tailoring" menswear, we unpick the best shows of the Autumn/Winter 2021 season.
Prada
View this post on Instagram
Marking Raf Simons' first menswear collection created alongside Miuccia Prada, the offering  explores "an intimate and personal wish for contact, our urge to exchange and relate." Titled "Possible Feelings", the collection spectacularly fuses Simons' aesthetic with Prada's reserved execution which translates into an endless series of tactility, texture and layers upon layers.  Splicing together footage of colourful, modern looks with frenetic dancing, the energising show was ultimately a celebration of "the human body and its freedom". Our favourite look? The oversized XL bomber jackets presented in fuchsia and chocolate hues and finished with the iconic Prada pouch are the ultimate treat in wishlist-worthy outerwear.
Ermenegildo Zegna XXX 
View this post on Instagram
Through these tough times, we all have to evolve and adapt. Zegna too. And the label rightly used this time to reassess its core values, looking to a deeper and more personal level. For this season, the brand went back to its tailoring board and reset for a fresher perspective. Aptly titled "THE (RE)SET", the collection presents a new, fluid approach to tailored forms which constructed for the changing needs of the new normal. Blending indoor and outdoor, the clothes are reimagined, reshaped and redefined through slouchy silhouettes, dropped shoulders, generous volumes and casual accessories with a play on textures and fabrications. The whole collection is soft, unfussy, smart and understandable.
Fendi
View this post on Instagram
This season, Silvia Venturini Fendi was looking to inject hopeful optimism as the world continues to struggle with the pandemic. The result is a collection that balances comfort with an optimistic, playful attitude. Silvia says "I imagined this on boys. I wanted to go back to a time when you have less negative thoughts. When you're young, you don't know what life is and you're more optimistic. You have the strength to fight more for a better future." Capturing an unpredictable new normal with an emphasis on adapting them for new pandemic-driven lifestyles, the relaxed tailoring with healthy doses of blacks and neutrals dominate the collection. Accessories-wise, if you're still into micro-bag trends, you're in a treat as the collection offers offered up a couple of splendid options in the form of shrunken Baguettes.
Tod's
View this post on Instagram
"A mansion in the countryside – Villa Ronchi in Vigevano, designed in 1936 by Giuseppe De Finetti for the Crespi family. A young actor, Lorenzo Zurzolo, prepares for a role," read the press release, describing the narrative at the core of the collection dreamt up by creative director Walter Chiapponi. Tapping the young actor to model the collection, Chiapponi continues to reinterpret the brand's classics with a new direction, giving it a relaxed update that feels both fresh and timeless in equal measure. Trench coats and hunting jackets in warm, earthy tones were partnered with sturdy riding trousers, ribbed jumpers and retro college sweatshirts; subverting stuffy formality with unique and playful garment combinations.
Solid Homme
View this post on Instagram
Solid Homme is one of the new entrants this season and it's definitely the one to watch out for. Founded by Korean designer, Woo Young Mi (the designer for Wooyoungmi), the presentation took place in an industrial space which perfectly reflect the essence of the collection. The collection emphasised the broad silhouette that the Korean designers does so well, with a mixture of juxtaposition and lots of layering. Mixing wearable, fun tailoring alongside wearable, fun outerwears, this collection definitely sets proper introduction for the brand.