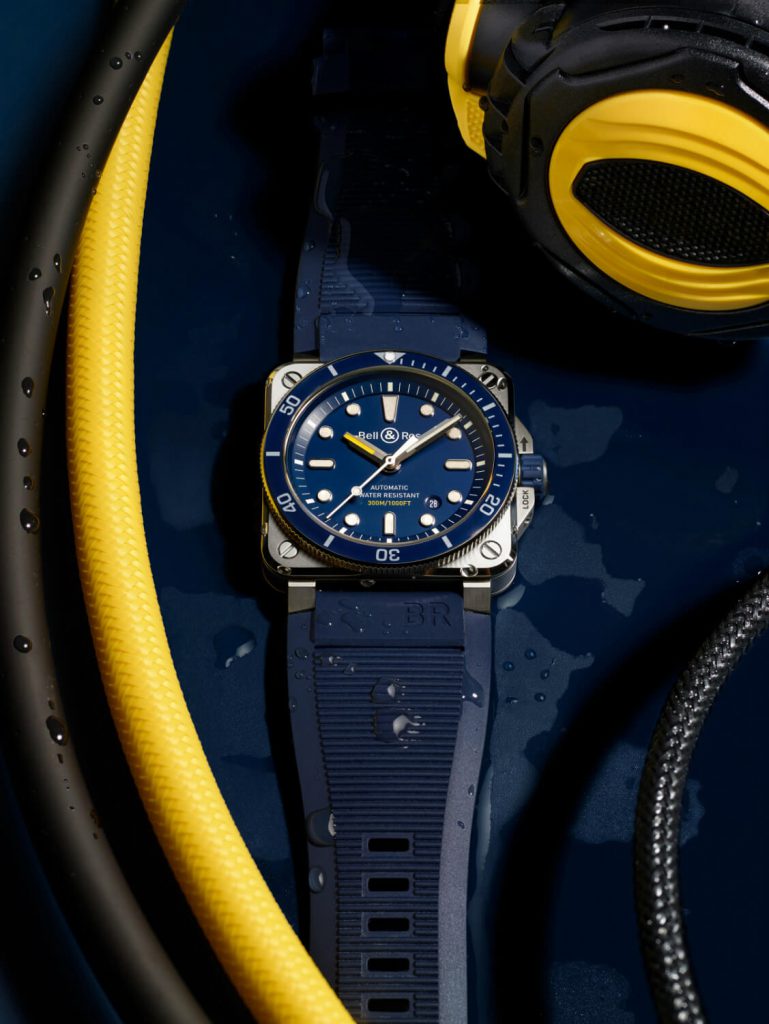 When Bell & Ross revealed the BR03- 92 Diver – a unique timepiece featuring a 42mm satin-polished steel case with a black unidirectional rotating steel bezel and dial – in 2017, it got plenty of eyeballs not just because it represented the French brand's first true dive watch; it was also the first dive watch to feature the emblematic square case.
At Baselworld this year, Men's Folio was made aware of the expansion of the Diver collection to include two new versions: the BR03- 92 Diver Blue and the BR03-92 Diver Bronze.
In addition to its blue dial, rubber strap and bezel's aluminium insert, the BR03-92 Diver Blue aims to achieve maximum legibility with indices coated in white Superluminova and a yellow hour hand. The colours vanish one after the other while underwater, giving way to the minute hand which needs to be visible to ensure the diver's safety.
As a whole, the new colour combination, together with the iconic case shape, gives the watch a sporty yet sophisticated style. As far as the case is concerned, such beauty comes at a price, of course.
It reportedly takes days to carve out the various case components for a single watch. This is likely achieved by diamond-tipped tools in an industrial setting, so leave aside all thoughts of craftspeople toiling away at blocks of sapphire crystal with chisels and the like. This sort of endeavour is a technical challenge that is simply impossible to execute without contemporary means.
The BR03-92 Diver Bronze, on the other hand, calls to mind underwater explorations back in the day. For instance, its case and bezel are made from bronze, a material used in the past for diving helmets.
Although inalterable, bronze can also form a patina with time depending on its environment, offering a distinctive shade over the years. The reference to adventure is further demonstrated on the case-back, thanks to an engraving of a diver.
To top off the extraordinary technical and aesthetic qualities, the limited edition model is fitted with an aged leather strap (fret not, you can replace this with a rubber strap for use while diving), which affirms the watch's authentic vintage spirit.
It is also important to note that as Bell & Ross strategically rolled out one model after another leading up to exhibition (such as the BR 03-92, BR S-29 and BR V2 Steel Heritage) the two new Racing Bird watches achieved exactly what they set out to do – steal the show.
With machinery both technically and stylistically inspired by the world of aviation, the limited editions continue the saga that weaves together Bell & Ross and mankind's long-held fascination with aeronautics.