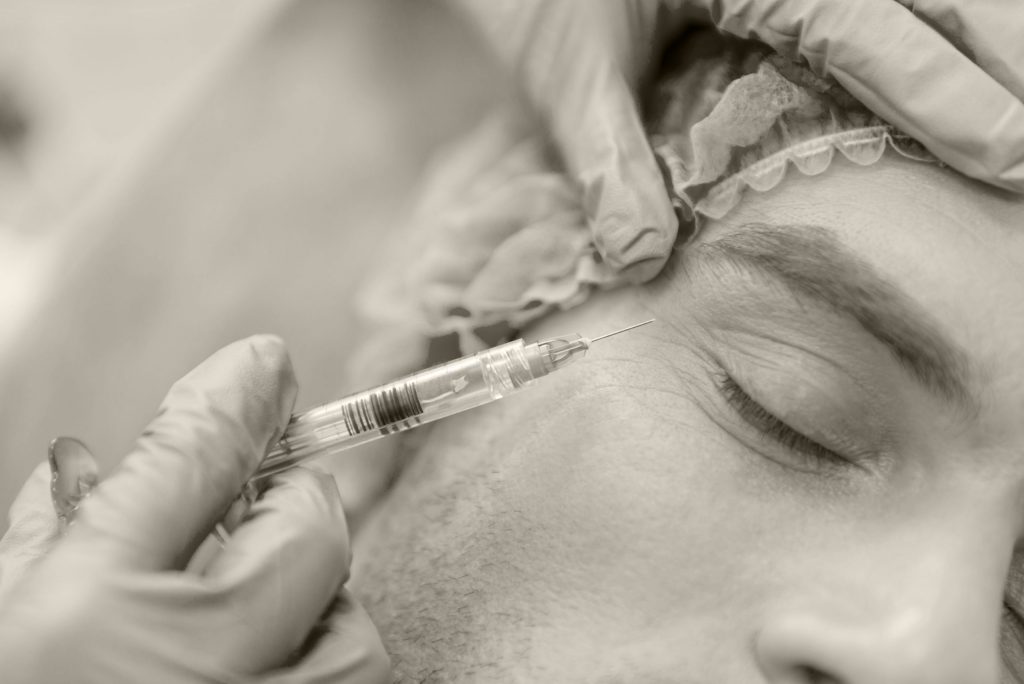 You check yourself out in the bathroom mirror and spot fine lines around the eyes that you're pretty sure were never there before. Your jowls are saggier and skin is less taut. You take a step back and notice that your body just looks different. While we might not be able to rewind the effects of ageing on our skin and body, you can salvage what's lost and even mitigate further damage. Now with the zap of a sophisticated machine or prick of a needle, you can look revived in no time.
It's no secret that men today also want to reduce, prevent or even erase signs of ageing without having to resort to invasive surgery. Given the increasing interest in aesthetic treatments, it is important to remember that patients need to be well informed of the potential risks so to avoid any complications and ensure that you receive the best possible results. Equally important is choosing a qualified health care professional who can help you make informed decisions.
Here, the FDA-approved aesthetic treatments for men and women offered by Dr Ong Jin Khang, a certified aesthetic physician and founder of The Retreat Clinic.
Emsculpt
Emsculpt is a FDA-approved innovation made for body-contouring that involves zero surgery. It is non-invasive with dual-function to burn fat and build muscles, helping you achieve your desired body in the most convenient way! Emsculpt uses HIFEM (High-Intensity Focus Electromagnetic) technology which induces supramaximal muscle contractions. It is super effective to get results as if you just did 20,000 sit ups in just 30 minutes!
Coolsculpting
Having trouble with losing fats despite an active lifestyle and healthy eating? With FDA clearance to treat nine different areas of the body, eliminating fat has never been easier. Coolscultpting adopts cyrolipolysis technology to freeze unwanted fatty deposits beneath the skin which are then processed and flushed out naturally by the body. The application is through rounded applicators which suction the treated area like a vacuum. In two to six-month time, about 20%-25% fat reduction can be observed in treated area!
Exilis
Exilis is a non-invasive head-to-toe treatment that combines radio frequency and ultrasound to uplift saggy skin, reduce fine lines and improve blood circulation. Exilis also has a second handpiece for the body that can be used to burn fat and tighten skin.
Botox
Did you know that repeated muscles movement from our facial expressions can cause wrinkles and lines to appear? Frown lines, smoker lines, horizontal forehead lines are some of the common areas that will in time form signs of ageing. This is when Botox comes to the rescue. It helps to paralyse these small muscles, which delays the formation of wrinkles and lines. Time required is only 15 minutes.
Juvederm
As you age, your face will lose its volume and the production of natural substances such as Hyaluronic Acid (HA) that helps to retain hydration and maintain your skin elasticity decreases too. Fillers like Juvederm helps to restore facial contours and improve signs of ageing, keeping your skin looking plump and youthful. Formulated with HA, there are different fillers to address different areas of concern; Voluma helps to restore volume of your cheeks, Volbella to add fullness to your lips, and Volite to reduce the appearance of lines.
Every individual and body is different, and we strongly recommend you to consult a certified physician to identify the best procedure for you. For consultations with Dr Ong Jin Khang of The Retreat Clinic, please call +6011-3302 8232 to make your appointment or visit www. theretreatclinic.com. This story first appeared in the December'19 issue of Men's Folio Malaysia.