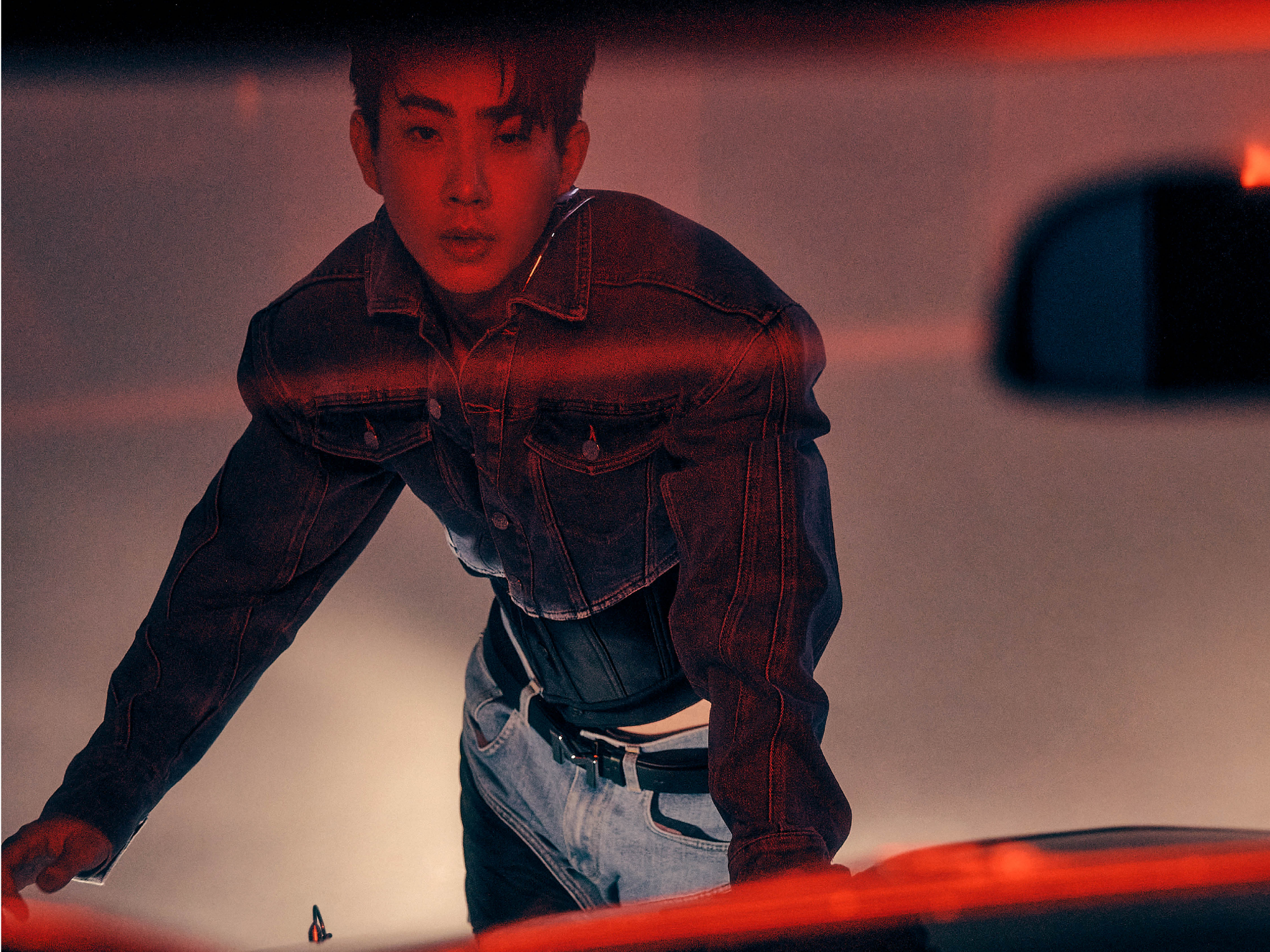 Walking into the Bangkok-based studio with a distinctive white bag paired with denim jeans, "Off" Jumpol Adulkittiporn exudes an air of confidence — his playful charm palpable. Perhaps it is because we are on his home turf; you would think that a rising star of his magnitude would travel with an entourage but on this occasion, he is simply accompanied by a sole manager. Off is part of a growing generation of prominent Thai personalities that has reached global success — a platform he does not take for granted. "The most important thing is to provide good work for all my fans. I need to be strong and improve myself, and I hope everyone will like me for who I am," shares Off — cluing us in to the man behind the over four million followers he has amassed on Instagram (not to mention the additional million on Twitter).
Off fronts the May cover of Men's Folio Malaysia with the theme of "High Shine in All Forms" and the timing could not have been better for the 32-year old actor, model and host. 2023 marks Off's 10th year in the entertainment industry, starting out as the host for the 2013 television show Five Live Fresh before appearing in a guest role in the Thai drama series Hormones that same year. However, his breakout performance was arguably his role as "Khai" in the 2019 TV series Theory of Love which garnered him a legion of fans who were enamored by his on-screen chemistry alongside "Gun" Atthaphan Phunsawat. Thus the viral hashtag #OffGun was born, resulting in an on-screen relationship that Off attributes as being his biggest source of professional growth thus far. "I have learned a lot from Gun because we have worked together on many projects, and I always see his acting skills constantly improving. He is an inspiration for me to push myself and improve my skills," Off shares.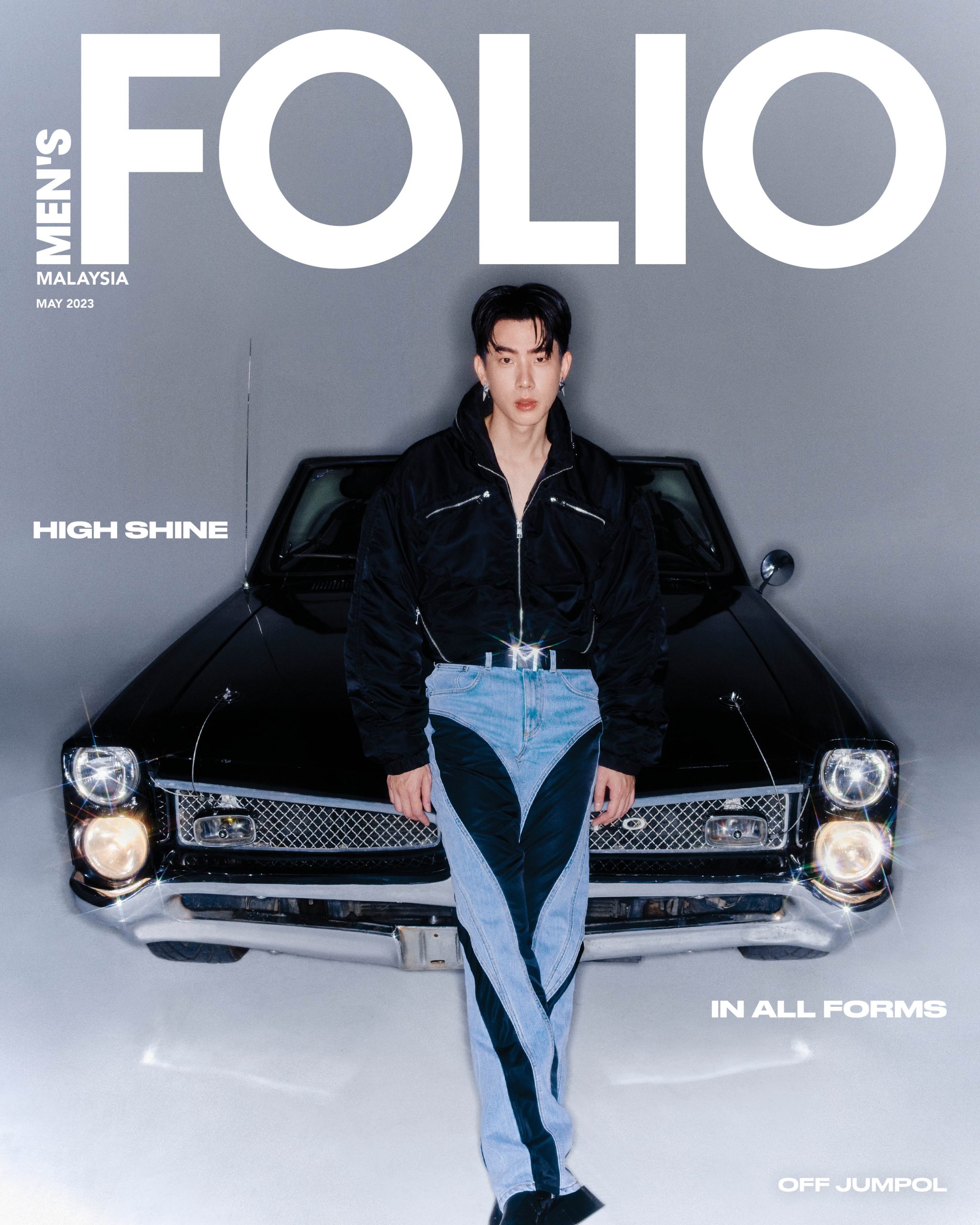 Reclining on the hood of a vintage black Pontiac GTO, the May cover sees Off dressed in Mugler H&M from head to toe. It has been dubbed the collaboration of the year which the Midnight Motel star remarks as a "great combination" saying, "when these two brands come together, more people can enjoy it and it's easier to style. Mugler is a brand that highlights the shapes and curves of the body. The people who dress in Mugler need to be confident. I think this collaboration will appeal to more people and make it easier for them to attain it." For Off, style is defined by the confidence of the wearer and not simply about following trends. "If I don't feel confident, then I don't want to wear it. I prefer wearing something so that I can walk outside, feel assertive, and be myself in," the actor explains.
He pairs his black boxy nylon parachute jacket with spiral-panel denim jeans. The shiny black hue from the Pontiac GTO and parachute jacket mirrors his sleek jet-black hair, further enhancing his brooding features. It does not take Off long to warm up in front of the lens. "He's a natural," creative director Izwan Abdullah comments from the sidelines.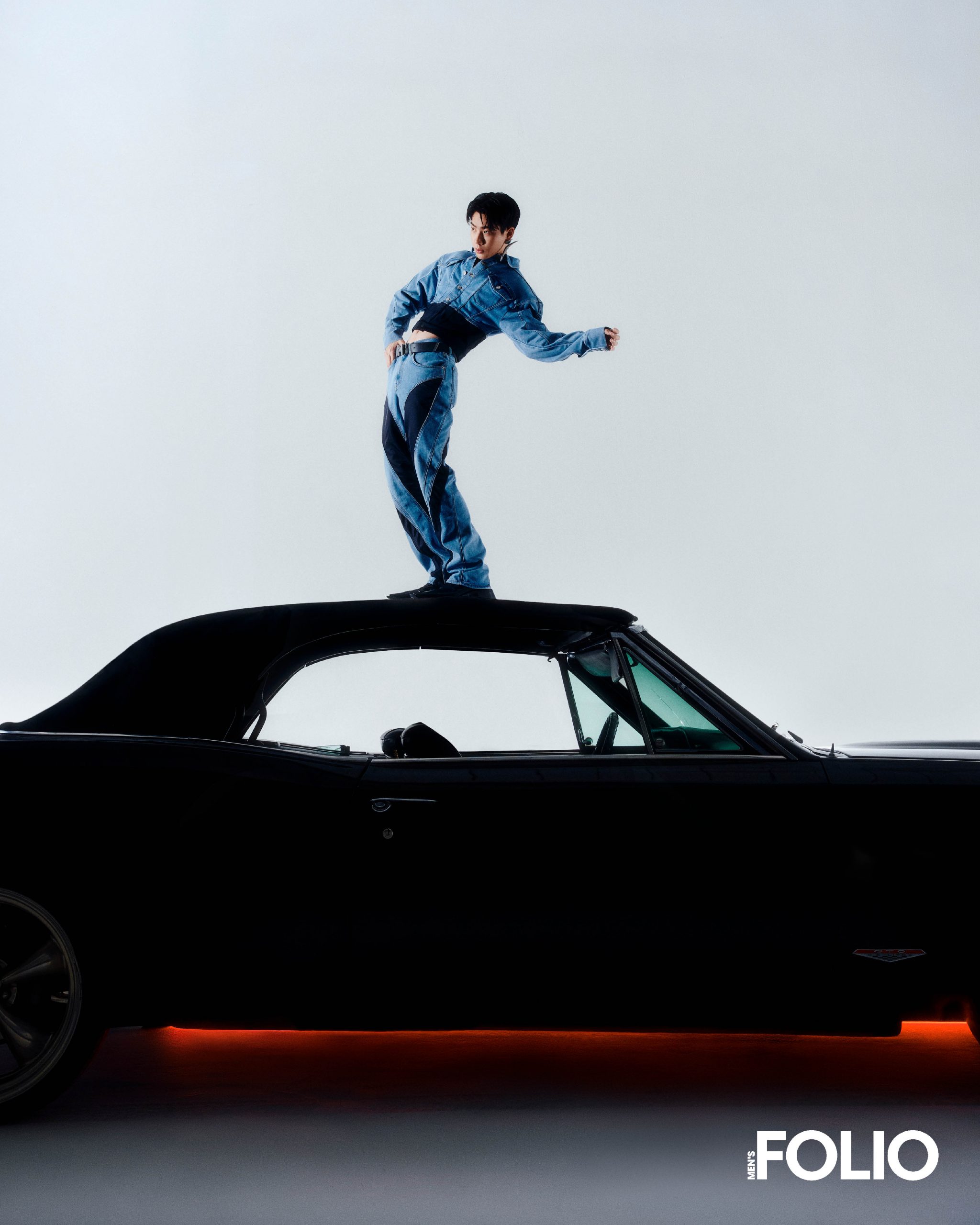 With eyes piercing down the barrel of the lens, Off's luminescent skin and sharp jawline are on full display. So what routine does the actor credit his impeccable skin to? For Off, it is all about rest, supplementary vitamins and exercise — "I need to get a good night's rest. However, sometimes the workload exceeds my expectations and I am unable to get a full night's sleep. In such instances, I take vitamins. I also do exercises like sit-ups and push-ups every day".
Between shots, we see more of Off's playful personality. As the Not Me actor dons a statement denim piece from the Mugler H&M collection, someone casually asks what his favourite way to wear denim is. "I like two cuts for jeans — normal straight denim and bootcut. Straight is for an everyday look and a bootcut makes my legs look longer, so I like it," he shares.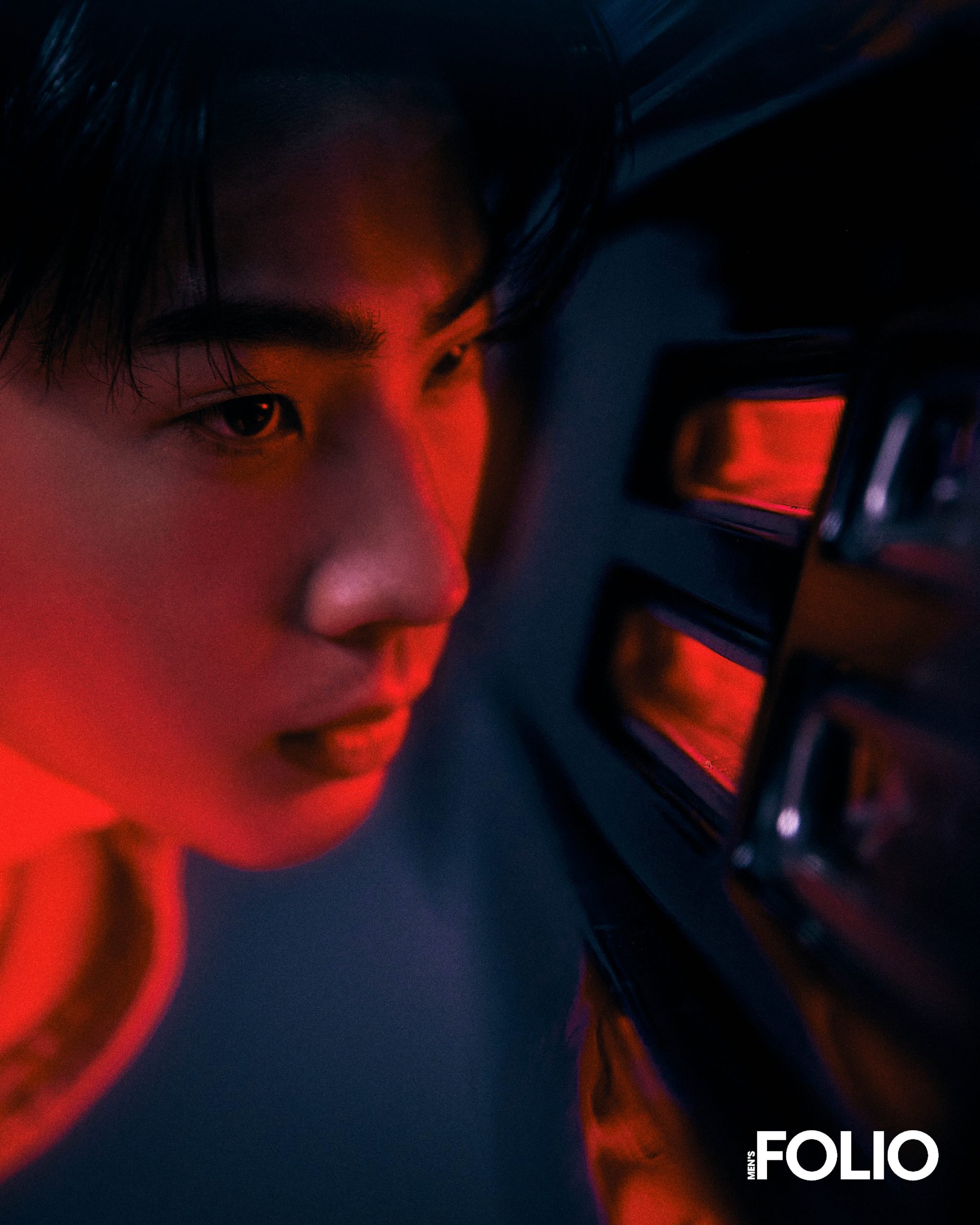 Off is no stranger to the fashion industry. He is the founder of his own fashion brand Land of Something that is known for its trademark graphic knitwear, playful organic prints and adorable not-your-classic T-shirts. "When I founded the Land of Something, I just wanted to create clothes I like and share them with people. It's my style and what I want to design is based on the inspiration I have," explains Off.
While looking at the selection from the Mugler H&M collection laid before him, Off says, "I love the Mugler H&M denim jacket and jeans. The jacket looks normal from the top, then it enhances the curves around the body at the bottom. It may be tricky to style, though I think people who really love this essence of the brand will embrace it. I really like it."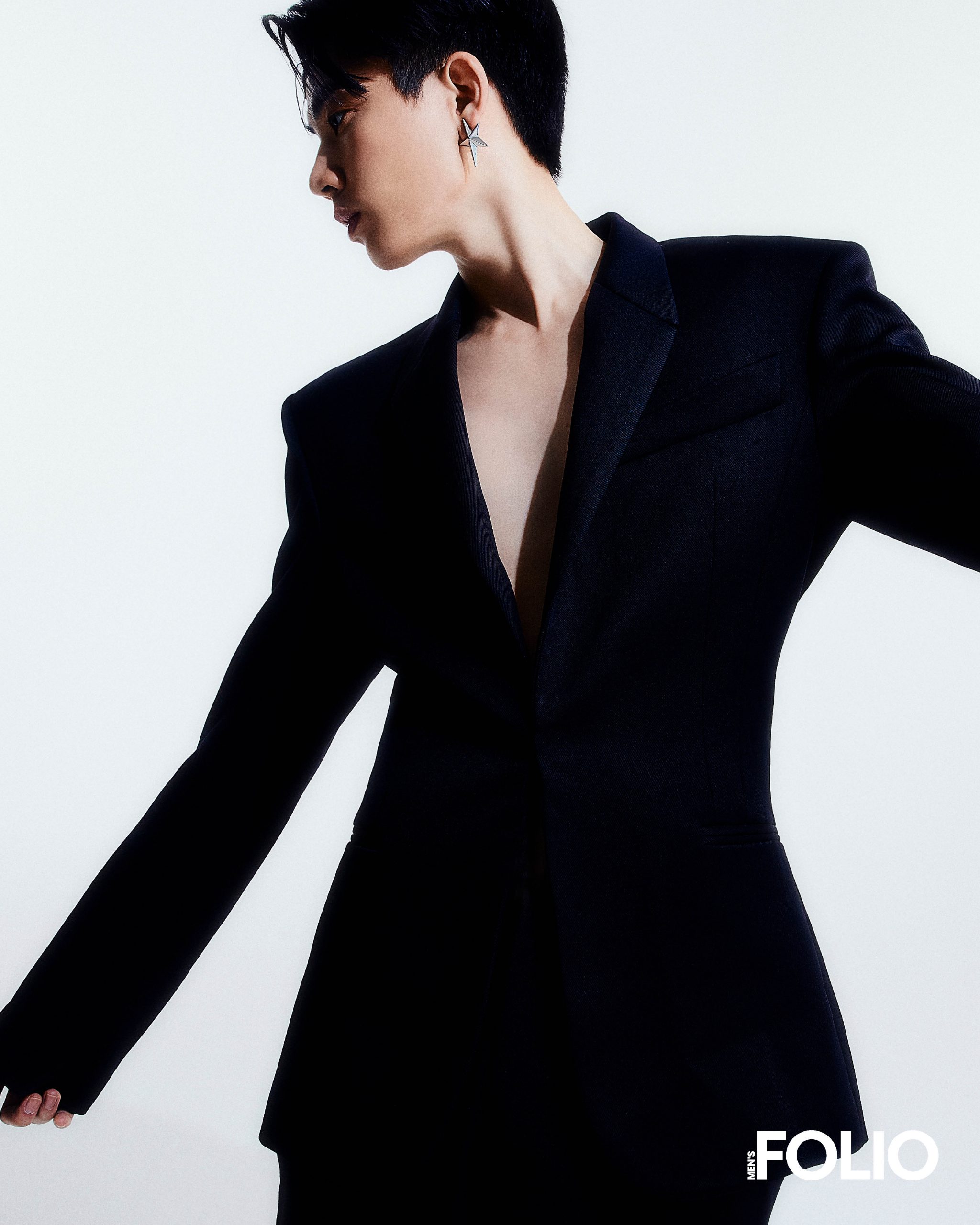 His take on the Mugler H&M collaboration is but another reason why the pairing works so well. Mugler has a longstanding history of embracing performers. In addition, Mugler creative director Casey Cadwallader called the boundary-pushing partnership a form of "personal expression and liberating bold fashion". This is the beauty of the collaboration — it is an insight into the evolution and adaptation that the fashion industry goes through. When asked what the future of menswear looked like, the screen savant replied "genderless clothing is the future" before explaining further. "The wall that separates gender in fashion is slowly fading away. The only factor to consider is sizing when choosing the piece. Personally, I wear a few pieces from women's collections, and mix and match them," he states.
While looking back at the span of this decade-long career, we inquire further into his roles — from adorable love interest in Theory of Love to corporate debonair in Girk2K. We asked the Thai thespian which character he feels most similar and dissimilar to who he is in real life. Starting with the character he feels most similar to, Off explains, "I think "Pick" from Secret Love: Puppy Honey is the one that resembles me the most. His character and facial expressions are also a reflection of who I am outside the character. On the other hand, "Sean" from Not Me is a character that is far from who I am as a person. He is all about extreme sports, adventure, big bikes, free running and more. He is very different from me."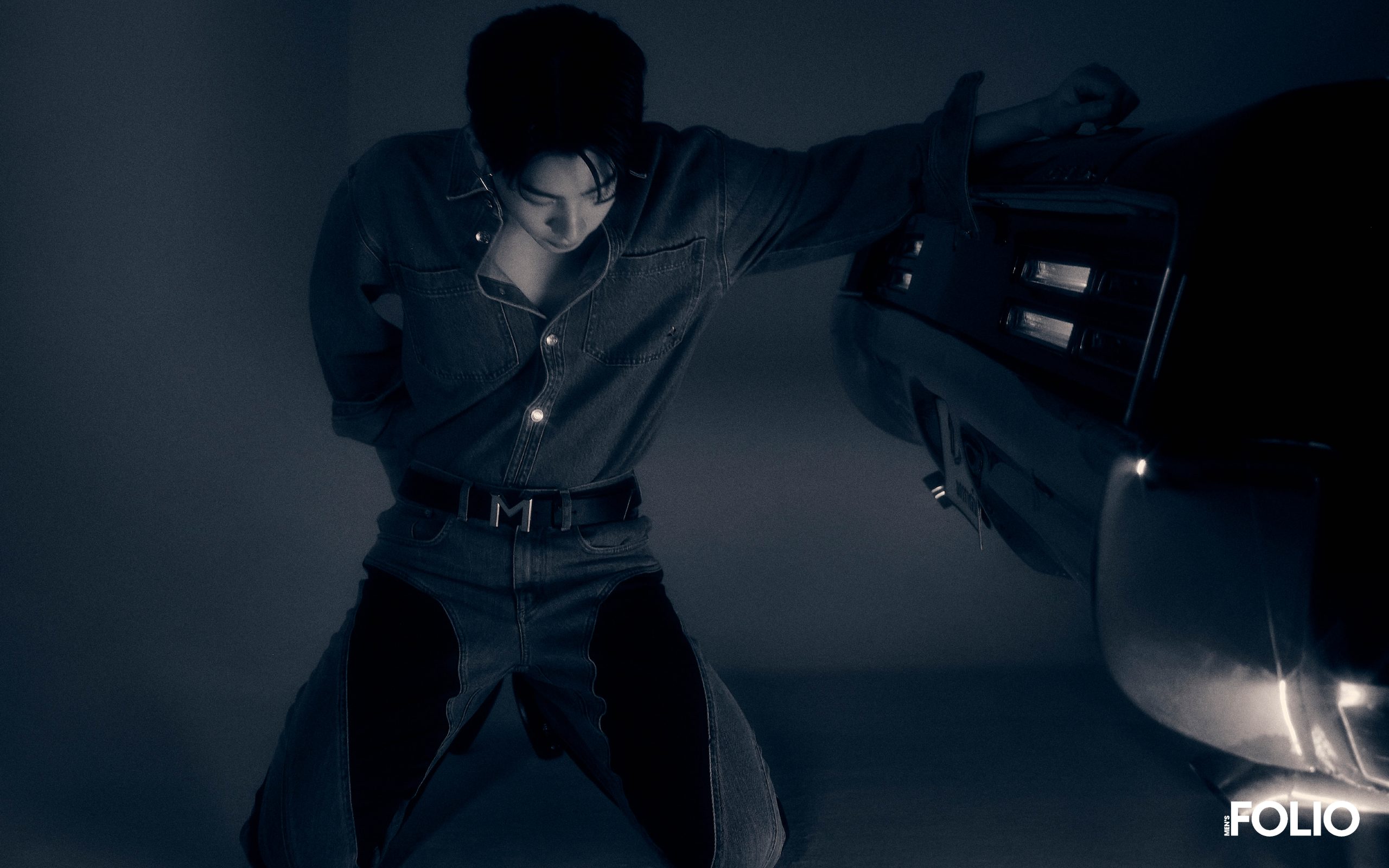 If you think stardom has got the best of our cover star, think again. Since achieving fame, the actor tells us that the only thing to change about him is his mindset and becoming more responsible — something he attributes to his fans. "Initially when I began my journey, I never thought about having people look up to me, idolising me, or having high expectations of me. However, once I acquired fans and young people started admiring me, I realised the need to be a good person and ensure they don't regret their choice of liking me. I do not want to be a bad role model or a bad person. Instead, I aspire to be a positive influence," Off stresses.
So what do the next 10 years have in store for Off? The actor sees himself venturing more into the fashion industry but also working towards more personal achievements such as owning his own property, traveling, enjoying time to himself and ultimately trying new experiences.
When asked if Off had an exclusive message to his Malaysian fans, the Thai star said, "I miss all of you very much. The last time we met was a long time ago. If there's a chance, Gun and I would love to visit you all. We both miss you and want to see you. Several fans from Malaysia have texted me on Twitter and I'm thrilled about it. Thank you for continuing to support us and for the love you've shown us. I hope we get a chance to meet soon". It is safe to say that for Off, his work is a love letter to his fans.
Photography @poolookoooooooo
Creative Direction & Styling @izwanabdllh
Interview @sanjontherunway
Grooming @luckysevenb
Hair & Production Manager @aungkeng
Photography Assistants @winniethepoomin @joeysleeper @aragorn @chotejalatarphorn
Styling Assistants @manfred__lu @oeyrd
Outfit @hm @muglerofficial @cadwallader
Pre-order our May 2023 issue featuring Off Jumpol here. Revisit our cover issues here.