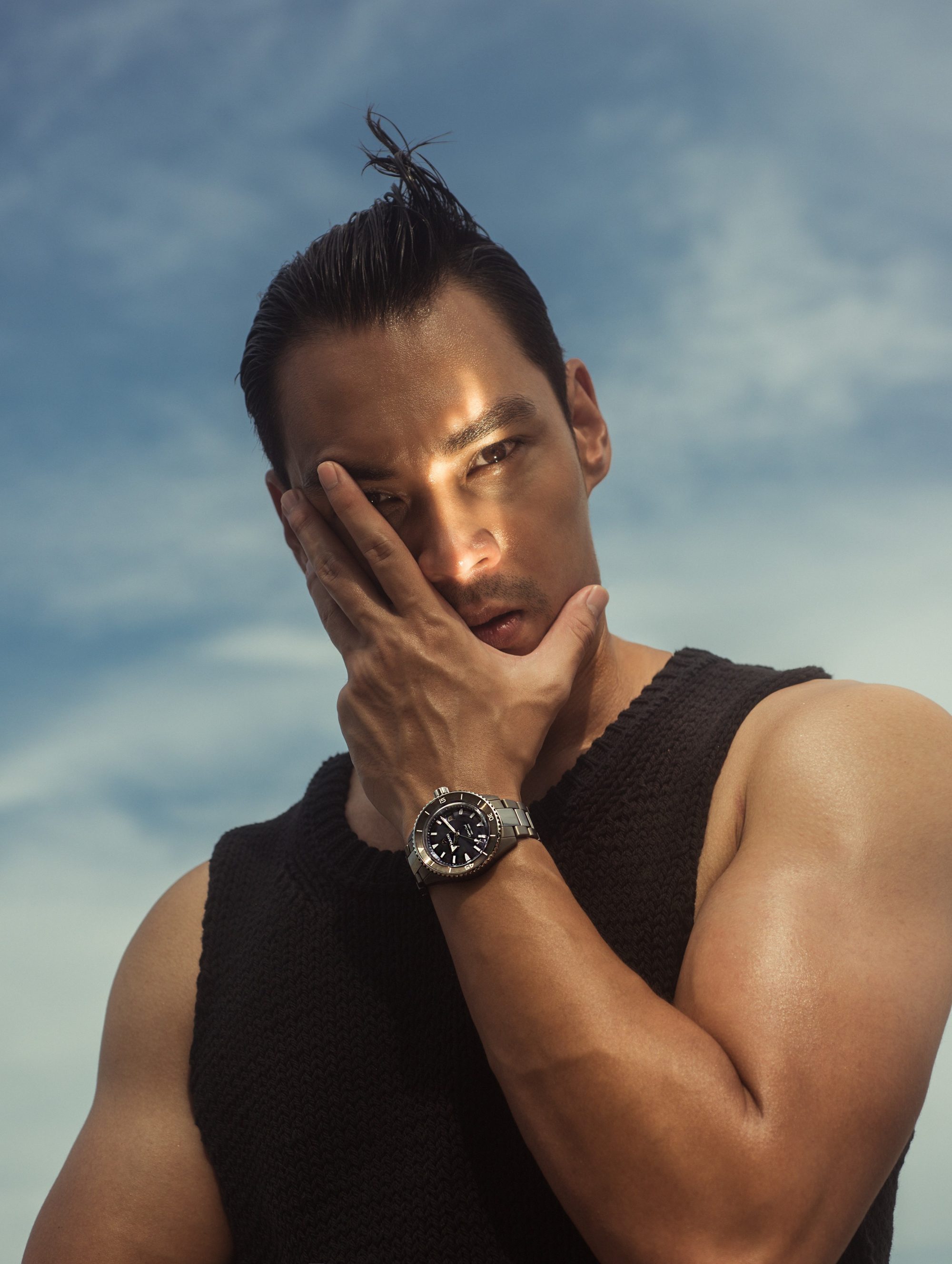 Hisyam Hamid knows his priorities. And he's canny. After making his debut in the TV drama series Cut Amirah – an Astro Prima and MediaCorp project – in 2011, he decided to go full-time with acting in early 2014 and relocated to Malaysia where he knew he would have much greater opportunities. However, with his wife and two children residing in Singapore, the living arrangement is not without its challenges. "It's difficult for me to be close to my family and to be there for them as much as I'd like. One obvious difference is that I used to be readily available whenever my children needed help with their school work, but now, I have to hire tutors to fill the void," Hisyam says. However, his sedulous personality urged him to find a win-win solution. "We make very regular FaceTime calls and are very active on the family group chat. I'm updated on their day- to-day activities. Other than that, I also make it a point to travel back during school breaks or long weekends or when I get a long break from work," he continues.
"The entertainment industry in Malaysia is bigger and has wider variations compared to that of Singapore. For instance, there is only one Malay language channel in Singapore, which makes sense given the percentage of the Malay population there," he explains, and adds, "There are a lot of procedures we have to abide by in Singapore. One of which is the number of working hours per day a person can work. The difference is that in Malaysia it's about doing as much as we can in a day. I think if we could adopt that in Malaysia it would be better, welfare wise. One other thing that strikes me the most is the number of people involved in a production here. There's an emphasis on specialisation, which is great. In Singapore, it's more about efficiency hence one person may have multiple roles. Multitasking may seem to increase productivity because you're carrying out more tasks in a shorter period of time, but I feel that some tasks require you to be more focused in order to not jeopardise the quality of the work."
Hisyam says that his career is progressing in the right direction – and rate. To him, a good actor doesn't only need to be flexible and ready to adapt, but also need to possess strong work ethics especially when it comes to persistency and self-discipline. "You may not be the best actor but if you have those traits, you can almost be certain you will go a long way," he asserts. Just like every industry, showbiz is full of competition and giving production houses a reason to want to work with you is how Hisyam stands out from the pack.
At the time of writing, the Singaporean, KL-based actor is filming a 28-episode TV series titled Kerana Aku Isteri Bidaan. He's taking one project at the time, albeit he has several projects in the pipeline. "I always get the 'good guy' role, but hopefully, I get to play a villain soon," he says with a chuckle.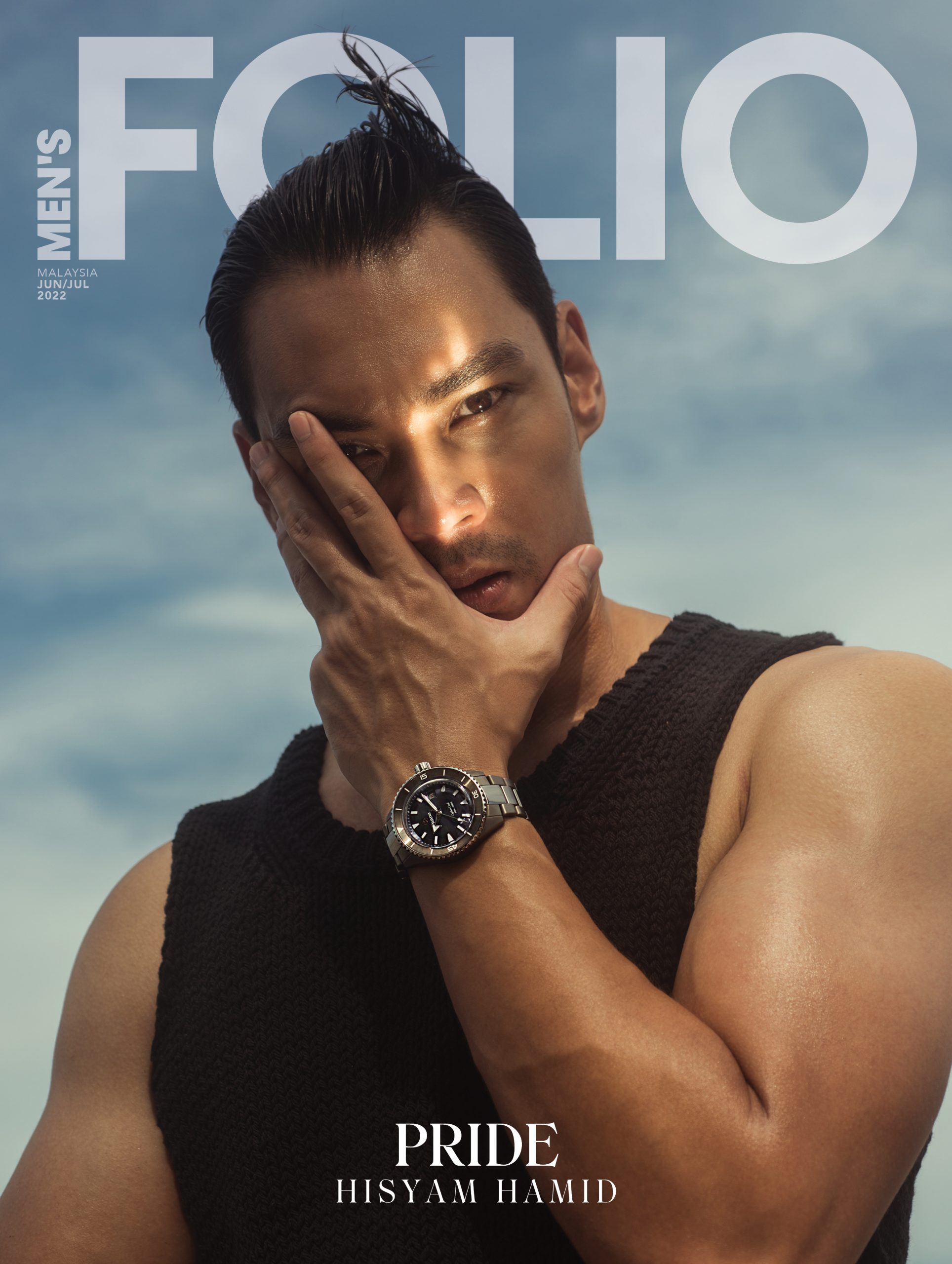 Why is time important to you – and how do you make the most of your time?
Time is precious and time is money. When filming starts, an actor's work schedule can become very hectic. We can work for more than 12 hours every day. So, for me, I try to be with my family in order to make up for lost time when I'm not working. On days when I cannot be with them, I'd occupy myself with ad hoc projects and meetings in order to stay productive. Of course, health is important too – which is why I make a conscious effort to hit the gym or play sports like football to stay fit as often as I can.
What influenced you to pursue a career as an actor?
It all started when I was 17 or 18 when my friend introduced me to his friend who was a film producer. Then, I was invited to attend an acting workshop and was eventually casted in a drama series in Singapore. It was after I did my first ever scene when I felt an incredible rush of adrenaline that made me want to continue acting. After that show went on the air, the amazing response I got from the viewers and fans gave me a sense of satisfaction – feeling that all our hard work was worth it. It developed from there. I'm an introvert, so you can just imagine how special it made me feel.
Describe your acting style. Is there pressure to maintain that particular style?
I won't say I have a style but one thing I like to do is to play my characters as subtle as I can in order to portray them in the most natural manner. I find that the pressure is more on how to give viewers something different to look forward to.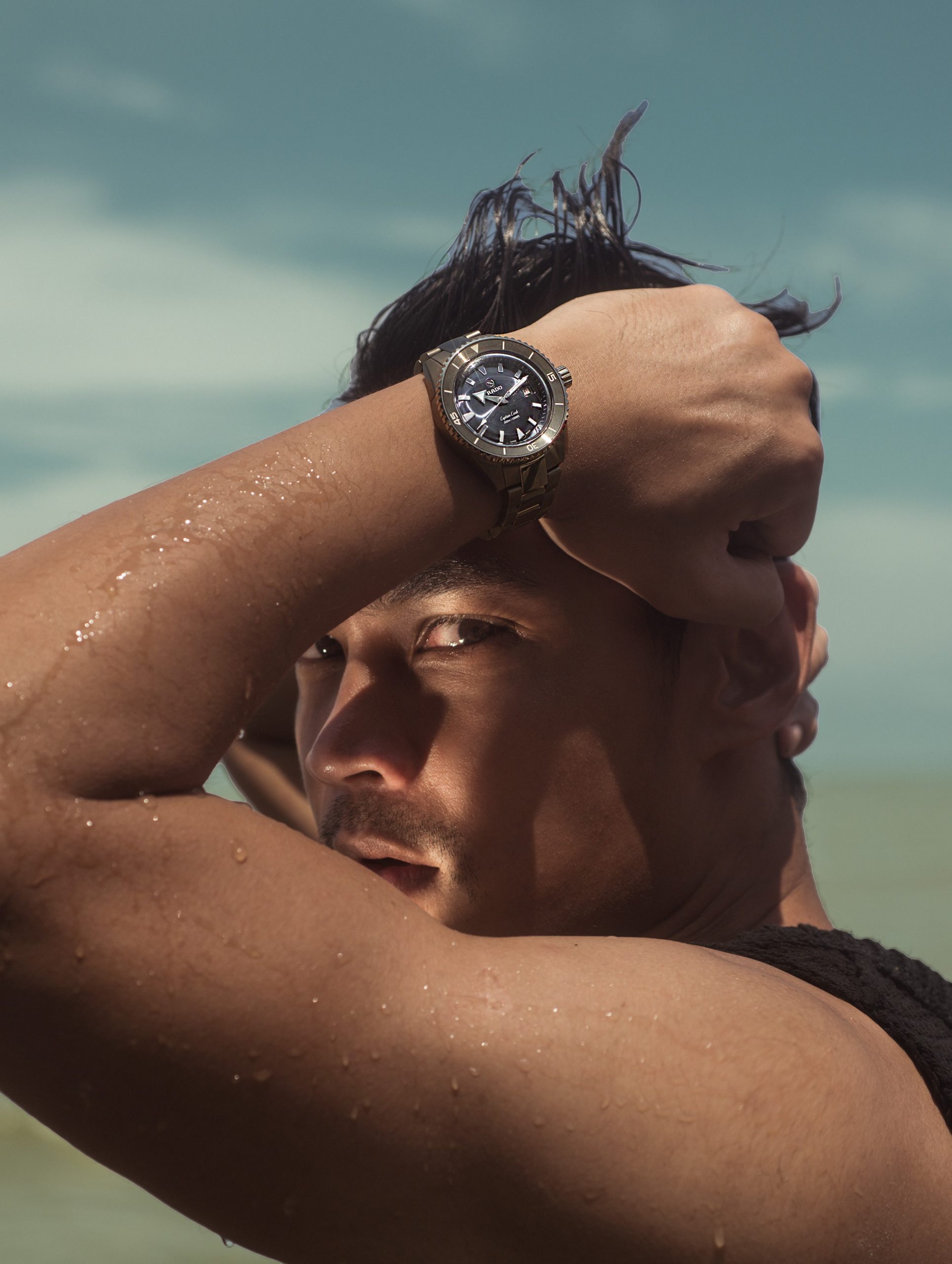 Ermenegildo Zegna XXX Jumper; Rado Captain Cook High-Tech Ceramic Diver
What film genre are you particularly fond of and hope to play in the not- too-distant future?
I'd really love to be in something dark. Even if I'm the antagonist, that'd be a dream come true.
In terms of your work, what do you take pride in the most?
Discipline and professionalism. Since day one, I've been telling myself that whenever I work with a new production house, I have to make them feel that, "Hey, it was easy to work with Hisyam". I also make it a point to tell myself that others may beat me in terms of acting or popularity but I will never let them beat me when it comes to having good self-discipline.
How do you respond to people who don't believe in you?
I'd prove them wrong through my work. If they tell me that they have doubts about me, I will turn that into positive reinforcement to show them what I'm really capable of. In short: less words, more action.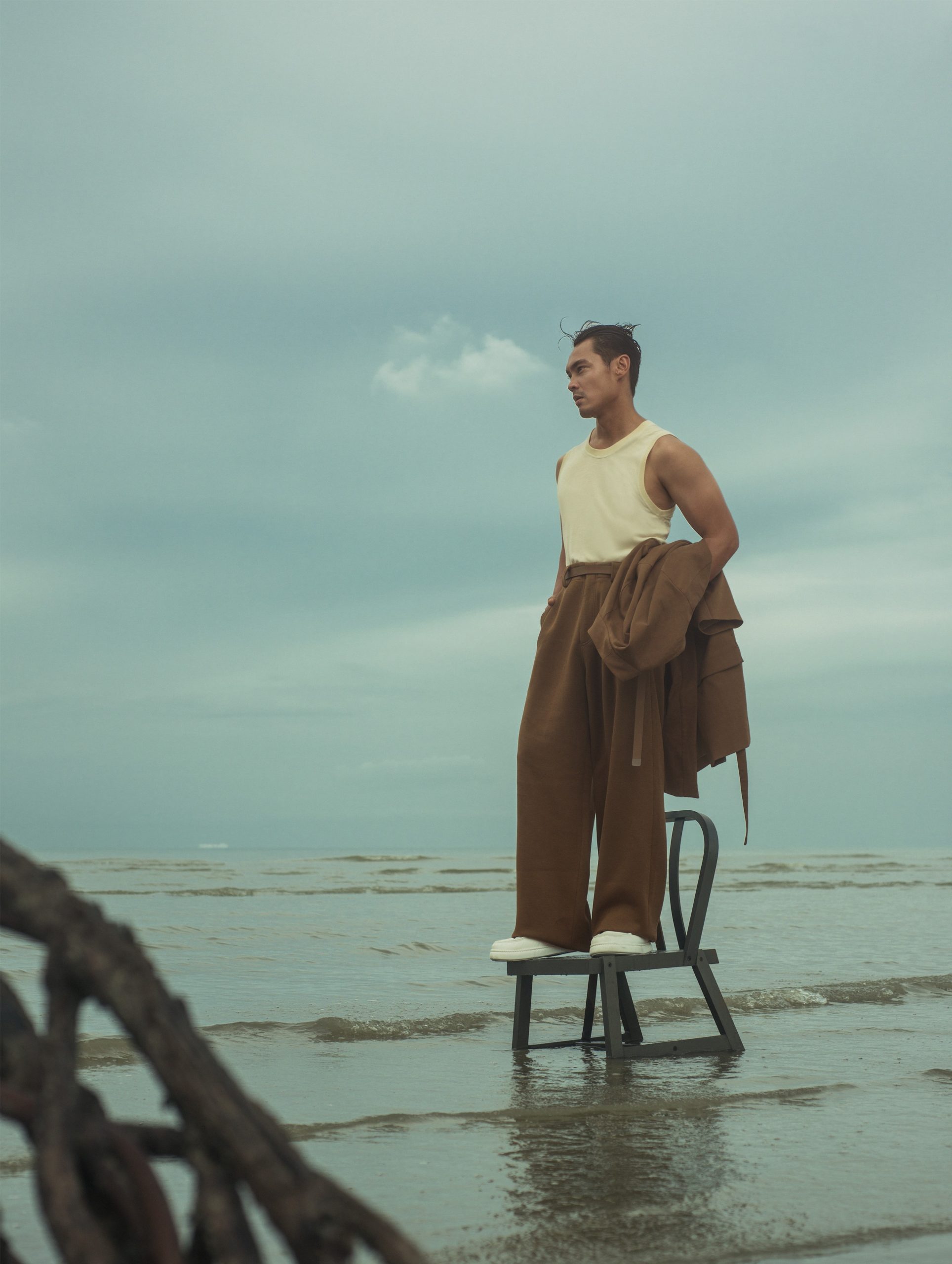 Ermenegildo Zegna XXX Corduroy jacket, shirt Jacket, trousers, jumper, shoes
Which projects are you most proud of to date – and why?
I'd say my first drama Ariana Rose, which catapulted me to recognition and fame in the industry. The drama was a phenomenon hit. It was the second highest rated drama on TV3 at that time, losing the top spot by only 0.1 or 0.2 million viewers. 5000 people turned up to our meet-and-greet session. That has got to the sweetest experience in my career so far.
What do you think makes a role challenging?
The ones that involve a lot of emotions; to cry especially. I did one horror telemovie called Puaka Hari Raya, which was challenging. We shot it mostly after dark, which was already physically testing and to have to express strong emotions made it even more challenging. Like all actors, I have to always stay focused and calm in order to for me to deliver my character well.
What is the first thing you do when approaching a role?
I usually start by studying the backstory of the character and by asking: why, how and what – that makes him the way he is. If it requires special knowledge like a character with bipolar disorder which I played once before in Singapore, I'd go research on things like how a person with the condition feels, acts and behaves.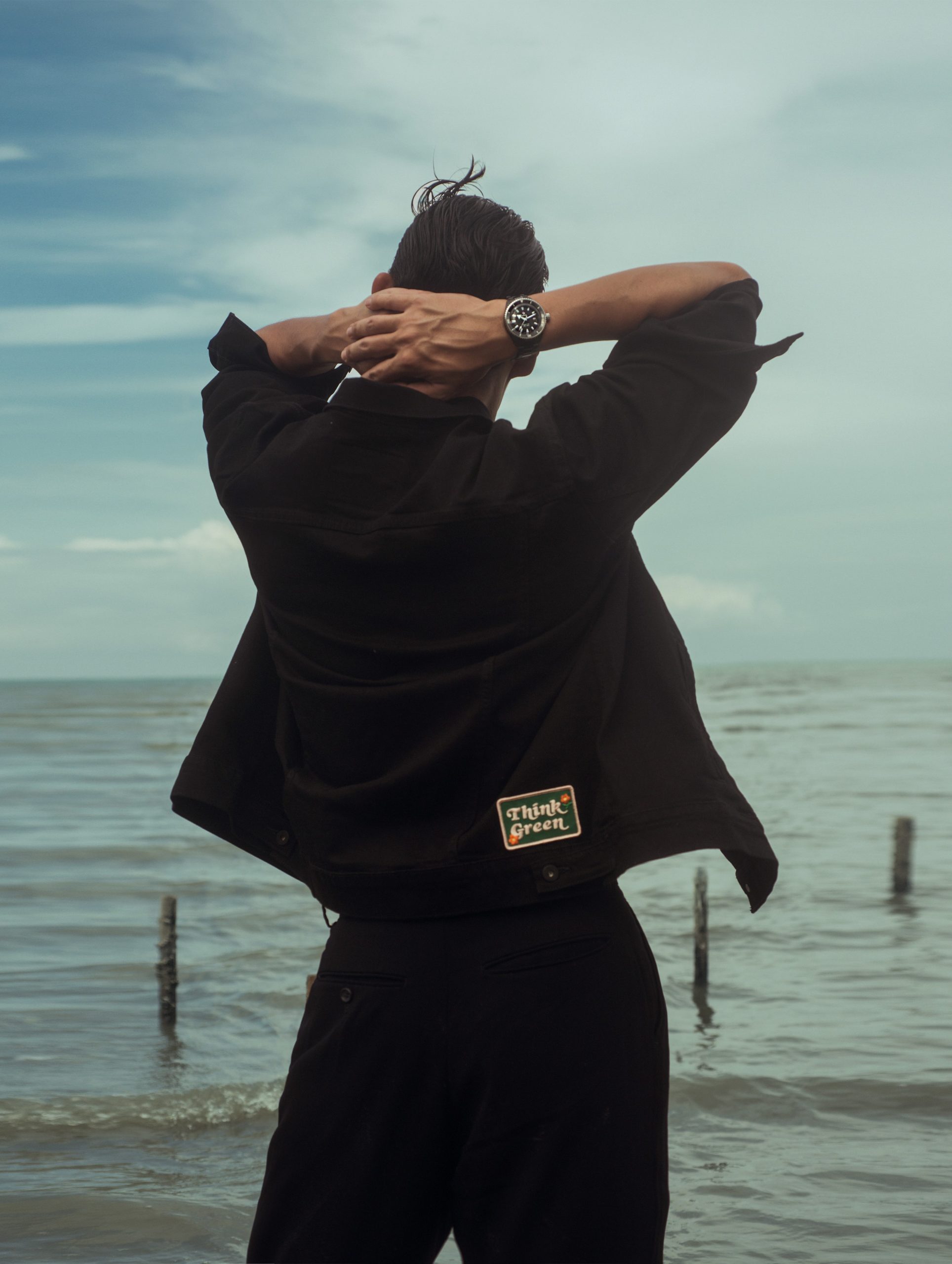 Rado Captain Cook High-Tech Ceramic Diver, stylist's own jacket, trousers
What is the toughest part of your work – and why do you think it's tough for you?
Being away from my family is tough for me. Sometimes when we're having a bad day, we just want our loved ones to be around us for comfort and also to keep our motivation high. Without that support system, I have to learn to take real good care of my own mental health.
What's the best advice you have ever received?
Never forget where you came from.
You started a few businesses when the pandemic hit. Can you tell us a bit about them?
In Malaysia, my partner and I started a company that focuses on foods and beverages. We have two restaurants in Johor that we franchised, one is an American-style BBQ restaurant called Meat Cartel and the other is an ayam geprek restaurant called Universal Sambal. In Singapore, I helped my wife setup her retail business and now she's also managing the three-month-old restaurant.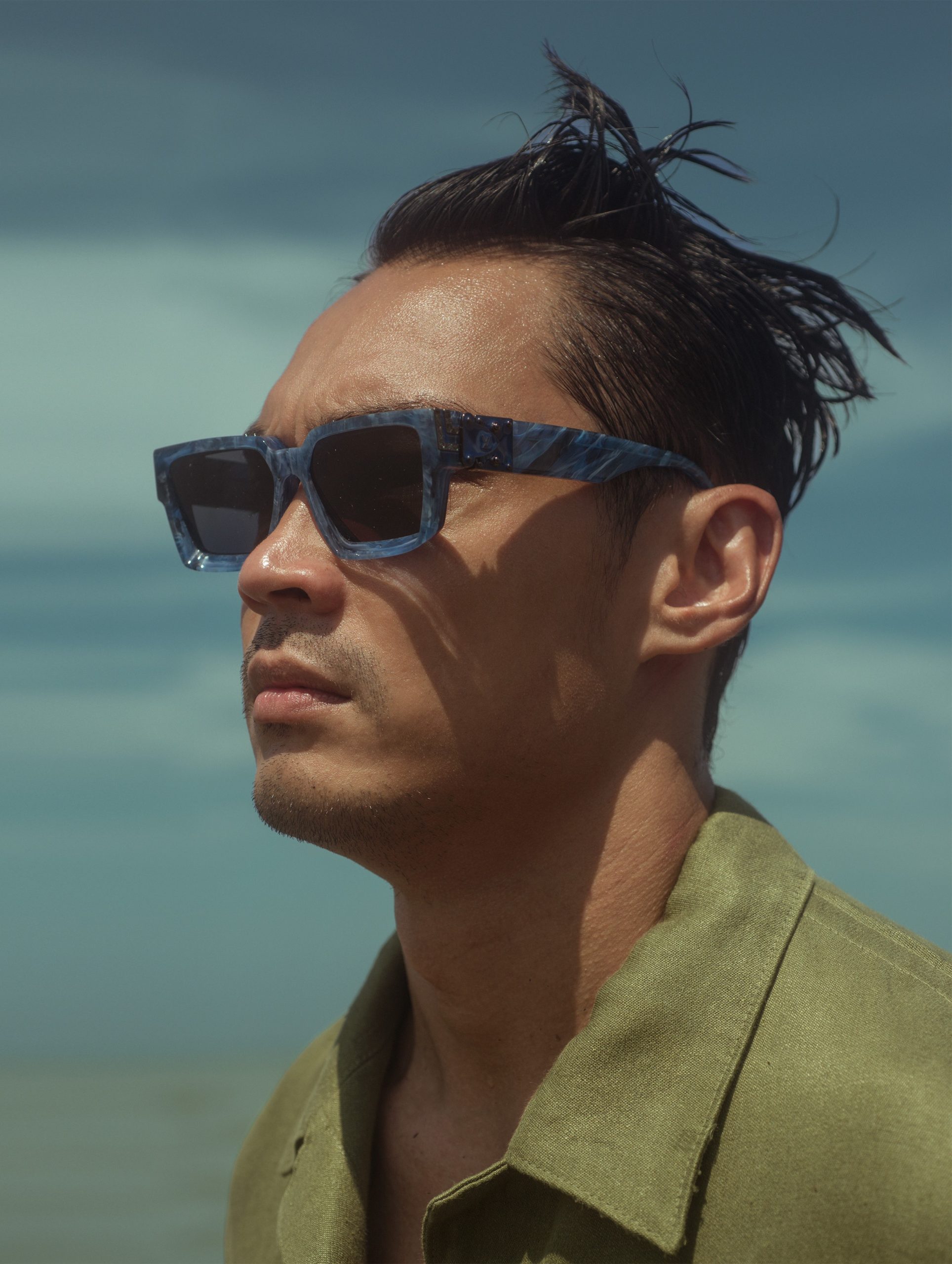 Ermenegildo Zegna XXX Jacket; Louis Vuitton sunglasses
What advice would you give to someone dealing with life's uncertainty?
As a Muslim, I believe in God's plan for us. Therefore, we should never stop praying and we should always put in effort towards working for a better future.
If you weren't famous, what would you be up to right now?
I'd still be fighting fire and saving lives.
Photography: Vincent Paul Yong; Creative Direction & Styling: Syazil Rahim; Fashion Direction & Words: John Ng; Styling Assistant: Yan Joon Wing; Grooming: Khir Khalid using Augustinus Bader; Hair: Ckay Liow
Purchase a copy of our June/July 2022 issue featuring Hisyam Hamid here or at major bookstores. Revisit our cover issues here.