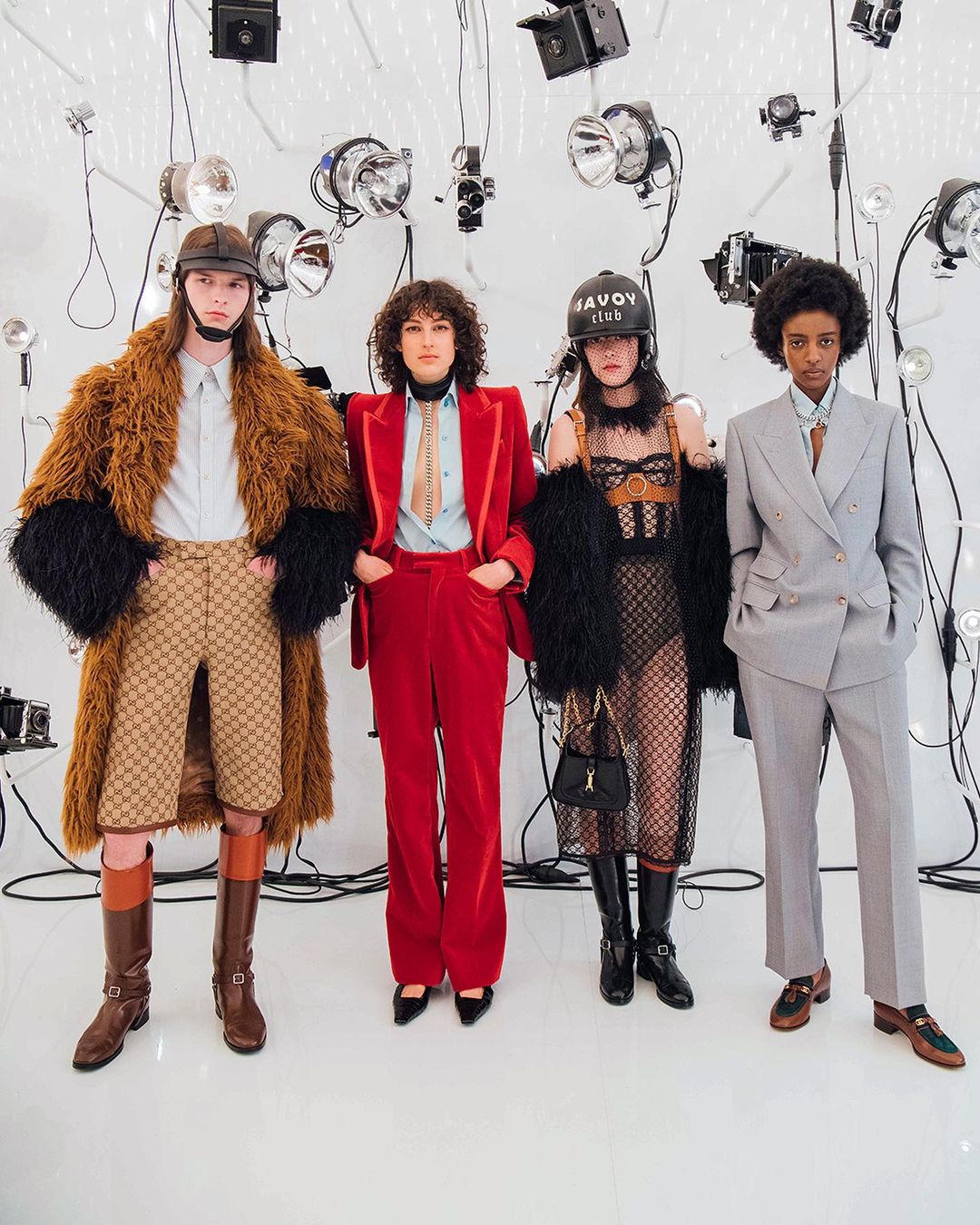 "Gucci gang, Gucci gang, Gucci gang, Gucci gang…" the song by Lil Pump played in the background while the models walked through a bright tunnel installed with a cascade of flashlights. The show ambience lacked whimsy that Alessandro Michele bound up with, it was filled with a sense of modernity instead. Then, the video transitioned into a fairytale-like kingdom that suggested freedom and romanticism – Michele's poetic expression was fully felt here.
The rumour is true! The first seasonless Gucci collection in 2021 titled Gucci Aria is a collaboration with Balenciaga. Oh no! It's a hacking – as Michele prefers to call it. "In this sense, Gucci becomes for me a hacking lab, made of incursions and metamorphoses. An alchemical factory of contaminations where everything connects to anything. A place where thefts and explosive reactions happen: a permanent generator of sparkles and unpredictable desires," the press releases states.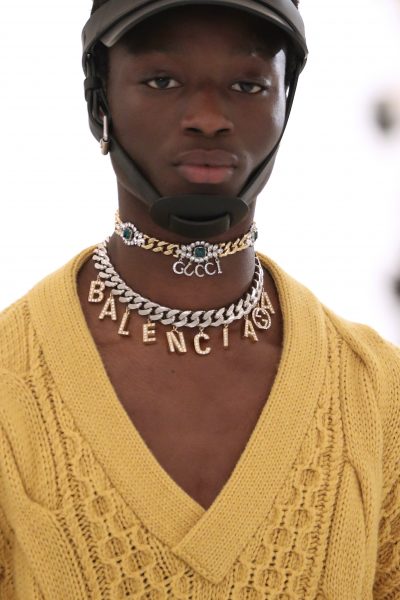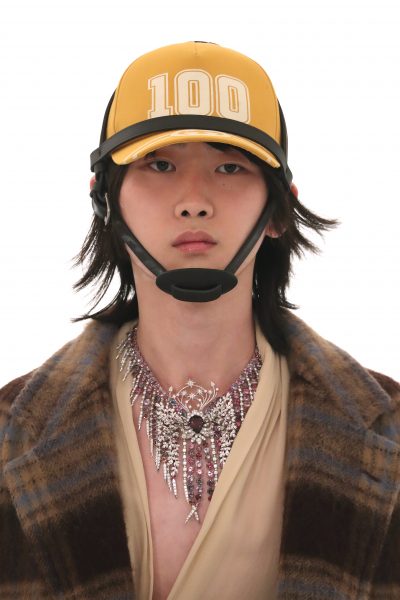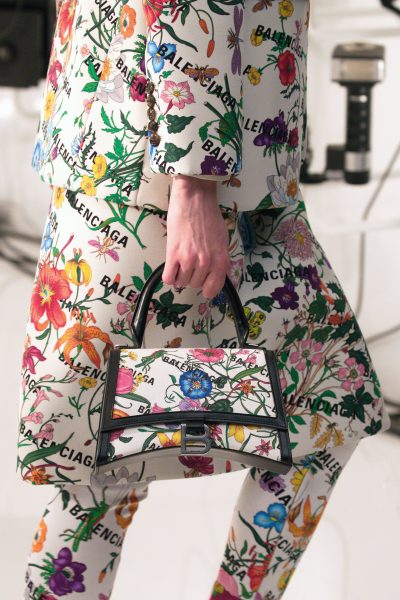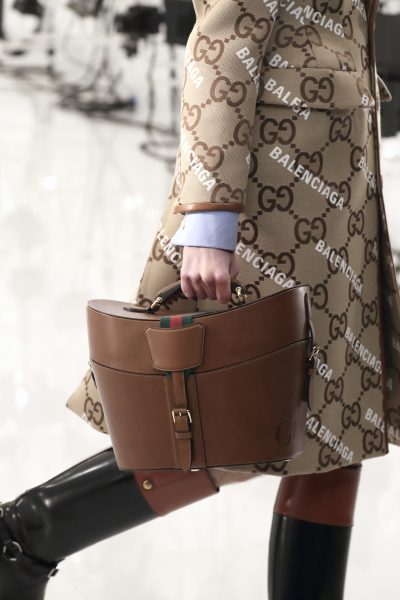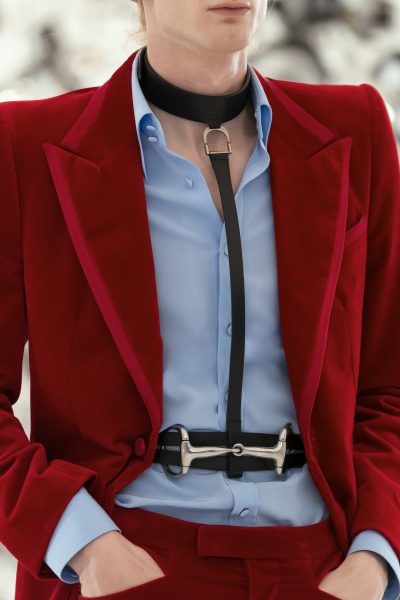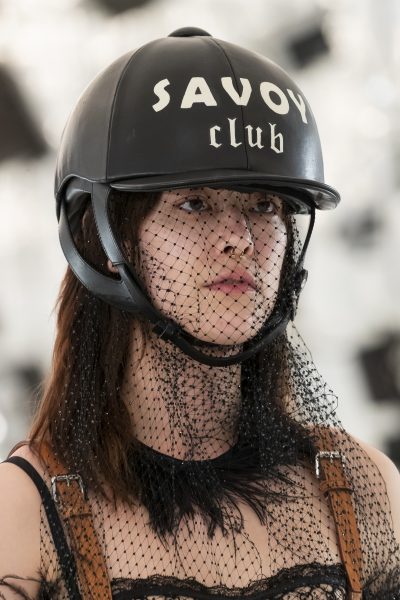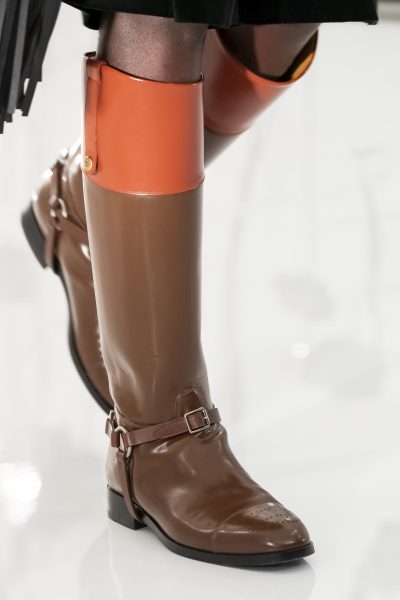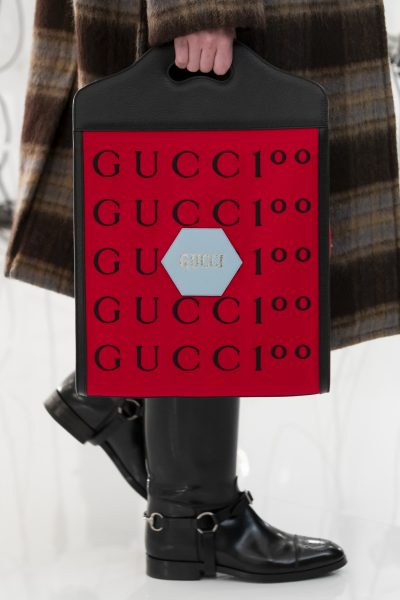 Celebrating the centenary of the fashion house with a kernel in equestrianism, Michele "disrupts" and reimagines the legacy of the Florence-based label by breathing new life with the helping of Demna Gvasalia. While the sexual tension of Tom Ford still retains with horse bit harness and whips in different lengths, the dynamic effect of Michele-led Gucci is now amplified with the nonconformist rigour of Gvasalia.
The GG canvas suit is now executed in Gvasalia's signature hourglass silhouette and paired with equestrian boots. The suit is not the only one getting the Gvasalia treatment: the iconic hourglass bag gets reinterpreted in brown and beige GG canvas. Elsewhere, the hourglass suit is stamped with blown-up GG canvas motif and "Balenciaga" branding with matching shorts and boots to maximise the logomania impact. On the flip side, the play of androgynous is visible on a suit in Land Rover green with orange polka dot, embellished by feather. To pay tribute to Mr Guccio Gucci, horse riding hat is printed with "Savoy Club", a reference to his profession in the 1900s when he was a bell boy at The Savoy Hotel located in London.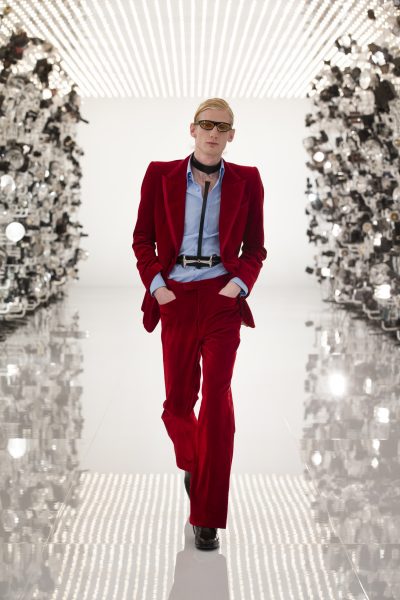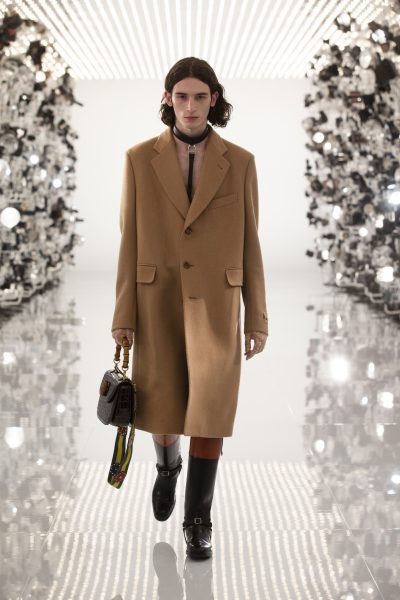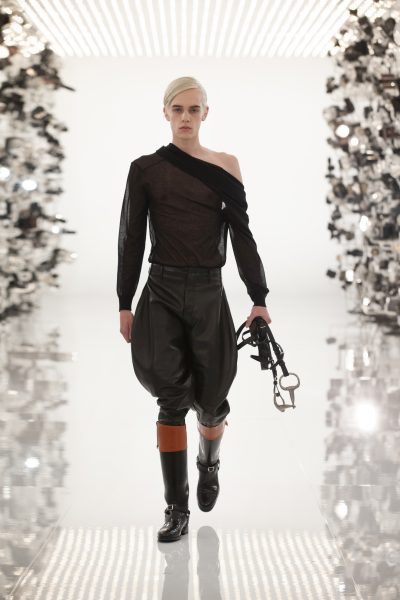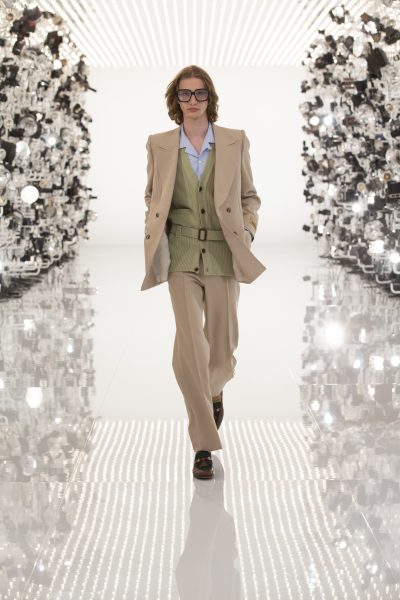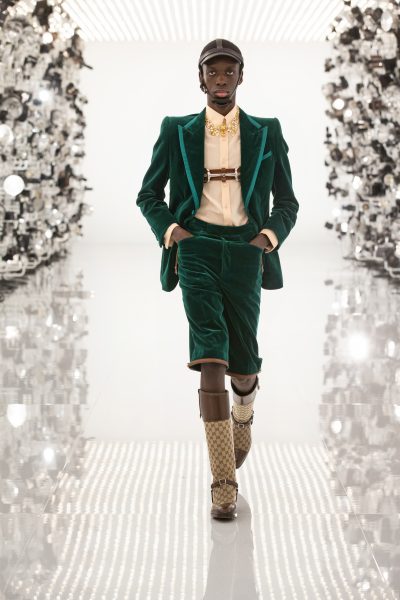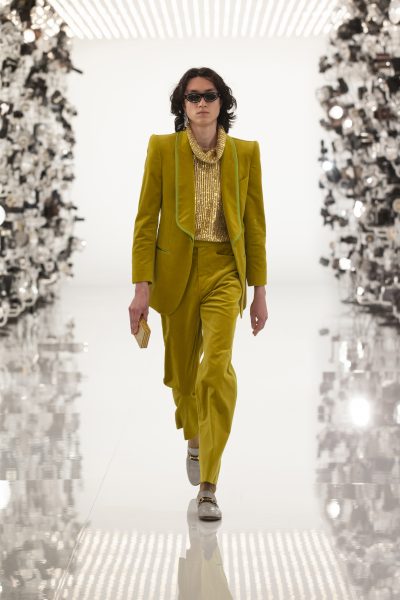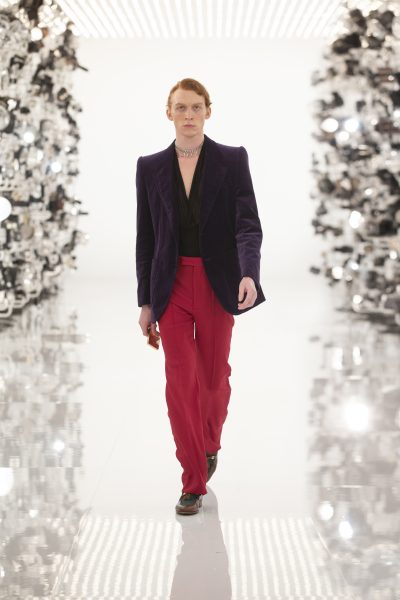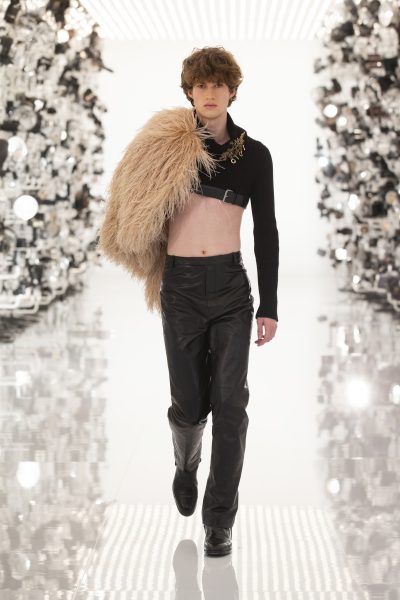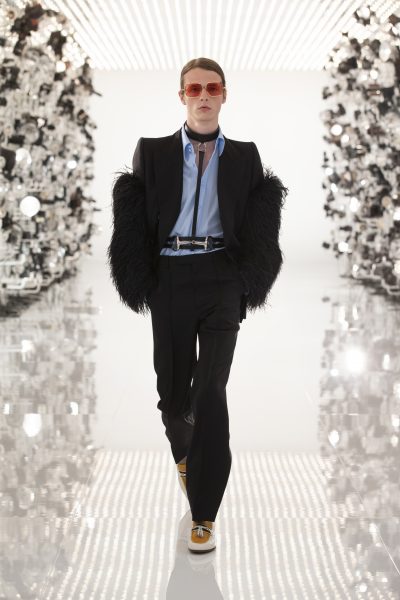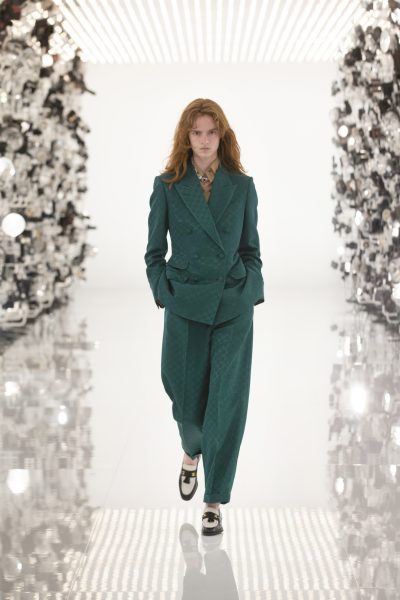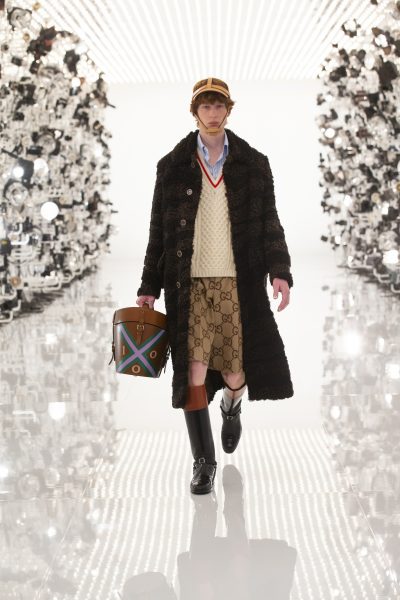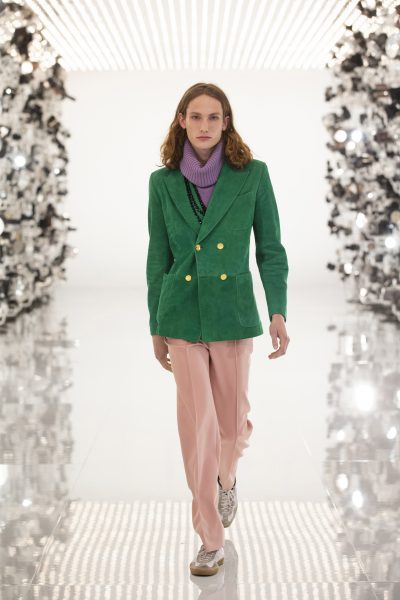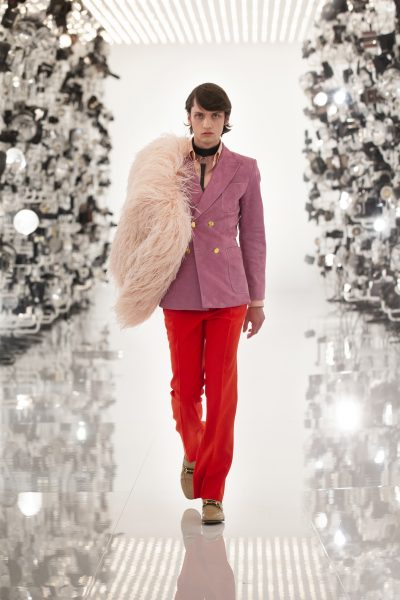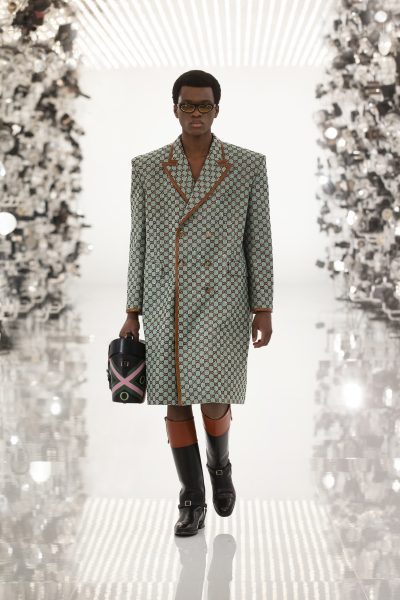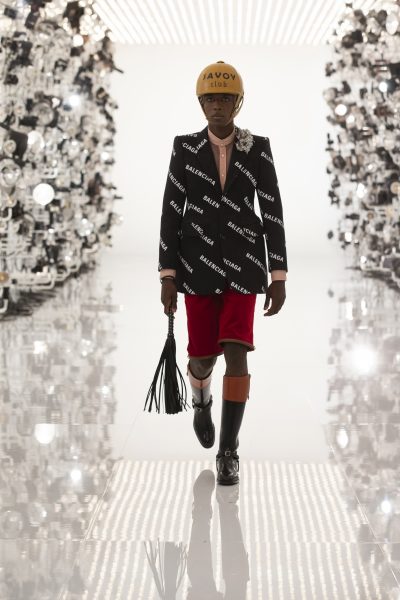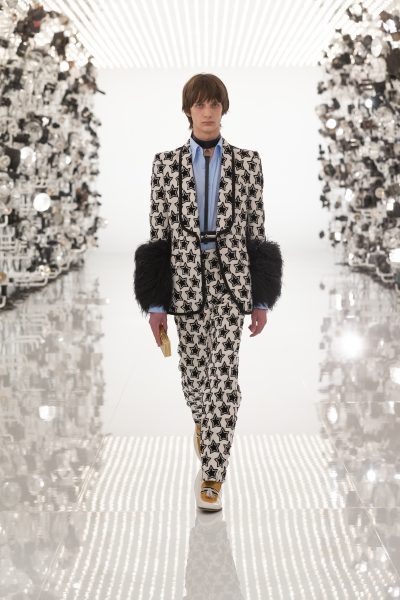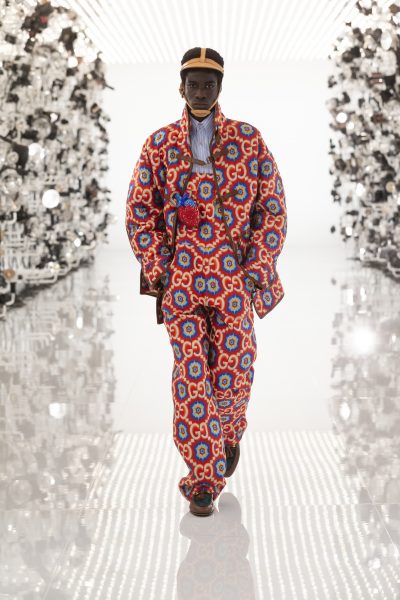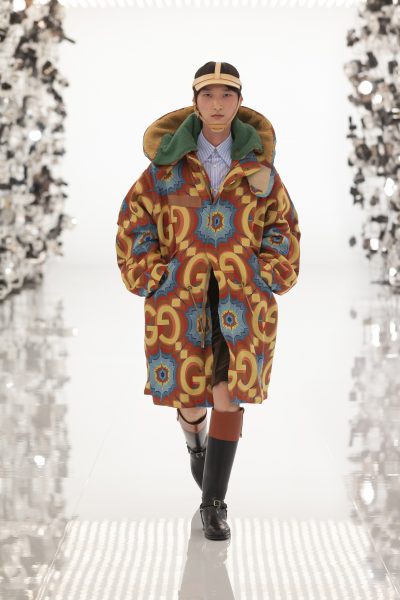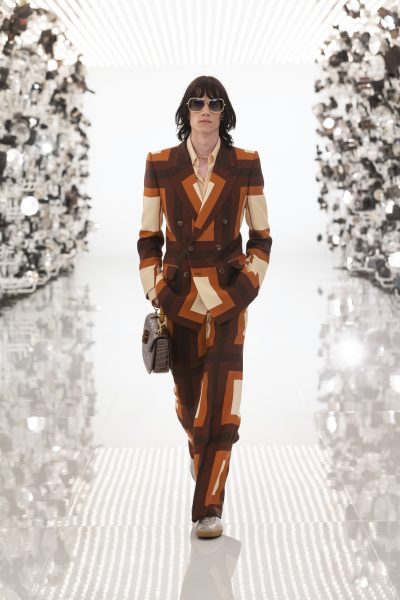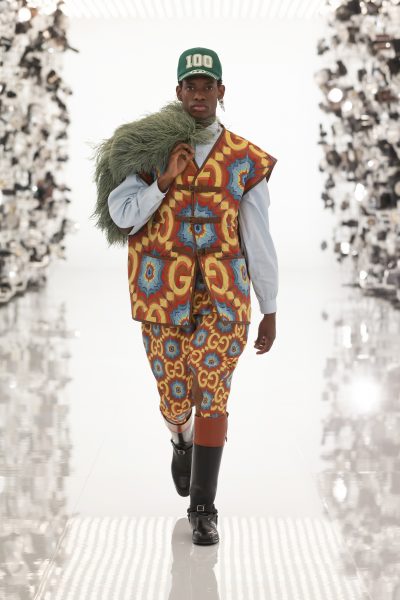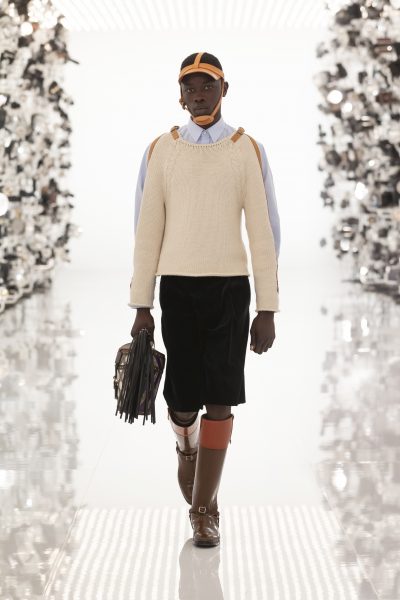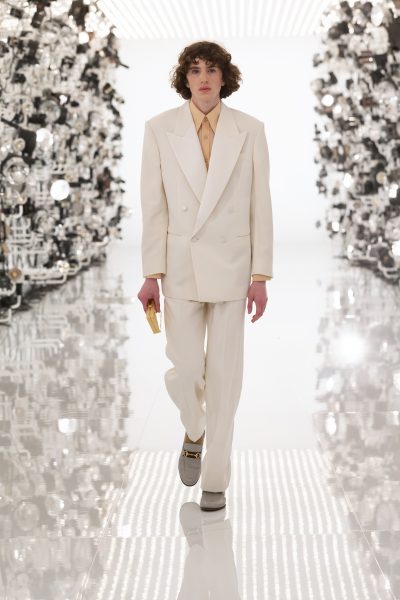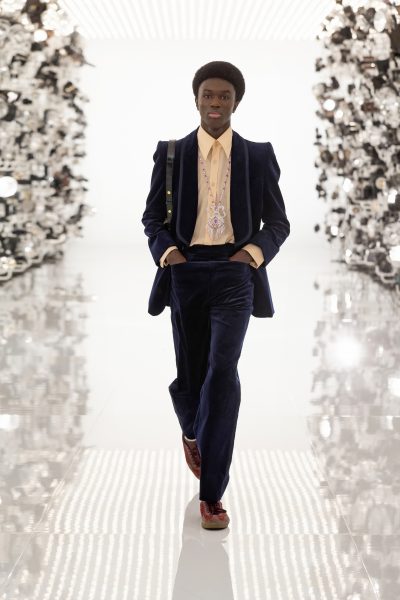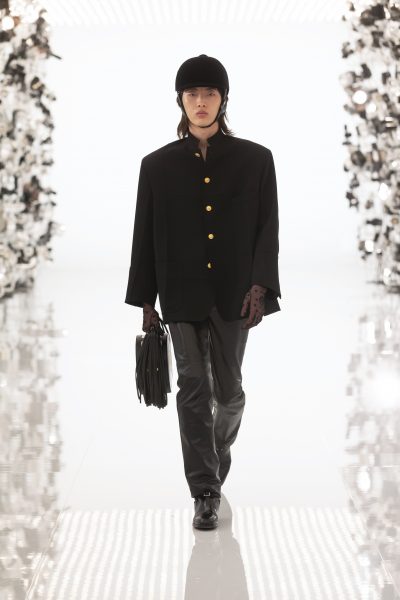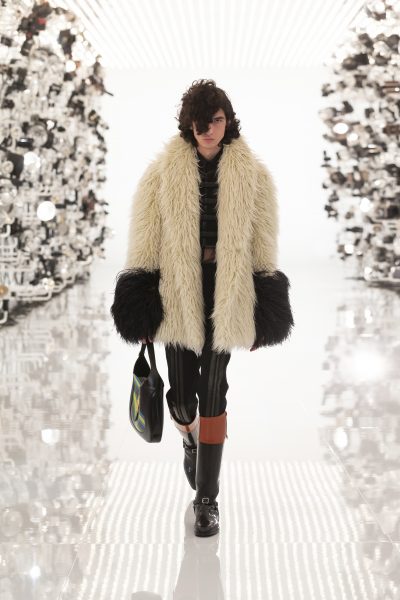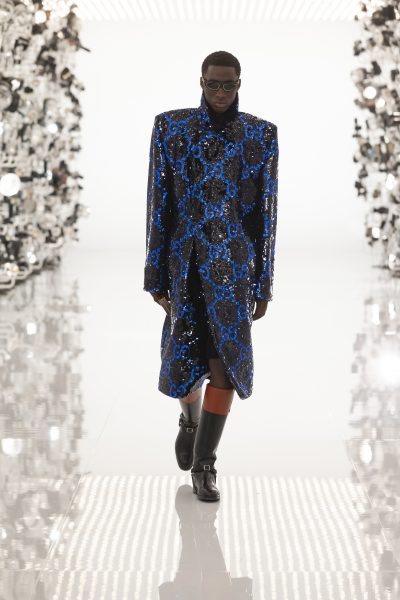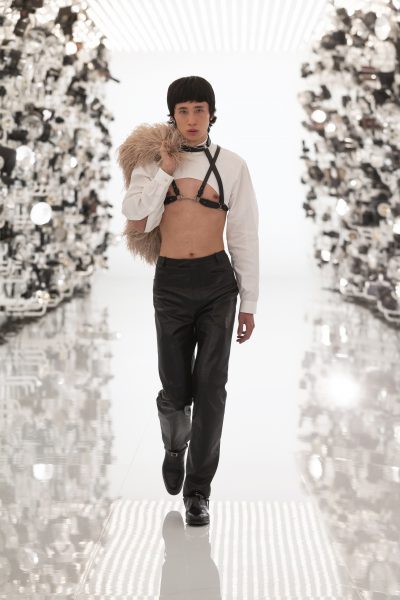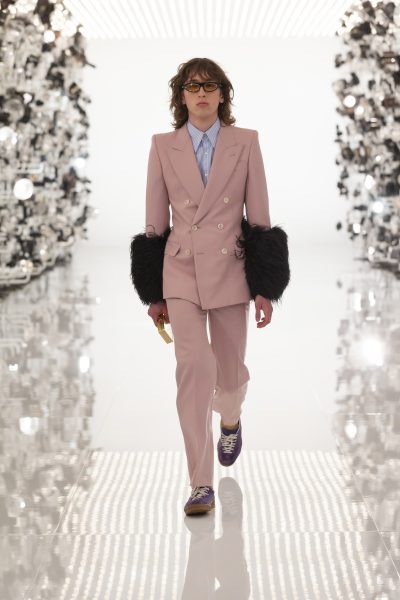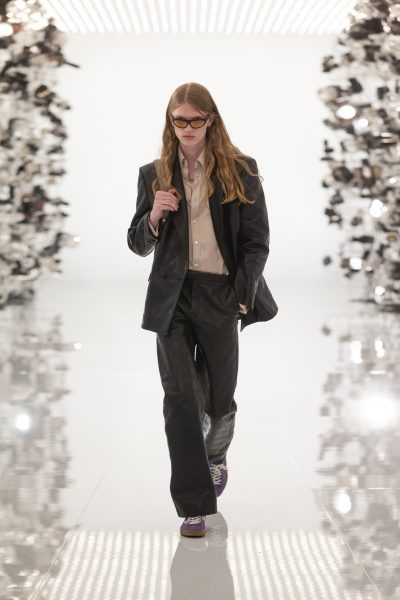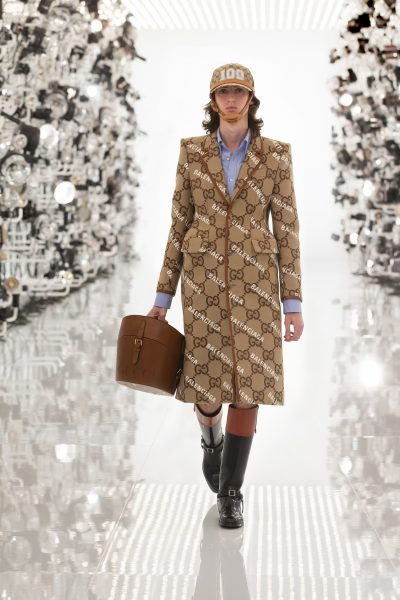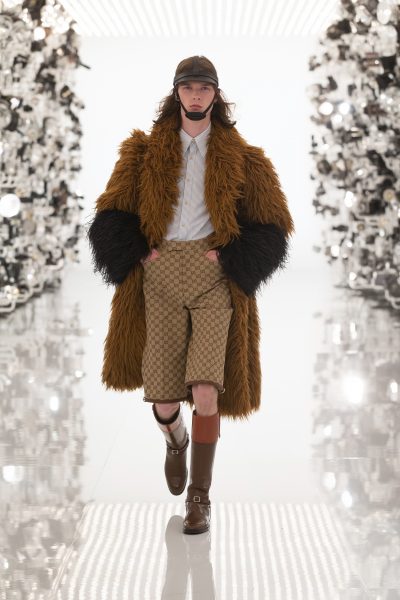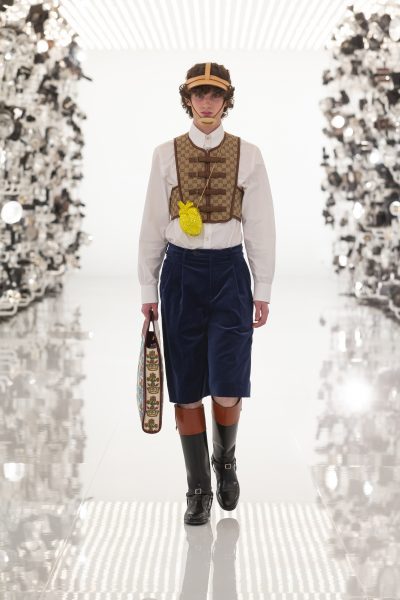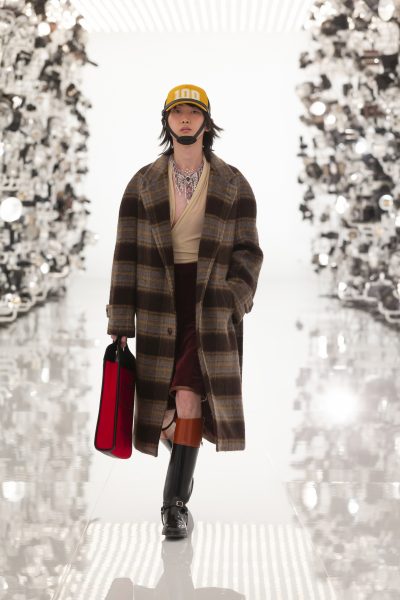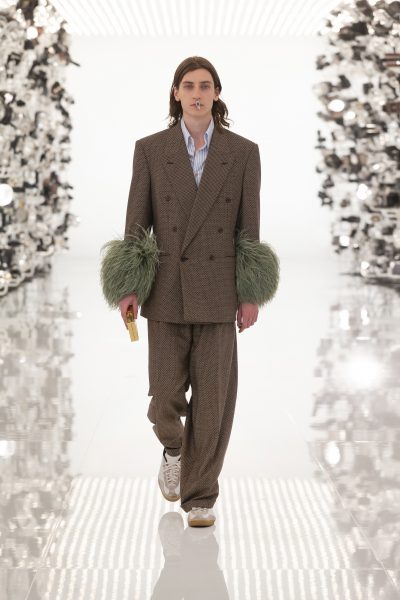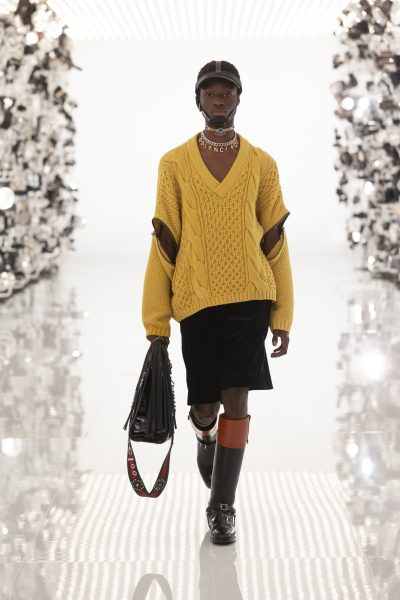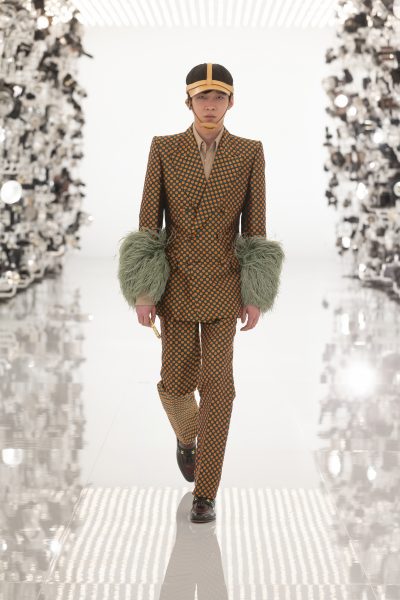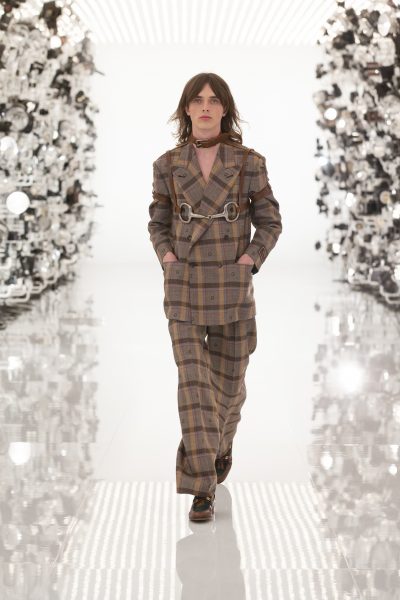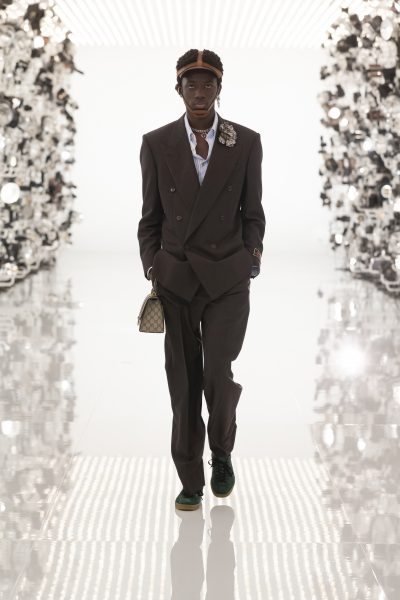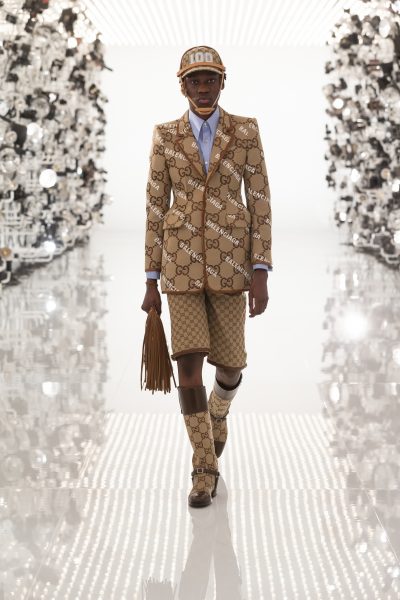 The entire collection may seem like a celebration, but "resurrection" is perhaps a better word to describe it. The co-creation didn't turn out like what the loafer Highsnobiety showed in their Instagram – it is a refreshing collection with a fair touch of subversion and respect for the house legacy.