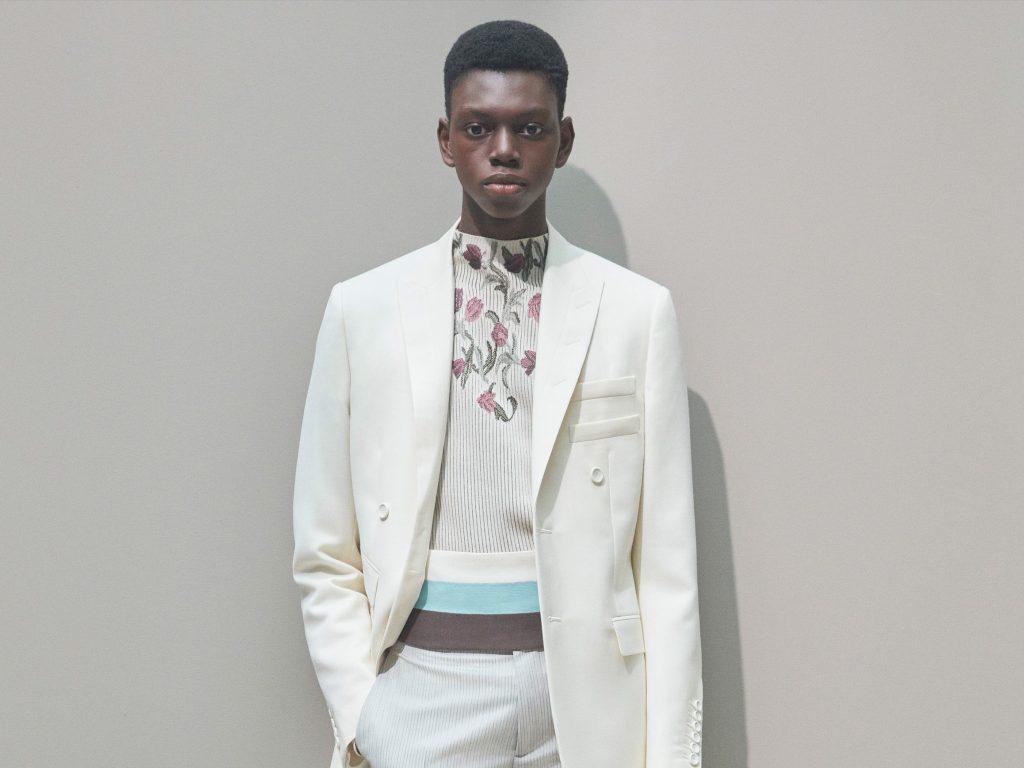 With physical fashion shows out of question right now, the fashion industry has risen to the challenge by launching the first-ever digital-exclusive fashion week.
Spearheading it is the Digital Paris Men's Fashion Week that happened from 9th July to 13th July 2020. Brands are given carte blanche not only for the creations but also the way they present it.
From Dior Men's artist collaboration with Amoako Boafo to Berluti's first collaboration with Brian Rochefort, here are our favourite collections that give us the rapture we need in the midst of quarantine.
Dior Men
For his latest artist collaboration, Kim Jones has set its eyes on the artist of-the-moment Amoako Boafo, who is known for his finger-painted large-scale portraits of the African diaspora. Chiming with the advocate of diversity, the Dior Men Summer 2021 collection named "Portrait of An Artist" once again pays tribute to Kim Jones' peripatetic childhood while honouring the artist' works.
The collection, presented via two-part IGTV video, sees a selection of well-crafted piece including embroidered sweater, fil coupé jacquard shirt, taffeta blouson and deep scoop top in Dior Oblique print done in modern ease. Ivy prints loved by Monsieur Dior himself also makes its appearance in sparkling, ornately embroidered piece.
Isabel Marant
An escape from Paris to Pantin, the Spring/Summer 2021 is all about the flexibility and freedom as deemed by Isabel Marant. In a video that was taken around the Centre National de la Danse, two models are captured scampering in a legion of relaxed silhouettes that can easily fit into any men's wardrobe.
Poplin trench coat, jumpsuit and quilted blouson are styled with tie-dye-effect jeans and pants with low-slung pockets and rolled cuffs, perfectly evincing the Parisian nonchalance. Alluding the '80s sporty vibe, the collection filled with exuberance is rendered in bright colours like magenta, light pink and cream yellow.
Berluti
Marking the first collaboration of the Italian fashion house, Berluti has teamed-up with one-of-a-kind ceramic artist Brian Rochefort for its Spring/Summer 2021 collection. The collection is presented via a 10minute-long behind-the-scenes video, offering a glimpse into the production of the collection and the creative process of the American artist.
Bringing the artist's signature blob painting to life, the silk shirt is decorated in technicolour print and a double-breasted suit is treated with gold specks — each paired with athleisure pants and trousers in a loose silhouette respectively.
CMMN SWDN
Known for classic sartorial style with a touch of playful colour palette and unique fabric choices, the Swedish label continues to take us through its story with the unveiling of new chapter taking place in a summery paddy field.
A stay in a rented cottage at the Swedish coast serves as the springboard, where the pottery and kurbits paintings and Swedish folk art flourished.
Accessorised with oversized straw hats, leather sandals and bright-coloured bags, a series of boxy suits with fringed details, broderie anglaise singlet and sleeveless tunic and pants with kick pleats are nicely executed in varying earthy, blue and aqua tones. All these are presented with a video reminiscent of a traditional runway show.
Featured image is courtesy of Jackie Nickerson.