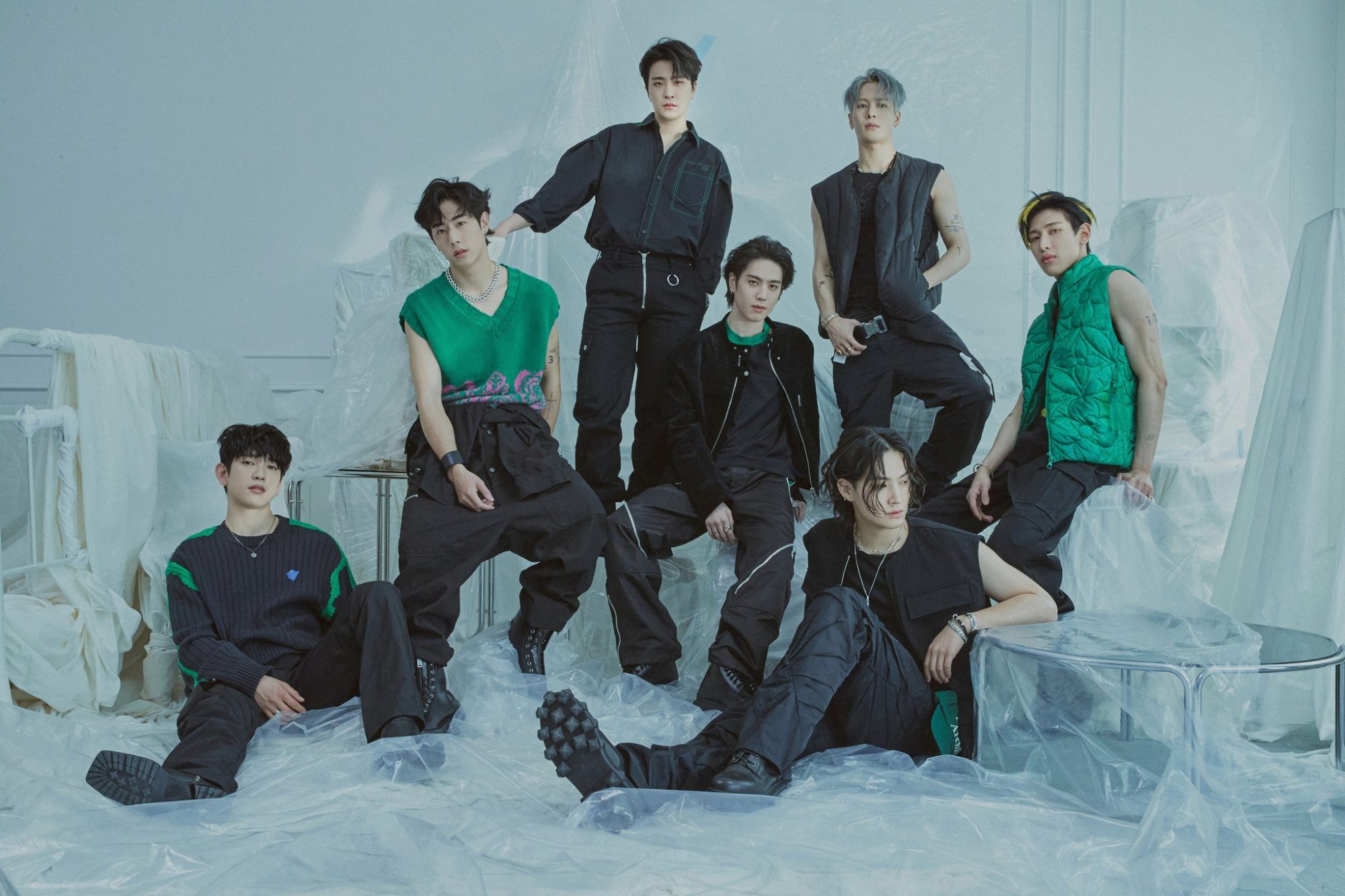 Welcome to the metaverse or as we call it: the GOT7 press conference held by Warner Music where the seven boys themselves discuss their latest album, "GOT7". Think of it this way: GOT7 discussing GOT7 and reuniting as GOT7 to do GOT7 things. Here, the full transcript.
Warner: How were the two fan-cons over the weekend?
Jackson: It was a great time. It's been a while and I missed seeing the fans, so it was good to see them.

Warner: What about the album, then?
Mark: We were prepping this since last year and we had this feeling of coming back so I'm happy that it finally happened.
JAY B: Thank you to all the management and Warner Music for making this comeback happen. It feels like a dream. We had a plan, but actually making this happen feels like a dream.
Jackson: I missed our fans. Warner Music worked really hard as well and also, all the management. It wasn't easy, but I'm so happy that it finally happened.
Jin Young: As Mark mentioned, we prepped and waited for this comeback so I'm happy that it finally happened. We were seeing each other and always talked about when this was gonna happen. Happy that it's finally out.
Young Jae: I appreciate that the fans have waited for us. It was good to engage with them over the last two days. The album is finally coming out real soon, so I'm excited.
BamBam: It was a time for us to realise that two of us needed to be together.
Yugyeom: Happy that we are back as seven. I'm so excited for the album coming out!
View this post on Instagram

Warner: What's the concept of the EP?
BamBam: It's a theme about construction that represents a new house and a new beginning for us.
JAY B: Personally, I went on a diet prepping for this album. We talked about keeping healthy. and it feels like a 'renewal' for us this time so we also talked about keeping sharp. I personally lost four kilograms as I walked a lot and ate healthily. I didn't know before but after the diet, I realised that I definitely needed to lose some weight.
Warner: About the album name "GOT7″…
Jin Young: It really is the most GOT7-like album: the looks and music. GOT7 shined the most on stage when JAY B produced it so this album represents that.
JAY B: The name is GOT7 which reminds all seven of us how important GOT7 is.
Warner: What about the members' involvement in the production of the album?
JAY B: We all were involved in getting and picking the songs. We had all the blind tests on the demos that we collected and written and ended up picking the songs that we produced.
Yugyeom: Because we know each other so well, we were able to do the best on the songs that were written by us.

Warner: Can you explain Track 1: Truth written by JAY B?
JAY B: We have many different sides of us: sometimes fun, sometimes sharp with the performances. So when I was prepping for this album, I made sure to keep that in mind. For this one, I thought of doing a sharp choreography with this track but instead of doing it "hard", we wanted to be a bit more relaxed.

Warner: What about Track 2: Drive Me To The Moon written by Young Jae?
Young Jae: I loved using a 'moon' reference. It's hard to get to the moon, but I believe I can get there with our Ahghasaes. For me, the moon has many different formats and it represents changes which is similar to people and life. I get inspired by it.

Warner: What about Track 4: Two? Track 3 is NANANA, which we will talk about later.
Yugyeom: We usually sing in high tones but for this one, the vocal tones are quite low which is good to show desperation in love.

Warner: What about Track 5: Don't Care About Me?
Jin Young: When I heard this track, I thought it would fit so well with Yugyeom, as I wanted to see him dance to it. So, I called him right away to work on this track. I wanted to give comfort to our fans by making sure that they have nothing to worry about.

Warner: What about Track 6 : Don't Leave Me Alone written by JAY B?
JAY B: It was written a long time ago and was based on sentimental feelings I had. It has evolved into a  feeling for our fans now as we wanted to comfort them. As long as they'll wait for us, we will always be back for them.

Warner: Now, Track 3: the title song. 'NANANA written by JAY B.
JAY B: This one is also for the fans, the people that make them happy and heal them.  The GOT7 album really represents our appreciation to the fans. It's no different from being called IGOT7.
Yugyeom: When I first heard the song, I thought it was the most GOT7-like track.
Jackson: It's so GOT7. It reminded me of 'Thursday' and 'Page' when we have so much fun on stage.
Warner: What about the MV?
Young Jae: Going along with our album theme of construction, we are inviting fans to our new home and want them to have fun in there.
Mark: When we first saw it, it was without the CG so this is nice and fresh.
JAY B: For the next time, I might have to divide the parts better for all the members on the song.
Jin Young: It came out better than I expected! I thought it was like a Marvel movie.
JAY B: When it comes to the sound, we definitely made it more diverse with variety. Before, we did 'hard' sounds in the beginning and have 'chill' ones at the end. We balanced it well this time to present more 'chill vibes', when mixing and mastering Yugyeom.nThere definitely was more synergy when we are together as seven of us compared to doing solos.

Warner: What drove and inspired all of you to come back as seven?
Bambam: We promised our fans that we won't be going anywhere so we wanted to prove that we did not disband.
JAY B: People grow, evolve, and change. It's about not forgetting where we came from.
Warner: What was the album production process like?
Jin Young: There were a lot of facetime and phone calls due to us being in different places and gathering restrictions. Since last year, we were getting demos and putting the songs together. Also, each of the management has been very supportive of us doing GOT7. It wasn't easy, but at the same time, everyone was very supportive which we are thankful for.
Mark: There were a lot of calls and facetime, and voting on messenger apps.
Jin Young: He tried his best to fit into our timezone while he was away!
Warner: Usually, self-titled album names are meant for a debut album, so why GOT7?
JAY B: We wanted to come back as GOT7 after our JYP days we and thought that rebranding was needed. During this process, I think my self-esteem and confidence went up and drove me to properly rebrand while putting out a great quality of work that we are proud of.
Warner: What did the last seven years mean to you and what was it like making the new album?
Jin Young: It reminded a lot of when we debuted — excitement and nervousness. Going from  ur early 20s to late 20s and almost to the 30s, this project made us look back and reminded us of when we debuted. The last seven years have been like our roots and we just want to grow and branch out.
BamBam: The last seven years have been very meaningful.  We want to continue to put out a great album as GOT7 and we can't tell you when it is but it will happen in the future
JAY B: The last 7 years feel like a photobook as it was a time of continuous growth. We will try to evolve and go along with the changes that will come in the future. I can't promise that we are going to be as active as before but we want to continue as GOT7 along with our solo works. We want to show a variety of GOT7 so  it'll be cool to have festival-like shows once every two to three years.
Warner: What was the process like bringing the official trademark of GOT7 (and unit names) to each member?
JAY B: Jung Wook from JYP helped a lot during this process even though our lawyer said it was not that easy so I really thank him for that. I could've done this process through a third party but I just wanted to do it myself by talking and getting a singuature from each of the members. During this process, I learned that it was not the easiest process but it made me appreciate the companies and staffs who are working with artists and brands.