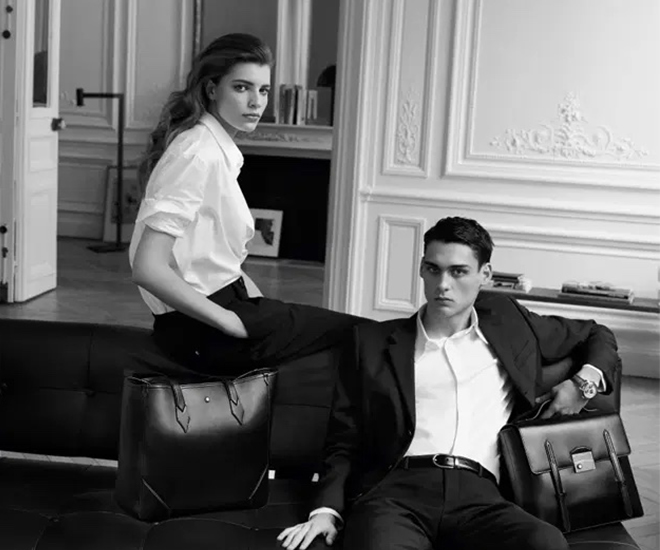 This spring, Montblanc presents a redefinition of its signature leather collection — the Meisterstück Leather Collection — under the guidance of Marco Tomasetta who secured the role of Montblanc's artistic director in March last year. The new Meisterstück Leather Collection will feature an enhanced Montblanc emblem with bold new shapes and luxuriously brilliant leather applied to a wide assortment of leather goods.
Armed with years of experience under various international fashion houses, Tomasetta is tasked to oversee the core pillars of Montblanc which includes writing instruments, watches and leather goods amongst others. His first order of business is to reinvigorate the Meisterstück Leather Collection, just as he did to the iconic Givenchy Antigona collection while serving at his latest stint as the creative design director of men and women's leather goods at Givenchy.
"The aim was to bring the design of the collection even closer to Montblanc's iconic symbol of timeless luxury — the Meisterstück writing instrument. By mirroring some of its distinguishing features like the nib itself as well as the colour and shine of the pen's precious resin with its smooth sensual touch, we have created pieces that truly stand out. Not simply because of their elevated design, but because they showcase Montblanc's DNA," explains Tomasetta.
The history of the Meisterstück dates back to 1924 when it was birthed as a writing instrument and has been one of Montblanc's most symbolic creations ever. Its legacy reverberates through the hallways of Montblanc, just as its history is deeply rooted in the Maison's formative years. The Meisterstück, German for masterpiece, is the embodiment of craftsmanship, elegance, sophistication and artistic expression. Given the importance of the collection, a leather goods collection was later created in honour of the Meisterstück.
Crafted in Montblanc Pelletteria in Florence, Italy, the Meisterstück Leather Collection features a new luxurious leather subjected to over 80 years of leather expertise, tradition and heritage. Spanning across large, medium and small leather goods, ranging from document cases and duffles to portfolios and messengers to cardholders and wallets, an emphasis on aesthetics and functionality sees both aspects meld harmoniously through the use of elegant lines and hidden compartments.
Each leather good is a nod to the Meisterstück writing instrument with its emblematic details incorporated. The contemporary rounded shapes mimic the elegant curves of the writing instruments while a deeper black colour tone bears a brilliant finish resembling the precious resin body of the writing instruments. Other meticulous detailing includes the nib-shaped handle and strap attachments and vintage palladium zip pulls seen on various pieces alike.