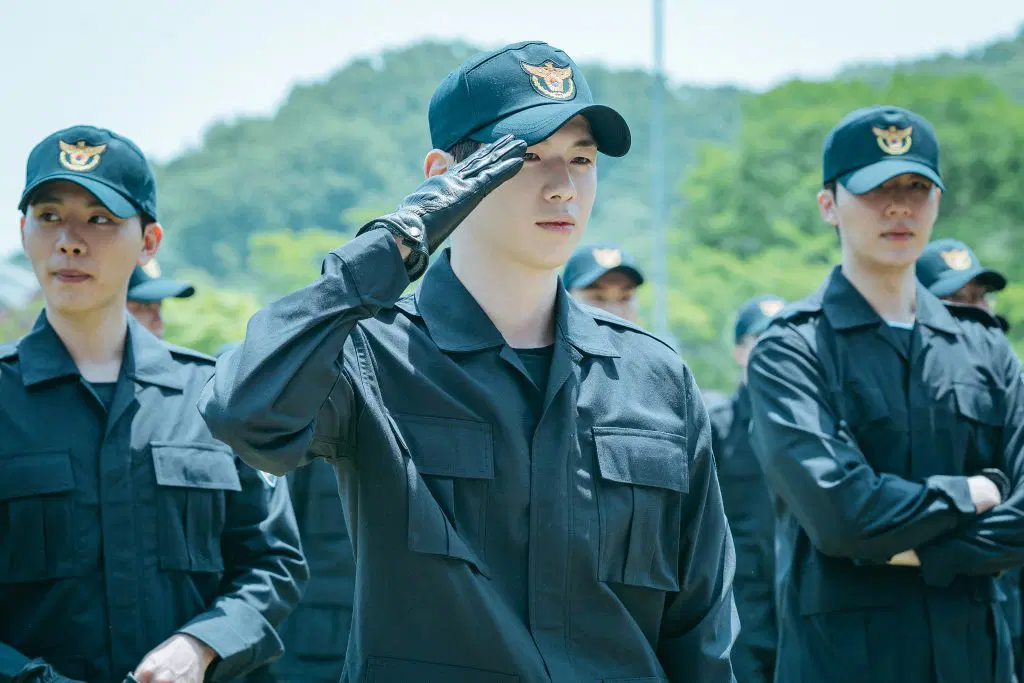 In case we bore you with the details you might already be familiar with, here, is an interview with Kang Daniel who stars at Wi Seung Hyeon in Rookie Cops. Lest too we can introduce you to the series which can be viewed on Disney+ without many spoilers, it is about two students who aspire to become full time cops.
Here, we'll let Kang Daniel explain Rookie Cops instead and most importantly, his role as Wi Seung Hyeon.
Are there any similarities between your character in Rookie Cops and yourself in real life?
Kang Daniel: In terms of similarity, I would say I am only this much close to this character. You can say that my character is almost 100% different from me in real life.
The backdrop of Rookie Cops is a police academy and you act as a student or police. Now, how did you prepare yourself for that role, and were there any references that you took? Was there any difficulty when it came to acting?
Kang Daniel: Well, I had a friend who is a policeman. So that definitely was my reference. So I would kind of ask myself, you know, how would they do that, and is he really going to do it like this?
I myself cannot turn a blind eye to injustice, but the way that I address that injustice would be different from Seunghyun. Basically, whenever Seunghyun sees something bad happening, he would put it into action. He's not just going to stay there and just think about it or make a report. He's going to take immediate, but I'm the kind of person who would think first and then make a report.
And when I was studying the character, when I was bringing life to this character I thought about this is the type of person I would imagine to be when I was imagining what a superhero would be like.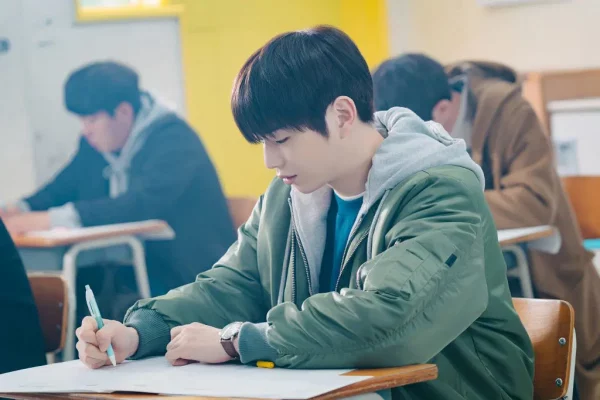 As this is your first time acting together, what was your impression of Chae Soo-bin through working with each other? And was there anything that surprised you after working with her?
Kang Daniel: First time I met Soo Bin was when she had long hair. And then at the second meeting, we had the reading together and she came out with short hair. I was really surprised.
She is older than me, but with the shorter hair, she almost looked like she was younger than me. So I was like 'Oh! Little sister!' type (I got that kind) of feeling.  And while sharing the screen with her, I learned a lot. It was fun and very rewarding, and a big learning experience for me. So I feel like, after this project, I've grown so much, thanks to her.
First of all, can you give us any tips on what viewers should anticipate from Rookie Cops?
Kang Daniel: I would say my character, he is a man of principle. He could be a little bit suffocating in a sense? Because he always goes by the book. But then after several events, he finds himself a better man at the end of the tunnel. So that kind of character arc would be something that the viewers will enjoy watching.
Secondly, for both characters, I would say Seunghyun and Eunkang are polar opposites. But then during the journey, they fall for each other and they come together. That kind of thing would be interesting and fun to watch. And also how these completely different people can fall in love.
And three, about this drama, it's about the police students at the academy right? The subjects can be a bit serious, but that seriousness does not stay as just being serious. It also can be playful and delightful. And the comic relief for a lighter note can be also seen as something significant also.
You've been around for a while in the industry, so why now? Why did you choose to open your heart to acting?
Kang Daniel: Yeah as you can imagine, a lot of people around me were seniors to me in entertainment, my colleagues would ask me "aren't you not going to appear in a TV drama anytime soon?" And I kept on saying "I don't know about that, I'm not so sure about that".
But then I got this script of Rookie Cops, and it was a page-turner for me. It was like a novel, a really fun novel to read. And also I found this group of young people and the same age group who are going through this coming-of-age story, growing together with this delightful story really spoke to me.
And I felt that if I were to act in any project, this would be the best option and the perfect role to play.
When you're done reading this, tap here for our February 2022 issue!