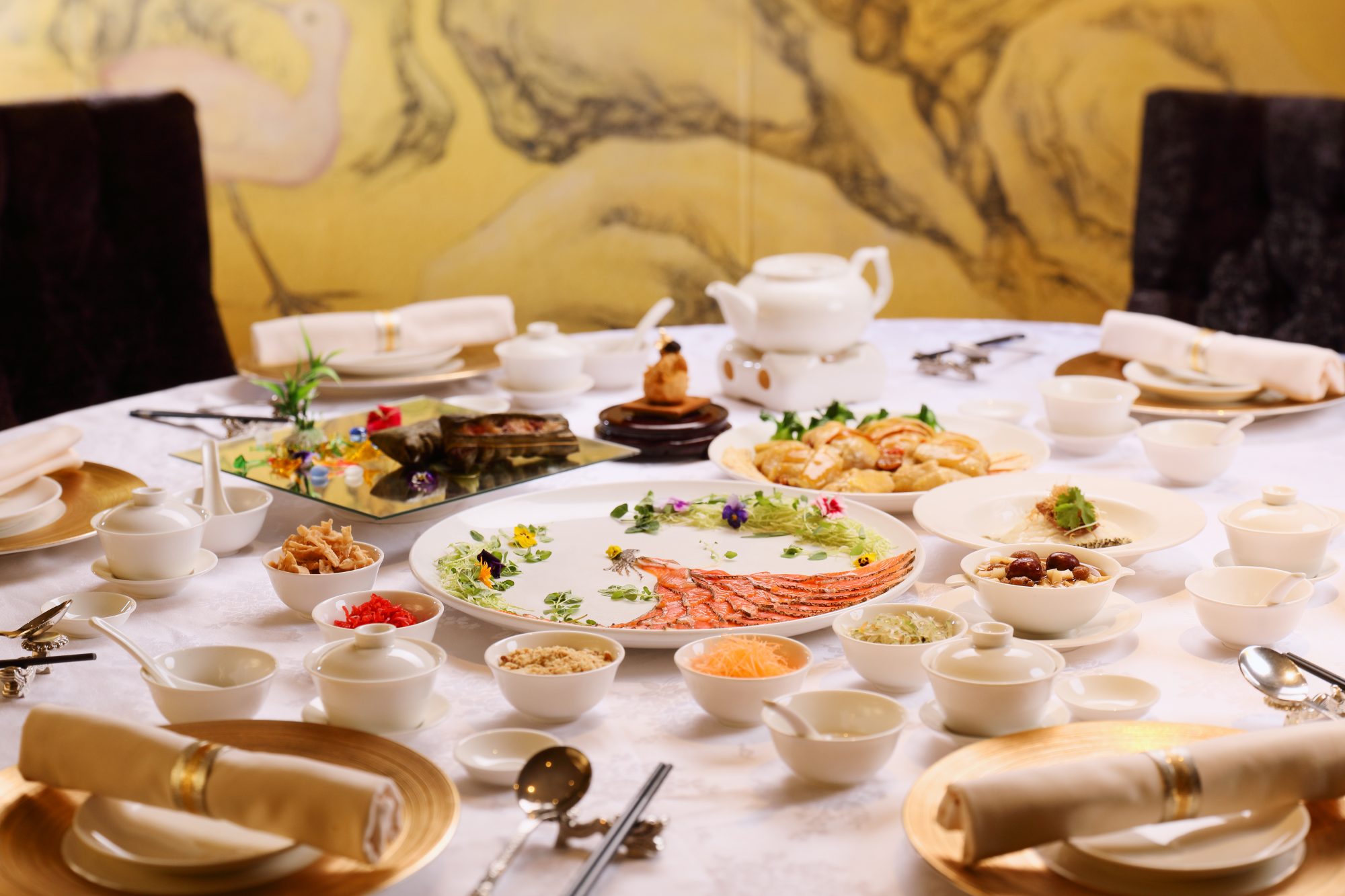 After skipping reunion dinner last year, the excitement of meeting up with your family to spend an unforgettable night together have never been greater. This Lunar New Year, luxury hotels within Klang Valley are ready to make your gathering a blast by putting together menus that do not only please your tummy, but also carry good meanings. Here's our suggestions for a contented reunion feast.
Li Yen @ The Ritz-Carlton, Kuala Lumpur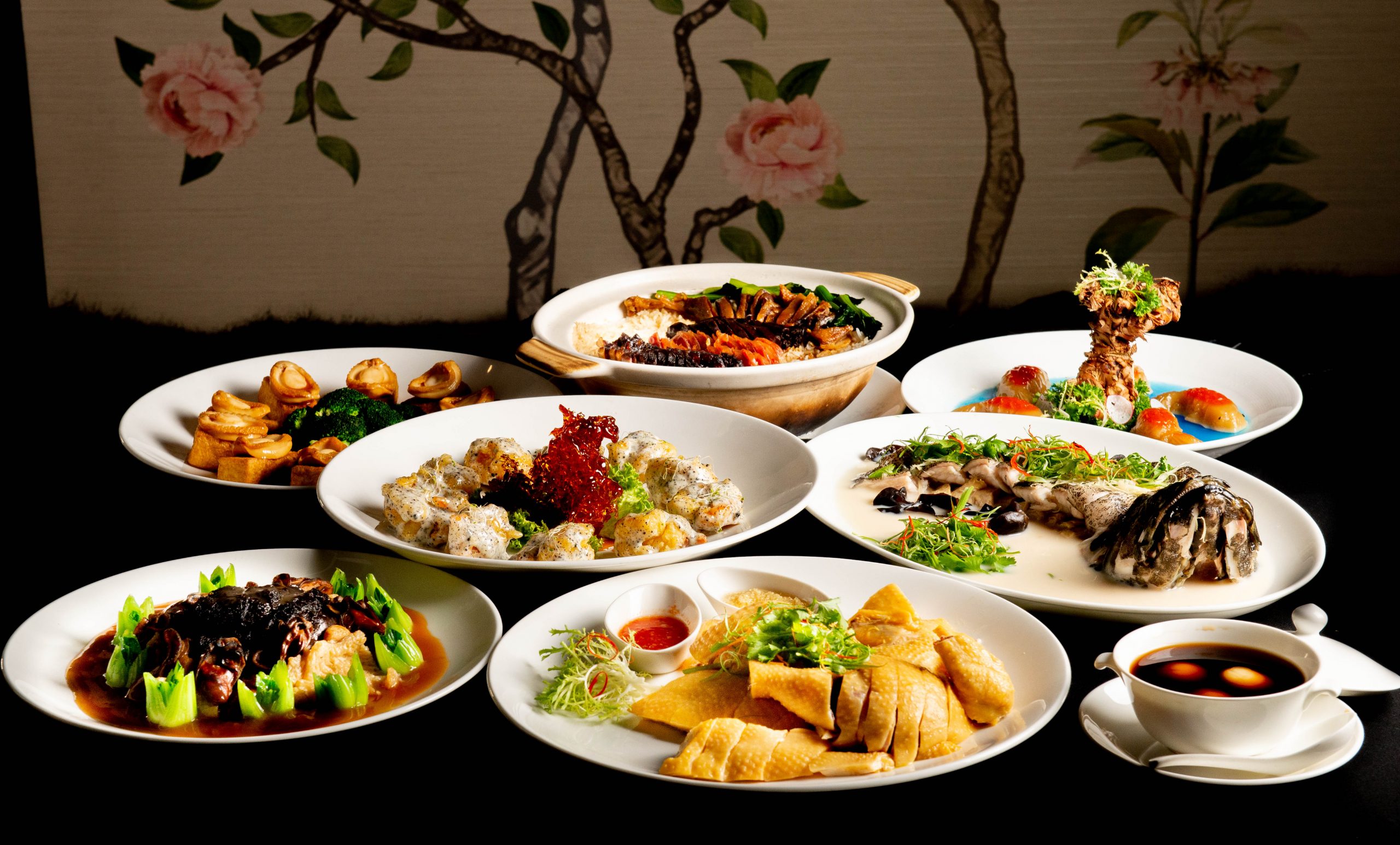 When it comes to Chinese New Year, nothing beats a reunion dinner with a lip-smacking smorgasbord of staples that unites everyone in the family. At Li Yen, Executive Chinese Chef Alex Au and his team will ensure your reunion dinner ends with a sweet note by curating six exquisite set menus featuring The Reunion Stars — signatures steep in tradition and good meanings. Alongside a seasonal selection of Dim Sum, the dishes that will grace your dining table include Hong Kong-Style Waxed Meat Clay Pot Rice, Braised Dried Oysters with Sea Moss and Dried Fish Maw, Traditional-Style Steamed Tiger Grouper with Shredded Pork and Mushrooms and Fragrant Deep-Fried Prawns with Mango Sauce.
Lunch set menu (RM148++ per person) and dinner set menus (RM2,080++ per table of 10) from now until 15 February 
Reservation: WhatsApp +60 18 646 8033, WeChat @LiYenKL or email [email protected].
Shanghai @ JW Marriott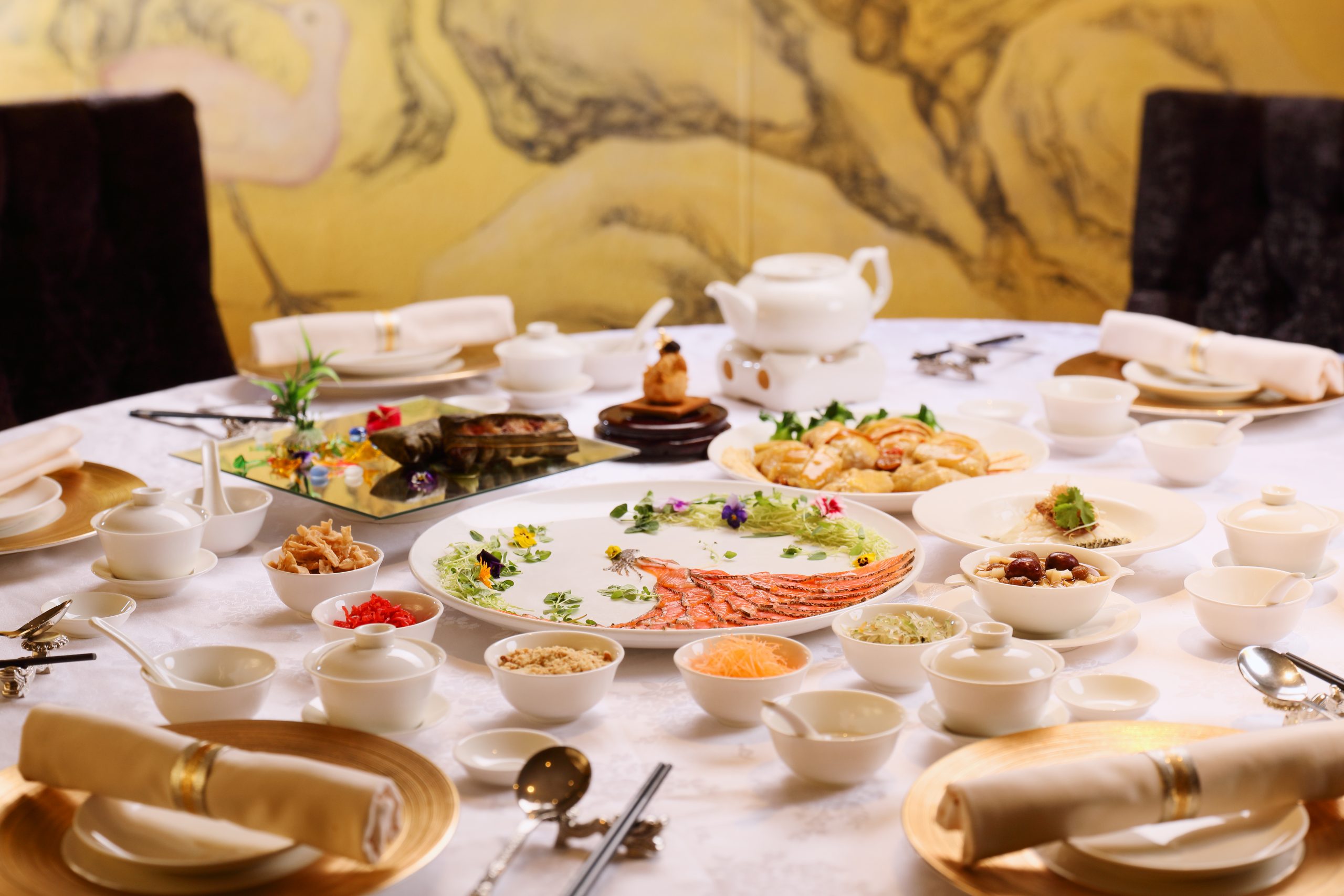 Shanghai at JW Marriott does not only overwhelm epicureans with delicacies from the Pearl of the Orient, but also its interior design dazzling with opulence and oriental beauty. Here, you can savour the most authentic dishes without having to fly all the way to Shanghai. Elevated with masterful culinary art of Executive Chinese Chef Wong Wing Yeuk, Yee Sang at Shanghai is all about enjoying it in a different way. You will be blown away with a specially hand-picked selection of premium ingredients including lobster, geoduck, abalone, jellyfish and salmon — livened up with luscious homemade sauce, Chef Wong's well-kept secret recipe. After whetting your appetite with the refreshing yee sang, you will get treated to the highlights that make the menus worth mentioning: Double-Boiled Superior Fish Maw Soup with Dried Scallops, Cordyceps Flower and Chicken; Deep-Fried Mandarin Fish with Shanghainese Sweet and Sour Sauce; Braised Spanish Pig's Trotter with Sea Moss in Brown Sauce and Sweetened Cordyceps Flower with Snow Fungus.
RM238++ per person from now until 15 February 
Reservation: WhatsApp +60 18 591 9537, WeChat @shanghaijwmkl, or email [email protected].
New World Petaling Jaya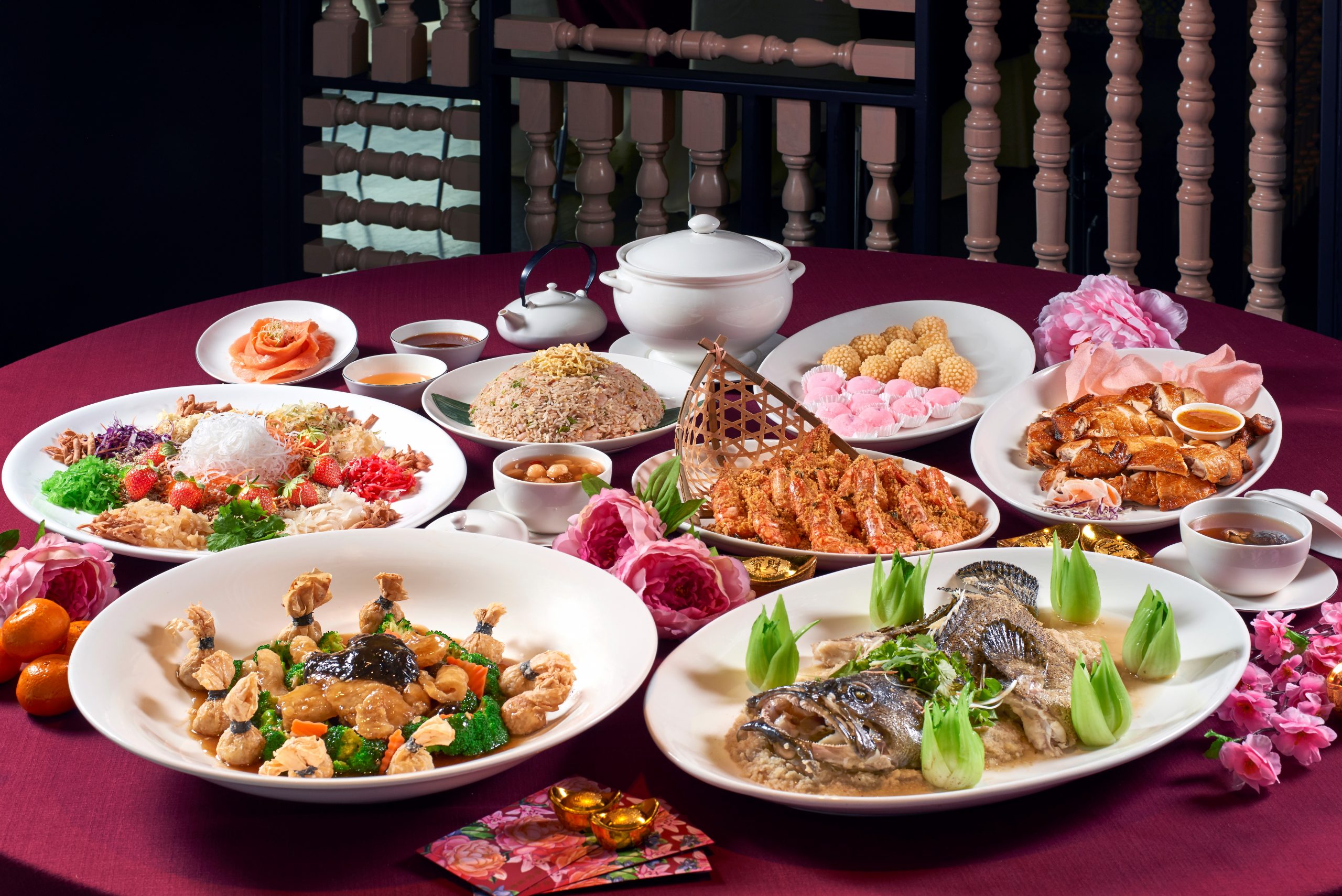 The Grrrrrreat Feast, as amazing as it reads, offers three different dining menus, this CNY 2022, which is a bang of flavour, aroma and variety. A fusion of set menu and Poon Choy, the Prosperity Treasure Pot Set Menu pampers tummies with Wok Fried Tiger Prawn with Pumpkin Cheese Sauce, Shredded Fish Lips, Sea Cucumber and Crab-meat Soup, not to mention Prosperity Treasure Pot that comes with Truffle Filled Money Bag, Steamed Crab Claw, Dried Oyster and Abalone. For connoisseur with a discerning palate, the Crouching Tiger Set Menu is the go-to — an exciting spread of Double Boiled Fish Maw Soup, Steamed "Soon Hock" Fish with Light Soy Sauce, Black Mushroom with Sea Cucumber, Black Moss, Broccoli and Crispy Dumpling, and Golden Fried Rice with Scallop and Kai Lan.
RM998++ per table from now until 15 February
Reservation: call +60 3 7682 0000 or email [email protected]
Luk Yu Tea House @ The Starhill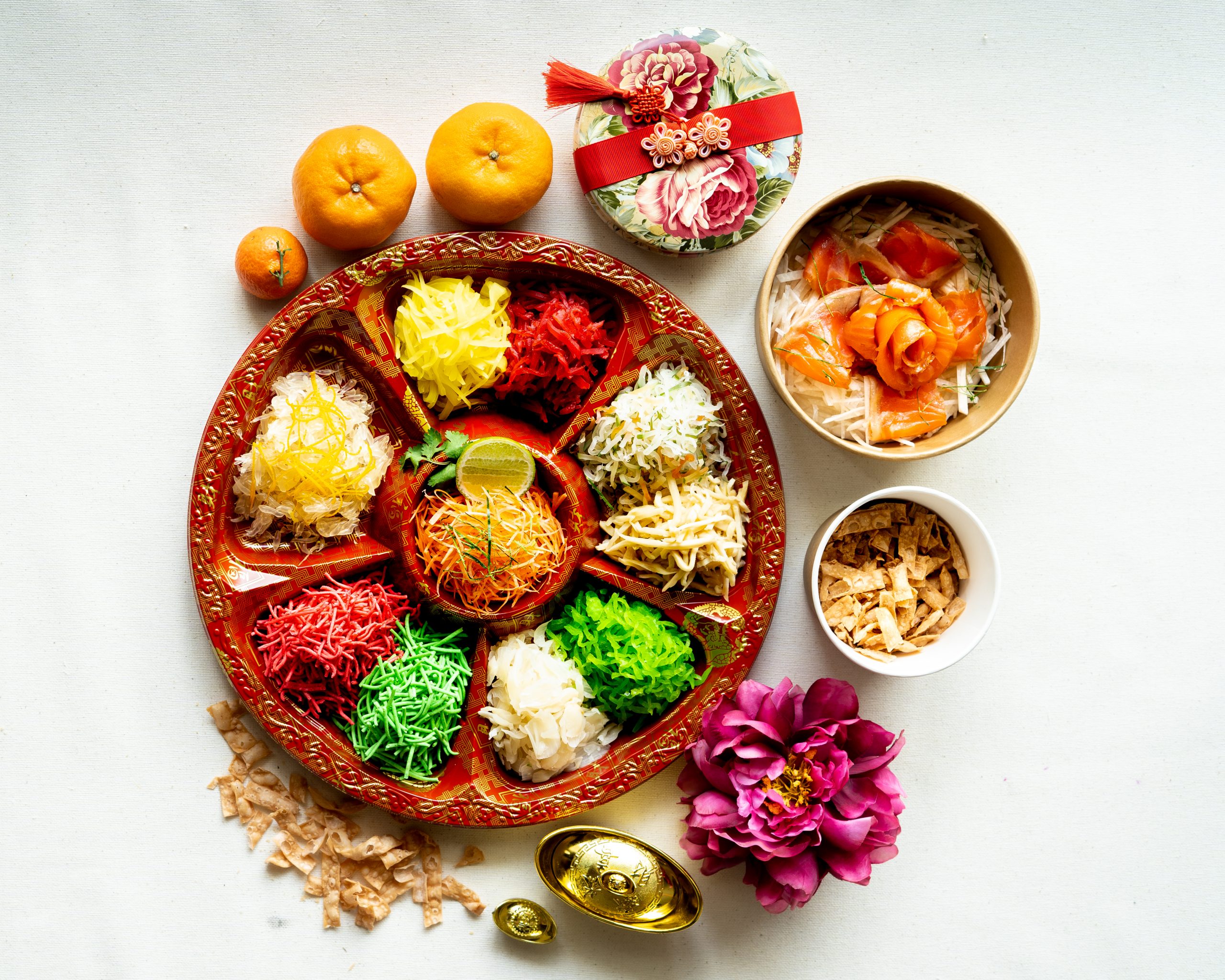 Serving equally impressive dishes, Luk Yu is undoubtedly a paragon of pork-free Chinese restaurant. Whether you are looking for a pork-free reunion dinner or to spend this CNY 2022 with your Muslim friends, Luk Yu has it all: palatable comfort foods, visually pleasing decor and attentive service. Whipping out Hong Kong Style Crispy Roasted Chicken, Pomfret steamed with Sour Plums, Tomatoes and Preserved Vegetables, Braised Broccoli with Bailing Mushrooms and Pacific Clams served with Oyster Sauce, the Chinoiserie Lunar New Year Set Menu assures satisfaction with the festive favourites made to perfection.
RM888++ for 5 persons, RM1800++ for 10 persons from now until 15 February
Reservation: Whatsapp +60 18 929 8060
The St. Regis Kuala Lumpur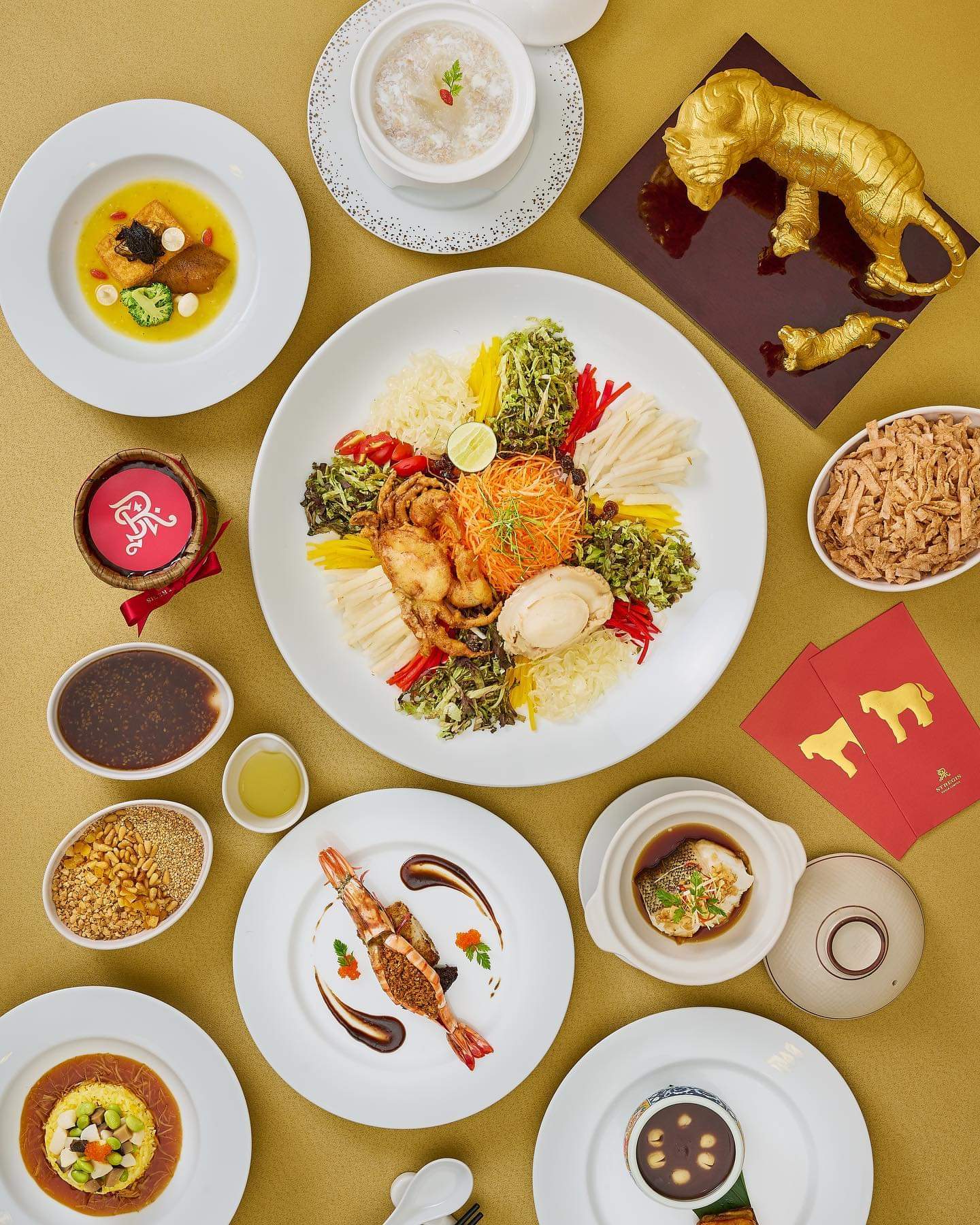 Leave it to The St. Regis Kuala Lumpur to curate a remarkably lavish reunion gathering this year. Plating up the finest ingredients with stunningly beautiful ambience to match, dining in at the 5-star hotel promises a pure decadence — imagine being lapped up in the wonderful flavours of the Braised Bird's Nest Soup with Chicken, Bamboo Pith and Egg White, Garlic Sea Tiger Prawns with Dried Shrimp Radish Cake, Steamed Tiger Grouper with Spicy Preserved Vegetables and more culinary delights. For vegetarians, there are offerings like Double-boiled "Hei Hu Zhang" Soup, Burdock Root & Fresh Chinese Yam, Deep-fried Kataifi Vegetarian Prawn & Pan-seared Radish Cake and Stir-fried Mixed Vegetables, Fungus & Almond to ring in the new year with happiness.
Price & Date: from RM368+ per person; now until 15 February
Reservation: Call +603 2727 6696, Whatsapp +6012 2801 303, email [email protected]
Four Points by Sheraton Kuala Lumpur Chinatown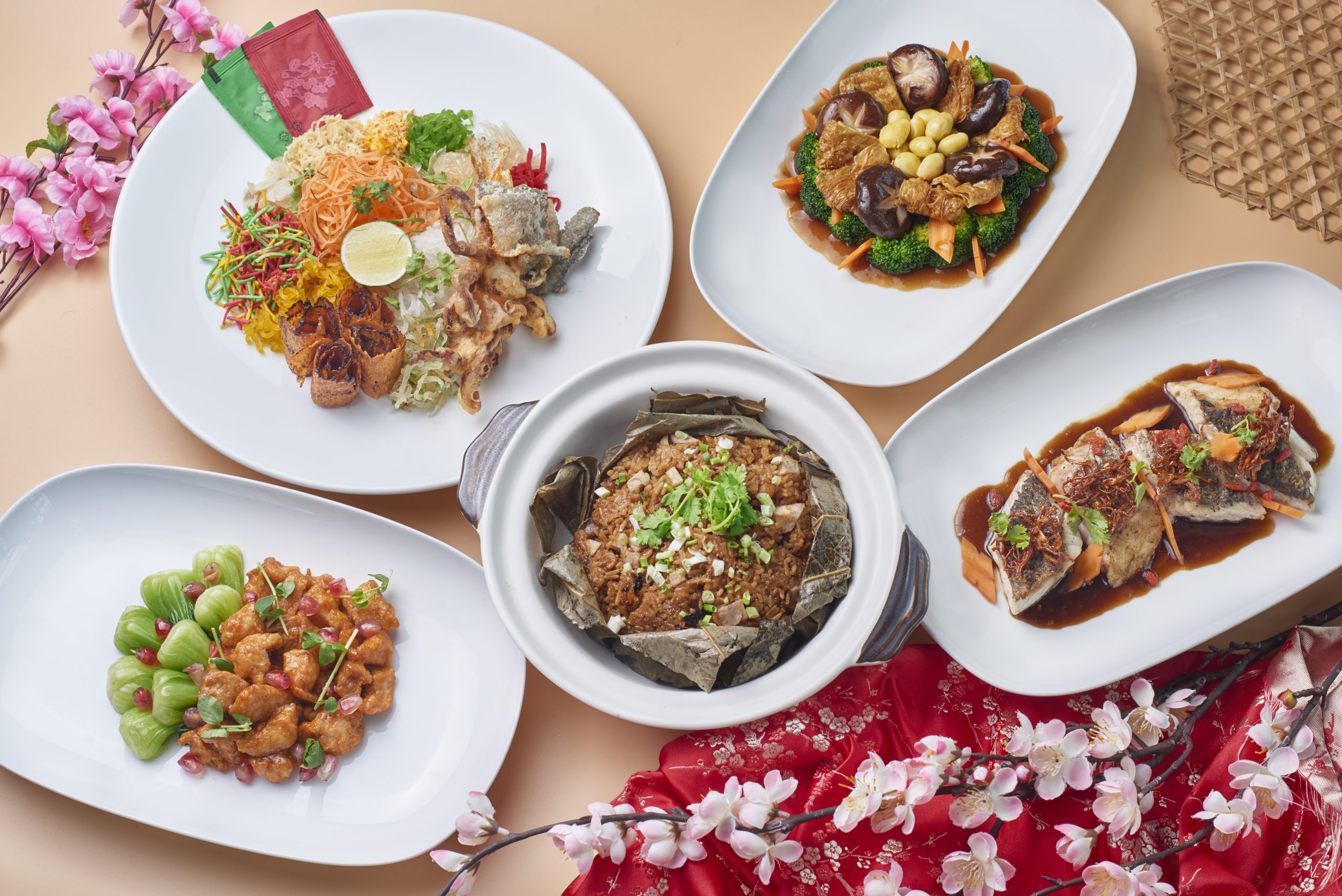 If you are a fan of street food, you can't go wrong with Four Points by Sheraton Kuala Lumpur Chinatown. Giving a fun twist to the traditional Yee Sang, Chef Lim Jun Pin and his culinary team spice things up by mixing Jalan Petaling style dried BBQ Cuttlefish, Chili Soft Shell Crab, Crispy Fish Skin and Golden Pineapple Sauce. Sybarite can opt for Premium Prosperity Golden Yee Sang plated on intricately designed CNY 2022 Peony Platter by Maya Singh of Cult Cowboy. Complete your gastronomic odyssey with Spring Happiness Set Menu that serves up an 8-course sumptuous fare, including the Prosperity Golden Yee Sang, Double Boiled Wild Mushroom Soup, Baked Ocean Seabass with Cordyceps in Honey Soy Glaze and Braised Broccoli with Taukan & Gingko Nut in Abalone Sauce.
RM688+ per set for 4 persons (2 days advance booking) from now – 10 February 
Reservation: call 03-2035-7333 or WhatsApp 012-507-3327 or email [email protected]
For more Chinese New Year content, visit here.