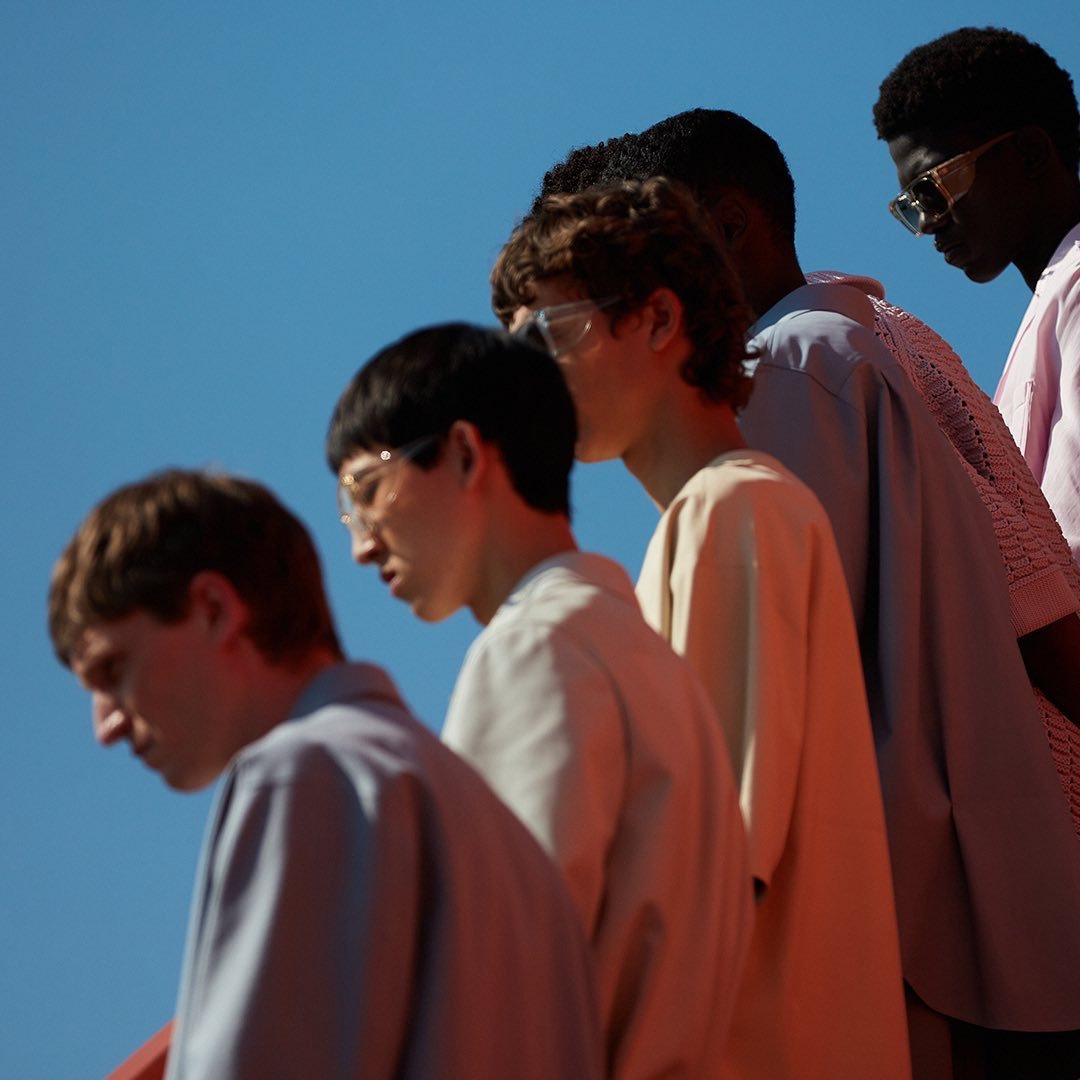 2021 may not be shaping up to be the year we wish it to be, but fashion is certainly taking the bright route as witnessed in Milan and Paris Spring/Summer 2022 men's fashion weeks. Marking a gradual return to some form of normalcy with a number of brands staging live runway shows, which give us glimpses of what to look forward to once the world opens up again. Below, we pick the best shows of the S/S 2022 season.
Hermès

Hermès Summer 2022 men's collection is all about optimistic dressing and  they did what they do best – chic, timely and effortless. The collection was tight, comprising just 41 looks. Underpinned by the collective memory of what we've been through, Véronique Nichanian's proposal for next summer is characterised by an unquestionable optimism expressed in super light, super bright and super easy-going garments with unconstrained and breezy silhouettes. Sunflower knits, technicolour cardigans, and loose‑cut technical trousers spoke to a sense of lightness and ease. Although this was Hermès, where luxury reigns supreme, Nicanian's collection wasn't as opulent as it was increasingly charming. The designer provided practical solutions, too – many of the pieces, like a minty green crocodile blouson, zippered jacket, and parka, were reversible. When it comes to accessories, one thing that stood out the most was how the cord belt was fastened with a snap hook closure that's inspired by sailing and captured the desire to get away and travel once again.
Burberry

Titled "Universal Passport", Burberry chief creative officer Riccardo Tisci aimed to capture the free-spirited nature of youth, centered on the spiritual energy of music and movement for Burberry Men SS22. Tisci explained, "I wanted the collection to capture the youth and its honest and daring attitude, that sense of experimentation and fluidity." As a result, it was also his most personal outing yet at the English brand where the collection saw a return to his roots of design ethos while decoding a brand new interoperation of the House codes through a variation of silhouettes – lean, mean and showing plenty of skin – and an exercise in deconstruction. The label's hallmark trench coat was also present, reworked and cut with raglan, in addition to a slew of other tops.
Giorgio Armani

Back to where it started. For his SS22 collection, Giorgio Armani went back to classical basics for the brand's latest line-up. Intimately shown at Via Borgonuovo 21, the historic headquarters where Armani started it all in Italy, he showcased what his distilled mindset means for the Armani wardrobe: subtle, supple, sophisticated, and a little bit sexy through lightweight materials and fluid shapes that allow any man's wardrobe to be effortless chic and well-presented. "I do not like it when people are worn by clothes instead of wearing them. This has become even more important in the current situation," he said.
MSGM
View this post on Instagram

MSGM took us to the shores of Tuscany to present its SS22 collection. Canone infinito is the name of the collection, which inspired by a euphorically spiralling soundtrack title scored by neo-trance artist Lorenzo Senni; but it was also chosen by Massimo Giogertti as a metaphor for what we've been experiencing in our quarantined circumstances and an energy we're all keen to summon as we gear up once everything is safe. The collection riffed on summer staples repertoire with marine motifs that act as thematic anchors while the pieces are more focused on tailored streetwear and oversized, square-cut silhouettes in jubilant, attention-grabbing colours on which MSGM made its name.
Dries Van Noten
View this post on Instagram

Dries Van Noten proves oversized tailoring is here to stay with his SS22 collection. Titled "Greetings from Antwerp", this collection is an ode to the city that shaped him as an artist through carefree and feel-good pieces – the kind of clothes that make you want to go on holiday or don't feel too dressed up. Also a collection that's set to prep us for when times are good again, the line-up saw a relaxed silhouettes that suggested confidence in volume – including archetypal menswear staples like parkas and trench coats, simple knit tees, and  soft, supple suiting. Proving that he is still the master of print, he and the team incorporated images of the city that they took themselves into the collection, with historical Antwerpian trademarks, from Rubens to Bruegel and an Antwerp city seals from the 1970s.
Loewe

Many designers, including Louis Vuitton and Burberry, have plumbed the hedonism of the rave scene for inspiration this season. And, as presented in a David Sim – lensed look book, Loewe also looked to "the joy of nightlife and club culture", putting forward saturated, layered knits, strobic, sequined vests, and vivid mohair sweaters. The label's square motif has been blasted across the trench coats in neon green while it's craftwork heritage counters the wild expressionism of the dancefloor in vibrant rope trousers and basket bags, festooned in disco tassels.
Louis Vuitton

Virgil Abloh continues to redefine Louis Vuitton with his latest proposal for SS22. The collection came together as a freaky, magpie mishmash of disperate style tribes, cultures and achetypes in trippy acid hues that appeal to younger fashion consumers where models were bundled into layers of clashing checkerboard prints, tightly cinched hoodies, vivid snoods, and Kurt Cobain sunnies. Amidst the puffer coats and groovy hats, there was plenty of refined suiting and elegant longer skirts for men. The main talk of the "Amen Break" collection has been the Nike collaboration, however there are new accessories, luggage and fuzzy silhouettes that are worth talking about as well. To see the full collection, click here.
Fendi

Reminiscing on the mesmerising colours over the Eternal City, Silvia Venturini Fendi presents her latest Fendi menswear collection from nothing less than the triumphant headquarters Palazzo della Civiltà Italiana rooftop. Perfectly tailored pastel colours suiting, geometric crop tops and marbly prints, this season's journey takes us through the romantic tones of Rome's sunset skyline and might be Silvia's boldest attempt yet for the brand's menswear department where she played garments with scale and lightness and translated the pandemic notion of our "shrunken world" into cuts, scaling cargo shorts down to short-short dimensions and minimising T-shirts into crop tops. Accessories-wise, the iconic Baguette was interpreted in newer ways and there's a collaboration with swimwear brand Arena resulted in a series of goggles that are done in equally paste hues with FF logo for a more fashion-forward take.
Ermenegildo Zegna XXX

More than just redefining traditional menswear codes with unrestraint and fresh, Alessandro Sartori set a new fashion mindset with Ermenegildo Zegna XXX Summer 22 collection. Reflecting the reality of our times by making effortlessness as the key of the collection, Sartori offered familiar cuts and silhouettes that are designed with atypical details and unconventional materials such as streamlined kimono-esque sets fastened with a side-tie and constructed with oversized patch pockets for added functionality. Fusing tailoring and leisurewear, the indoors and the outdoors, these were clothes not designed for one context or another, but which flow comfortably with the modern man as he himself adjusts to each new setting. To see the full collection, click here.
Dior Men

In amongst sandy dunes and oversized foliage, were introduced to Kim Jones' vision for Dior Men SS22. The collection represents a conversation between Kim Jones  and artist Travis Scott whose record label 'Cactus Jack' the collection takes its name. SS22 captures the pair's relationship, fusing Jones' signature tailoring and Dior palette with Scott's creative vision. This collection takes us on a journey of colour and experimental design, reimagining and reworking Dior's classic aesthetic. Tailoring takes an almost fitted 60's approach with upturned lapels and clean silhouettes but paired with subtle 70's flares and statement gold accessories. Pink and lilac hits reminisce Jones' pastel fantasy, this time in the form silk flared joggers and graphic knits. This collection also includes hand-painted shirts courtesy of artist George Condo, which will soon be auctioned off to benefit Scott's Cactus Jack Foundation. To see the full collection, click here.
Casablanca

There was a period of about 6 months during the pandemic where you could not scroll without being confronted by the peachy glow of an Ultrafragola mirror. Though it found a natural home in the insta‑interiors and news feeds of 2020, the piece, designed by Ettore Sottsass, originated from the Milano Memphis movement in the 80s – which is exactly where Charaf Tajer had turned his attention for Casablanca SS22. As a result, thick retro lines ripple across silky tailoring, and vibrant ombré prints descend over crocheted polo tops, while candy‑coloured, toy‑part accessories speak to the designer's affiliation with, and longing, for Japan.
Prada

This season's desire of escapism, and urgency to feel alive once again is the main subject and exactly what's been burning behind the Miuccia Prada-Raf Simons mastermind duo, for their Prada SS22 menswear. Coming out of a flamed-red 'Tunnel of Joy', the collection translates a much deeper longing than freedom, rather, a necessity for feelings. Shot on the Mediterranean south-east coasts of Sicily, the video presentation is a declaration of fresh summer masculinity. The offering focused on a post-pandemic life that blends the Italian house's knack for chic technicalwear with its sharp tailoring through a range of plain and printed skorts and a notable amount of skin on show. Elsewhere, floral patterns adorn hoodies, while a nautical theme is introduced through imagery of octopi, anchors, fish and sirens, all of which contrasted the business-ready blazers and rompers.