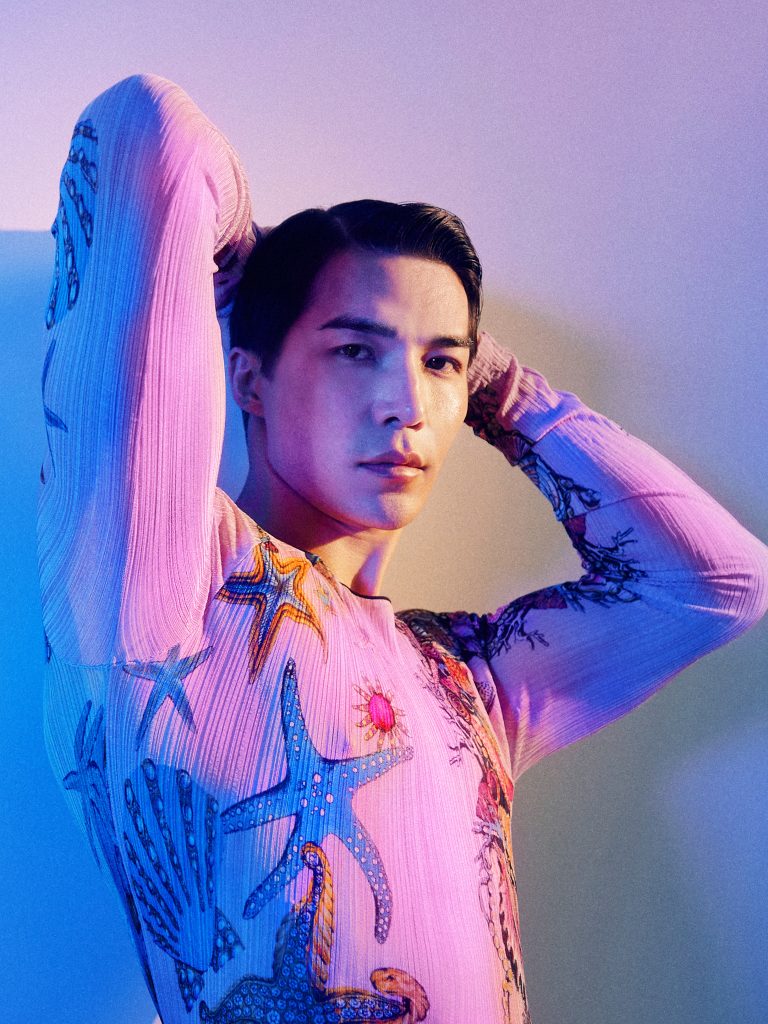 It is official, the reboot of Mortal Kombat has broken records for the number of views for its R-rated red-band trailer, serving up more than 116 million views in its first week as it left the likes of superhero movies Logan and Deadpool 2 in its wake. Since it was released on 19 February 2021, Mortal Kombat's trailer has garnered rave reviews and adoration from many — including one of its stars and the April '21 cover personality of Men's Folio, Ludi Lin.
For those who are unfamiliar with Lin, he is considered one of Asia's fastest rising stars and a true proponent of martial arts, having honed his skills in Thailand and Japan before embarking on his acting career. He has since scored action-packed roles such as Zack Taylor in Power Rangers, Captain Murk in Aquaman among others and now commands his role as Liu Kang in the upcoming action fantasy film.
Prior to filming Mortal Kombat, Lin took a break from action-film genre with The Ghost Bride where he discovered his love for ice chendol.
"The greatest thing I learned from Ghost Bride is ice chendol! I'm proud to have a diverse repertoire of work ranging from blockbuster films to period dramas such as The Ghost Bride. It's such a blessing to be able to have an audience in Asia and Western countries and to tell stories across different platforms including Netflix, Warner Bros, HBO Max, and iQIYI that can virtually reach everyone globally. Playing a wide range of roles nurtures my body, mind and spirit so that nothing is ever at rest."
Opening the interview with Ludi Lin were two questions, the first being a spoiler of sorts and the other to understand what his connection with Mortal Kombat is.
You are in the upcoming Mortal Kombat, and this is perhaps one spoiler that everyone is curious about — is the iconic theme song included?
I think even if we didn't include the track, that techno beat will be drumming in everybody's head during the movie. So yes, you might catch a version of it. It is one of the aspects of the film where we can pay homage to what already exists within the Mortal Kombat universe. To me, our film represents the past, present and future of Mortal Kombat.
On a scale of 1 to 10, how big a fan are you of the Mortal Kombat franchise?
I don't know if I can put a number on the love I feel for Mortal Kombat because it was a precious part of my childhood and now it's come back to me in such a big way.
Other than the obvious relation in being a Chinese descent, Ludi Lin sees parallels between himself and Liu Kang, the wandering Shaolin monk in his search for belonging and spirituality. "He [Liu Kang] is a lost alpha male wolf in search of his pack. I know the feeling of being on a journey looking for the place where you belong — that longing for closeness, play, and love," Lin shares poignantly as he straddles between Hollywood and China. "I was kind of a vagrant my whole life."
"Ever since I became a vegan five years ago, I've been gravitating towards spirituality. It is an ancient monastic tradition to not harm, I think Liu Kang would agree with that. When you have true power, there's no need to cause unnecessary suffering to innocent animals, but then Liu Kang also executes people when necessary, so there is that."
The 2021 film reboot comes 24 years after the hugely disappointing Mortal Kombat: Annihilation, which failed to capitalise on the success of the very first Mortal Kombat film in 1995. Apart from the customary gore, violence and amazing character lineup, Lin gave several insights on what fans can expect from this ambitious project such as differing the unique backgrounds of each Asian cast member without clumping them into one vague ethnic category.
"Fans can expect a universe that feels real and a lot more vast than what they've seen before. This is a universe that shows the diversity and reflects the true state of the world. We wanted the violence and gore to have meaning and be portrayed gratuitously. We want you right in there with the action and to feel your gut wrench. It's what audiences have been waiting for decades to see and they won't soon forget it."
"The action sequences are grounded in real martial arts tradition as well," remarked Lin on director Simon McQuoid's vision for authentic martial arts in the movie. "I think it is a lot easier to adjust your pace when you're already moving than to start from stillness. In the film, we had to do a marathon at a sprinter's pace. I don't know if we could've achieved it if everyone had to go from a dead stop."
A quick check confirmed this — Joe Taslim, Lewis Tan, Max Huang, Mehcad Brooks practised some form of martial arts and so did veterans Hiroyuki Sanada, Tadanobu Asano and Singapore's very own Chin Han.
Starring alongside seasoned names may prove intimidating to some — Lin included — but having spent time with them (Sanada, Asano and Han), his perception changed. "I think many including myself have some preconception about them [Sanada, Asano and Han], maybe even a well-deserved reverence. But as soon as you get to know them you realise it's their curiosity that shines through."
"Their history and experience and how well we worked together truly made me feel like there is a brotherhood that transcends time and distance. Looking at our bodies of work you can tell we've walked very different paths to converge on this project, but we were there and we felt like a family."
Apart from the fandom and nostalgia Mortal Kombat brings, it represents cultural importance in Hollywood films and could very well be a defining moment for what future action movies can be with its diverse casting.
"The most obvious impact I think will come after the movie is released. We've already smashed the record for the most viewed red band trailer of all time and after I read the comments from my social media pages, I realised that we did it because people around the world were watching it. We're making an action movie for the world, not just any specific country. We are showing diversity in the cast where everyone has ownership and pride in their culture and respect what others bring to the field. It's touching seeing the fans embrace that aspect of the film."
The topic of diverse casting naturally progressed into talking points about inclusion and opportunities for Asian-Americans.
"Asian cinema has always held its own in terms of developing our unique style. No one can deny the impact of Chinese Kung Fu, Hong Kong action, K Dramas and Bollywood in film. I would say the shores of Hollywood were a little deprived because the currents were just flowing one way. When that happens, the water eventually runs dry."
"We've just opened up some channels to connect the sea of stories floating around in our collective consciousness. The best films tell universal stories that defy the borders of nationality. I hope that regardless of what country you're from, you find a chance to tell your story."
"Specifically for Asian-Americans, we arrived a little late to the party in Hollywood but we are here now and we've got a lot to catch up on. Our parents sacrificed their dreams to create stability for us so that we can make our dreams a reality. They had to put food on the table to allow us the opportunities for a better future. It's time now to show them that their fantasies are possible. They fed our bodies but the arts is the fuel that's necessary for a culture to thrive."
To sum up Lin's response nicely in the grand scheme of things was the timely announcement of Steven Yeun's Academy Awards nomination in a lead actor role, the first-ever for an Asian as Lin reiterated his delight and pride to us.
"Imagine what it is like to be born into a family and then having it take 93 years for your parents to recognise you as their son or daughter, answer your cry, and recognise you for your accomplishments. Any culture needs to be accepted and freely expressed in the society it lives to thrive; it's like breathing. Asian-Americans have felt like we were in a chokehold for decades. Of course, we're proud, it's about time! Our spirit and pride have always existed, even before Twitter, Instagram and Hashtags. We've had it all along and now we can wave the flag high and proud."
As we continue to dwell on the topic of community, it comes with a heavy heart to dampen celebratory moods with more pressing concerns with the ongoing tragedy amidst the Stop Asian Hate movement that has stemmed in recent times.
Men's Folio: Let us dive into the deep end now. How are you coping and dealing with the ongoing situation on racism against Asians in America?
Ludi Lin: I'm going through the stages of mourning just like the rest of our community. I'm feeling everything from shock, pain, anger and depression to awakening, acceptance and hope.
My process is to work through the pain and transform it into positive action before passing it on. I truly believe that emotions are transmuted so before I pass them on, I want it to take a stab while it's in me so that I can take action and turn it into something useful. I believe it's our responsibility to help lessen the suffering and heal stronger when we get through it.
Men's Folio: How have you been contributing to the fight against anti-Asian sentiments?

LL: I decided the best way to contribute is by donating to charities that are taking strategic and affirmative action through art. It's important to speak out and act against racist elements in our society while also protecting our spirit. Although organised social action is needed to physically protect our people, it's through our art and our narrative that will strengthen the spirit of our culture. We've been storytellers for thousands of years and it's time to use that gift to our advantage.
Men's Folio: How did you deal with discrimination while growing up in Australia, Canada and America?

LL: I dealt with it by standing up for myself and not succumbing to bullies. Ironically, I always ended up friends with many of them. There's that saying in Chinese, 不打不成交 — you don't relate unless you retaliate. That old saying makes more sense to me every day. To put it in Mortal Kombat terms, all bullies are frightened people who try to test one's might. They need to understand that you are powerful too and you'll stand up for yourself. When they recognise you for the powerful being that you are, they'll know it's far better to be allies and be stronger together than to fight and destroy each other.
Men's Folio: Finally, what is your message to those who are plagued by fear during this unsafe period?
LL: It's a testament to the love and courage of our people that when I check in on my friends in the aftermath of each racist attack I inevitably hear them tell me "I'm ok, I'm just worried for my loved ones". It's also a testament to our strength that we can face our fear and turn sorrow into love. I just want to say that I'm with you and we'll get through this.
I think that's precisely what we need right now — to continue to look after one another, confront fear and share the love as a cohesive group.
Credits:
Words: Asaph Low; Creative Direction & Styling: Alvin Goh; Photography: Evaan Kheraj; Grooming & Hair: Win Liu | Lizbell Agency; Dresser: Sarah D'Arcey; Production: Alvin Goh
Read the full interview feature with Ludi Lin and see his full photoshoot with us in our latest Men's Folio Malaysia April 2021 issue, now out on newsstands, bookstores and online via magzter.com.