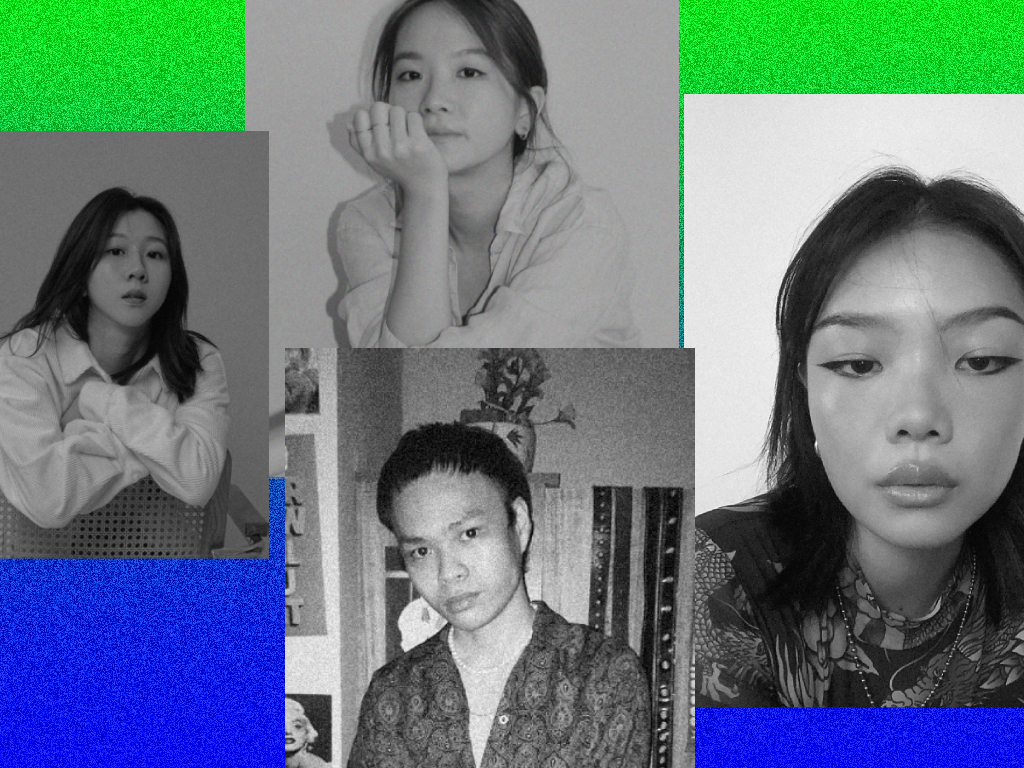 Introducing Malaysia creative talents that arise in the fashion and art industry.
Skye, Fashion Stylist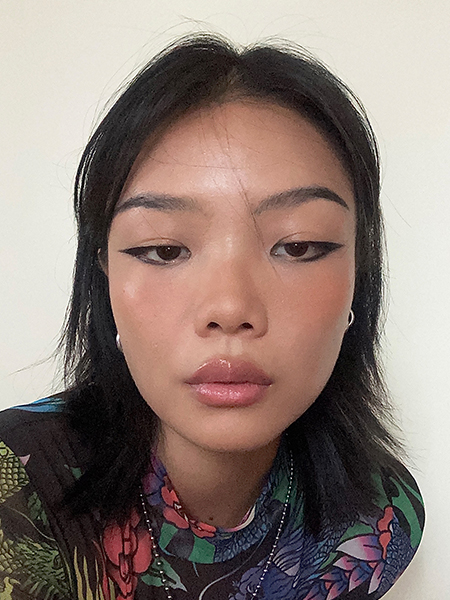 At 21 years of age, Skye has had extensive experience working as a fashion stylist and a photographer for e-commerce brands, commercials, modelling agencies, celebrities, musicians, and the list goes on. Having a great passion for fashion, a prevailing taste and styling acquisition from London College of Fashion, the young fashion enthusiast sees herself in this career path for a long, long time.
What is your personal style?
I would say I'm usually dressed in Y2K-inspired outfit or some timeless, everyday wear.
What is the worst fashion crime to you?
Wearing sneakers without socks.
How would you define a timeless trend?
They are clothes that fit you perfectly and are comfortable, like a flattering pair of jeans or trousers or a top that has the right length at all the right places; something that you don't have to worry about because you know you'll look good in it.
What is your thought process when it comes to creating fire-cracking styles?
I'd sum up my creative process as always trying to capture a feeling or a mood I want. I usually base an outfit around a main piece; it could be anything from a hat to a shoe. To make it a bit more popping, I make sure the pieces have contrasting features.
You have a distinctive presence on social media. Do you see it as an extension of yourself?
I don't feel like I have a big presence on social media but I do view it as a platform to showcase my work, myself and also to connect with people. It's the easiest way to present yourself and also give people an impression of who you are as a person. So, in that sense, I do see it as an extension of myself, and I do want to grow my online presence as it is quite important in this day and age.
Who are the three homegrown designers currently on your radar – and why?
Motoguo is my favourite Malaysia's designer, their garments are just a work of art and I never get tired of what they put out. And then there is Caro Chia. I love the materials she uses and how feminine and elegant her pieces are. Last but not least, Ghostboy. The cutting of their design pieces so well to fit the body, and the brand sustainable philosophy is a huge bonus.
Do you see any changes in the Malaysian fashion-scape that you are happy about?
Nothing major, but I just love seeing more and more people getting dressed up for occasions. Something I would like to see more of is support of the local creative talents. I feel we're not lacking in terms of talents and with more appreciation we can definitely create a healthier creative ecosystem.
Richmond Tan, Hairstylist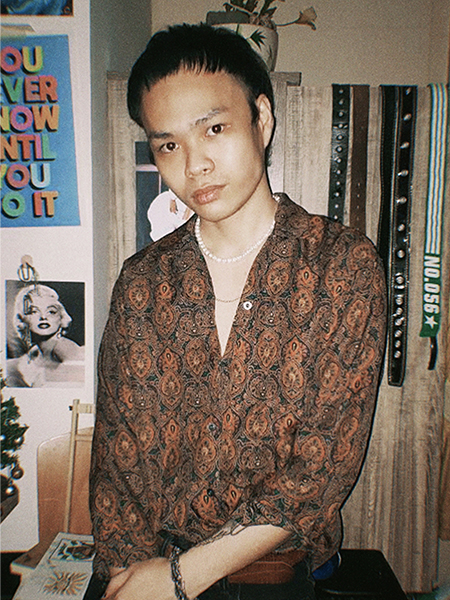 Following her sister's footsteps, Richmond Tan is carving his name in the local hairstyling industry, creating arrays of hairstyles that are up-to-the-minute for clients that spans from celebrities to fashion figures and models. Taking inspirations from fantasy movie costumes and characters, this 26 years young hairstylist is not afraid to go against all odds.
What are the biggest men's hairstyles for this season?
I'd say the mullet haircut from the runways are taking over the streets; and also medium-layered hairstyle.
What is the one current style that we can create ourselves at home?
I think the "baby bangs". It's not the kind of hairdo that's easy to style though. Firstly, if you have long hair, you can trim the front part to a quarter of your forehead's length, and I'd suggest wrapping a string around the area for a straight cut. Once you're done, blow dry your hair and style it with a hair wax. If you'd like some extra hold, use a bit of hairspray.
Which hairstyle in your opinion is overrated?
None, because to me they are all about how confident you are wearing it, be it basic or as eccentric as you can think of.
What was the biggest risk you've taken in your career so far?
Quitting my full-time job as a salon hairdresser.
Who is your hair icon – and why?
It will have to be Johnny Depp. I really love the effortless way he switches his hairstyles from Donny Brasco's slicked-back short hair to the loose waves of George Jung; he carries them so well.
Debunk one of the biggest hair myths.
That sexual activities cause receding hairlines. This is absolutely not true. Receding hairline is mainly related to the reduced or low DHT hormones which regulate hair growth, and it can be caused by having an unbalanced diet.
What do you predict to be a major hair innovation in the not too distant future?
Hair follicle cloning. It will probably take a lot of research to make it work but it would be better than hair transplant for a few reasons. Firstly, the gland is from our own cell, which means we won't need a donor. And secondly, the multiplication process is more efficient in creating a healthier, denser and more voluminous hair growth.
What's the one hair product you can't live without?
For hygiene and maintenance reasons, it's a shampoo. No one wants to get near to someone with smelly hair. Whereas for styling, I would choose a hairspray. The way it helps create different hair textures and shapes is magical.
Lee Sin, Interior Stylist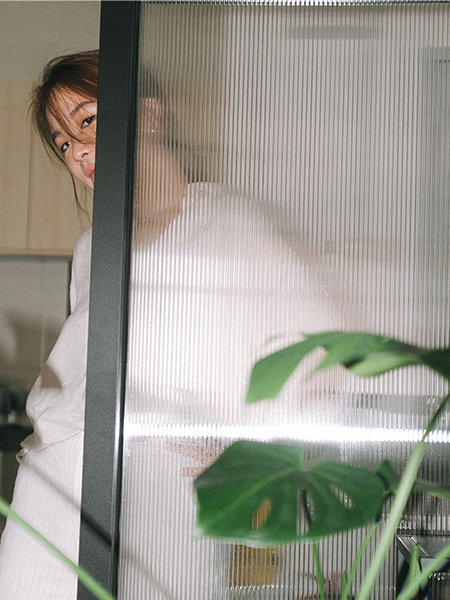 "When you're given a task to decorate a notice board, you don't just make it look good, you make it look fantastic," said Lee Sin, a multi-talented space stylist. She knew she had a good eye for interior styling since her high school year when she was assigned by teachers to decorate notice boards, classrooms, and as a prop master in stage acts. After completing a major in arts and illustration, she worked as a sculpture artist and later found herself as a set stylist for a local photography studio before starting her own atelier, Lee Sin Artisan.
For those who don't know, what are the differences between interior stylists and interior designers?
Both professions focus heavily on the aesthetics of a space but the task delegations are different. Interior designers work in a wider scope where their centre points are more on the timeline, work progress and coordination. Whereas for interior stylists, the chores are more detailed and every element is personalised, like the space colour, furnishings, decors, fixtures arrangement etc.
What is your favourite interior trend right now?
I'm obsessed with contemporary classic meet funky design lately, especially wavy rug from The Blue Boy, B&B Italia Camaleonda sofa series, Ligne Roset's furniture selection and everything along the line.
What sets you apart from the others – and have you collaborated with anyone?
Generally, I think the aesthetic that I'm bringing to the table is my strongest trait. I'd say my quirky yet genuine creative expression is what sets me apart from other interior stylists. My recent collaboration with Quarter A Photography showcases customised portraits of our clients in their own comfort space, and the focus is on the subjects' moods and emotions, captured within a stylised atmosphere.
In your opinion, which interior style that you think should never exist?
Focusing too heavily on a theme or mixture of bold colour is a big no. A space engages your mind, body, spirit and senses, over time this will create visual fatigue to our eyes and probably lead to headaches. For example, if you're into red or burnt orange, you can play with the colours on a smaller detail like for decors and compact fixtures. This will create a less overwhelming mood not just to your eyes but to the entire space as well.
How do you think the home interior trends will change post pandemic?
I believe the pandemic has changed how we live in our home and somehow created a new challenge especially for those with families. Home is now beyond a space for living, it's also our workstation, a gym, playground, and now a school for children. On that note, I think the post pandemic interior trends will be focusing more on ergonomic capacity, where everything can be done under the same roof but has a sense of work-and-after-work hint. Indoor gardens are also expected as the upcoming interior rage.
Jas, Commercial Stylist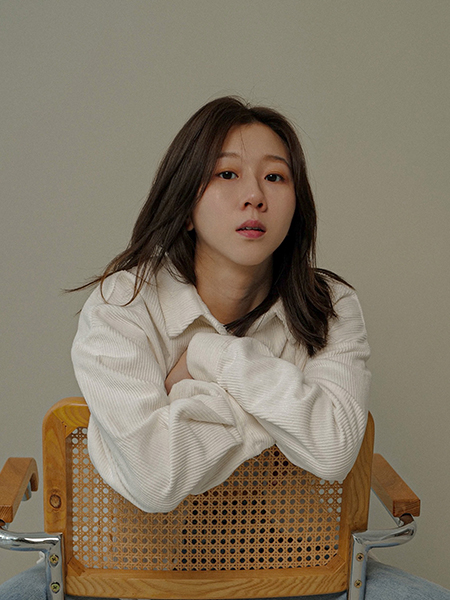 Social media opens to infinite possibilities, and for a creative head like Jas, it is a platform that drives her to start her own photography and graphic design ventures. She began with collecting visuals centred around mid-century, minimalism and shabby chic arts and crafts that she found on Instagram with a hope that one day she will be able to curate images with similar aesthetics. Little did she know, a few years later she owned her own photography business called Jasdesigner Studio, catering to commercial and lifestyle photography and product styling that exude Jas's unique and contemporary art vision.
Tell us about your photography and styling skills. Did you have a proper education or is it all self-taught?
I discovered photography and product styling on my own. I am so grateful that I was born in an era where almost everything can be acquired via the internet. Apart from that, I also learned the skills throughout my work with clients. Along the journey, I slowly picked up important points that can help me to brush up my creative perception so that I can be more versatile with my art form.
How do you balance between a client's brief and your styling DNA?
I think it's impossible to have a perfect collision of ideas between two heads because both carry their own understanding of beauty. However, I believe our vision is strong enough that it puts up trust to our clients to work with us. Above all, it is still our job to fulfill our clients' needs. On that note, what we will usually do is to do as much research as possible about the client. This is very important as it helps us to understand the creative direction that our client is trying to showcase. Next, we will propose our own visual concepts to them that have been infused with some of their aesthetic elements and ours. Through these methods, we can ensure we both are on the same page.
What is by far the most challenging commercial styling task that you've had. And how did you manage it?
My most challenging photography experience takes back when I had to work for a food and beverages commercial. The client wanted to showcase the real food and drinks, and in order to make them look fresh, I had to ask them to prepare the food on the spot while on my side, me and my team had to work as quick as we can to capture them in their most ideal conditions. It was a really technical job that required us to pay good attention to every single detail. Nevertheless, we enjoyed and learned a lot from the experience.
What's the biggest hack for a decent product shoot at home?
Work with the natural light. Your photos will turn out exquisitely if you know how to work with it efficiently. Also, to make your product more appealing, add in some suitable props and choose a well-decorated corner or background.