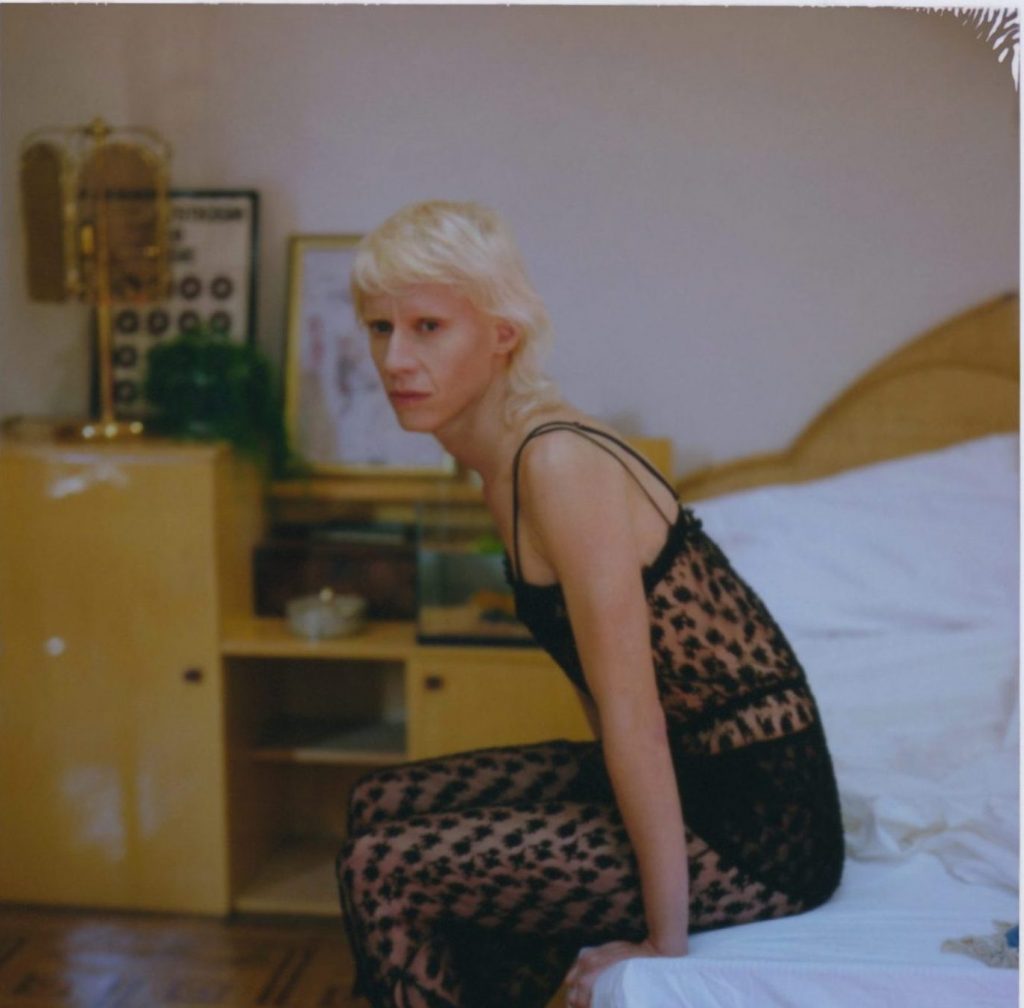 One of Gucci's latest collections, "Ouverture of Something that Never Ended", was presented during the week of GucciFest – the Italian powerhouse's new digital extravaganza. Co-directed by Gus Van Sant and Alessandro Michele, the film series documents the multi-hyphenate Silva Calderonia who performs her surreal daily routine around the European city of Rome.
Episode 1 – At Home
The scene opens with Silvia Calderoni waking up in a black tulle jumpsuit with GG mesh underwear before changing into a vintage crystal embellished dress in pastel tones with matching bonnet. A band plays Jamison Baken tunes in the other room. There is also the newly designed Bamboo bag in a rectangular tote shape with handles – and the pull up Chatsworth crest socks worn by a flatmate riding a bike around the apartment. As Calderoni does her stretching, she finds herself engrossed in watching writer and philosopher Paul B. Preciado discussing about sex and sexuality on the TV. The closing ensemble is a turtleneck, paired with silver platform sandals, and pants with the label embroidered at the ankle with the word "Eschatology".
Episode 2 – At the Café
Donned a hooded sweatshirt, printed top layered over cotton pants with a crossbody Jackie 1961 handbag and Gucci Basket high tops, the scene takes place at a café where Calderoni and British singer-songwriter and poet Arlo Parks converse; cool patrons dance; and a naked guy and girl chat. As Calderoni enters the bathroom, she finds herself in an empty theatre. Most of the looks are influenced by vintage pieces, including the leather suit and wide collared shirt worn by the gentleman. Fun fact: one of the passengers in the car wears a look from Gucci MX – a new non-binary collection of clothing by Gucci.
Episode 3 – At the Post Office
Calderoni writes a postcard in the post office. Italian art critic Achille Bonito Oliva is there too, wearing a striped shirt with a cabbage motif and the words mon petit chou. He's on the phone with Harry Styles sharing views on creativity.
"I think when it comes to making art, it's about finding the thing that you've always wanted to see, or you've always wanted to listen to, that like has never been made. It's always like an uncomfortable moment, I think, when you find the thing," says Styles. "You don't know if you love it or hate it, because you don't know what is it yet. But I think that's the most exciting place to work in. And that's true for all the fields you mentioned. I think you draw on things you've kind of experienced in the past, because it's your only reference point," he continues.
High top sneakers, men's sandals with Horsebit hardware, pumps with oversize rectangular buckles, as well as bags including the Bamboo, the Jackie 1961, the Horsebit 1955, are spotted from the post office queue.
Episode 4 – The Theatre
Accompanied by actor and playwright Jeremy O. Harris, Calderoni auditions with Sasha Waltz and Guests dance company wearing a sequin top, short-sleeved cropped jacket and striped pants, oversize square metal framed eyewear, as well as a rectangular shaped shoulder bag with lion head hardware. Sasha Waltz and the dancers – outfitted with reeditions of looks from Alessandro Michele's first collections for Gucci women's and men's – watches as Waltz and Calderoni dance to Ravel's Bolero.
Episode 5 – The Neighbours
Calderoni walks out to her apartment balcony in a transparent black chiffon dress with lace details and GG tulle underwear. There, she observes a rock band rehearsing wearing a glossy activewear tracksuit, and tailoring with graphic patterned pants and jacket; artist Ariana Papademetropoulos watering plants in a silk floral print long sleeved dress; and then, watching Billie Eilish's MV for Therefore I Am where she wears a men's look from the new collection: a flat cap with a flower design, red pants and sweatshirt printed with "Gucci" and "Eschatology".
Episode 6 – At the Vintage Shop
Calderoni stumbles across a vintage store wearing a denim washed shorts and T-shirt printed with Eschatology "1921" and "25". The shop contains pieces from past Gucci collections by Michele, with mannequins dressed in looks from the creative director's first women's collection for the Maison. A customer played by Florence Welch then enters and writes notes and sneakily hidden them inside the clothes and accessories. One of the many interesting scenes sees a guy changing from a pair of cuffed denim pants and red coat to a windowpane check coat, red silk shirt, reversible bucket hat and camel pants with the label featuring "Eschatology".
Episode 7 – A Nightly Walk
In closing, Calderoni strolls the night streets of Rome in a camel three-piece suit with a retro style buttoned gilet and a pink silk shirt and brown silk tie, vintage style glasses and a single earring, carrying a GG motif cosmetic case. She talks with singer and actor Lu Han – wearing a silk shirt with buttoned collar and epaulets, jogging pants and oversize oval sunglasses and a silver cross motif earring inset with GG – on the intercom as he is seen ironing a red silk dress from the first Gucci women's collection by Michele.