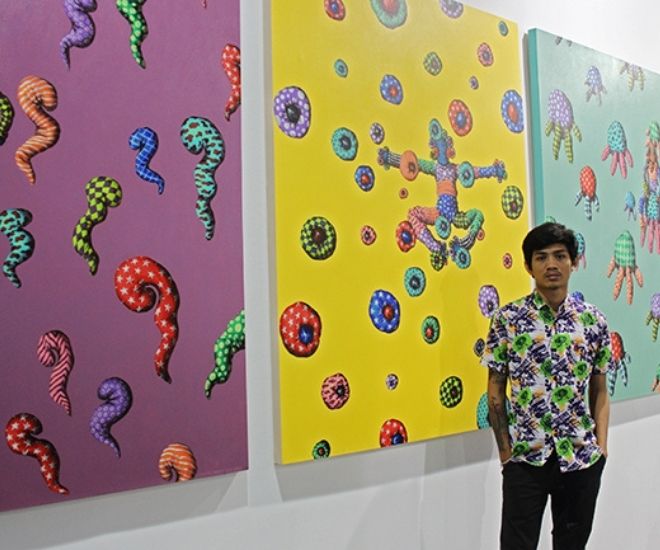 "I had typed the name Caroline, and it came out wrong. I looked at the word Coraline, and knew it was someone's name. I wanted to know what happened to her." British author Neil Gaiman has set the stage for the iconic button-eyed characters in his 2002 dark fantasy children's novella to thrive in the pages, as well as on screen in the 2009 stop-motion film adaptation. In Indonesia, an entirely different breed of button-eyed characters has, on the canvases, readyviewed grown into something even closer to the hearts of the locals under the brushstrokes of Putu Adi Suanjaya , or better known by his moniker of Kencut.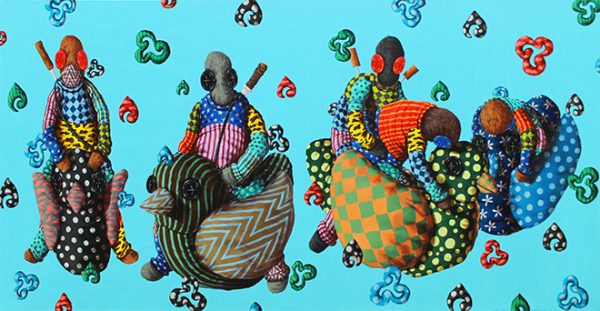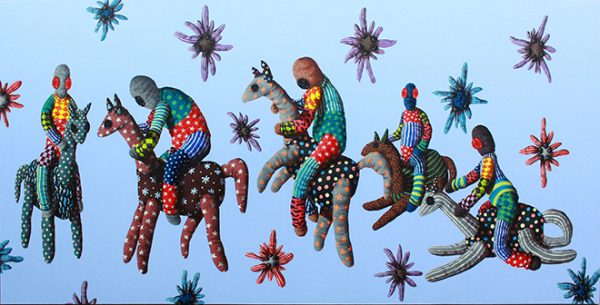 In your early years, how was art introduced to you?
As a child of Bali, I knew of my home to be a land of rich culture, and through the interconnections of history, traditions, and religions come a trove of artistic creations. Art had been a staple since my vocational high school, and it became my foundation for my practice in painting. Thereafter, I furthered my knowledge of art in the Yogyakarta Indonesian Art Institute. It was then that my tunnel vision on art limited to the traditions of the island began to expand towards more diverse perspectives of the world beyond. That was where my button-eyed creatures were born from. My current artistic skill set is and has always been tethered to the cumulation of experiences since young embedded within my subconscious, and I my works mirror all the relevant past experiences.
Could you elaborate more on the idea of these recurring characters in your paintings?
These characters are easily identified as stuffed dolls sporting whimsical patterns complete with buttons for eyes. The visual elements of these artworks actually emanated from a chanced spontaneous discussion between me and Ary Indra, a well-known Indonesian architect, just before an exhibition.
The human eye is often known to be the window to the soul, since it easily divulges information, whether intentionally or otherwise, of the person and their emotional state. In my works, I have opted to omit said windows and have them replaced with the unassumingly mundane buttons. Yet, the lack of an indication on the beings' emotions also leaves no trace on the lies that they potentially bear, and it is in this ignorance of all things unsavoury that I conjure a pocket of optimism for my audiences to dwell in; a place with no lies is indeed a happy place. My paintings serve as a reminder that life should be navigated through in as much positivity as a child who knows no sins.
Are there any parts of your creative process that you find particularly difficult to execute?
I think the most challenging part of creating a piece is converting my ideas into an initial sketch to be composed on a canvas. I also remain adamant that the works presented must be better than the ones prior and that I will always present more interesting works that surpass all that I have done before. I guess ultimately, it boils down to my personal expectations imposed on myself that sets my task to be a difficult one, but this is how I push myself to always produce only the best works I can be proud of showing.
What, then, does art mean to you?
I feel that art is a wide open-ended space is not limited to any individual technical, visual, or stylistic approach. To me, art is a moment that allows for expressions and ideas of various kinds to flow freely. The puppet is a medium for my expression of ideas and I liken myself to a puppeteer who is able to conjure up visual narratives for my audiences. While the visuals are presented on the flat of a 2-dimensional canvas, my 3-dimensional rendering draws the viewers into an even more intimate setting so that they can be freer and closer to my artworks, making my narratives more relevant their own life journeys. The possibility for art appreciation across borders is a good indicator of the development of art in the world is healthy and prosperous. Cross-border appreciation of arts and cultures also opens up more avenues for a variety of new visuals and knowledge to be exchanged, thus enriching the art produced in any given region.
How would you describe the role of an artist in society?
Artists can generally be considered as visual educators to and for the community. They may also very well be the architects who set the tone for future developments to improve the living conditions of the people. With ample knowledge in translating concepts into visuals, artists fit the bill to be the voice of the people so that their ideas can be more accessible. In my opinion, technological developments and globalisation have influenced the development of visual forms throughout the world, including in Indonesia.
As an artist, what stands paramount to me is the possibility for me to not see an end to my creative process and to never cease pouring out unique ideas for every piece I created. I do also hope to be appreciated for the work I do, and in my opinion, the epitome of getting appreciated for my work is to have my paintings collected by the museums.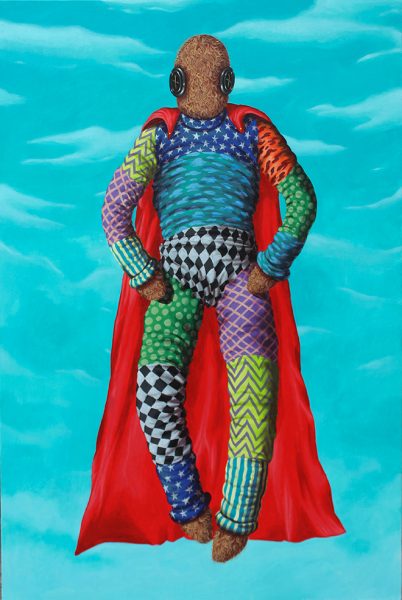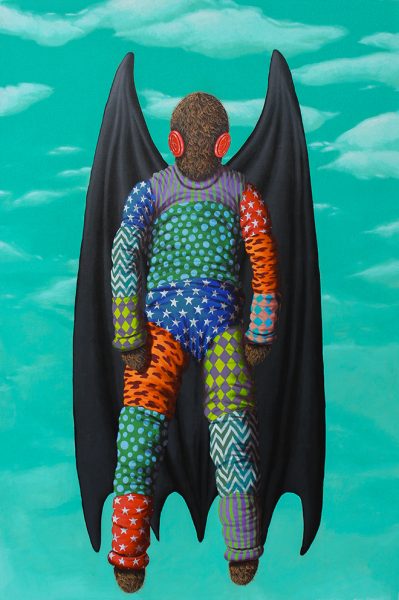 In a world where we are unsure if lies are calculated risks or casual cruelty, Kencut's paintings are stark reminders to us that sometimes, all we simply need to do is to button up, pick up what is left, and walk out without ever glancing back.
Peek into the souls of Kencut's paintings through his Instagram: @suanjaya_kencut.