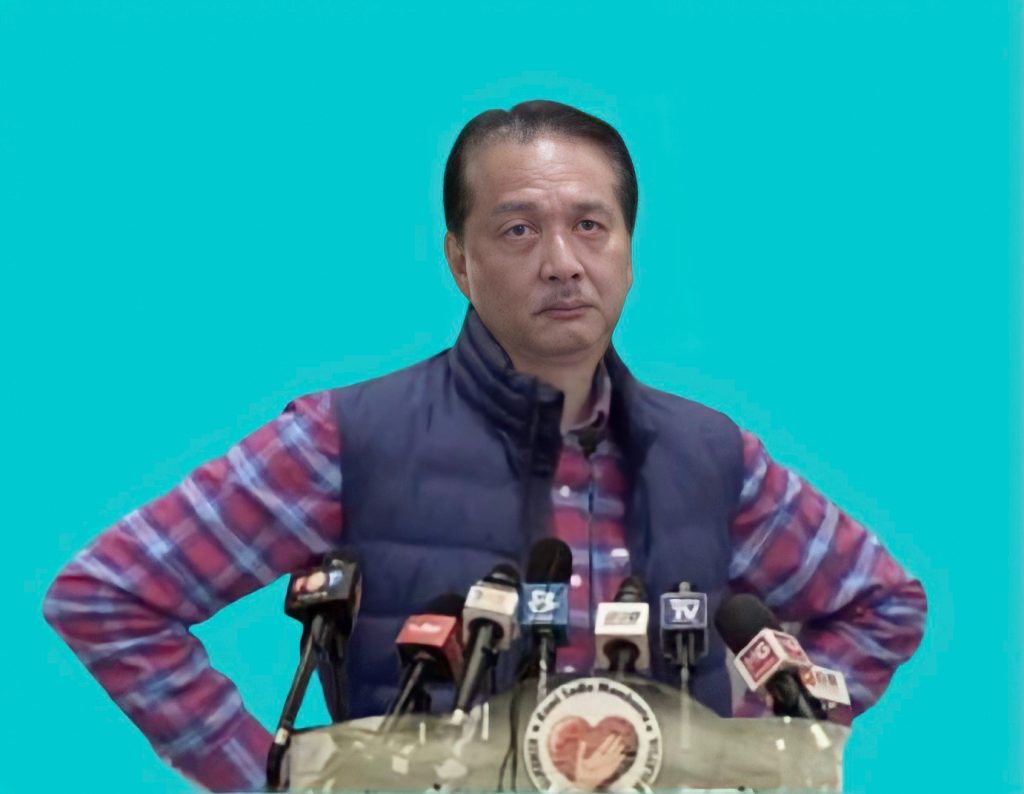 This year was no joke. Just when we thought we'd be in flying cars by now, the world experienced a devastating pandemic, terrible wildfires, the death of basketball legend Kobe Bryant, social unrest, political upheavals and various natural disasters. With 2020 finally coming to a close, let's look back and give thanks for what really got us through it all (and perhaps that the only good things to come out this year): the memes. Here's our list of 2020 memes that did the trick.
"I'm going to create an environment that is so toxic,"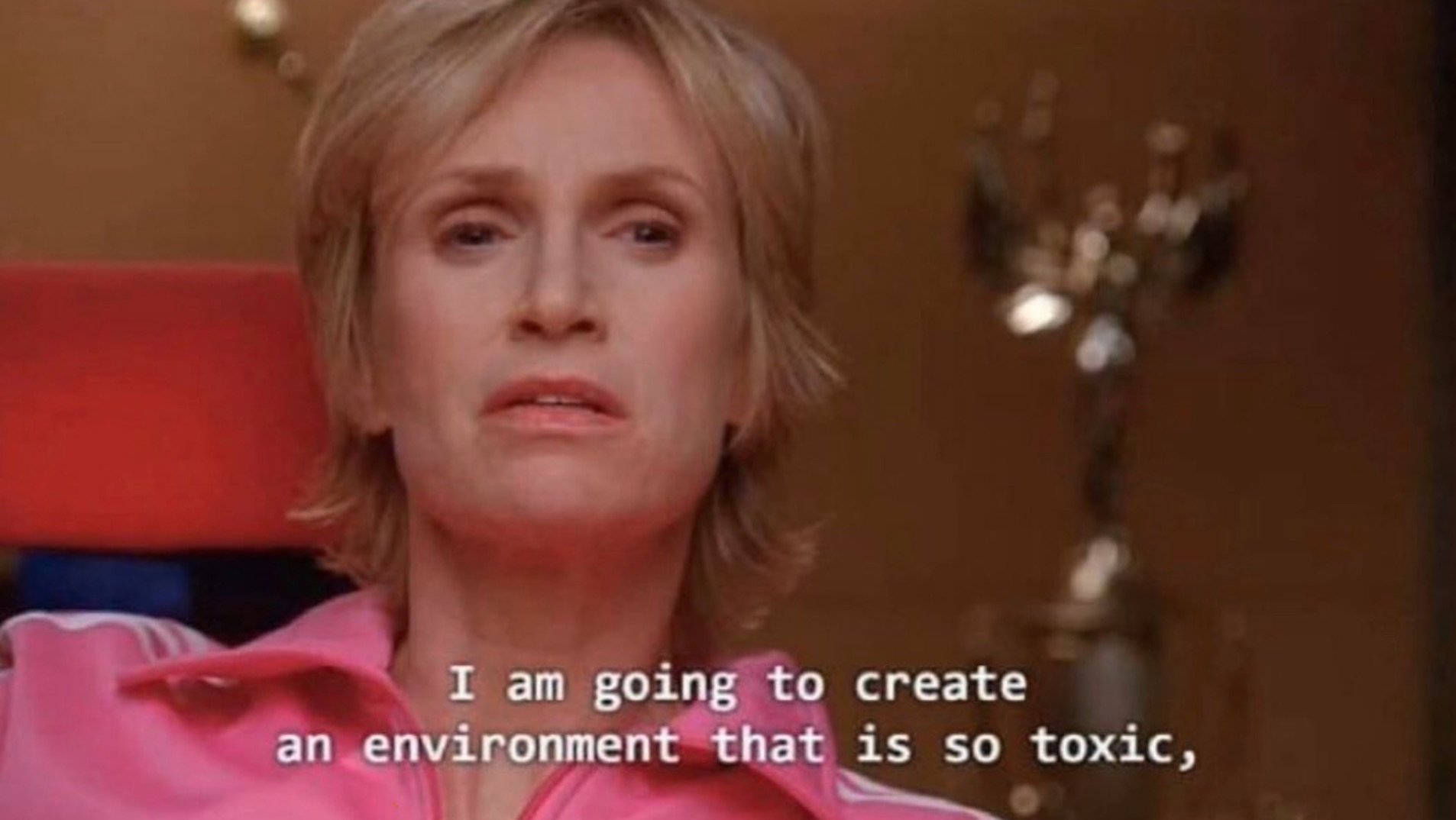 "I'm going to create an environment that is so toxic," a quote by Sue Sylvester from Glee, has been doing the rounds on Twitter and it's unlocked untold creativity from the meme lords. The dialogue comes from the seventh episode of the show's first season in which Sue determines to ruin the school glee club by sowing divisions in the team, hence the "toxic environment". It quickly gained traction as users use the screenshot to describe multitude of a bad environment and then it grew where people expertly applied to various scenarios by blacking out the words "environment" and "toxic" and replacing them with whatever made the meme work. With this meme exists, maybe the environment isn't toxic at all…right? Thank you, Sue.
my mom telling a story pic.twitter.com/nNjL0jyXY2

— Matt Bellassai (@MattBellassai) November 27, 2020
When you're about to ruin the whole of 2020 pic.twitter.com/PbivmatGr6

— Greg Barradale (@GregBarradale) July 2, 2020
When I have been at a party for 20-30 minutes pic.twitter.com/oNhRtfxwLA

— Sabina Meschke (@sabinameschke) July 1, 2020
Gossip Girl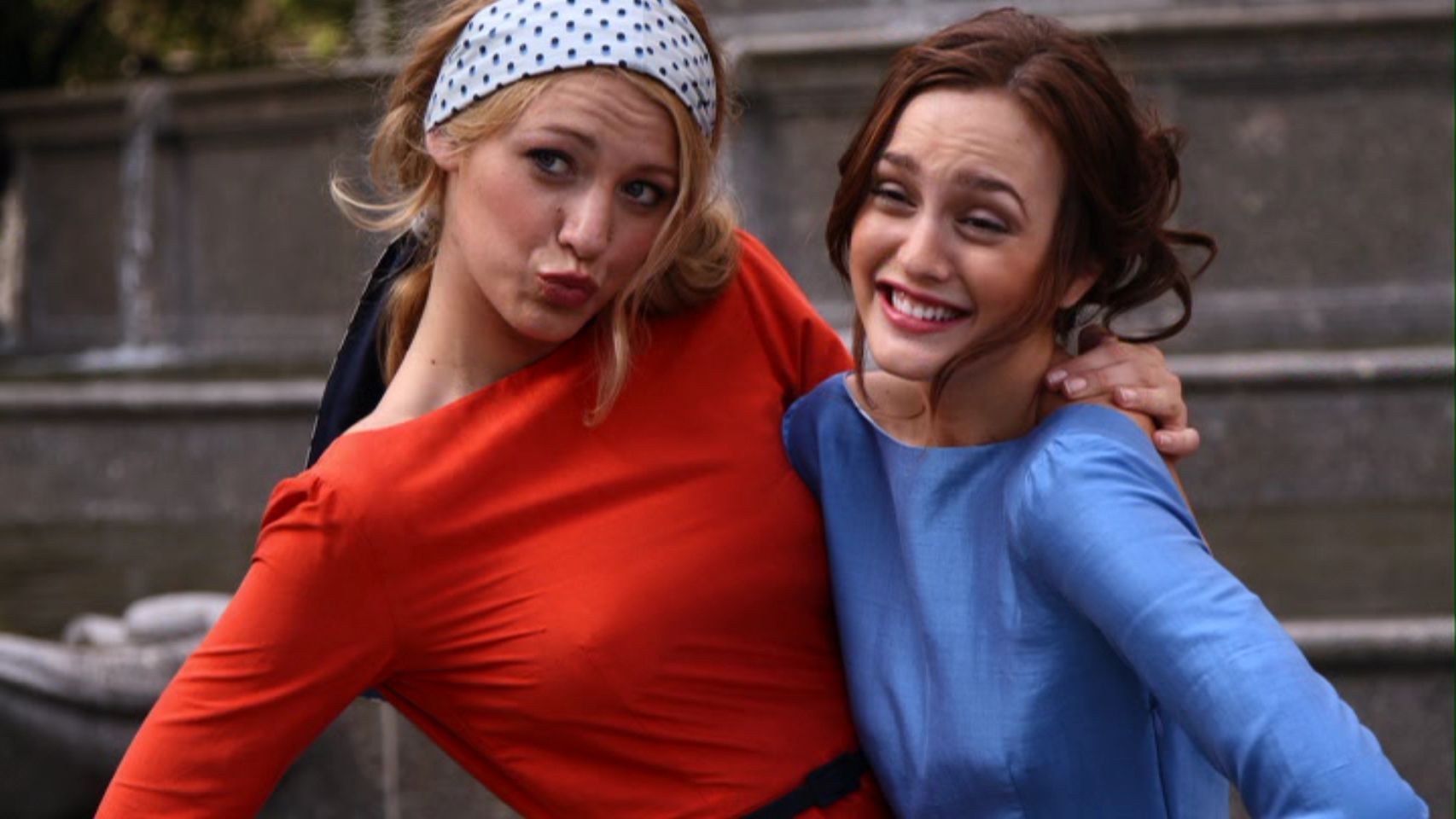 This meme is so basic that it's actually kind of genius. The meme features Blake Lively's Serena up top, asking a question of making a statement, then Leighton Meester's Blair below retorting back with some sort of anagram or edit of the term "gossip girl". Our favourite? This one below – Go piss girl. It does not get better than that.
— Rae (@healthy_adult) April 13, 2020
SKSKJSKSHSJSJSHSKSKSKSKS pic.twitter.com/PEbuECWiN6

— ryan streit (@ryanstreit) April 13, 2020
— daniel (@dbs_tweets) April 13, 2020
Everything is Cake
This meme proves that everything and anything could be a cake in this chaos year. This kind of creative food video have gone viral on social media but this one is the chameleon cake's most powerful viral moment, thanks to the pandemic. The video features everyday life objects that are secretly a cake which is either a herculean feat of food design or proof that we've lost our minds. That's all the explaining one can really do, you just have to watch the videos to understand.
These Are All Cakes pic.twitter.com/ejArkJHaid

— Tasty (@tasty) July 8, 2020
guys i'm genuinely distressed i can't take this shit anymore pic.twitter.com/vUl54Ro444

— iz 🪴 (@evillanelles) July 11, 2020
Robert Pattison in a tracksuit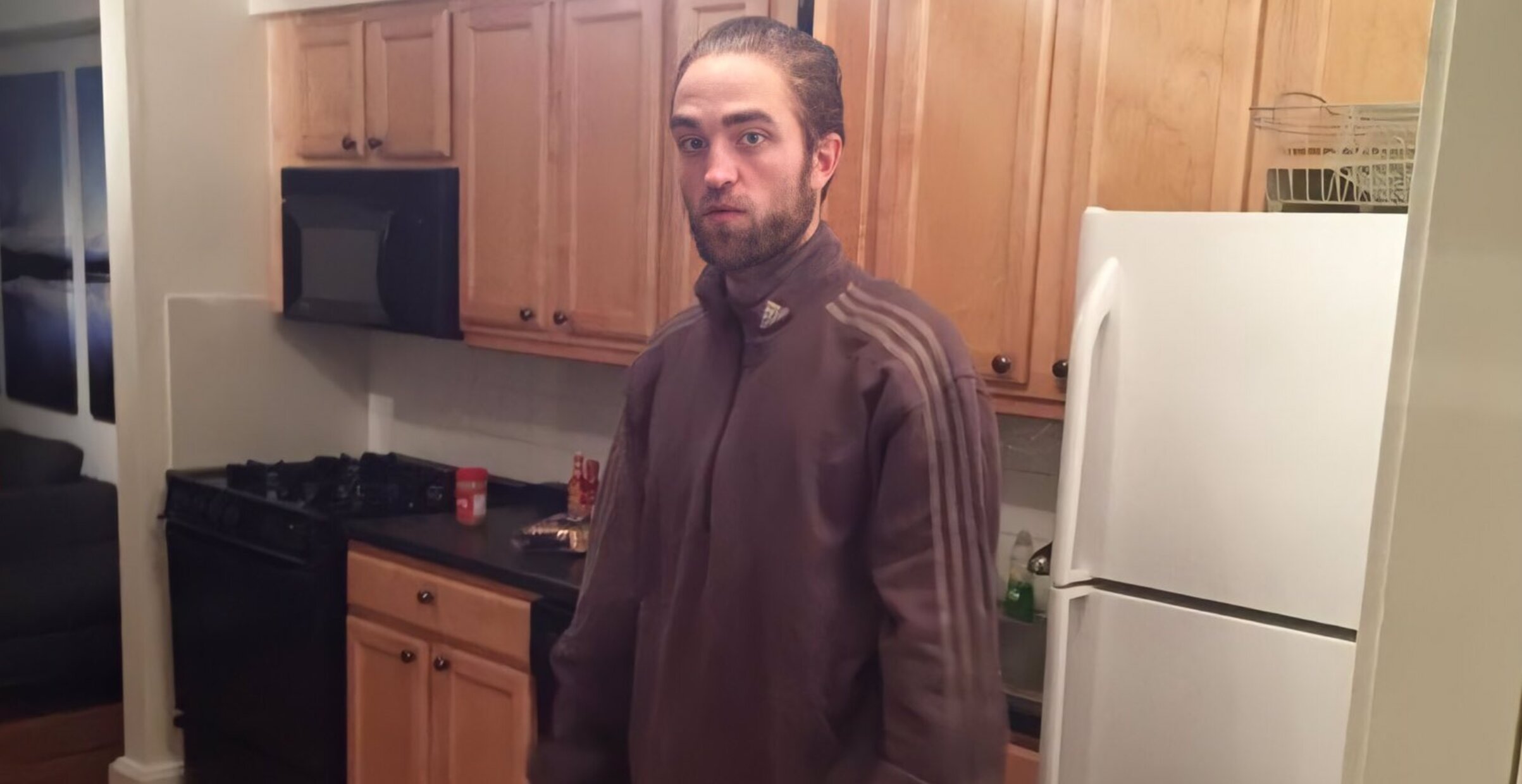 Robert Pattison has been headlining news several times this year for several reasons, mostly because of his Batman role and his cursed photo from 2017 that has become one of the biggest memes this year. You've seen it. You know it. It's an old photo of him standing awkwardly in the kitchen, wearing an oversized brown tracksuit, hair slicked back with his hands by his side. It's about his vibe in the picture that made the image a blank slate and has been used in countless reaction images. The image that has put the actor in the social media spotlight is originally a set picture from the time when he filmed the crime/thriller film Good Time back in 2017.
"Help your cousin get more folding chairs from the garage"

The cousin: pic.twitter.com/vuv26MHENo

— Karli Marulli (@VeryFineHat) August 7, 2020
— Danielle 🦇 (@graveyardwitch_) September 17, 2020
i found this guy standing outside my house does anyone know how he got here? pic.twitter.com/xuieRPHKaM

— stella (@uncutqems) September 2, 2020
My plans vs 2020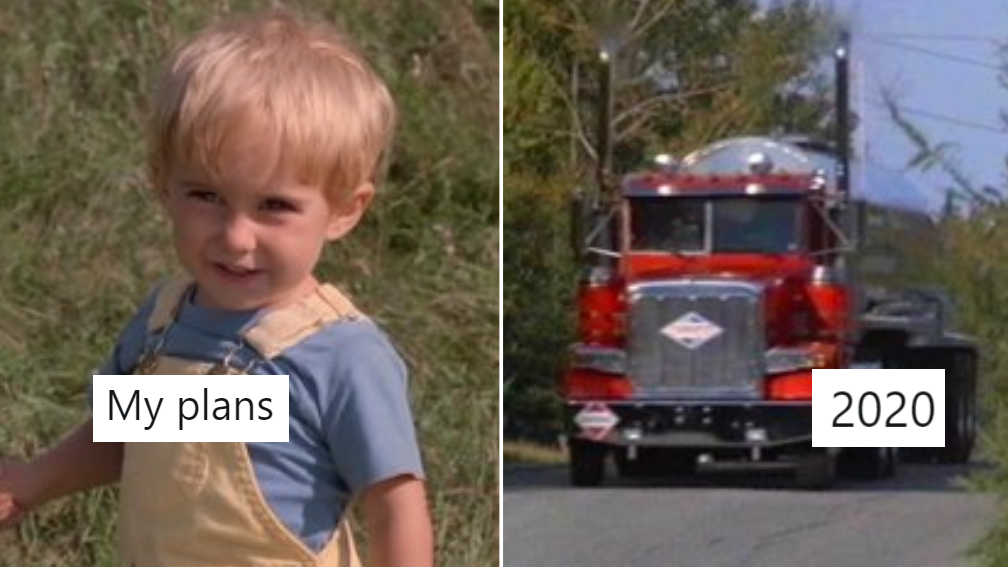 This one doesn't need any explanation because 2020 really did go and ruin everything, didn't it?
my plans 2020 pic.twitter.com/NxLZWG0fbP

— b99 (@dailybrooklyn99) May 18, 2020
My plans. 2020. pic.twitter.com/N4io6Td7PY

— Dannnnnnnn (@Amisma_) May 19, 2020
my plans 2020 pic.twitter.com/CQY7njq5Bm

— mio (@miovies) May 18, 2020
"I know a spot"
This meme takes you places, from your worst points in the relationships, physical places you've never been to, exposing certain traits and profession and often times, to a place which is only too relatable that will make you stare into the abyss, thinking "omg that's me".
guys be like I know a spot and take you…for granted

— fairy god mom (@lyxopk) June 24, 2020
edward be like "I know a spot" and take you here: pic.twitter.com/TTrWvGYWej

— THE TWILIGHT SAGA 🍎 (@Twilight) June 28, 2020
mosquitos be like I know a place and it be your ankle pic.twitter.com/TrI4G3K4rr

— ✨🍯charisse renée🍯✨ (@honeycurlycurls) June 29, 2020
girls be like i know a spot and then don't know how to get there

— 𝐹 (@tashsiddiqui) June 26, 2020
"Did it work?"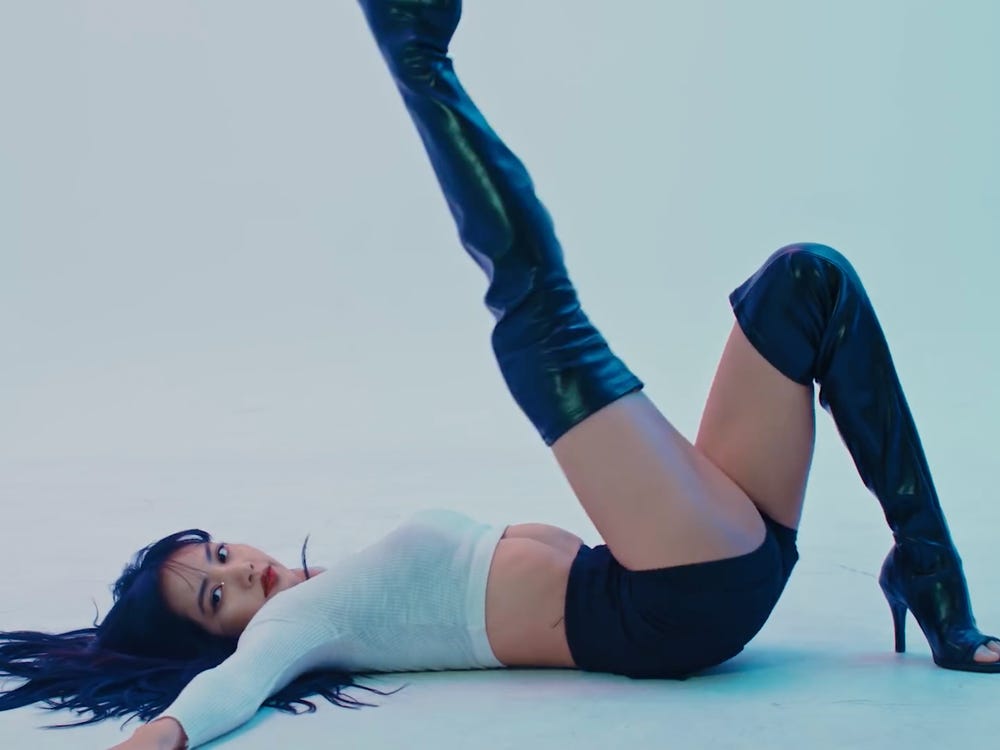 Lisa from Blackpink released a dance performance video to QUIN AND 6LACK'S Mushroom Chocolate and her legs became an instant meme called 'did it work'. In the video, the K-Pop star flexed her lengthy limbs while sporting a pair of black boots that went straight up her thighs which triggered a surge of Twitter users to crop her legs and put attach them to famous photos.
did it work pic.twitter.com/EJcWY0Nc28

— ☃️MAKO WEEK's fingerless gloves (@isthisahobby) April 26, 2020
did it work pic.twitter.com/G9lLGcTizY

— jo 🖖❤️ (@dilfsarek) April 25, 2020
Disappointed Muhammad Sarim Akhtar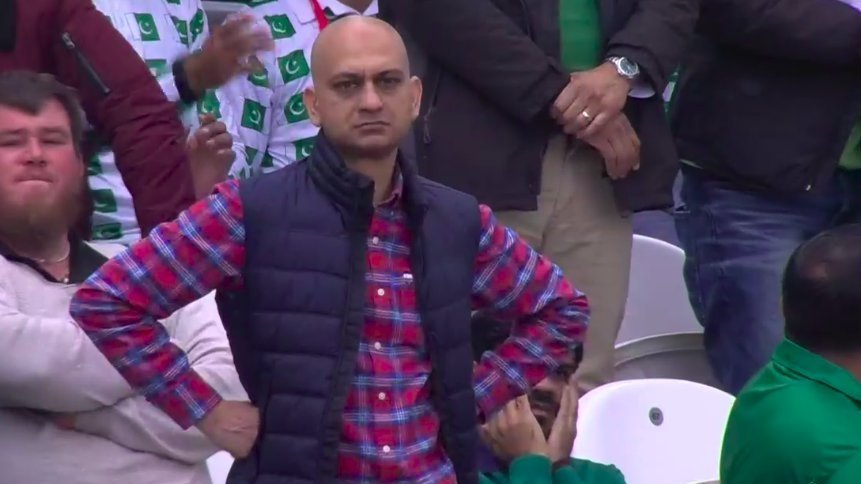 This meme describes exactly how we feel of 2020. The disappointed Pakistani fan Muhammad Sarim Akhtar who had gone viral in 2019 for his expression while watching the World Cup between Pakistan and Autralia at Taunton once again made a return to fame this year which prompted a series of hilarious reactions online in the form of memes and jokes that are mostly used to express disappointment or anger at a situation. Meanwhile, Malaysians are quick to crop Muhammad's face and put Dr. Hisham face onto the picture to portray what is he feeling whenever there are news of people breaking SOPs during MCO.
There seems to be one for every situation. Who develops this stuff 👌🤣 pic.twitter.com/mQoK4Als6b

— Muhammad Sarim Akhtar (@msarimakhtar) January 9, 2020
Meanwhile, DG Hisham be like: "Am I a joke to you?"

(meme by TheMalaysian) pic.twitter.com/EB2atZZvwO

— Sarah Sahadin 🇲🇾🏎️⚡ (@SarahSahadinCBB) July 28, 2020
Emily in Paris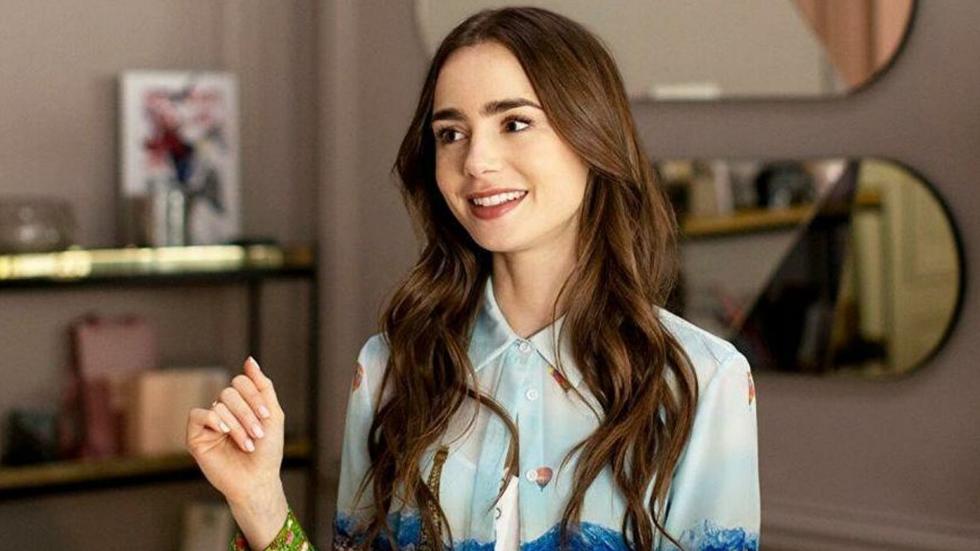 Netflix's Emily In Paris had mixed reviews from fans but the memes are so good. Again, locals did it again with clever photoshop where the memes show Emily in glamorous outfits while taking selfies at some familiar places in Malaysia but Paris. While international fans use the meme to throw shades at the plots of the show, outfits etc.
Every episode of Emily in Paris pic.twitter.com/4D1dMELp9U

— Derrick Austin (@ParadiseLAust) October 5, 2020
me after binge watching #EmilyInParis pic.twitter.com/ODEXSqd2ME

— Rümeysa (@rumeysatasoy) October 13, 2020
Emily in Perlis pic.twitter.com/664ILeC936

— izzi (@IzzRaifHarz) October 16, 2020
'Meatier, meteor'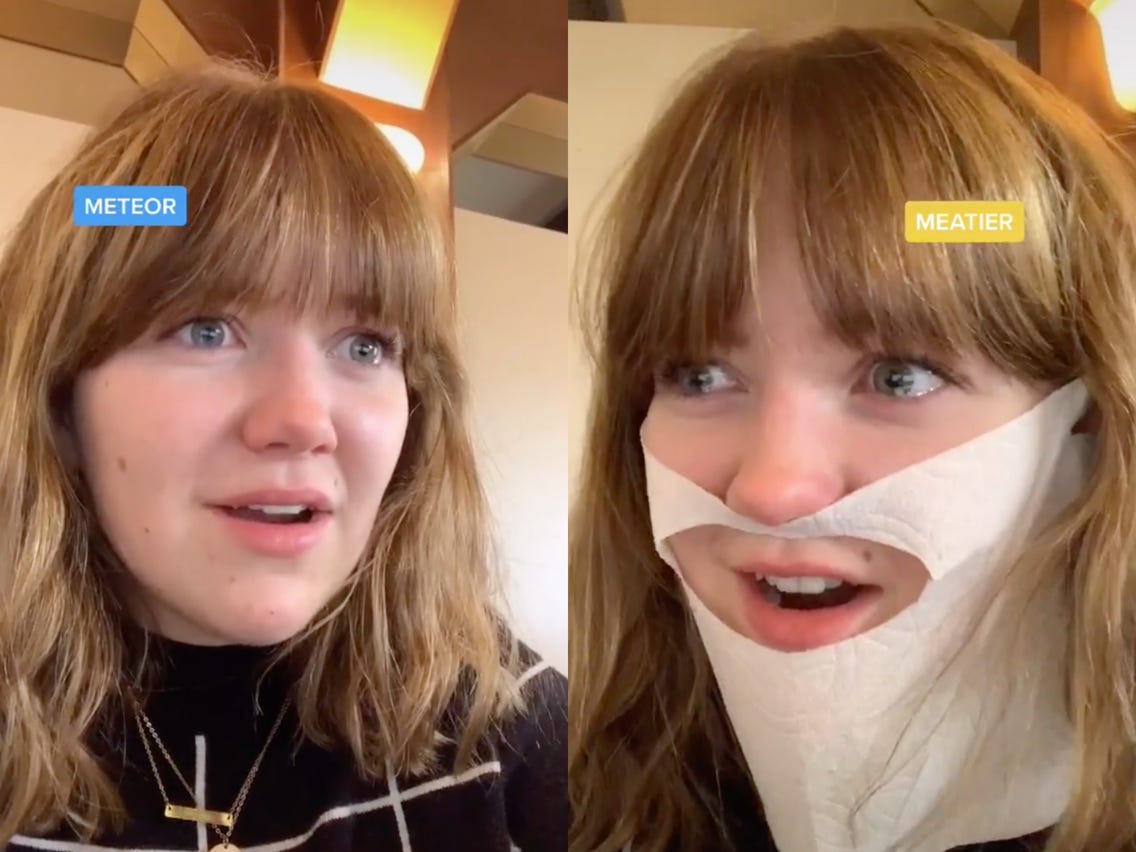 23-year-old Eliza Pettersen posted a TikTok video about dinosaur where she plays two roles as an angle and God and they discuss about how the dinosaurs accidentally went extinct. As they go back and forth about what God had originally requested the angel to give the species, the pair realised there was a definite misunderstanding along the way. The video ends with both of them repeating "meatier and "meteor" as they tear up. Despite the clip literally only being 22 seconds long, Petersen's pretty genius dinosaur joke and acting skill that deserved an Oscar award was viewed over 15 million times across TikTok and Twitter. Fun fact: Eliza is actually an actual Paleontologist.
— Emily Sarah (@EmilySarahArt) September 10, 2020
…meatier…..

a meteor…… ?… m e a t i e r… pic.twitter.com/lAxjfzcKpZ

— grogu (@purrseok) September 12, 2020
Ugh pic.twitter.com/VToZHrWFdg

— прочность (@fittedshit) September 12, 2020