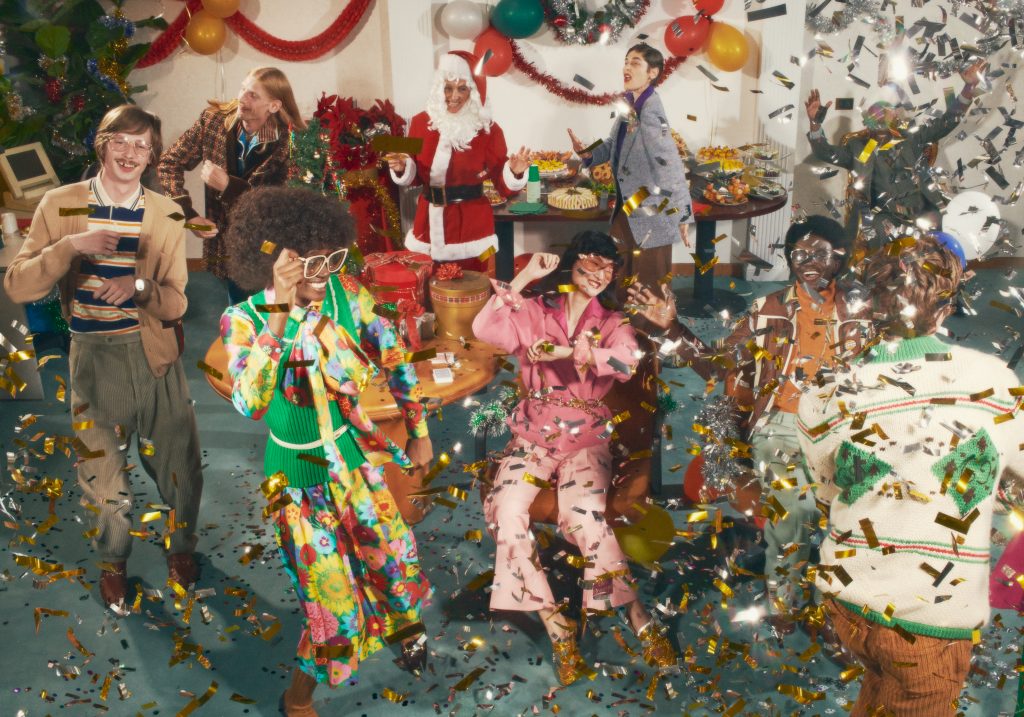 Sure, we're all dwelling on the uncertain future. Irrespectively, there's definitely something we still look forward to that put a smile on our face just by thinking it: the festive celebration. This holiday season, fashion brands are coming up with different holiday campaigns to cheer and distract us from everything that has been happening. Gucci throws a '90s office party while Burberry gets us moving with an engaging choreography. Dunhill, on the other hand, evokes our precious memories with our pet whereas Prada takes us on a thrilling adventure with a film noir.
Gucci
Shot by photographer Mark Peckmezian and filmed by director Akinola Davies Jr, the Gucci Gift Giving Campaign 2020 transports us back to '90s office party, delivering a celebration full of nostalgia and retro vibe. The Gucci family is captured running down the clock with works, festooning the office with seasonal decorations and finally getting down to the dance floor with Only You by Yazoo, all dressed in full Gucci ensemble. The Gucci Gift Giving Collection is anchored by two main celebrating families: one emphasising cosiness and warmth spotlighted with jacquard fabric and houndstooth check in green and red, and one roistering in high shine with sequins sparkling in gold, silver and pastels. Along with the campaign, the Italian label also launches new Gucci Arcade game inspired by Conga Master and sustainable packaging in ornate green decorative pattern.
Burberry
Spurred by the ongoing humanitarian initiative for youth empowerment with footballer and youth advocate Marcus Rashford MBE, the latest Burberry campaign sheds lights on the next generation and their ambitious dreams and promising potential. The campaign brings together a diverse cast of talents from different ethnic backgrounds and creative spheres, bridging the worlds of fashion, dance and sport. Created in collaboration with Megaforce, four dancers, including Chantel Foo, Kevin Bago, Robinson Cassarino and Zhané Samuels, are seen relishing themselves in the brand's trench coats, diamond-quilted barn jackets and hooded puffer jackets while dancing through the hailstorm to the vast sea, signifying an exploration of a new journey for hopes and dreams.
Dunhill
Dunhill's festive campaign truly defines the phrase "Dogs are man's best friend". Conceived by creative director Mark Weston, the campaign is inspired by his precious bond with his pet, which brings positivity to him during this time where we often stay in. Accompanied by models Babacar, Stas and Hidetatsu, three animal stars Sal, Ark and Theo — a Great Dane, Afghan Hound and Toy Poodle — unleash their playful nature as the models strike some cool poses in front of camera lens. A selective edit is also featured in the campaign including key looks from its Autumn/Winter 2020 collection and new Signature collection, a range of bags and accessories inspired by the brand's '70s packaging.
Coach
As usual, Coach's holiday campaign is nothing short of cheerful and star-studded. Named "Holiday Is Where You Find It", the campaign is sort of continuation to its Autumn/Winter 2020 campaign where the focus is on seeking comfort in togetherness and family traditions, spotlighting the cultivation of positivity and appreciation of joy in our life. Joining their Coach ambassadors Jennifer Lopez and Michael B. Jordan, the American fashion label has also enlisted Camila Morrone, Quincy, Ramla Ali, Yuna and Jeremy Lin to lend their star power.
Prada
Cinematic production by Steven Meisel with a mystery written by Candice-Carty Williams, doesn't it sound convincing? Named "A Stranger Calls", this holiday, Prada proposes a film noir-inspired narrative that centres around a posse of loaded people and Prada's exceptional creations. Taking place at the Villa Gnutti home in Italy, five characters the likes of Freja Beha, Maty Fall, Mao Xiaoxing, Rudolfs Valbergs and Merlijne Schorren are portrayed to be involved in an untold mystery, piquing our interest to find out more.