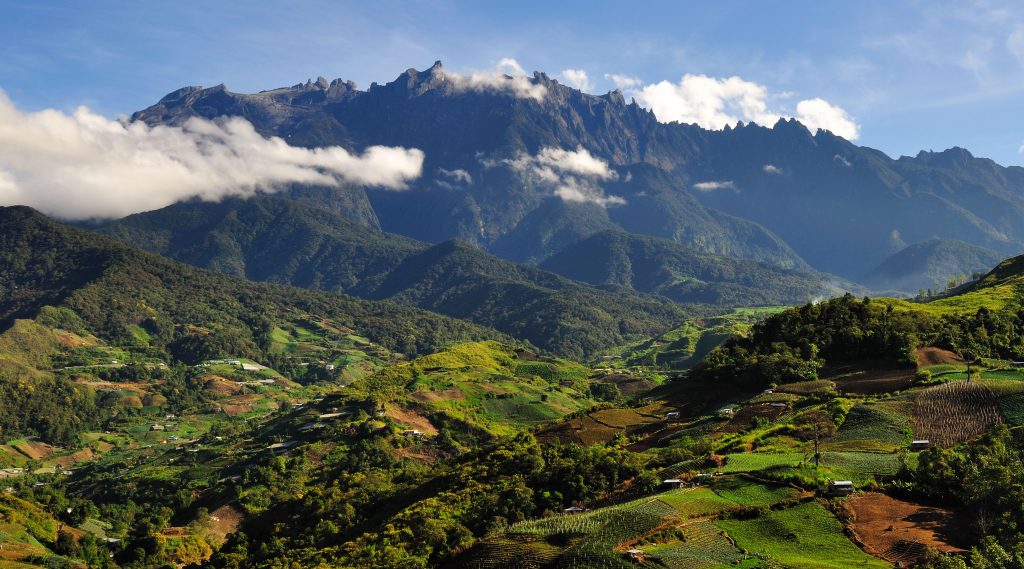 A site has to possess exceptional humanity value and meet at least one out of 10 selection criteria as prescribed by UNESCO – six cultural and four natural criteria – in order to qualify for the World Heritage List. They include conveying "exceptional testimony to a cultural tradition or civilisation which is living or has disappeared", to be an example of traditional land- or seas-use representative of a culture, to portray noteworthy stages of Earth's history, and to be consisted of "superlative natural phenomena". This mean it covers heritage cities, incredible natural surrounds and pre-historic archaeology sites. Here, the UNESCO-certified sites in Malaysia which are well worth a visit.
Gunung Mulu National Park, Sarawak
Synonymous with spiky mountains and spooky caves, Gunung Mulu National Park is located in the thick of Borneo's rainforest and may be slightly tricky to get to, albeit it is worth the effort.
The tropical karst topography sees lush greenery, making a home jagged rocky landscape. Easily the most photogenic mountain in the park, the limestone pinnacles of Mount Api are famed for their otherworldliness.
Caving enthusiasts can easily spend up to several days here. The world's largest cave chamber can be found here and to get a gist of the passage girth, picture this: measuring 600 metres deep, 415 metres wide and 80 metres high, 40 Being 747s can park inside the cave. Other noteworthy caves in the national park include Benarat Cave, Deer Cave, Clearwater Cave and Wind Cave.
The dark, damp caves are homes and breeding ground for endangered animal species such as swiftlets and bats, as well as rare cave fauna including mosses, liverworts and fungi.
George Town, Penang
Located in the north-east corner of the island, George Town – the main city of Penang Island – brims with character and a certain swagger that comes from knowing that it has a rich history, dating back to the colonial times when it was a trading post. The historic heart of George Town still echoes of its past Chinese, Indian and Malay influences.
The city now buzzes with boutiques, galleries, cafes and museums housed in traditional Chinese shophouses. While the architecture in George Town is impressive, there are many other factors which make it unique with myriad of religions and cultures forming its multi-ethnic skyline like Chinese temples jostle for attention with mosques and Indian temples in colonial style buildings all sit on the same street. Contemporary street art also plays an important role in this heritage site.
Street food is undoubtedly part of the allure of the city, making it the unofficial foodie capital of Malaysia that offer domestic and foreign visitors a delicious distraction. Food of every culture is represented in a wide selection of food courts, coffee shops and cafes. Don't miss: Nyonya cuisine, one of the most complex (and tasty) with its use of spices and cooking methods.
Kinabalu Park, Sabah
The mere mention of the name "Kinabalu" conjures the image of craggy, misty mountain ranges. Named after Mount Kinabalu, the highest mountain in Malaysia, Kinabalu Park is spread across 754 square kilometres in the north of Sabah.
Little is known about Kinabalu's etymology, and most discussions on the topic allude to two folktales: Some say that "Kinabalu" is extracted from the Kadazan Dusun term "Aki Nabalu" or "revered place of the dead" according to the belief that the peak of Mount Kinabalu pierces the heavens. Others claim that "Kinabalu" derives from "Cina Balu", referring to "a Chinese widow" who scaled the mountain daily, searching for her lost spouse until the day she died.
Highly sacred and shrouded with mystery, Mount Kinabalu and its surrounding park attract close to half a million visitors annually. About 93 percent of the park is covered with plant life – between 5,000 and 6,000 vascular species – in six vegetation zones ranging from tropical lowlands to alpine meadows. This green haven provides cover to half of Borneo's birds, mammals, amphibians and two-thirds of the region's reptiles.
Malacca
Alongside George Town, Malacca City is a prime example of how history and culture can drastically shape a town – from economic growth to architecture to culture. UNESCO has stated that Malacca is a "remarkable example of a historical colonial town", and this is obvious as soon as you visit the town centre where Dutch and Portuguese colonial designs meld effortlessly with Straits Eclectic and Chinese architecture. Although this isn't a big town (which means you can see everything in just one day), what it lacks in size, it more than makes up for in charming character.
Malacca is a living town which has been constantly inhabited for centuries. Although many of the shophouses have been converted into hipster cafes and cool hotels, majority of them still retain their old-world charm. And while most Southeast Asian cities strive for modernity, Malacca proudly holds onto its historical façade as seen in sites like Stadhuys, the famous red building that is believed to be the oldest Dutch building in Asia, and Christ Church, the oldest functioning Protestant church in Malaysia.
Langkawi Geopark, Kedah
Besides sunshine, beaches and duty-free shopping, Langkawi is also known for its UNESCO Global Geopark. That essentially means that within a unified geographical area are sites of important geological significance, which must be protected and managed sustainably. The Geopark is made up of three sectors: the Machinchang Mountain Ranges, the Kilim Geoforest Park and the Dayang Bunting Marble Geopark.
The Machinchang mountain range has a 500-million-year old rock formation, which was the first part of Southeast Asia to rise from the sea during the Cambrian period. Visitors can hike to the peak of Gunung Raya, which is part of the range and is the highest point on the island. The Kilim Geoforest Park is another unique site to visit where you'll experience mysterious mangrove rivers, impressive limestone terrain and karstic hills formed from millions of years of erosion.
Lastly, the Dayang Bunting Marble Geopark comes with a legend to add to its allure. Located on the second-largest island of the archipelago, it's said that a spirit maiden married an earthly prince. Their child died soon after birth and was buried in the freshwater lake whereupon she blessed it with the power of increase fertility, leading to generations of couples trying to conceive visiting it. On a more scientific note, the lake was once a huge limestone cave which fell apart and has the best Permian marble formations in the world.
This story first appeared in the August 2020 issue of Men's Folio Malaysia.