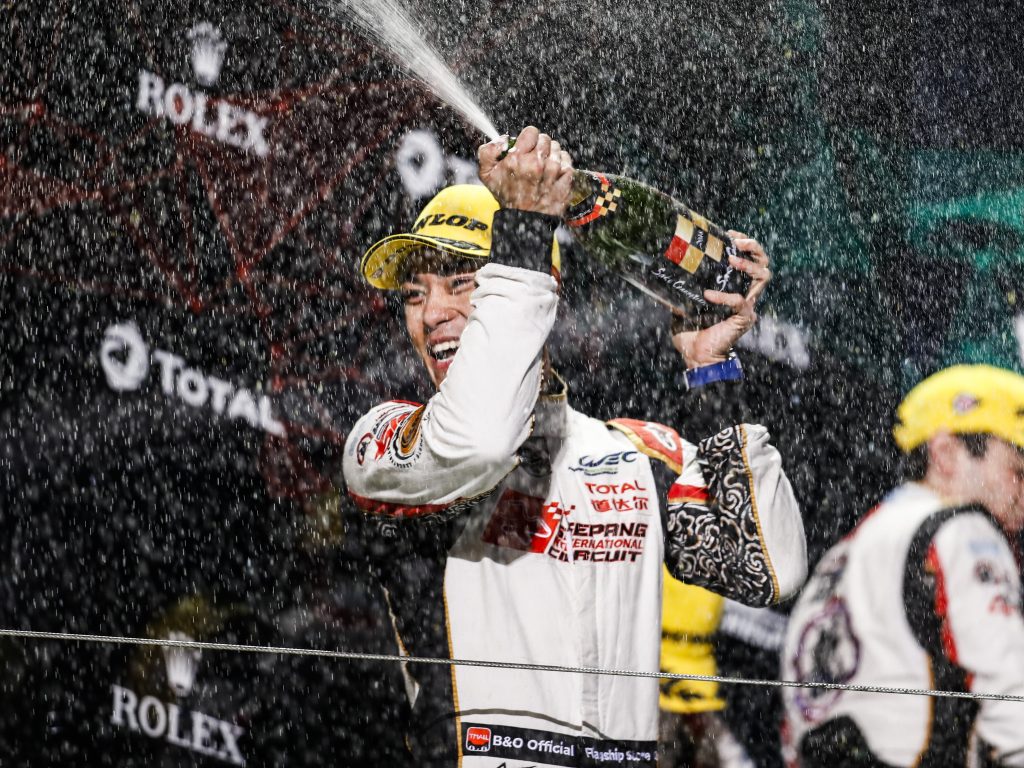 It all started from the moment he took the wheel of a kart at the age of 13. That time, Weiron Tan spun out his Sunday driving go-kart with his friends and that was when his love for karting blossomed. With his father's encouragement, he flung himself into racing and racked up multiple wins. However, his big breakthrough came in 2018 when he, Jazeman Jaafar and Nabil Jeffri won a World Endurance Championship race, earning the accolade of becoming the first-ever all-Asian lineup to gain victory in the contest. While the pandemic has put the races he was supposed to take part on hold, Tan grasped the opportunity to work on his new YouTube channel.
How has 2020 been so far?
2020 has been such a crazy year for everyone, hasn't it? Because of the pandemic, I haven't been able to compete in any races this year. That's a weird feeling. But in a way, it's surprisingly nice because I'm spending so much time at home with my wife and her family in Hong Kong. I've also had the opportunity to reflect on many things and to channel my productivity elsewhere like starting my own YouTube channel.
Tell us something Malaysians don't know about you?
I enjoy living an active lifestyle not just because racing requires me to. I love coffee, very much. I used to be an ice figure skater before discovering motorsports. My fashion style is simplistic – I only wear black, white or grey tops with jeans or khakis.
What's on your current bucket list of things you want to try?
I want to race in the Super GT Championship in Japan, one of the highest levels of sports car racing. Skydiving has also been on the top of my bucket list. And flying a fighter jet.
Who is that one person you look up to in the world of racing? And how has he inspired you?
My hero in this sport would be Michael Schumacher. I grew up watching him raced with Ferrari and have seen many of his interviews. He's an all-rounder; top driver; has a phenomenal personality; and is the most determined athlete on the grid. I learnt about self-discipline because of him. He would outwork and outperform his rivals and it was just so inspiring to see – a true admiration.
What career path would you have taken if you were not a racer?
I had the chance to think about that during this lockdown period. And honestly, I don't know! My whole life has pretty much been dedicated to racing and motorsports – my passion and love revolve in the world of motorsports. Take that away from me, I'd probably find a different career path elsewhere, but I don't think I'd love and have a passion as strongly as what I'm currently doing.
What is the next big achievement you wish to unlock in your racing career after becoming the first-ever all-Asian lineup to win a race in the World Endurance Championship, alongside Jazeman Jaafar and Nabil Jeffri?
I'm now an official works driver for Audi Sport Asia, currently racing in the GT World Challenge Asia Series. My target now would be to win the championship with them and to further build my success with Audi in the foreseeing future.
Congratulations on your new YouTube channel which shares your workout routines. How do you find this new venture? What is your challenge(s) in making YouTube videos?
Thank you! I've been regularly doing these home HIIT workouts whenever I'm on-the-go. It's difficult to find a place and time to train when I'm travelling for races, so I simply slot in a 10 or 20-minute workout in my hotel room and it keeps me energised and makes me feel good. During this pandemic when most public places and gyms aren't open and with social distancing in place, I figured that this is the best time for me to share my own passion in this active lifestyle. I had some challenges like not having the equipment or software to film and edit. Thank god for online shopping.
What else can we find on your YouTube channel?
My YouTube channel content is now mainly fitness-centric, but later on, when we get to go racing again, I'd like to share some behind the scenes stuff as a racing driver and maybe some about my own lifestyle.
Where do you see yourself in five years?
My dream is to race in the Super GT Championship and I'm ever more determined to make that happen. So hopefully that's where I'll be in the next five years. I've raced across Europe, America and Asia, and I know where exactly I'd like to be. The Super GT Championship in Japan is one of the most competitive series in the world, where many top drivers and manufacturers compete. Many racing drivers dream to race in this series.
Check out Weiron Tan's new YouTube channel here.