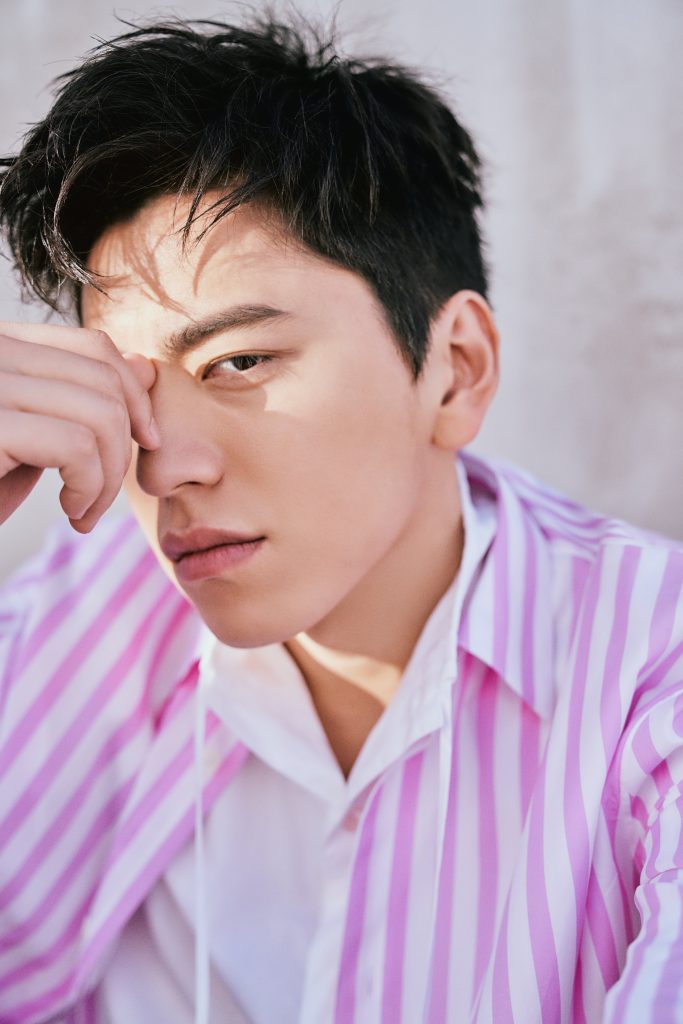 25 February 2020, Taiwan 11:55am: The Men's Folio team was on the studio rooftop, enjoying the cold and crisp air as the spring sun hung above us.
The distinct whir of a low-flying aeroplane engine punctuates the silence surrounding us. Songshan Airport was visible as the plane approached its descent. "Let's go, he should be arriving any time soon."
Schk, beep, schk, beep, schk, beep. The camera shutter and flashlights go off in quick succession before pausing momentarily as the subject checks the images. He hops back onto the backdrop, adjusting his pose ever so slightly, minimal to say the least but the resulting images are a stark improvement to the previous ones.
Satisfaction, he thought to himself as Wang Ta Lu flashes his inimitable megawatt smile. Name another person with such a smile? No pressure there but perhaps Hollywood darling Messrs Tom Cruise?
A few shots in, Wang had warmed up to the camera, working it with poise and confidence — he is aware of his stage presence and charisma, and flaunts it to aplomb. He was pretty serious as well, keeping his playful and charming temperament in check.
We were (fortunate to be) in Taipei for a couple of days to photograph two of Taiwan's rising actors Wang Ta Lu and Jasper Liu, the latter whom we covered in our April '20 issue. Two days prior, circulating rumours of countries closing their borders caused panic among many, us included. The WHO declared the novel coronavirus (COVID-19) a global pandemic two weeks earlier.
"I hope everyone stays safe and the rampant coronavirus outbreak passes swiftly," says Wang who stars in the upcoming mandarin television series The Wolf, set at the infancy of the Liang Dynasty. Having been away from television series for a while, Wang goes straight for the jugular playing the lead protagonist.
1:43pm: The photoshoot has ended and Ta Lu's demeanour relaxes considerably as he chats with us. The actor discusses the challenges of The Wolf and confirms a rumour.
"The challenges of starring in period drama is very different from, say, a modern one where everything is relatable," shares the actor who endured a torrid first two months during production "Mannerisms and dialogue are not what we're used to. I find myself stuck at times despite spending lots of time researching. I had difficulty adjusting and it was stressful for me."
The length of the drama did not help either, a whopping 58 episodes translated to long production periods.
"As an actor, I hope to score a good script and show to act in. The rest doesn't matter to me, it's your problem whether the audience wants to watch it," jokes the actor. "I'm very fortunate to have worked with so many talented crew members, not only actors. I've learnt a lot from them. Currently I'm working with one of China's great exports Ma Yi Li who is phenomenal to be on set with."
"My favourite at the moment is the armour I wore on the set of The Wolf," when asked about the rumour of him collecting props and costumes from projects he starred in.
"It's displayed on a mannequin at home, in fact I have one other set too," Ta Lu beamed with pride. "It's too shameless now but eventually I'd love to get the uniform I wore in Our Times. I'll pin the uniform on the movie poster, get it signed and framed up," Wang chuckles as he gets carried away with his mischievous plan.

1:58pm: The conversation takes a lighter route as Wang chats about English, Hollywood, fashion and recalls being at Paris Fashion Week.
"I would tell my younger self to study harder and brush up on my English," shares Wang who confesses his command of the language is limited to ordering meals. "I don't think I would end up on a different path if I studied more. If anything, it would have improved my acting and perhaps allowed me to work overseas or even Hollywood."
"I met the Russo brothers (directors of The Avengers) once, maybe I could have landed a role in the film as a Chinese Marvel superhero. Damn!" laughs Wang. By now, his boyish charm and mischief has completely taken over. Wang was totally relaxed and more so accommodating in our interview.
"Deadpool, if I really need to pick one from the lot, though I like them all," says Wang when asked to pick a Marvel superhero to portray. "That part evil, part good character has more depth than say Captain America. I can't put that poker face on throughout!"
Paris Fashion Week was one of Wang's recent overseas stint before countries started shutting down due to the coronavirus outbreak. As the symbiotic relationship between fashion and international celebrities continues to grow year on year, Wang plays down his status as one. "I'm just an actor," shrugs Ta Lu.
"I was at the Issey Miyake show which I thoroughly enjoyed. Some of their suits were particularly sharp, which I'm naturally drawn to. I was at Balmain as well and I liked it very much as well."
At that point, Wang revealed he was recently appointed the first ever Asian ambassador for Parisian label AMI. "Hopefully I get a chance to design something, the idea worries me a little but a collaboration might be good. I'll start off with a cap or something."
2.07pm: We were nearing the end of the interview as our questions petered out.
What's the peak in your career so far?
Being invited to and attending Paris Fashion Week. [Laughs] Career wise, probably having characters that audiences remember vividly. There are peaks and troughs we have to go through to land a good role.
Any dreams you hope to fulfill?
The Monkey King (Sun Wukong) when I was younger. Perhaps comic characters now — [Pauses to think] — Hanamichi Sakuragi (Ying-mu Hua-dao) of Slamdunk would be cool.
Lastly, what do you hope for 2020?
That the pandemic passes and everything gets back on track. Career wise, an antagonist role would be fun and I hope to work with a great director.
Credit:
Photography Chee Wei; Styling Wilson Lim; Styling Assistant Manfred Lu; Photography Assistant TK Teo; Grooming Joan; Hair Brian