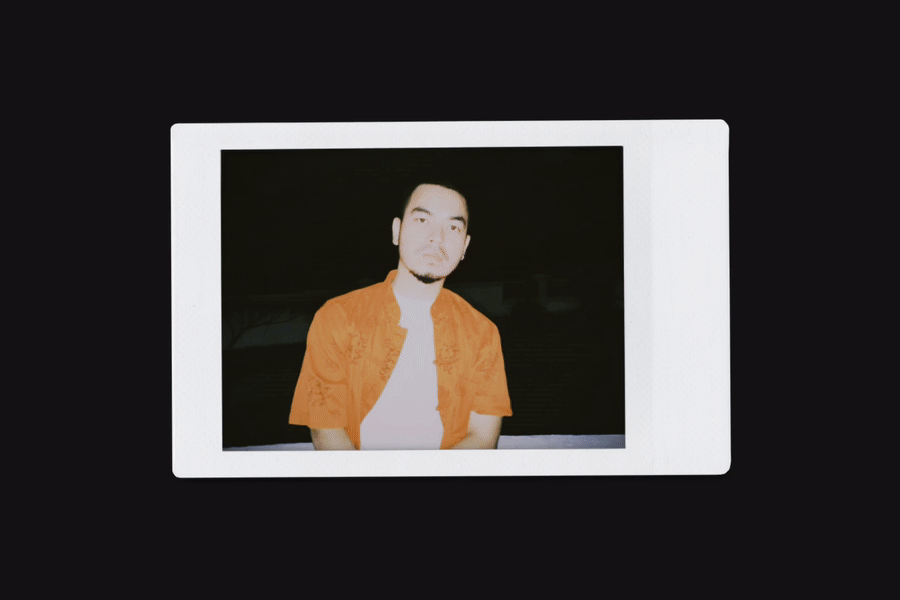 Defining the meaning of boundless of our April issue, we spoke to four creative minds that use their profession as a way to express themselves. From telling intimate stories through music to gaining a voice with the freedom of being oneself, here are the Malaysian artists who are not afraid of pursuing their dreams.
When you're creating music, who and what are you inspired by?
My music is pretty much my diary – which makes it very personal. I draw inspiration from my own experiences and that of people around me.
What made you want to be a musician?
I've been surrounded by music ever since I was a kid, so it's fair to say that it has always been a big part of my life. After high school, I decided that music was a career worth getting into and from that point on, I never looked back. It's been quite a ride so far but it's hard to see myself doing anything non-music related.
How do you view your latest single One Day in comparison to your previous works?
One Day is very much more beat-driven compared to my older tunes. It also has a little bit more colour in terms of musical content. Being naturally drawn to jazz, I decided to incorporate some of those elements into the track but not more than what the song needed. In terms of lyrical content, it basically talks about thoughts and inner battles going on in one's mind and how to find some peace of mind amidst all that.
How important is storytelling to your work?
Extremely. I believe that each song is supposed to move or transport the listener to a certain place where they're able to interpret the song however they want to. The art and experience become theirs when they connect and relate to the song.
Does it ever bother you knowing someone doesn't like your music?
Not really. I feel that the need to conform to what you think people want to hear ruins the whole process of music-making. For me, I make music that I want to listen to. If people enjoy it, I am more than grateful and if people don't, no problem at all. Just like everything in life, people have different tastes and are drawn to different things.
Besides writing songs, do you do any other forms of arts to express your ideas?
Besides writing music, I find just jamming on the piano and trumpet help me free my mind a little. I'm a big fan of jazz and I enjoy playing it.
How do you think the internet and social media especially have influenced the local independent music industry?
I have my reservations about the use of social media, but ultimately, I think it is very important for the line of work I am in, or for anyone in the field of arts. It is a good tool to get yourself heard, especially if you are making and releasing music independently. I do believe that those who are more social media savvy have an advantage over the others.
What is your take on writing music for someone else and for yourself?
When I was just starting out, I actually released and sang on my own songs as a way of promoting myself as a composer – kind of like my business card. But after receiving a few opportunities to do so, I realised that the spark goes away when I attempt to write songs for others. It becomes more like work; compared to the enjoyment I get from writing my own songs. When I write for myself, I have 100% artistic freedom. It's pretty liberating actually, just me and my art.
What is coming up for Ali Aiman?
I look forward to a busy 2020 as I have scheduled myself to release songs every few months. I'll be releasing a new single called Bersamamu sometime in April so keep an eye out for it!
Do you mind sharing with us what drove you to become a visual artist?
Initially, I never thought of becoming an artist because in my opinion it was not a very practical career choice. But everything changed after I went backpacking and met people from various interesting backgrounds. We shared many stories along the journey and one of the many things that I learnt along the way was the alternative ways of earning money. If they could do it for travelling, why can't I do it for art? So, when I came back to KL, I decided to quit my full-time job in digital marketing and pursue my interest in visual arts.
Can you explain your creative process?
A big part of my process is allowing myself to get into a "flow state". Over the years, I've had to let go of expectations and learn to create, in many more ways than one. Before I begin, I set a framework, by researching and planning. Then, I will make sure I'm in a clear state of mind when I finally get to "play" because to me the emotions I carry while I create are mostly influenced by the space.
How have technology and social media affected you?
These freely available resources give keywords and categorical ideas relevant to my practices. Understanding keyword trends help me design better social media campaigns to promote art events. Applying for grants and justifying funder's investment is often an overlooked part of being a creative professional. Understanding digital measurement tools, I can ensure funders get numbers to justify their investment. For example, the most recent Art Battle MY event in conjunction with Women's Day March reached out to 94,336 people on social media platforms. Most people would look at the number of likes on the page (which was close to 2,000!) and assume the reach is equivalent.
How do you define and explain complexity to the public?
That's a tough one. I think complexity is a single long tangled rope and it requires focus and patience to untangle it. As an artist, I have to do plenty of research, philosophical reading, especially about the modern fragmented digital life, and communicate with people from all walks of life to offer a more holistic perspective.
What do you think about the visual arts scene in Malaysia?
Healthy, growing and full of potential. There is plenty of room for everyone, and every kind of artist. I hope gatekeepers to national institutions, funders and gallery owners begin to more actively acknowledge the rest of us, the minorities, the underrepresented and respect the value they bring to the table. Diversity also comes from having a selection panel that reflects the richness of our country. Curators need to be more deliberate in seeking out a diverse range of artists. Working together, with a diverse group of people, I believe, is the key to more success and higher economic returns for the country.
What is your favourite experience as an artist to date?
This goes back to last year when I curated "Banana Leaf: A Celebration of Malaysian Indian Arts & Culture" in GMBB. We invited children from a shelter home where I have been tutoring art classes. They had no idea what they were up for. They thought they were taking a field trip to some art gallery. At first, they couldn't recognise their works hung up in the exhibition, along with reputable artists. Watching them go speechless seeing their own work, witnessing their confidence grow, has made all the difference to me.
You have been involved in many local and international art exhibitions, and organised a great number of unique community events. What motivates you to keep going?
The light I see in people's eyes. It really doesn't have to be the most polished beautiful work; it just has to be sincere, from the heart. Being responsible for a community's euphoric wakening experience is a great motivation.
What advice do you have for those who are interested in becoming an artist like you?
Keep doing what makes you happy, speak to various people and trust yourself instinctively. Always be prepared to play various degrees in what you do but single task your time and multitask your roles. Last but not least, stay happy and healthy – physically and emotionally.
How has dancing changed your life?
I was a very introverted child growing up. Quiet and diligent in academic classrooms, but never very bright in a world that typically rewards extroverts. Dance has given me a way to reflect and ponder on existentialism, including the meaning of being alive, being human, and the relationships with my surroundings. The creative process of dance has given me a voice to participate in the wider world affairs without having to be someone I am not. It is a tool for me to be me, what more can one ask?
Can you explain the creative process behind a contemporary dance? Do you dance to the music or to your feelings?
Depending on my role in the creative process, as a performer, choreographer, or repetiteur (a person who rehearses a work that has been done before). Each plays a very different but intimately connected role. For the most of my career, I have been a performer, and I had learned the hard way that your job is to stay true to the choreographers' intentions and be very creative and imaginative to find ways to make the concepts or ideas that may seem impossible, possible through your body. Lots of research goes behind a creative process. Much like scientific research, the research for dance requires everyone involved to tap into their lives, physically and emotionally, in another word, using our hearts and our souls, in the case of dance, quite literally.
Music or feelings? I would say that it is both. Sometimes feelings come first, then a piece of music can evoke the emotions from within into movements; sometimes the music comes first, then you noticed that you have these repressed emotions within you that needed to be let out in the form of dance.
How can dance be a form of self-expression?
The body stores memories, our brains can be as biased as they want to be, but the body never lies. If you are stressed, your body tells you by giving you shoulder pain, backaches, headaches, the list goes on. Dance, in general, allows our body to express itself and bring into awareness the realities of how you are doing, feeling, and thinking, when you are aware of you, self-expression follows quite naturally.
What is the idea behind Tarinao?
Tarinao, literally means 'dance' in Malay [Tari] and 'now' [nao] spelt in an abstract way to signify the contemporary nature of dance to reflect the present. It is a platform I founded in 2017 to apply the biopsychosocial approach to dance practice for better social engagement and wellness of dance practitioners in an effort to revolutionise dance for the people by the people, as is inspired by the people that I look up to in a way that is true to my experience and nature. Through education and research at Tarinao, we aim to provide evidence-based practice for sustainability and outreach of the industry to a wider public. Because although not everyone can be a professional dancer, everyone can definitely dance.
Can you describe some of the challenges that you faced upon starting Tarinao?
Building a community of like-minded individuals, I find is the most challenging for any start-ups, Tarinao is no exception. And of course, getting enough funding and revenue to run the educational programs and creative works that I have written out in black and white. Although these challenges can sometimes be overwhelming, I am determined to keep going because I believe in what Tarinao stands for. This year, Tarinao is very fortunate to be funded by CENDANA under their Capacity Building Grant to run an educational program, introducing biopsychosocial approach to dance practice to professionals, teachers, and students.Currently, Tarinao is pushing forward a special Covid-19 project "LOCKDOWN Community Ballet Class" to offer useful and relevant resources for dance practitioners in Malaysia in the face of the global pandemic.
What keeps you going?
As my life mentor, Dr Daisaku Ikeda says, "Adversity gives birth to greatness." As a recipient of over 380 honorary doctorates from universities around the world, his life example has taught me to stay courageous, compassionate, and have a little bit of faith in times of adversity, to enjoy what there is to enjoy, suffer what there is to suffer, no matter what, stay determined in my chosen path.
In your opinion, how has Malaysia dance industry evolved in the last 10 years?
Exactly ten years ago, in 2010, I began my professional dance training in New Zealand School of Dance, and since then worked at the Royal New Zealand Ballet and Singapore Dance Theatre. Being back in Malaysia for about 5 years since 2015, I have seen the country from having a few dance competitions to having a few within the same month. The opportunity for young dancers to be seen through competitions and at the booming digital dance age propounded by worldwide cities' "stay home" policy , exposure to international standards abound. In terms of performances that require large funding, we are also seeing more and more performances run by independent dancers and producers in more and more performing arts locations specifically in Klang Valley. With our unique cultural amalgam, there is so much more potential for local dance industry to showcase our creative juices to international arenas in the coming decade.
What has been the defining moment of your career?
Ironically, it was the moment I stopped identifying myself as just a dancer. I didn't realise that the identification as a dancer has limited my "self". My career starts to take off in a different direction and I became more independent as a dance artist, willing to take on all sorts of work involved and basically be inspired by life itself.
What's next for you?
What's next other than now? I will be focusing on being the example of what Tarinao stands for. Continue to engage within and outside of the dance industry to promote the application of the biopsychosocial approach to dance practice to play a role in building an even more sustainable and united community of dance involving people from all walks of life.
What advice would you give to budding dance practitioners?
Never stop believing, when you hit "the wall", the breakthrough is very very close. Don't be afraid of failures, the more you fail, the more meaningful is your successes to come. Dance is for life, be patient to reap the rewards.
How did you start being involved in photography?
I started being curious about photography in my teens, partly because of my fascination with cameras but also when after a holiday I remember looking at a picture I took that look so different to the way I remembered the scene I photographed. I had framed my shot of a snow-capped mountain, the sun was almost dipping behind its peak. My exposure was as I was taught back then by my father, he told me, "when the needle is exactly in the middle of the +/- signs of the Olympus OM1 the exposure is correct." What he didn't tell me was that it is only correct if the sun is behind you, with the sun in front, my image was underexposed, making it dark, but the sun is so bright you could still see the details of the snowcapped peaks — except now it looked dramatic. That was when a seed was planted, and I realised, even though it was an accident this time that how you photographed a scene could help dramatise it.
What does photography mean to you?
I got into pictures because I came across images that took me elsewhere, evocative scenes that made me imagine a life infinitely more engaging than where I was that moment. Then as a photographer, I spent much of my time trying to find those moments. Sometimes I got lucky, but the reality was probably far more ordinary than the mood the photograph evoked. The photograph had its own life. What was framed became another world I now longed to enter, separate from the reality I had observed. Perhaps even as I saw it, I could never really experience it, I was always just the observer. The image then becomes a memento for what I longed to experience, a surface to project my reveries.
Photography is like a language. It is almost the same as words except it communicates using a different mode, one that is more immediate. Even though the photograph in its purest form is a facsimile of the moment, how you arrange the outside world in your frame, and how you arrange pictures next to each other in a 'photo-essay' are all incredibly expressive ways for storytelling.
In your opinion, what makes a good picture?
A great image takes me 'elsewhere' and fills me with a sense of longing to know more. That kind of image would usually hold my attention for longer than a moment and would keep drawing my attention over and over again because I would wonder about it. This is rare. Good and great pictures are created nearly always using a combination of skill, and the ability to recognise luck when it comes your way. It could be a gift in the form of expression like a smile, more often than not it is the alignment of several factors that unite into a singular decisive moment.
How can taking photos be a form of self-expression?
I have read sentences, seen photos and artworks that have moved me, sometimes they offer me a different perspective and other times they bring clarity to what I already instinctively know. What you choose to place in your viewfinder frame is your choice and by definition your point of view. If that point of view is unique and offers others a meaningful perspective to how we normally see the world — it becomes a pretty powerful form of self-expression.
Your works have been featured in many exhibitions and recognised internationally. Can you tell us how important is formal training for a photographer and how do you educate yourself to take better pictures?
Photography is one of those professions where if you have the will you can teach yourself. I studied Graphic Design and learnt the basics in photography through a module in my degree. My development as a photographer came about largely from spending time looking at books, sometimes they were technical, a lot of other times they were works of famous photographers. I always wondered at how some of these images were ever possible. I also tried very hard in the early days to emulate those images I admired. Just because you can teach yourself and be reasonably competent quite quickly doesn't mean its easy to be good. In many ways, it can be harder. Think of it this way, everyone knows how to use a pencil but not everyone can draw like Leonardo Da Vinci. That analogy applies to language too, most people can read and write, but that doesn't make them a great author. The simplest skills to learn are often the hardest skills to master. That's is half the fun.
Who are your biggest influences and where do you seek inspiration?
Photographers like Cartier Bresson, Eugene Smith and Robert Frank were my earliest inspirations. Later on, there was Josef Koudelka, Luc Delahaye and more recently Taryn Simon. But I also like to draw inspiration from outside of photography, I think it's an important way to find your path. The writing style of Steinbeck in the Grapes of Wrath and Ridley Scott's original Blade Runner movie were also sources of inspiration.
What do you hope people take away from your work?
At its most basic level, I have always wanted people to be emotionally moved by my images. Be it an appreciation of beauty, sadness, humour and so on. Through the photograph, I aim to create a certain 'wow' factor. Drawing their attention is a strategy to encourage the audience to be more engaged in finding out more about the story.
What has photography taught you in life?
A lot. Beyond the interesting stories I have covered that have taught me many lessons about the world, I still find that photography is a fantastic tool for self-discovery if you are willing to listen. Here are a few that I've picked up: perseverance and consistency are important qualities for development; being afraid when being creative is normal, learn to embrace it and; learning is also what keeps life interesting.
What's on the horizon for you? Anything exciting you can tell us about?
I'm finishing a body of work on the Yellow River. They are a series of panoramic landscapes. You can see a small selection of it on my website (www.ianteh.com) under the various headings starting with Traces. I also regularly post new work or exciting developments on my Instagram account @iantehphotography.
Do you have any advice for aspiring photographers?
A lot of what I said above I think can serve as good advice. But I also have a favourite quote from the journalist, Ira Glass, who is the host and creator of the award-winning NPR radio show, This American Life  —
"Nobody tells this to people who are beginners, I wish someone told me. All of us who do creative work, we get into it because we have good taste. But there is this gap. For the first couple years you make stuff, it's just not that good. It's trying to be good, it has potential, but it's not. But your taste, the thing that got you into the game, is still killer. And your taste is why your work disappoints you. A lot of people never get past this phase, they quit. Most people I know who do interesting, creative work went through years of this. We know our work doesn't have this special thing that we want it to have. We all go through this. And if you are just starting out or you are still in this phase, you gotta know its normal and the most important thing you can do is do a lot of work. Put yourself on a deadline so that every week you will finish one story. It is only by going through a volume of work that you will close that gap, and your work will be as good as your ambitions. And I took longer to figure out how to do this than anyone I've ever met. It's gonna take awhile. It's normal to take awhile. You've just gotta fight your way through."
This story is a revised version that first appeared in the April 2020 issue of Men's Folio Malaysia.