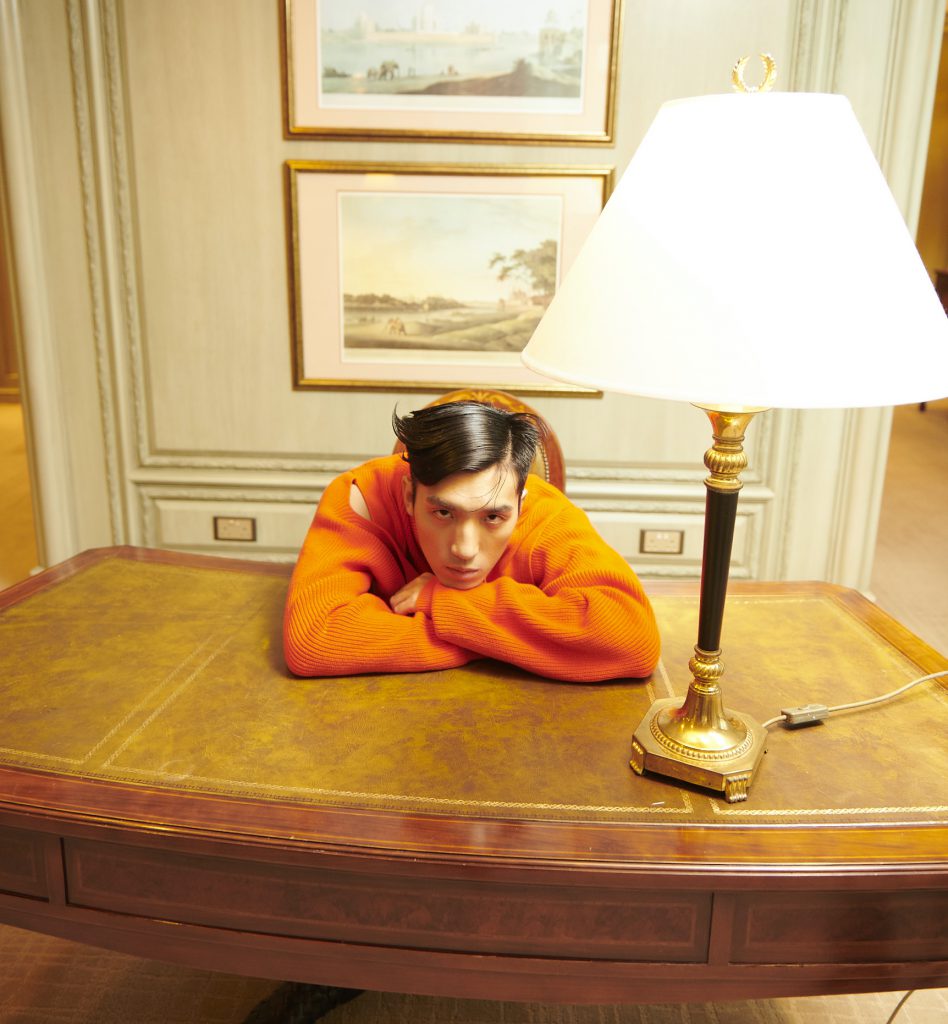 Serendipity helped Yuan Teng spring to fame as a teenage battling with drug addiction in The Paradise. Like many of us, Yuan grew up with more than just one ambition. He tells us he wanted to be a movie star, a cinematographer, an athlete, a sports teacher, a writer and a businessman. And like many of us, our innate traits would – most often than not – guide us forward on our ultimate calling. It was in college when a performing arts tutor encouraged him to pursue a career in acting. "I think my bold personality gave it away," he says, laughing. "I loved acting and I also loved creating, especially filming. I was working as an extra while studying because I wanted to see how the industry works and look for audition opportunities."
Though the journey was not without a gloomy cloud of self-doubt. The mounting uncertainties convinced Yuan that he wasn't the kind of person who would get a serious role –and just when he thought he'd be better off behind the camera – he received a call from movie casting director Teddy Chin Shu Jia. Yuan turned her down at first but her unwavering persistence on meeting him made him said yes. He recalls showing up to the audition for In My Heart without shaving because he was almost sure that he wouldn't get selected. "I didn't follow the script that was given to me during the casting session and pretty much just did my own thing," he admits. "But the director was very open-minded and felt that what I did showed my versatility. I was immediately signed to join the company More Entertainment Sdn Bhd. Everything about it really seem fated."
When asked how did it feel to be nominated the Best New Performer at the Golden Horse Awards and winning Best Actor at the Shanghai International Film Festival last year for his feature debut role in The Paradise, Yuan replies, "They still feel like they are just a dream. I won't say they have nothing to do with luck, whether it was getting an amazing script or working with an awesome team. So, for me, it's strange to say that you're 'the best' even if you do win. In any event, it was already very much an honour to attend the two prestigious awards ceremonies – but I often have to remind myself not to keep looking back at the past so that I can journey on to the next achievement." In the film, Yuan played a highly complex character struggling with drug addiction.
Awards ceremonies aside, Yuan confesses that movie premieres are more daunting and nerve-wracking. "I kept worrying that Shuzai wouldn't resonate with the audience – or that they wouldn't like the way I portrayed him. I was fully focused on my performance instead of watching the movie during the screenings. There were many scenes that I felt I should have done differently – it literally made me sweat from the beginning until the end," he says. "You can imagine my relief from the positive audience responses toward the movie and my character. Sometimes I can to be too hard on myself." [Laughs] So what type of actor does Yuan strive to become? "An all-rounder!" he exclaims.
What does a good performance mean to you?
A good performance is about how you immerse yourself in a role to create a believable character. It can be influenced by your daily life experience, no matter how ordinary or over the top; it can also be influenced by what's happening around you, what's happening in the world. To me, I won't stop myself from experiencing the different kinds of emotional feelings because it is important if you want to improve as a performer.
And what are the characteristics of a good actor?
A good actor is someone who has ideas and dare to stand up to what he believes in. We're part of the whole creation process and when an actor is "passive" and doesn't give life to his character, the outcome would be boring. Anthony Wong, Huang Bo, Shen Teng and Xu Zheng are my all-time favourite actors.
Your character Shuzai was a challenging one. How did you prepare yourself for it?
First of all, I familiarise myself with the drug culture and drug rules in Taiwan. I used my understanding about them to mould the unhealthy look of my character. In order to turn myself into Shuzai – physically, I stayed up late and, went on an extreme diet plan of one salad a day and ran every morning for drastic weight loss; I lost 7kg in two weeks. And psychologically, Liao Shih-han (the director) got us to write an autobiography of our character; sort of like a prequel of our character. I also stayed at a farm for juvenile addict to get myself in the right frame of mind. The unhealthy lifestyle got me in a very irritable mood before shooting, which was helpful to me to create my character.
What is your take on the rising tide of drug use and disorders in Malaysia?
Given our harsh anti-drug laws, the increasing numbers of drug users and addicts today is puzzling and it also means that more needs to be done by the government to raise public awareness. Of course, those who want drugs will get them one way or another – and if knowing the danger of substance abuse and the legal implications aren't enough to stop you, then you must accept the consequences that come with it.
How difficult is it for an actor like yourself to get a big break outside of Malaysia?
To begin with, it's very difficult even to get noticed. As a Malaysian Chinese actor, our accent and the way we phrase our sentences are very different, making it hard for us to penetrate into the foreign Chinese entertainment markets. With so many excellent actors in China and Taiwan, why would they give you a significant role – unless you're already a popular actor worldwide or you, as a foreigner, fit the character of the script? I was casted to play Shuzai because they wanted a foreign Chinese actor, but even so, there were people who questioned the decision of giving such a big role to a newcomer like me.
" … I often have to remind myself not to keep looking back at the past so that I can journey on to the next achievement."
What do you enjoy most about acting?
I enjoy how it opens up my world to the possibilities I never know existed. Acting gives you the chance to be someone else, to live a different life and, also learn from a story and grow to be a better version of yourself. There is never a dull moment in this business.
What do you think is holding the industry back at the moment?
Although I have only been in the industry for two years, I notice that there is definitely a shortage of platforms and a shortage of skilled experts. We're trapped in this vicious cycle where talents leave the industry or country due to the lack of job opportunities, and when that happens, we start seeing inexperience part-timers taking over the important roles. Another issue is the censorship system which either limits creativity, or worse, prevents the release of a good production.
What have you been busy with recently?
I've been hitting the gym a lot these days. I want to join a Muay Thai competition so I am preparing myself for that. That sounds quite intense. Have you always been into sports? I was actually in the track and field team back in high school, competing in 110 metres hurdles and triple jump.
When you're not on set filming, you will be…
I love watching films, so I'll most probably be spending time doing that – or working out at the gym.
Read the full interview feature with Yuan Teng and see his full photoshoot with us in our latest Men's Folio Malaysia March 2020 issue, now out on newsstands, bookstores and online via magzter.com.
Credit: 
Words & Fashion Direction: John Ng; Photography: Chintoo; Styling Assistant: Syazil Abd Rahim; Hair: Cody Chua; Grooming: Ash Chong; Location: JW Marriot KL