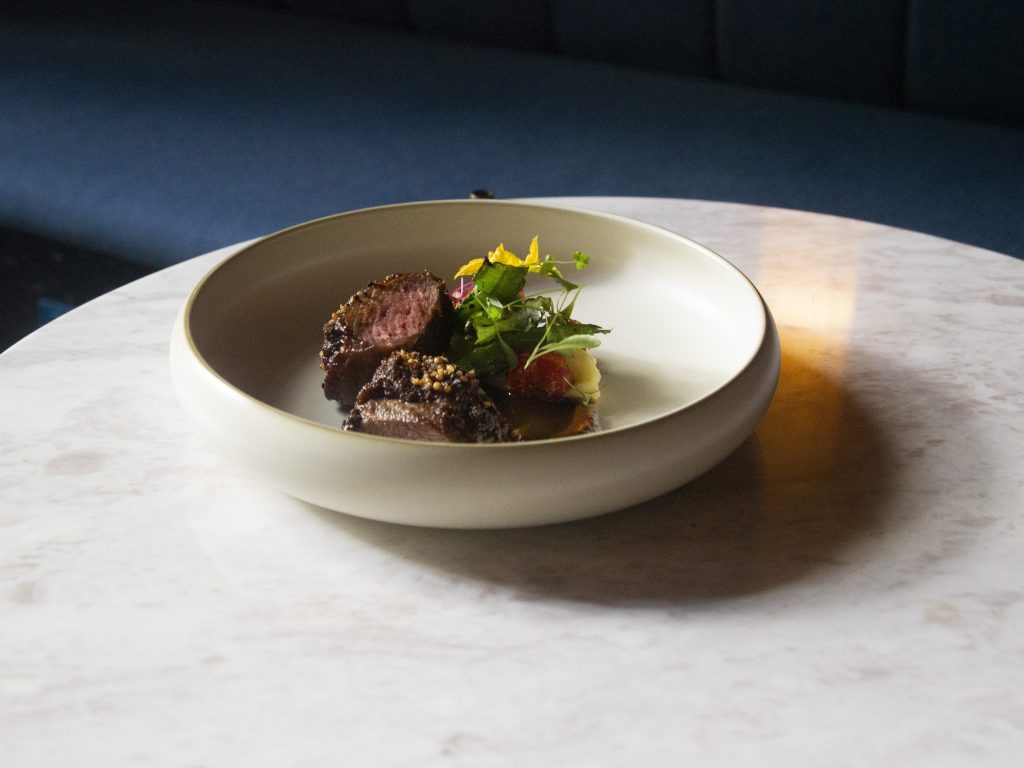 Put on the apron and heat the pan, it's time to whip up some delectable dishes as recommended by the highly regarded restaurants in town.
Here, customers can indulge in two menus of Haute traditional Japanese cuisine: Ume and Sakura of which both feature the freshest wild-caught sashimi and other season's produce. The seven-course omakase firstly begins with Ryu's signature tender white fish mixed with either truffle and truffle caviar or tobiko and truffle. The next creative to come is a plate of fresh Lifestyle Taste sashimi ranging from the bright orange sake (salmon) to smoky pink maguro (tuna) to off white tai (sea bream) and anything in between, prepared in various conditions based on the chef's recommendation. Moving on, providing a warming contrast to the raw course is the warm chawanmushi (teacup steam), loaded with steamed egg custard with considerable amount of ebiko (shrimp flakes) and pieces of tender crab meat.
As the name of Sushi Ryu bespeaks, the selection of sushi is plethora and pleasurable. This restaurant offers an array of precisely cut assorted fish on a bed of vinegar rice with various topping including kampachi (yellowtail), o-toro (tuna front belly), aji (horse mackerel) and many more. Concluding the seven incredible chef's choice meals is the seasonal dessert. We find the brilliant combination of assorted monako ice cream with CO2 citrus soft serve to be a perfect choice to end the grand nosh-up.
Other than omakase, customers can also try out the ala carte menu served straight from the sushi counter and hot kitchen. The one that we highly recommend from the menu item is the uni scrambled eggs topped with uni and caviar. The dense and creamy scrambled eggs come with two pieces of soft and crusty edge house-made bread, again each spoonful is exceptionally whipped and velvety with flavours one could only expect from top-quality produce.
---
Make your own uni scrambled eggs with uni and caviar at home: 6 eggs, 1tbsp heavy cream, 1tbsp unsalted butter, 2 oz of uni sea urchin roe, ¼ tbsp sea salt, 1 tbsp caviar and 1 tbsp of uni sea urchin roe for topping, a slice of half-toasted bread
---
As one of the restaurants in Malaysia that advocates a sustainable food movement. The eclectic menu, that covers local specialities, western favourites and everything in between, is made from organically grown produce. Vegetables are freshly picked from Weeds & More and A little farm on the hill while cheese and chocolates are sourced from Milky Whey and Chocolate Concierge respectively.
Dishes are designed for sharing, beginning with something light before moving on to the bold and the hearty. The Cold Smoked Caviche features deep-sea New Zealand kingfish marinated in tiger's milk (citrus-based marinade) with tiny slices of cucumber, seaweed, aji amarillo, red onion and micro coriander emulsify in a pineapple-ancho chilli dressing. Presented in a dome of cold smoke, this method leaves a subtle thread that allows the flavours to take charge without being overpowered.
The next creative lets you control the "doneness" of steak based on your preference. Flock's Wagyu Beef comes with a hot volcanic stone that invites you to grill the intricately cut meat on the searing flat surface and wasabi mayonnaise with sesame for you to dip in. The next protagonist is still to come. An incredibly tender oven-roasted spring chicken steals the show. The juicy and chewy chicken brings satisfaction to every bite while the sides consisted of grilled corn, tomato and garlic and wild mushroom sauce add a slight sulfurous note to the flavours.
It's always a pleasure to save the best for last. The Rojak Table Experience! is truly one of a kind. Flock explores customers to every ingredient and step in making this icon. The chef firstly lays a banana leaf on the table follows by insertions of guava, pannacotta, dehydrated jicama, pickled papaya, peanut crumble and paste, pineapple cake, shaved mango ice and chilli coconut espuma. Moist and comforting, we highly recommend this pick.
---
Make your own The Rojak Table Experience! at home: 1 piece banana leaf, 1 guava, 2 tbsp panna cotta, 1 dehydrated jicama, 2 tbsp pickled papaya, 1 tbsp peanut crumble, 1 tbsp rojak paste, 2 slices pineapple cake, 2 scoops shaved mango ice, 1 tbsp chili coconut espuma
---
The Colonial Café promises an amazing fusion cuisine, recreating classic British as well as Hainanese dishes using local ingredients with familiar cooking techniques. The first must-try oriental creative is the aromatic Hainanese Chicken Rice Ball. The hand-pressed glutinous rice ball is stocked with a smidgen chicken fillet at the centre topped with a dash of chilli paste. This humble offering gives us a wholesome and authentic taste of the traditional dish.
The one that sticks to our mind is the Classic Prawn Cocktail. The ingredients may look simple Lifestyle Taste – cold baby prawn, shredded lettuce, cucumber and spicy cocktail sauce – but to keep it exciting is a big challenge and this posh yet unpretentious restaurant manages to do so effortlessly. The food presentation is visually attractive and, is enticingly smooth and balanced in both flavour and texture.
Hainanese Chicken Chop sees a manly portion of tender deep-fried chicken and tangy spiced onion gravy taking up a big part of the plate. The hand-cut fries are the perfect companion and the generous amount of garden peas add to the character of the dish. Moving on to the main course is the Baked Honey-Glazed Cod Fish. The perfectly cooked fish smells delectable and floats in a sea of sweet and sour sauce with crispy onion ring pieces on the bed of the meat.
By this moment, we are pretty sure we have had plenty, but there is always room for dessert, especially the alluring English Trifle. Custard, red currant jelly and berries are set atop of a vanilla-infused sponge base. While the parts are layered, it is best to scoop a little of each onto the spoon and enjoy them all in one mouthful.
---
Make your own Classic Prawn Cocktail at home: 250g lighter mayonnaise; 4 tbsp double cream; 2 tbsp tomato ketchup; 1 tbsp tabasco; 1 lemon; 10g fresh tarragon, washed and finely chopped; 660g cold water prawns; 1 cos lettuce, leave separated, washed and shredded; ½ tsp cayenne pepper
---
An intriguing resto-bar that scores major points in making a grand impression, Beta KL boasts an impressive seven-course degustation menu "Tour of Malaysia" which pleases all food epicureans including us.
The sui generis journey of taste begins with a satisfying quadruplet snack that represents the hallmark palates of the four different states – fried shallots with fermented anchovy paste dressing a wing bean of Kelantan, rojak-inspired tart of Penang, local shitake mushrooms rolled in a truffle ball of Pahang and inverted curry puff of Kuala Lumpur. Everything is a standout but the one that captivates us the most is this brilliant baked pastry roll. Next tempting starters to come are Mum's Aubergine, Crab Custard and Lawas Highland Rice.
Moving on from the entrée. Beta's red meat option is lamb rump, cooked with extra tenderness and depth flavours of another Malaysian favourite – bak kut teh. The chef also adds some roasted garlic puree into the sauce resulting in a rich and persuading complement. Sides are the fluffy and creamy mashed potatoes with burnt four-angled beans and wilted tomatoes. We know that by now our waistline may have increased by a few inches but if it is because of these heavenly meals, we don't really mind.
Every serving at Beta comes in splendid tastes and theatrical presentations, especially the Bird's Nest. An enticing off-white solidified coconut and pandan cream shell encases a lychee gratine within. On the plate, you can also find finely chopped water chestnuts together with chunks of collagen-rich bird's nest noodles as well as goji berries and gingko nuts. This gorgeous sweet course comes in a bowl with ice cubes bass and liquid nitrogen pouring; fabricating cool and dramatic vapour around the dessert. Have we already mentioned anything about theatrical?
---
Make your own Snack Inverted Curry Puff at home: 2 large peeled potatoes, ½ red onion, 1 ½ tbsp curry powder, 2 tbsp curry paste, 1 ½ tbsp sugar, 1 ½ tbsp salt, ½ cup water, vegetable oil for frying
---
This story first appeared in the February 2020 issue of Men's Folio Malaysia.