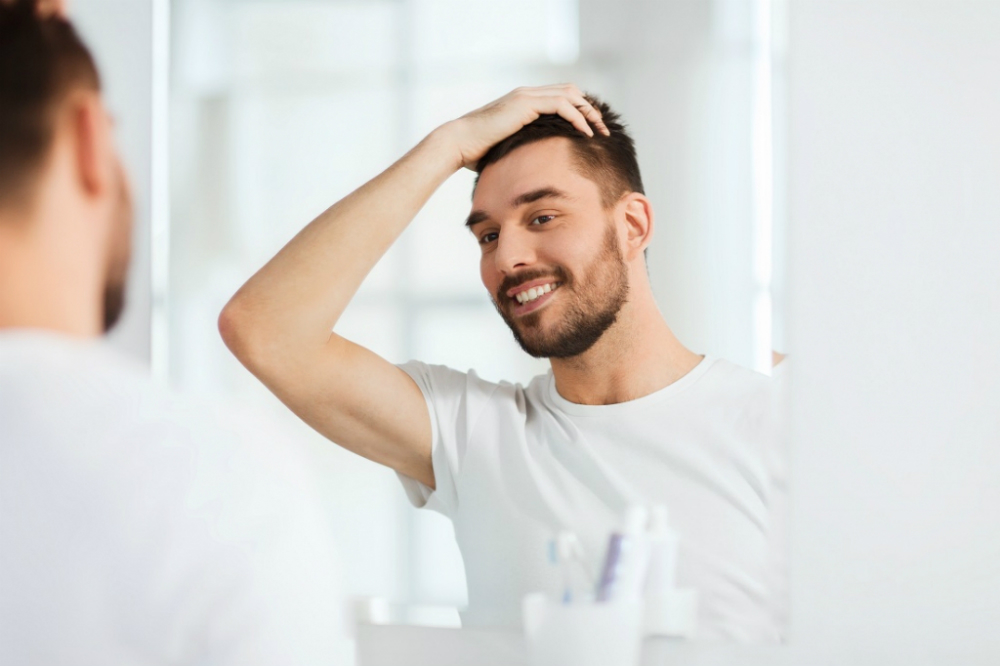 It's a fact that every guy is at risk of losing his hair. Maybe not all of it, but at least some of it. Don't panic. Here, we break down the action plan you need to follow with a little expert guidance from the professionals.
Prevention: Svenson Hair Centre
Svenson's specialised treatment is tough on trichological problems, but gentle on the scalp. We tried the Oxy-DH scalp therapy, which claims to soothe and improve the scalp condition using a natural source – oxygen. The focus of this procedure is the "Oxyjet", which uses saline solution micro-droplets and 95% pure oxygen to encourage nutrient absorption into the scalp while scaling off excess buildup or dandruff flakes.
According to Svenson's resident trichologist Rossanna Fernando, these factors can cause bad hair days, leading people to feel self-conscious and avoid social engagements. The treatment is complemented with a double invigorating scalp cleanse and laser to induce pore dilation, which allows ingredients to seep in effectively. The results? Healthier hair follicles and a healthier scalp generally.
When asked about top tips for scalp care, Fernando says that if your family has a history of androgenetic alopecia or thinning hair, you should make an appointment with a trichologist as soon as possible. Additionally, she recommends that men "maintain a healthy diet, and proper hair and scalp hygiene to keep the existing hair healthy."
Treatment: Number76
At Number76, they not only care about your hair styling, but also the condition of your scalp. Senior hairstylist Jack recommends the Lebel Viege scalp treatment for those who suffer from hair thinning and lack vitality in their scalps.
This treatment is set to fortify the sebaceous glands and follicle shafts, thus alleviating irksome concerns like hair loss, redness, dandruff and itchiness. It boasts of ingredients such as red wine and pomegranate extracts, which contain antioxidants that maintain hair vitality and glow, stimulate growth for thinning crowns, and aid in the prevention of scalp problems such as dandruff. In addition, it has red ginger extract to promote blood circulation.
The 45-minute session includes a thorough massage to stimulate blood circulation and allow the product to penetrate the scalp, replacing lost moisture while soothing, hydrating and calming the skin. The outcome establishes a healthier scalp ecosystem, rendering it less susceptible to external stimuli that may cause inflammation and even unrepentant odours.
Remedy: Nexus Clinic
According to Nexus Clinic's resident physician Dr Jasmine Ruth Yuvarani, her clinic offers three solutions for hair loss impasse. The first is an oral medication by taking finasteride. The initial route to be taken in early hair loss, the medication has been scientifically tested and proven to work by impeding an enzyme that leads to hair loss.
The second treatment involves a simple procedure where blood is extracted from the person with hair loss; "growth factors" are taken from the blood and injected back into scalp areas experiencing hair loss.
Last but not least is the Follicular Unit Extraction (FUE); a hair transplant technique where the follicular units are removed directly from the donor's back and behind-ear areas. The grafts are then transplanted into areas where the patient desires more hair. FUE allows the doctor to recreate your hairline and growth pattern, hair-by-hair, for a permanent, natural looking result. Why the back and ear areas? According to Dr Yuvarani, these areas are resistant to the main cause of men's hair loss, dihydrotosterone (DHT).