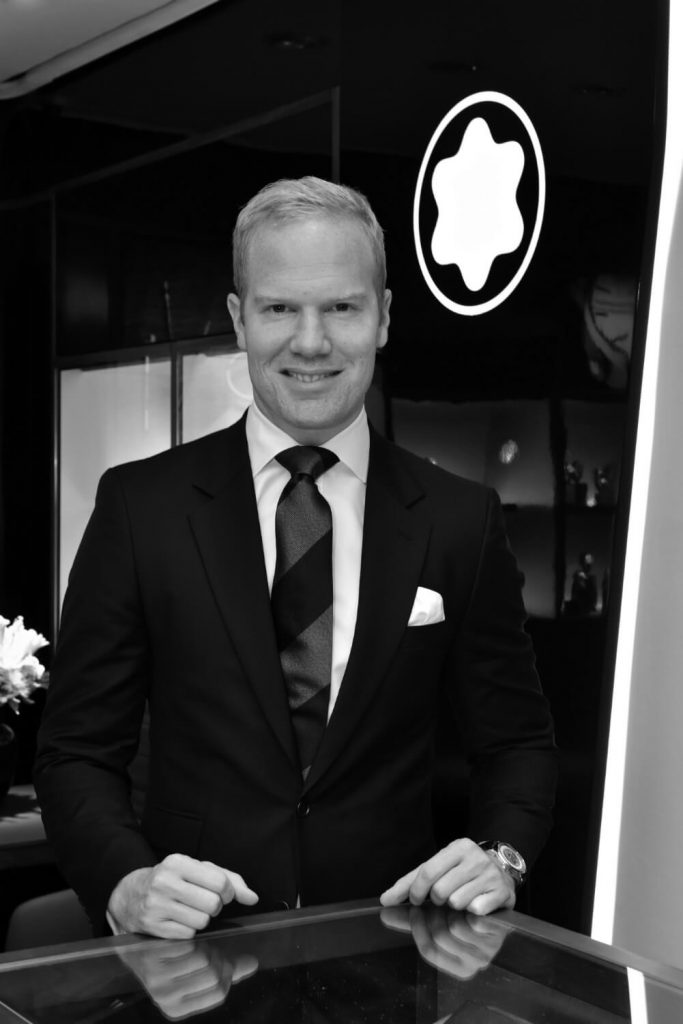 During the recent Montblanc Black & White Week in Singapore, we spoke with the Montblanc Southeast Asia President Matthieu Dupont about timepieces:
What does it mean for Montblanc to be celebrating its 160th anniversary of fine watchmaking this year?
160 is a big number. It clearly shows how much heritage there is behind Montblanc watches in various fields. There is a lot to celebrate, but there is also a lot of pressure and responsibility that come with it, and to live up to expectations. Whether it is the 1858, the TimeWalker or the Star Legacy, there are a lot of stories that we have been telling with our watches over the years, as well as in 2018. We know that watch enthusiasts will understand the significance of the heritage, and appreciate the R&D we have done inside out for each Montblanc watch to ensure that it is technically perfect with all the necessary precautions. The watches are also accompanied by a great overall aesthetic and design, which allow them to sit well on the wrist.
From the pocket watches to the Geosphere and the Monopusher Chronograph, the new 1858 timepieces are very exciting indeed. Why are they so special to Montblanc?
They are our talking pieces because of their historical design inspiration, whether it's the hands, dial or overall finishing. So yes, the 1858 is definitely a show-stopper if you ask me. If you look at what it has in terms of proposition from the watchmaking point of view, I think that it is a great lineup to have in the industry, and a beautiful one too. Although we worked very hard on the 1858, we have other talking pieces too, such as the two limited edition pocket watches that can be used as a desk clock, wristwatch when attached to a brown Sfumato calfskin strap or a traditional pocket watch. We also have great collections of leather goods, writing instruments and other lifestyle companions.
Speaking of leather goods, how does a brand like Montblanc – which is known predominantly for its luxury writing instruments and watches – perform so well in this segment too?
Montblanc leather goods have been showing a very convincing double-digit growth over the years. There is no secret to it other than that we create creative and good quality products. Coming back to your question, I think the segmentation is great: we are always coming up with leather goods which answer every specific need. For example, our new trolley is sophisticated yet resilient to wear and tear and the storage space is unbelievable. There is even a compartment for your power bank. Who does that? You've got an unbelievable bag which you can put your documents at one side and clothes at the other. I haven't seen it anywhere else. It's a Montblanc product.
We try to answer every question as much as possible in everything we do. At the end of the day, we always ask ourselves: "What is missing in the life of a modern man like you and I?" There are so many products out there but not all of them answer your needs. How can we change that? We have an unbelievable manufacture that creates extraordinary products. In terms of price positioning, we make sure that they are good value for money. It's very important today that the customers pay a fair price for a good product – a Montblanc product.
Coming back to the watches, how would you describe a Montblanc watch fan?
I would say that even though someone likes the 1858, he might not like the TimeWalker. However, there are some common similarities amongst them: appreciation for quality craftsmanship, value proposition, technical speciality and aesthetic appeal. At the end of the day, we are offering products that are consistent across the board. Whether you're buying a SGD6,000 (RM17,700) or a SGD60,000 (RM177,000) Montblanc watch, you can rest assured nothing is compromised. That's something we promise in all our product categories. Our loyal customers keep coming back to us because they know that, whether it's a writing instrument, a watch or a leather good, the philosophy is the same.
How are Montblanc watches different from other major timepiece brands out there?
That's a good question. We are a global luxury player, so our capacity to manufacture high quality, beautiful products is natural to us – and that includes watches. It is a beautiful brand because we are able to have several product categories which embody our philosophy on craftsmanship, inspiration, quality, aesthetic and technicality. Also, what I think is interesting about Montblanc watches is their healthy price elasticity.
You can come to us for a watch that costs just a couple thousand dollars (SGD) or much higher – or something in between. You don't often get that with the other watch brands. Most of them usually stick to one range because it is very difficult to deliver the same standard of quality at every single price point. And that's something Montblanc is able to do; the hardcore watch collectors will love the finishing on the pocket watches and the technicality behind them as much as a SGD4,000 (RM12,000) wristwatch with the same quality and craftsmanship that brand stands for.
Lastly, if you had to choose one, just one, which would you say is your favourite watch this year?
This is a difficult question because it is like asking you to choose your favourite kid – even though I don't have children [laughs]. The 1858 Monopusher Chronograph, and one of the reasons is because it is extremely difficult to get a watch as perfect as that. In my opinion, this watch is flawless in every single aspect and possesses everything a watch enthusiast would like. The quality, calibre and finishing are flawless. As for the colour, it's actually very difficult to get this shade of green. The 40mm size is the perfect size for both male and female collectors. The chronograph function has an attractive vintage feel to it. Whether it is the technical, aesthetic or heritage perspective, it represents the Montblanc brand in every single way. Again, although I say this is my favourite watch of 2018, it is a tough choice when we have other great pieces with amazing specs.