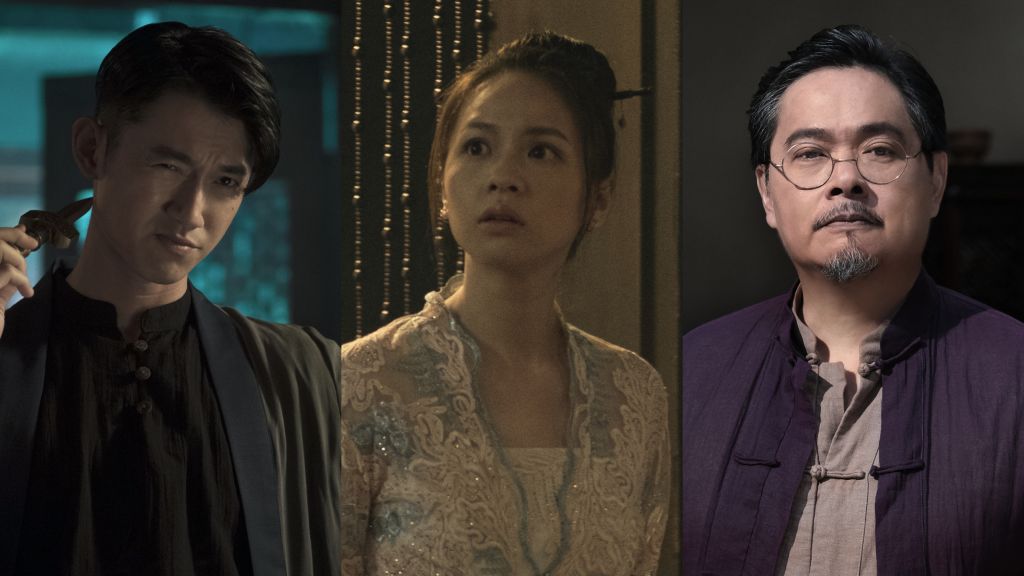 Although the marriage can save her father (Jordan Voon) from his mounting debts, she still harbours feelings for her childhood sweetheart, Lim Tian Bai (Ludi Lin). When she inadvertently finds herself embroiled in a murder mystery, she enlists the help of a Heavenly Guard, Er Lang (Wu Kang Jen).
The mix of supernatural and mystery, not to mention a progressive heroine fighting for her right to choose, makes this series a highly anticipated one. In anticipation of the launch, we had a quick chat with Pei Jia Huang, Kang Jen Wu and Jordan Voon about superstition, the filming process and more.
What do you like about the script and character?
Pei Jia (PJ): For me, it's about being a ghost bride. I'd like to know how it feels to be married with a ghost and live in another world.
Kang Jen (KJ): Initially I wanted to play a different role; I wanted to play Tian Bai. But after I found out that Judy will play that character, I thought he suits the role better than me. And Kuang Tian was a fun character to play.
How closely does your character resemble with your personality?
PJ: Even though Li Lan is very strong and free spirit character girl, I'm actually a very timid person in real life. [laughs]
Jordan Voon (JV): It's pretty much same in real life because I do worry about my daughter a lot. I think it's natural for parents to feel anxious about their children, especially in The Ghost Bride where my daughter is married to a ghost, so it felt natural to me; the way a father worries for his daughter's future.
The central theme of the storyline is about the supernatural. Personally, do you believe in the supernatural or are you superstitious?
PJ: Yes, I do!
KJ: Me too. I think in Chinese tradition, generally we do believe in superstition and it's a fact that Chinese culture is rich in belief, customs and superstitions.
How do you prepare for a part? Are you a fan of method acting, the technique where you have to immerse yourself totally in a character's psychology and personality?
PJ: It's different with every character. But every time I take up a role, I try to memorise and get familiar with the script and the character itself first. And it'll naturally come to me after that.
KJ: We actually had a discussion with the directors before we started shooting this. We believe every character has its own roles to bring the show altogether. So I try to get into the character where it'd usually take me up to a week or so and I don't break character at all. Just to immerse myself into the character.
JV: I'm a father myself, so I can relate to my character very well. So for The Ghost Bride, I just had to be myself but at the same time I tried to use my imagination to visualise what would I do if my daughter was to marry a ghost.
What do you expect this show to achieve?
JV: We hope there'll be second season! [laughs]
PJ: We really hope Malaysians will like it. We worked hard for the film, so it would be great if we get good responses from the viewers.

The Ghost Bride is now streaming worldwide on Netflix.