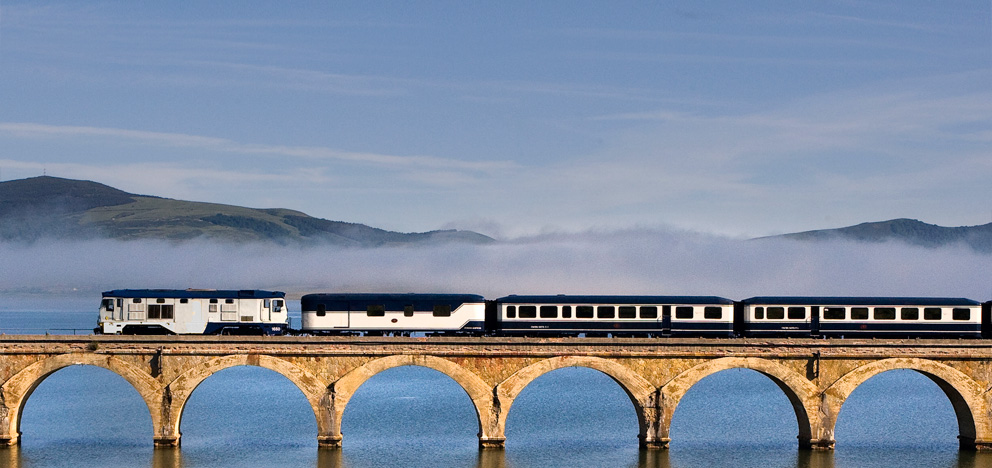 Fancy an escape? We suggest you travel in style on one of these luxurious train trips that beat any first-class flight.
Offering fantastic views as you zip past scenic landscapes with all the trapping of a luxury hotel room, decadent cuisine and butler service, here are the best 8 best train journeys you need to experience and see the world from a different perspective.
Train Suite Shiki-Shima, Japan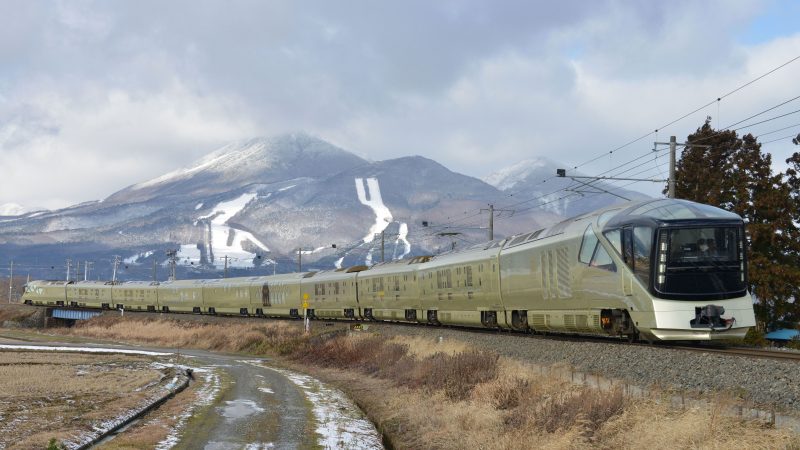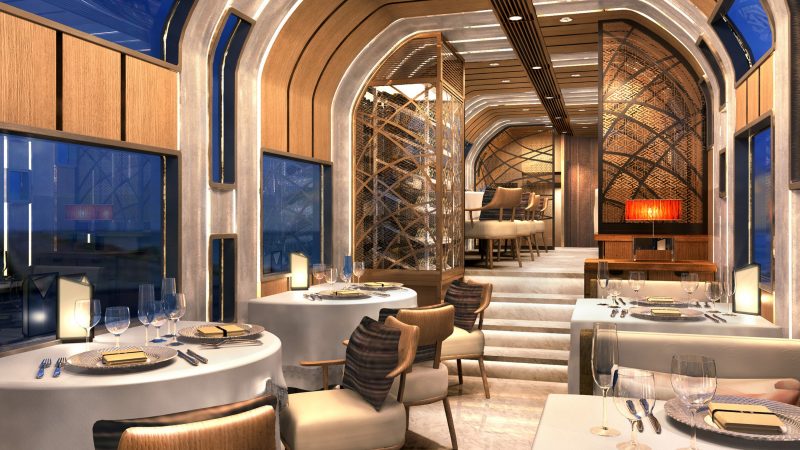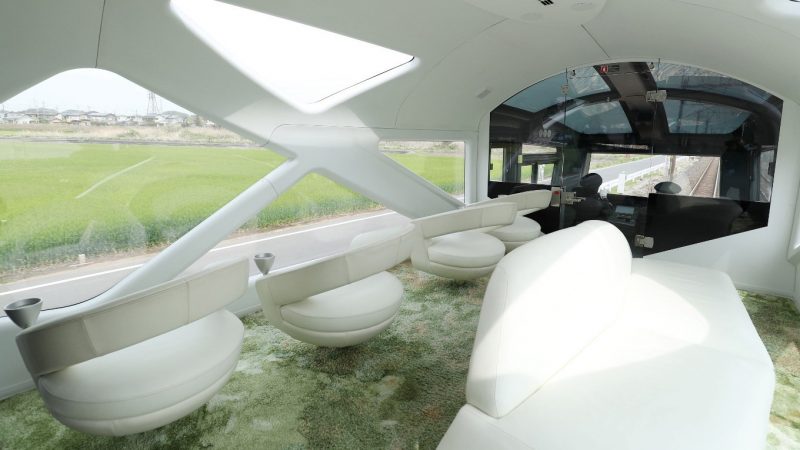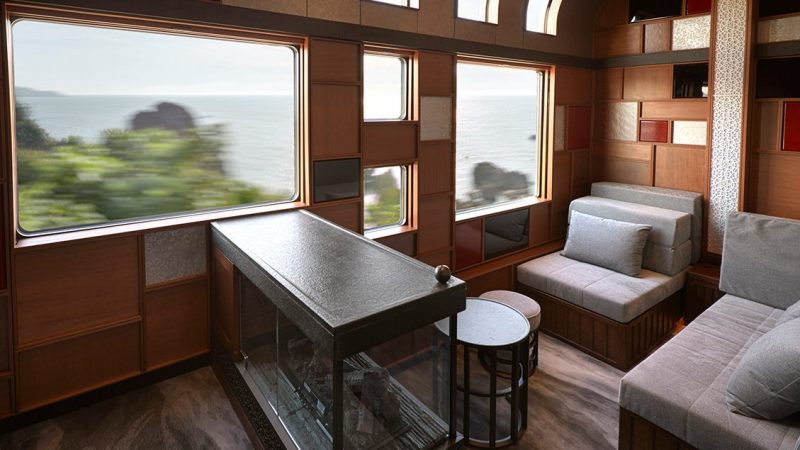 Japan's long-time affair with high-speed rail is redefined with the arrival of Train Suite Shiki-Shima that take guests deep into the beauty of the eastern Japanese countryside. With a restaurant under the guidance of Japan's first Michelin-star chef, Katsuhiro Nakamura, and a capacity of only 34 passengers, this train is one of the world's most exclusive rides. Led by Ken Kiyoyuki Okuyama, whose glowing credentials include designing for Maserati and Porsche, the Shiki-Shima's refined aesthetic plays on static and dynamic architectural elements. Despite its gold futuristic façade, the experience here is still very much Japanese, with a ryokan-style traditional bath made of hinoki wood, a contemporary glass fireplace and bespoke Swarovski binoculars to marvel at the forest and sea views.
For more information, click here
Eastern & Oriental Express Southeast Asia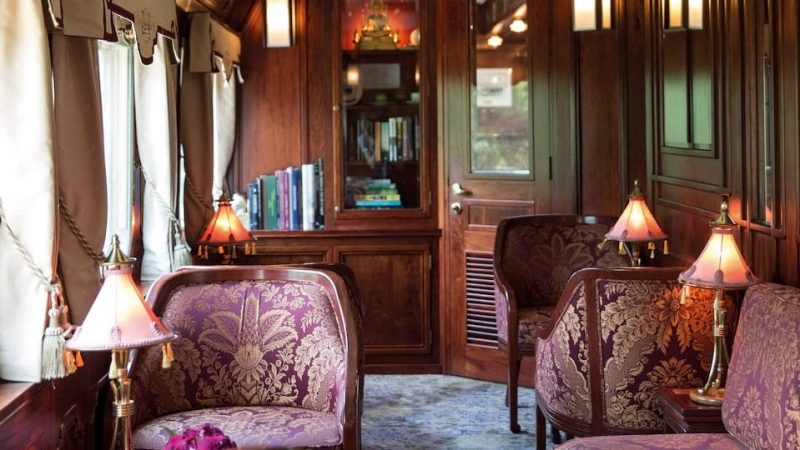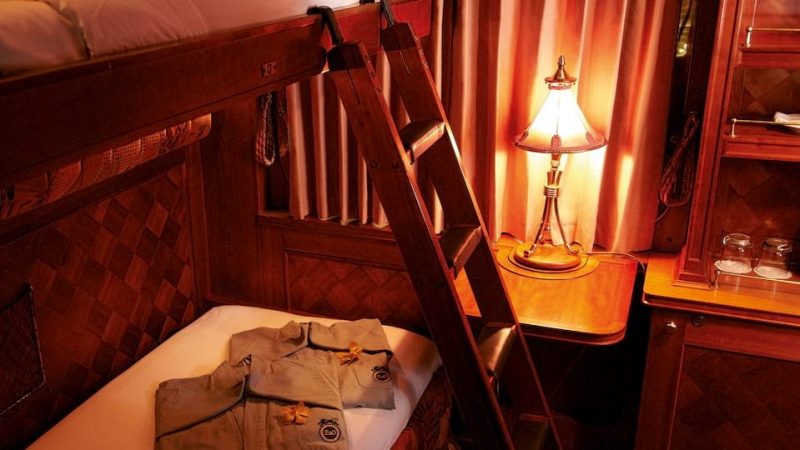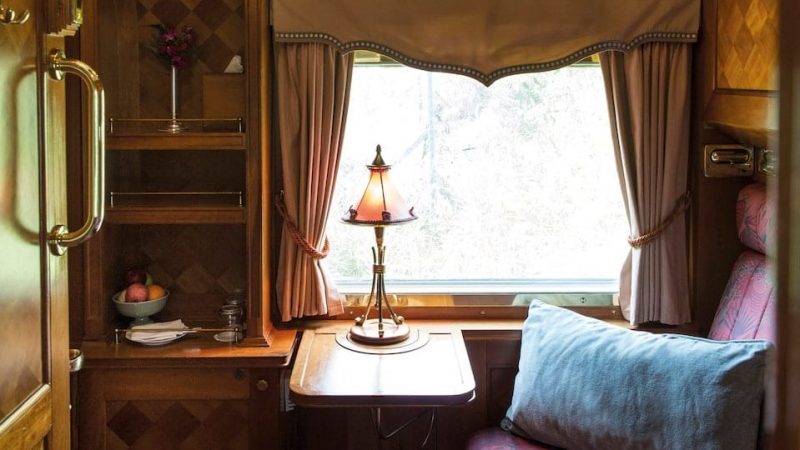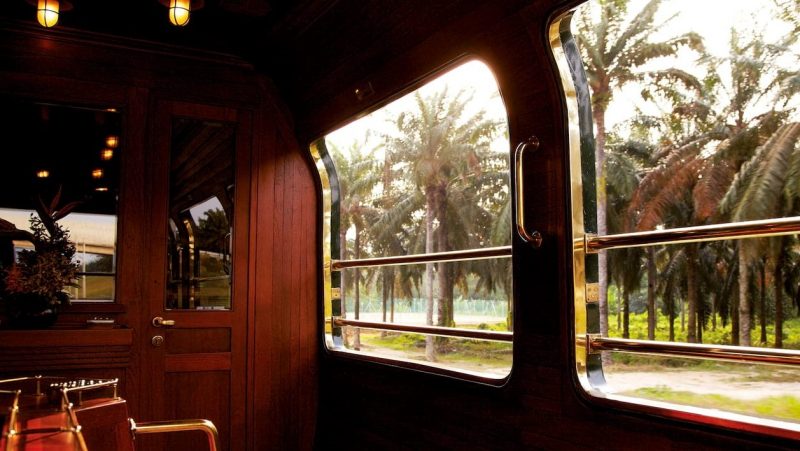 The Orient Express has a sister line that runs between Bangkok and Singapore – and it's been operating for decades. The Eastern and Oriental Express, aka E&O, continues the same very high standards already established by its sibling and has been regarded as Asia' s most luxurious train ever since it launched in 1993. The journey starts from Hua Lamphong station in Bangkok and winds its way through Thailand, making quick stops at the historic River Kwai Bridge in Kanchanaburi, before making its way to the charming town of Penang and within three nights, ending up in Singapore. Inside, regal interiors and exquisite detailing peppered with modern amenities greet passengers as they settle for a breathtaking journey. Teakwood trimming to a stocked library to suites filled out with five-star-quality linens and bath products supplied by Bulgari, the train is nothing less than a luxury hotel on wheels
For more information, click here
Maharajas' Express, India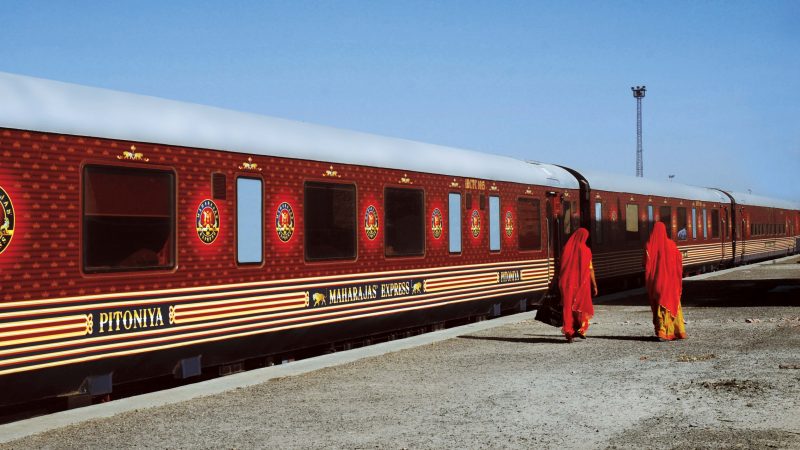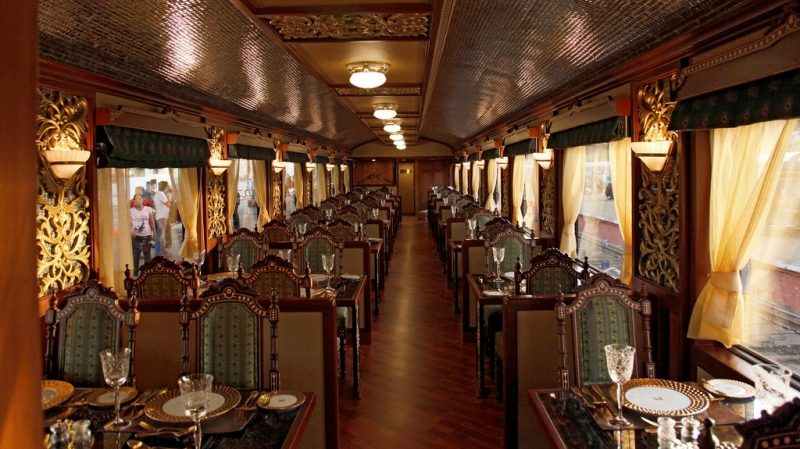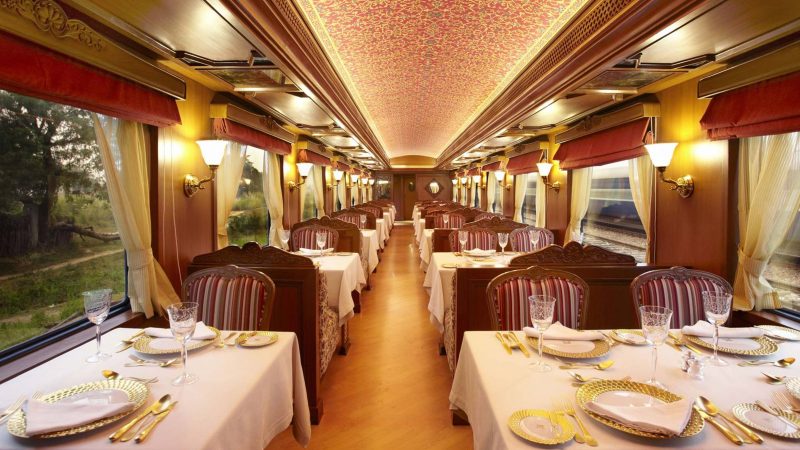 Not every journey through India need be one of dust and toil. Have a taste of India's glitz and glamour, the way a maharaja would, through the Indian Panorama Journey aboard the Maharajas' Express. This stunning train boasts classically Indian design and the two fine-dining restaurants, bar and lounge are downright opulent. Beginning in Delhi, the train glides through the pink city of Jaipur to the Ranthambore National Park where Queen Elizabeth and Prince Philip once visited during the 1960s. After a quick sojourn at the red ancient ruins of Fatehour Sikri, continue to the sacred city of Varanasi and its holy bathing ghats on the banks of Ganger River. Here, the most magnificent sunrise awaits and the intricate art of silk weaving sheds light on the sartorial elegance of the saree. In between stops, enjoy fine Indian and international foods in glamorous old-school dining cars. During the trip, passengers are surrounded by a full-on five-star experience on wheels.
For more information, click here
Golden Eagle Trans-Siberian Express, Russia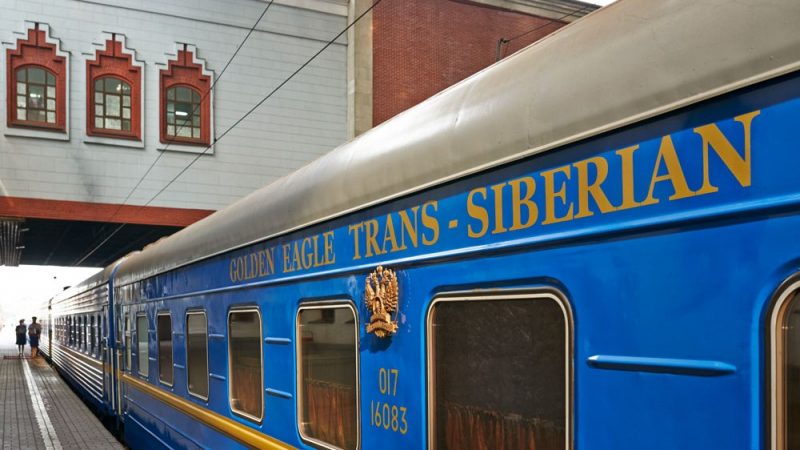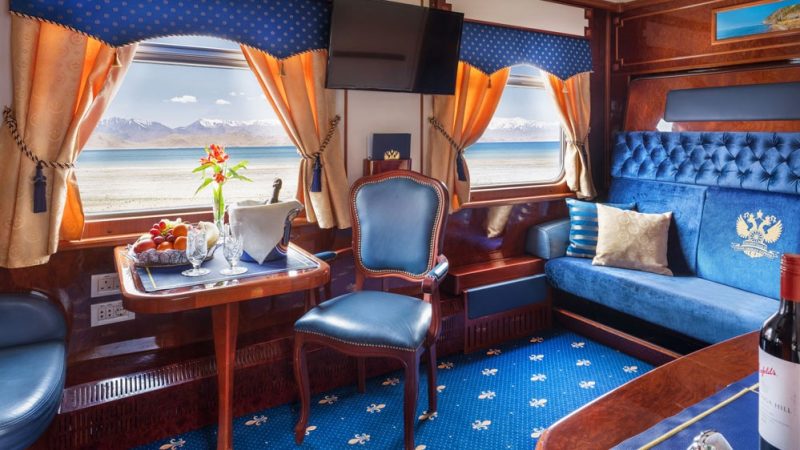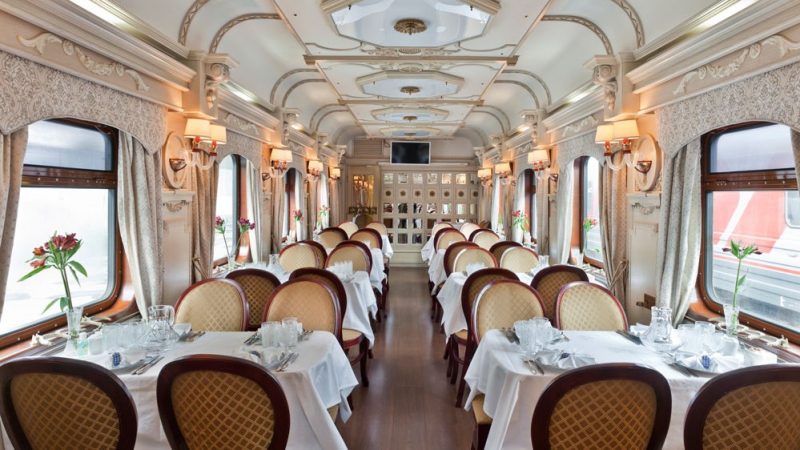 Avid travelers say you haven't really experienced train travel until you've rode the Trans-Siberian Express, with its overwhelming itinerary that spans a whopping eight time zones and extending over 9,000 kilometres. An icon of Russia, The Golden Eagle is a luxury version of the Trans- Siberian, featuring in-suite bathrooms, air-con in the summer, full heat in the winter, laundry services, TVs, a resident pianist and an Englishspeaking doctor. But there are plenty of reasons to disembark: the train makes stops at the littleknown Naadam Festival, private viewing of the Kremline and it rides along Lake Baikal, hauled by a Soviet Era steam locomotive and makes a detour to Ulaanbaatar, Mongolia's capital. The two-week passage feels more like a cruise than a train ride as it stops for daily excursions along the way. To help passengers acclimatise in extravagance, five-start accommodations in
Moscow and Vladivostok are provided.
For more information, click here
Rovos Rail, South Africa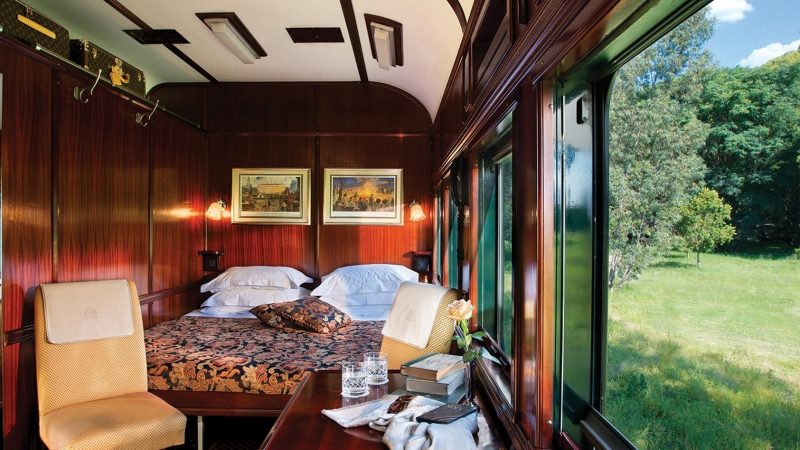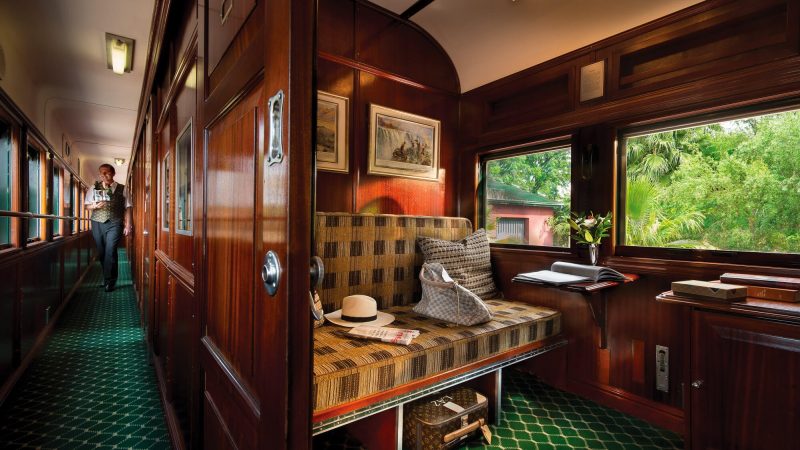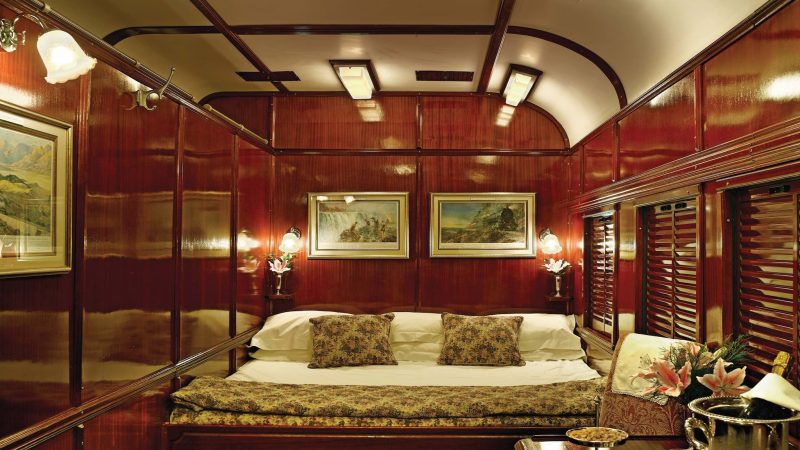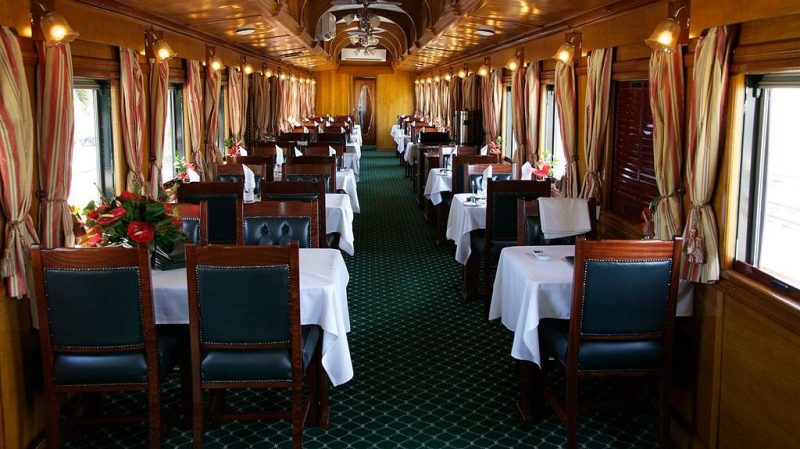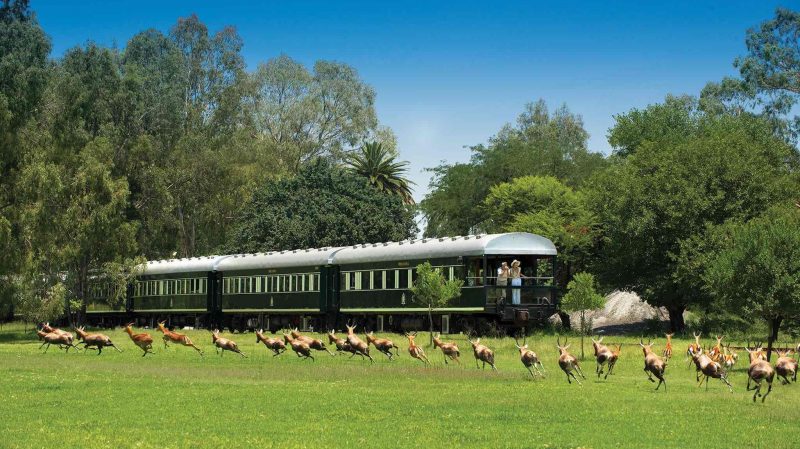 If you like your luxury with a dose of history, book these tickets. Rovos Rail takes the notion of reliving the travel spirit of a bygone era very seriously, so fighting the impulse to reach out for your phone as the view of the majestic Hex River Mountains comes to sight is a real feat. The three-day excursion takes travellers on extensive tour of environments, from the grasslands of Highveld to the desert of Great Karoo. Inside the gleaming sleeper train, the striking Victorian-style furnishings steal the show. Carved dark teak pillars set off the emerald green carpets beautifully, while frilled lamps complement the monogrammed china and silverware. Chill out on the observation deck and witness the dramatic change in the landscape, from lush green vineyards and purple mountains to sprawling deserts. The train stops in the Cape Winelands for a parting drink before leaving passengers at the station in Cape Town.
For more information, click here
The Transcantabrico Gran Lujo, Spain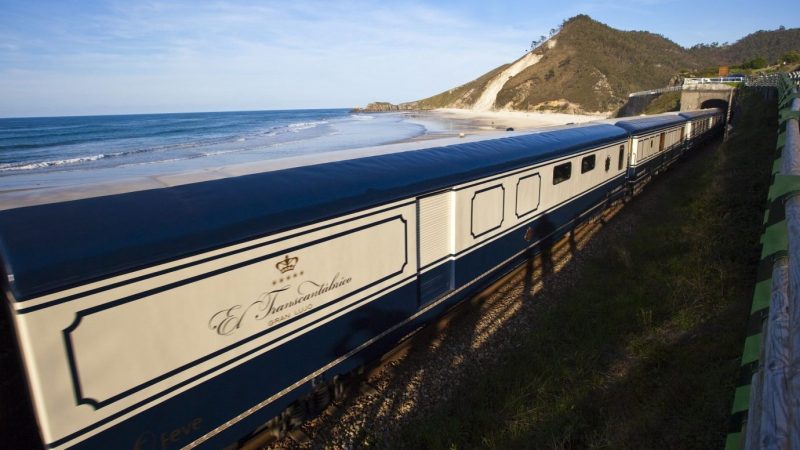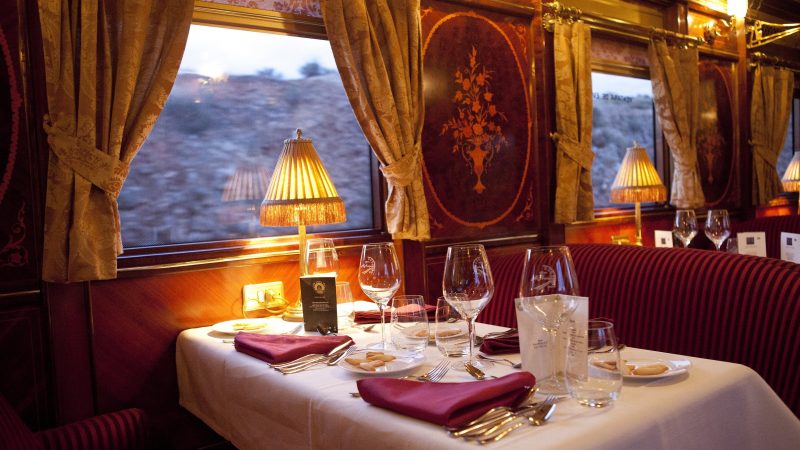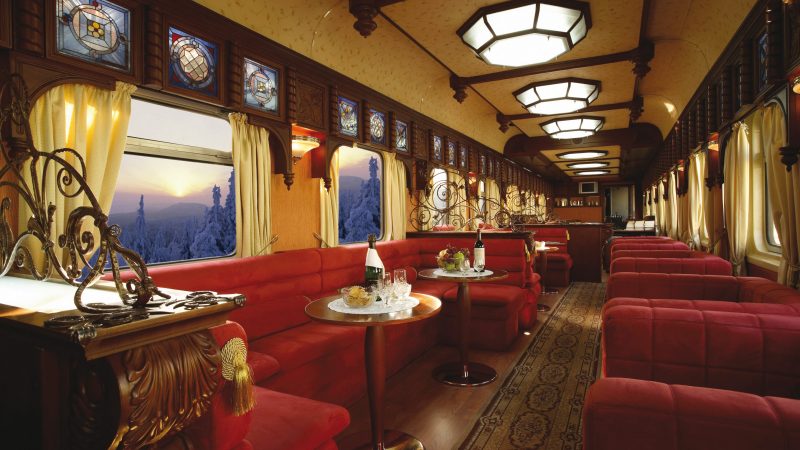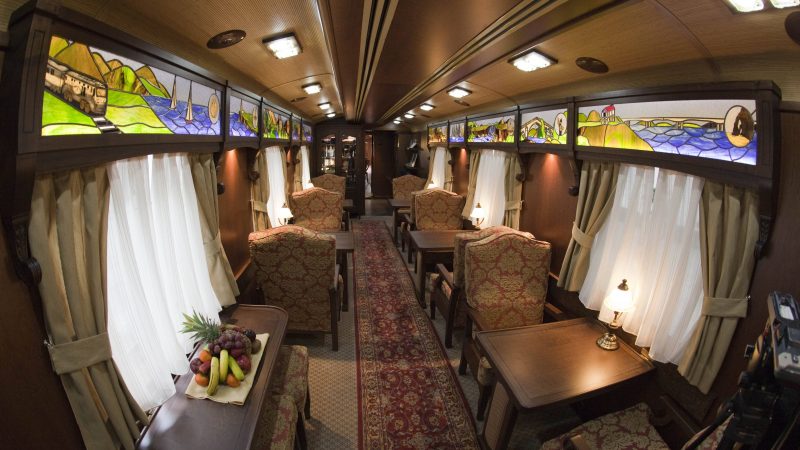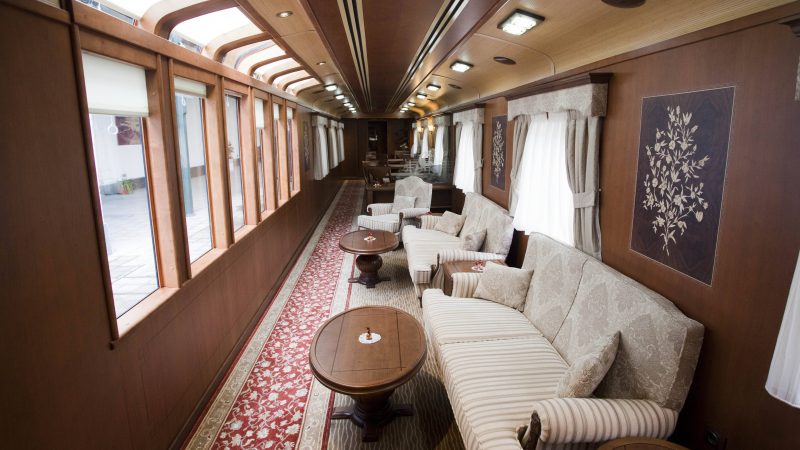 A royal ride aboard which to explore Spain's Atlantic coasts for seven days, The Transcantabrico offers indulgent
experiences in opulent and vintage surroundings. The cabins are decorated to hark back the feeling of stepping back almost 100 years ago. The service is top-notch which include ensuite space, chauffeured transfers, access to an exclusive dining carriage, breakfast in bed and five-course meals. Plus, there's a luxury coach catches up with the train at every stop for the day's excursion. Of course, a luxury train journey would be nothing without the hotel-on-wheels accommodation, which is the train offers plush furnishings and stunning interiors. Consider this a luxury roll through the best of northern Spain — stops include the Guggenheim museum in Bilbao, the prehistoric cave of Altamira, the Picos de Europa National Park and the Cathedral of Santiago de Compostela — and you won't be disappointed.
For more information, click here
Venice Simplonorient-Express, Europe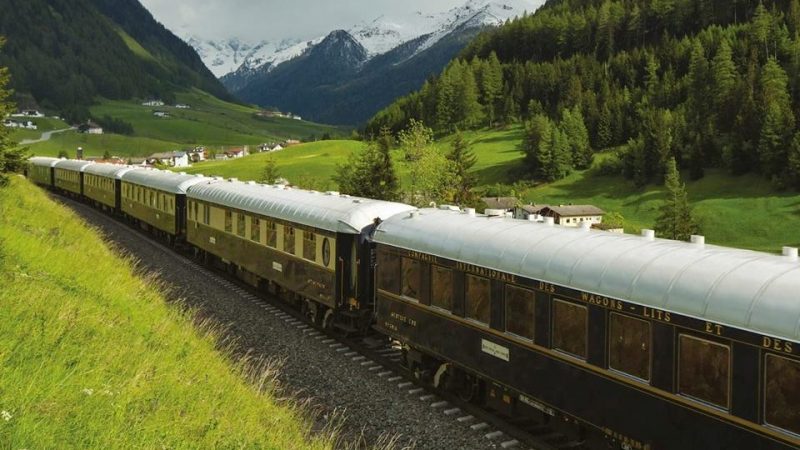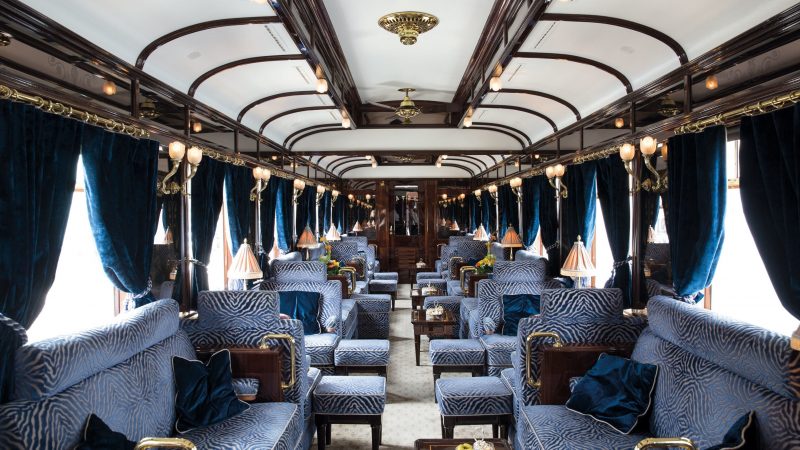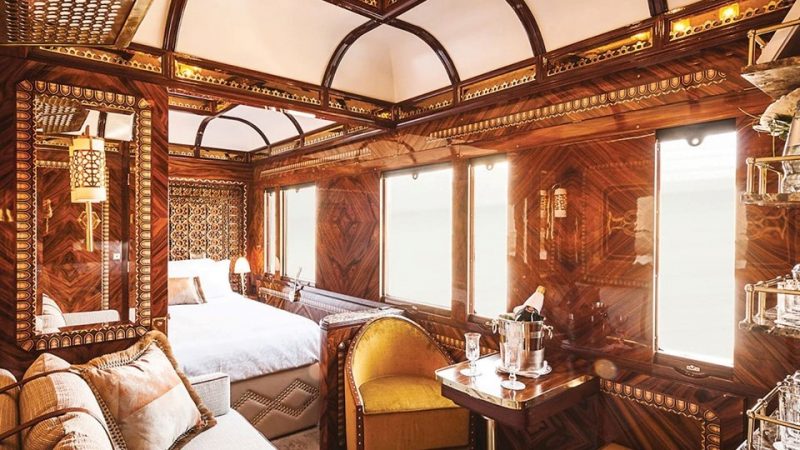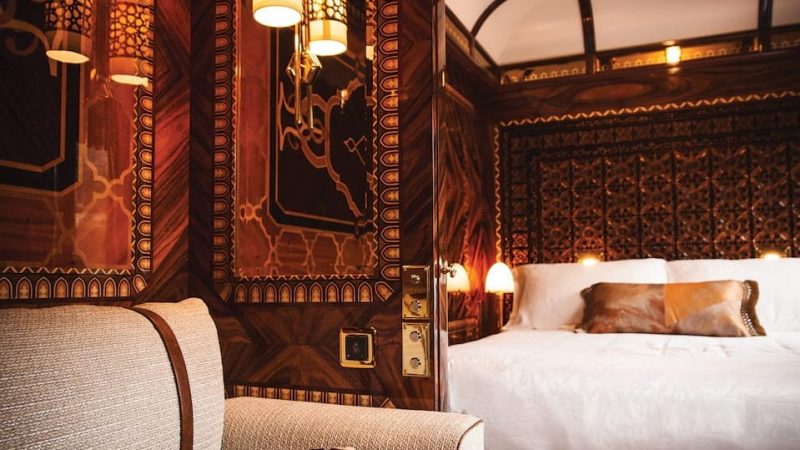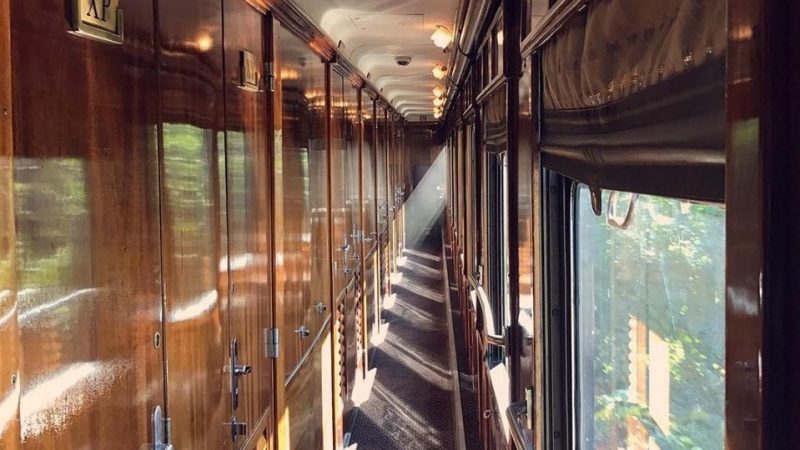 You've seen the star-studded murder mystery Murder on the Orient Express (Johnny Depp, Penélope Cruz, Willem Dafoe), but aboard the Venice Simplon-Orient-Express, you get to live the storied past. The original maiden route in 1883 ran from Paris to Istanbul, but today one is able to experience the train ride to a host of European cities. Your tickets say that you can never be overdressed on this ride and it's easy to see why. The opulent vintage carriages are infused with the best luxuries, from the exquisite Lalique glassware to crisp sheets and Art Deco splendor – think embossed leather, Paris chic furnishings and handcrafted Venetian glass. Not
a trip for introverts, this train ride is about fostering unexpected friendships and taking the journey into the unknown: wake up to the snow-covered Alps, and watch the Parliament Tower illuminate the night, all in glamourous company.
For more information, click here
Belmond Royal Scotsman, Scotland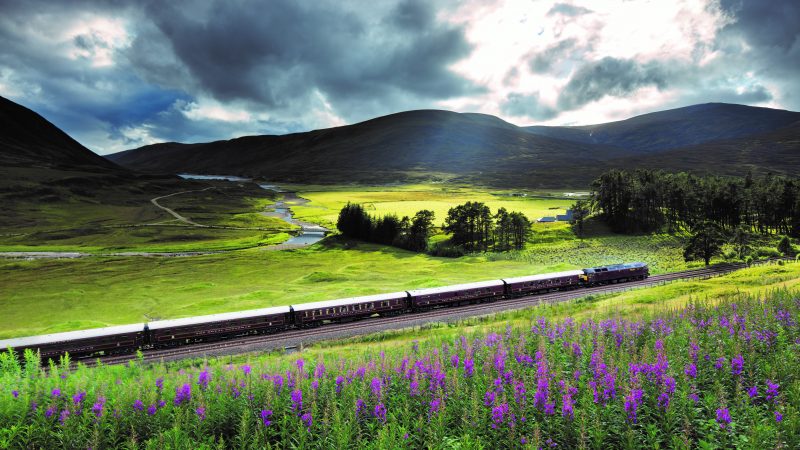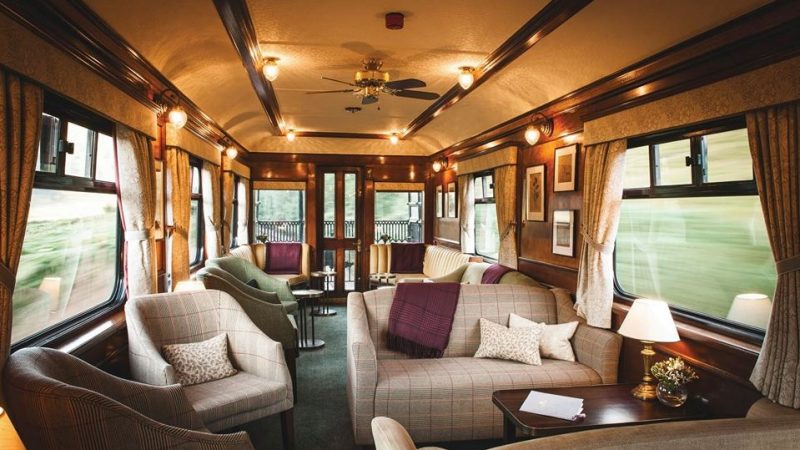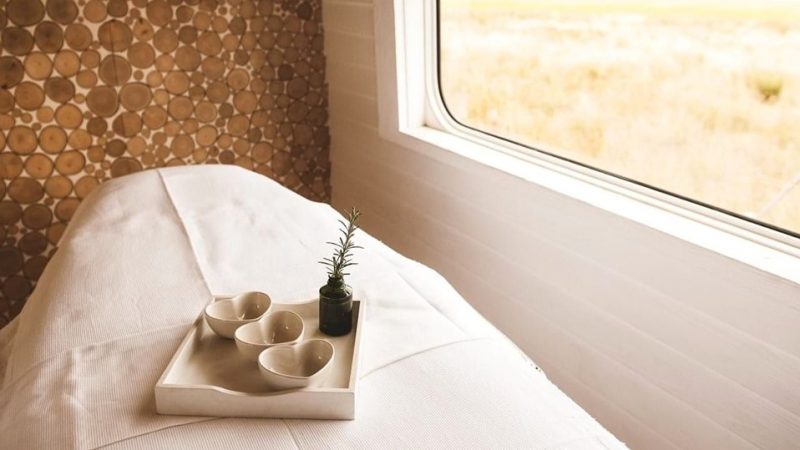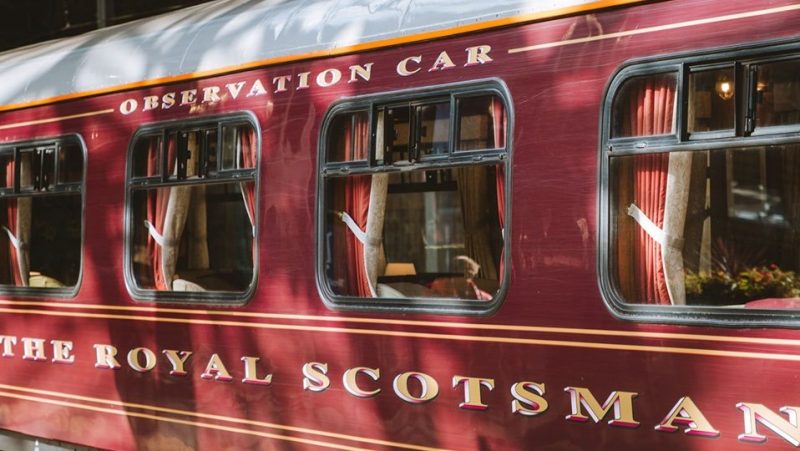 Calling all wellness junkies – this handsome Edwardian-style rail ride through Scotland comes with its own dedicated spa carriage. On-board the 10 vintage-inspired carriages – mostly original Pullman cars from the 1960s – are decorations of marquetry and prints of Highland chieftains. Let your worries melt away with a deep tissue massage at The Bamford Haybarn Spa as the train sweeps past Scotland's enchanting landscape of towering peaks and sparkling loches. The UK's only luxury sleeper train, it also has a bar stocked with more than 50 kinds of whisky. The ideal Scottish night-time experience starts with a glass of the finest malt whiskey, as Scottish musicians in tartan kilts serenade you into a different paradise.
For more information, click here