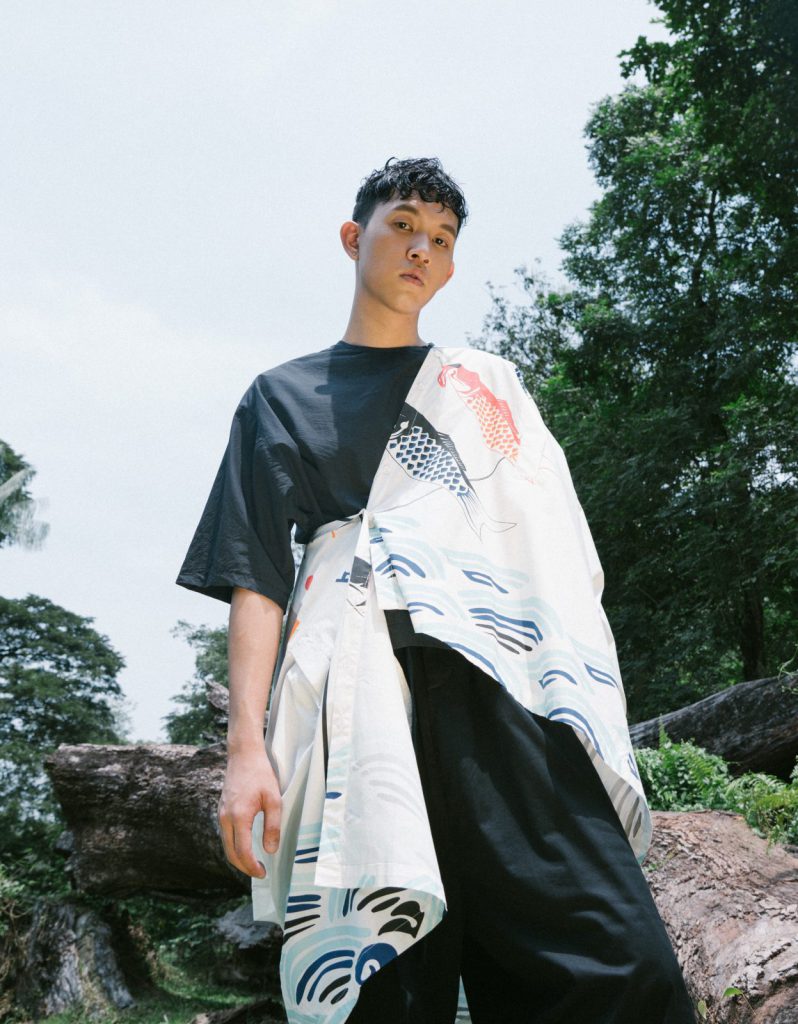 Do you know that the fashion industry is responsible for 20% of global water waste and 10% of global carbon emissions, not forgetting a total of 21 billion tons of textiles are discarded at landfills each year? In tackling the waste problem and footprint, sustainability remains one of the most discussed and coveted solutions favoured by fashion insiders.
After years of striving to make it to the agenda by the environmentalists, the fashion industry is finally waking up. Luxury brands are venturing into the making of sustainable fashion with Prada hitting the stride on the production of bags through the recycling of nylon. Elsewhere, the chairman of Kering Francois-Henri Pinault vowed to urge global fashion companies to sign a new sustainability pact. Fast fashion company like Zara launches 'Join Life' initiative to create sustainable only items and aims to cease the act of landfilling by 2020. Here in Malaysia, Kuala Lumpur Fashion Week also followed suit by making sustainability the key theme this year and invited 13 designers from Air Asia Runway Ready Search to reimagine pre-loved garments.
As consumers, we can actually lend a hand to alleviate the major problem in the fashion industry even a trivial contribution, because great oaks from little acorns grow. Keeping the clothes for longer, buying a better quality of clothing, sending used garments to recycle and buying second hand or upcycled items are some acts of kindness we can do. And, here are some of the sustainable brands from Malaysia that you can show your support for sustainability.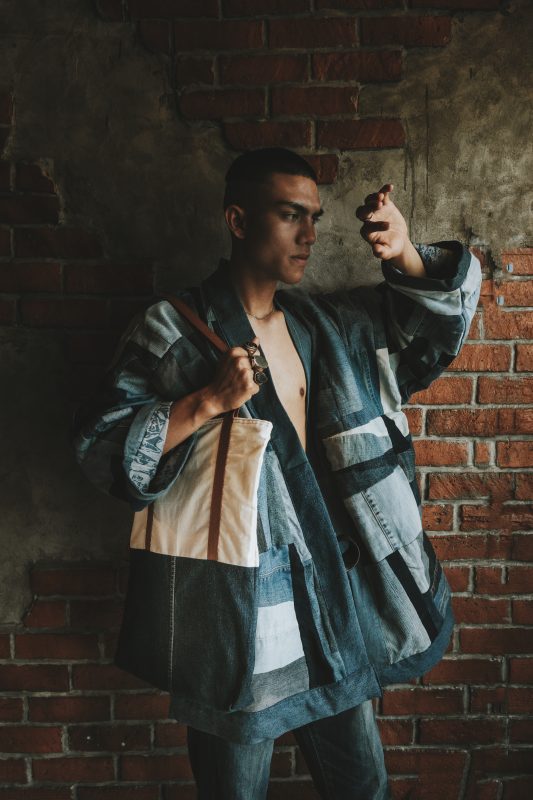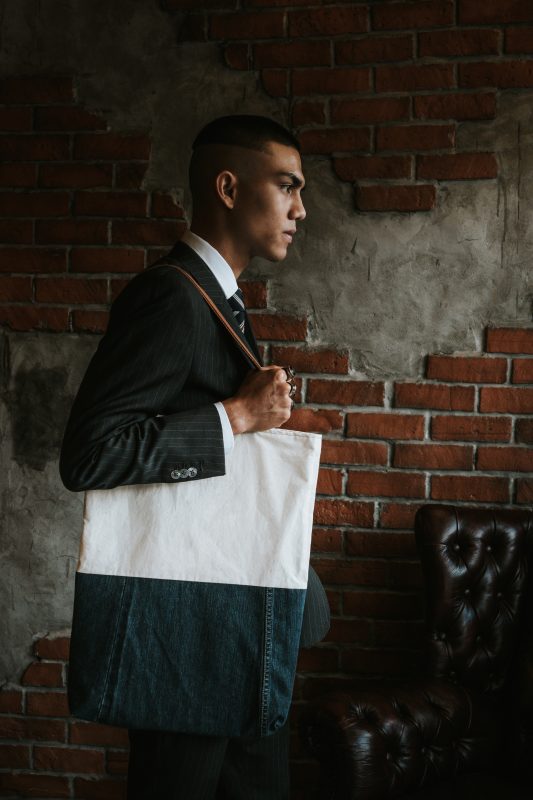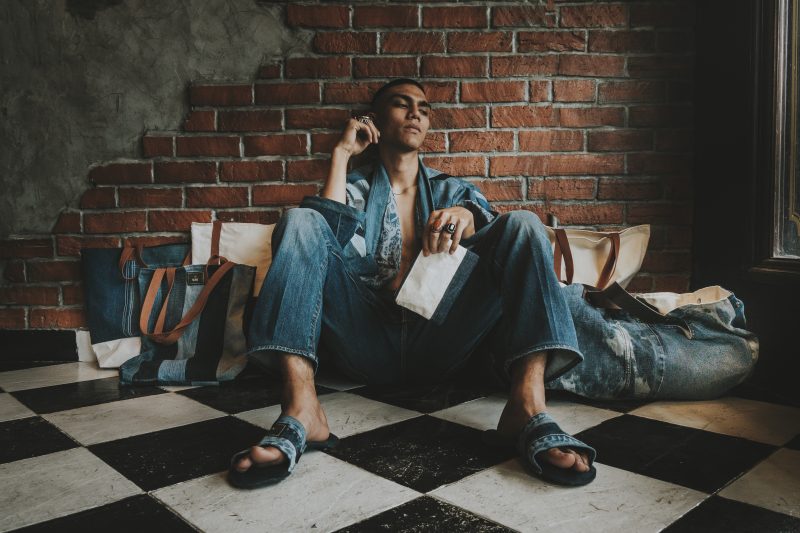 Established in September 2016, Suri Lifestyle is a social enterprise that aims to empower single, underprivileged mothers through the sale of upcycled denim products from used denims. Aside from providing job opportunity to the single mothers, Suri Lifestyle also seeks to equip them with certified sewing skill from which they can make a living in the future. One of the techniques Suri Lifestyle uses in handling the waste materials is Japanese boro, a quilting technique which is used to repair the ragged clothes by sewing patches in place with sashiko stitching. This technique is most notable in their Boro Patch Kimono, a creation yielded from the collaboration with Tarik Jeans.
Your brand empowers single mothers and makes products by upcycling. What inspires you to establish such a humanitarian label?
I grew up in a small part of Klang, Sg. Udang. Coming back here five years ago, we evidently didn't see any significant changes in the socio-economic development of the families here for the past 15 years. The numbers of single and underprivileged mothers, who are unemployed or living off minimum wage, are just rampant. That's when we decided that we have to do something about it: to provide these mothers with skills and financial opportunities.
Where does your design inspiration come from?
Well, I would say that our love for denim. I mean, who wouldn't love denim right? As a kid, I always wanted to own a pair of Levi's but I could not afford it. Therefore, we incorporate that into our products. We used to see denim mainly as jeans but, to be honest, nothing can go wrong with denim. It's just a matter of the do's and don'ts when incorporating denim into our products to stay relevant in the market. And I would say our friends at Tarik Jeans definitely inspired us. Ever since our collab last October, it really opened our eyes – in terms of revamping – on how to take our product designs to the next level.
What are the obstacles you faced making upcycled products?
Dealing with upcycled products, in my opinion, the main obstacle is maintaining the QC of our products. With our denims coming from various sources or campaign collaborations the likes of Levi Strauss, they are usually defective – minor errors such as unaligned pockets and zips. As for the denims that come from public campaigns, we will intensify the filtration processes. We will ensure that they are not stained, frayed, or anything that could jeopardize the quality of our products.
How do you stay relevant among the fashion-conscious consumers?
Since our products are made from upcycled denim, our unique selling point is definitely, 'one-off or seasonal'. Though you would be getting the same bag as everyone else, you won't be getting the same colour tone or texture. We are not here to compete with the big giants out there, but rather, we are creating an alternative for fashion-conscious consumers. They know that when they purchase our products, it's not just about the fashions that they wear but also the values of the products they are proud of.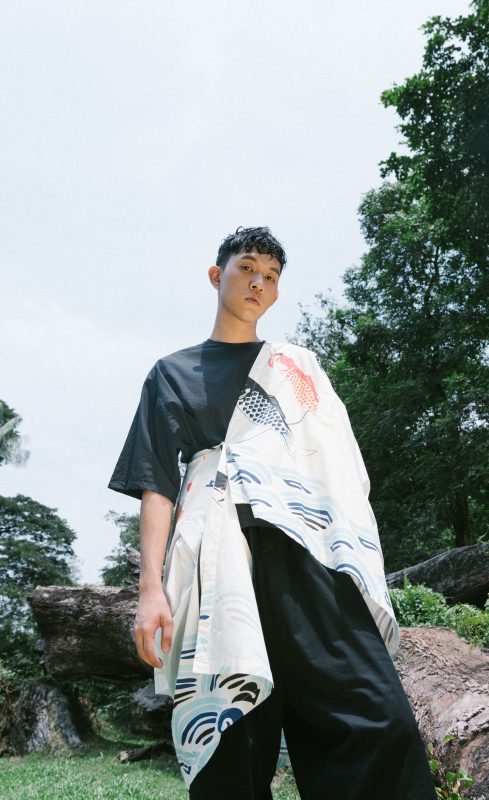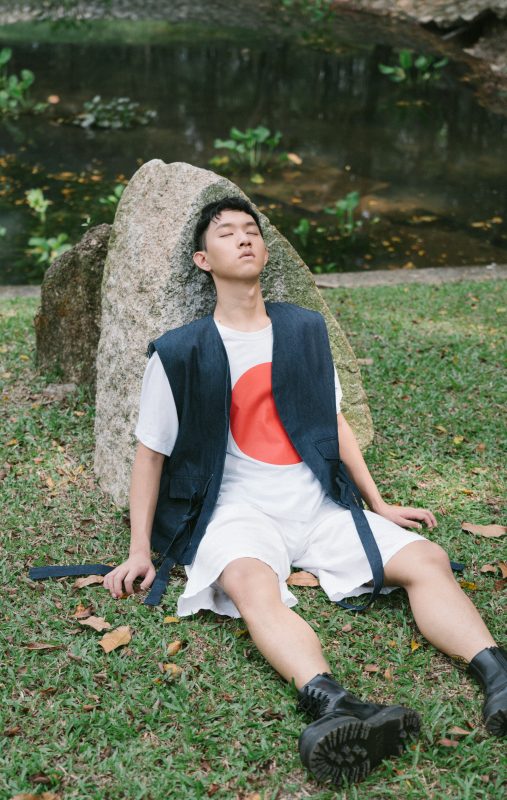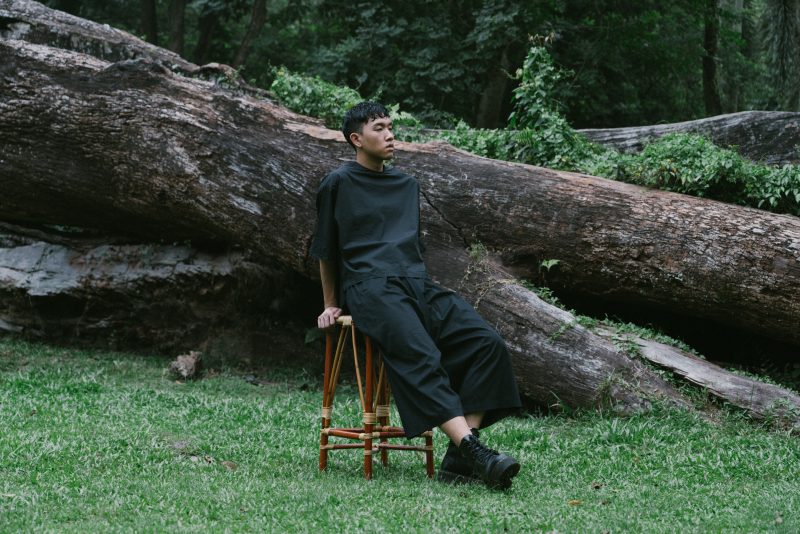 Shoot Credits: Photographer: Rain Gan (@byraingan), Stylist: Oeston Woo (@oestonwoo), Make-up and hairstyling: Kenzie (@kenzievernon126), Model: Fabien (@fabienboooo)
Founded in 2017 by Oeston Woo, usu-i signifies thin in Japanese and symbolises the tonal variation in the gradation. Imagining life in a picturesque manner, usu-i is about putting together poetic composition, print and volume for a refined, pure and easy to wear sartorial style, which is akin to the tenderness of water. When handling the design, the brand adopts zero-waste pattern cutting to eliminate the odd spaces between pattern pieces in a way to prevent fabric wastage during the cutting phase. The brand also embraces the use of natural-dyed fabric to maximise the practice of sustainability.
What inspires you to establish such a sustainable fashion label?
The irresponsible human activity. After graduating from Equator Academy of Art, we worked in both fast-fashion company and designer label where we came to a realisation that the production of fast fashion has caused crippling pollution on the environment.
What is your approach to sustainability?
Selling only a look per month. We are also planning to open a new store that incorporates the same concept of sustainability. While this approach is not easy to survive in the fashion industry where fast fashion business flourishes, but we believe that "When things come less, consumption will be lesser". In that case, consumers will start to aware of what they need.
Your brand embraces androgyny in design. How do people perceive it?
Since the introduction of our creations, people are in love with our oversized and voluminous silhouettes, something that blurs the boundaries between menswear and womenswear. They also love the flare cut, gathers, lace, and kimono cutting in our designs.
What's next for your label?
Honestly, the label is growing very organically and slowly, which aligns with our goal – buy less and choose good quality. We are trying to improve the quality and details of every creation that we handcraft in our very own workshop. We also wish to add varieties to our offerings like ceramics, accessories and furniture in organic shapes. Creating clothing is the first step in building our label and we are open to all kinds of opportunities.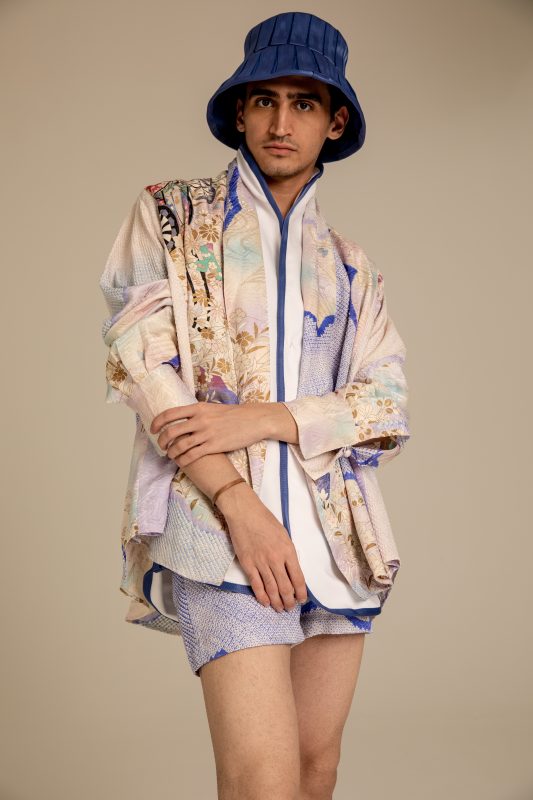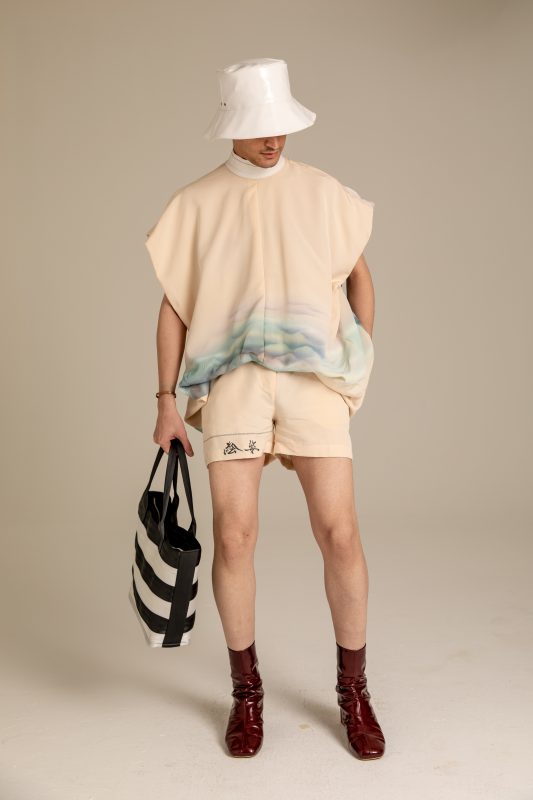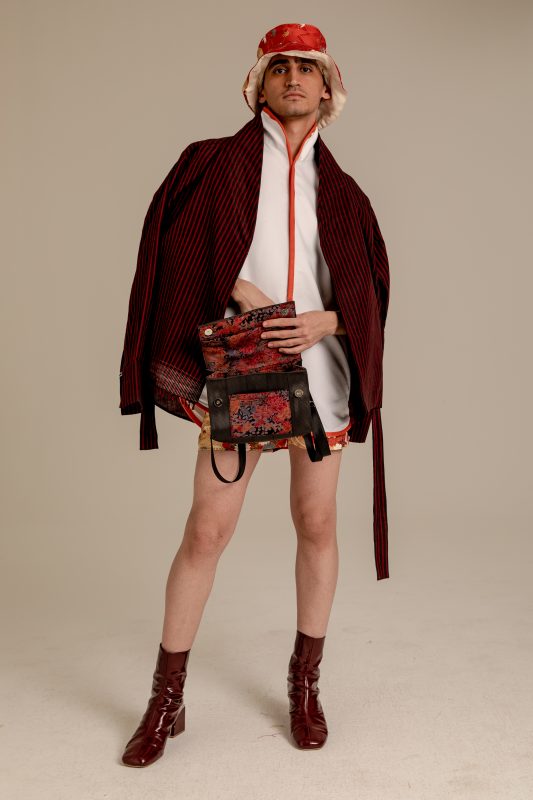 Biji Biji was founded in 2013 with a mission to shake up the typical manufacturing process and encourage a circular economy by upcycling waste materials. Sustainability remains one of the cornerstones in Biji Biji's creation ever since and discards like faulty seat belt webbing, deadstock vintage kimono, tarpauline banners and needle punch carpet are given a new lease of life in the deft hands of in-house seamers. Biji Biji has worked with Maatin Shakir and recently collaborated with Tengku Syahmi on KLFW 2019 to give the scrap a refreshing makeover. Aside from promoting sustainability, Biji Biji also champions fair trading and was officially appointed as the guaranteed member of World Fair Trade organisation this year.
When you first established your brand, how did the Malaysians perceive it? How is that different from now?
When we were first established in 2012, sustainable fashion was almost a completely new concept in Malaysia. Although we were warmly received by like-minded people, the majority of the public was still quite unaware of the issue. Currently, with the rise of media coverage on environmental issues, there is more demand for ethical and sustainable products.
Using upcycled materials to create contemporary designs can be tough at times. How do you overcome that problem?
Instead of designing the product at the beginning of the stage, we have to backtrack the steps by designing around the materials and fabric at hand. It's an obstacle for sure but it challenges us to be creative and innovative in the process. Most of the time we don't get to choose the unusual and unique materials that we get. We do try to practise more discretion by only accepting materials that we see have high value and quality, and have too much potential to be thrown away. These alternative materials are sourced from industries completely foreign to the fashion world such as seat belt webbing and climbing gear harnesses. They give us a unique edge to our designs and helps to promote a circular economy in a unique way.
You have a strict point-based scoring system for auditing the sustainability of the materials your label is going to use called Biji Score. How does it work?
The Biji-biji Initiative website is in the process of being updated. The Biji Score stated on the website is currently outdated. We're in the process of reworking our system of sustainability currently in order to maintain the sustainability of our products. Each and every one of our products is made with at least 60% upcycled materials.
When it comes to sustainable fashion, it is a scarce business, especially in Malaysia. Do you have any advice for people out there who want to start a sustainable fashion business?
Persevere. The fashion business is tough, but an ethical fashion business is tougher. It's important to remember why we're doing it at the end of the day and know that the results are worth it. Sustainability is the future in fashion.