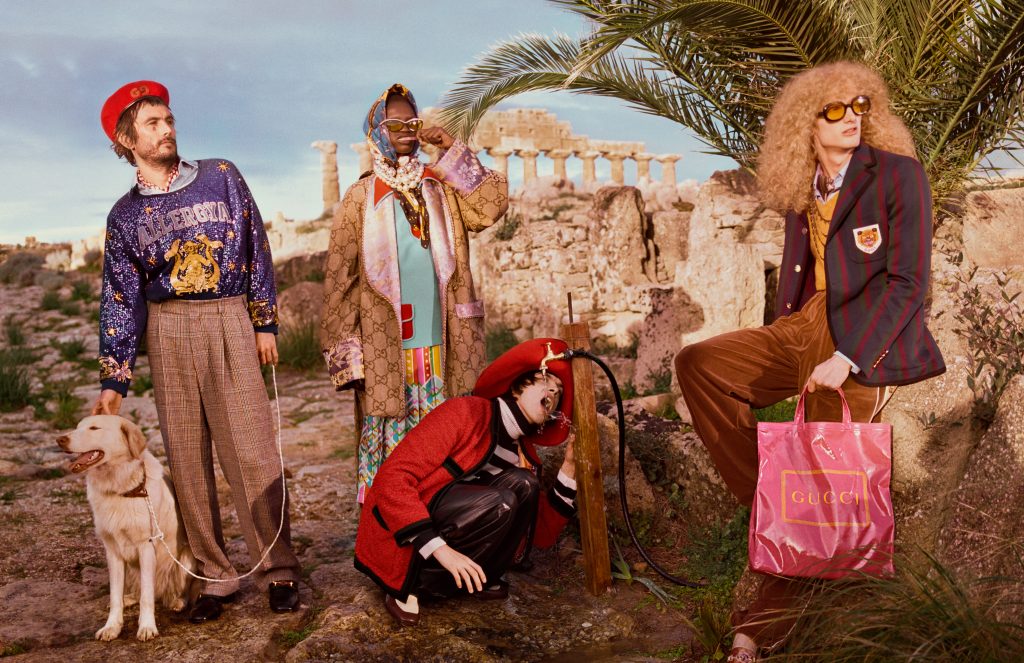 Boasting an entourage of heterogeneous bohemians, the Gucci Pre-Fall 2019 advertising campaign is set against the backdrop of the Selinunte Archaeological Park — which dates as far back as the 7th century BC — located on the south-western coast of Sicily. In it, the fashion powerhouse embarks on an exhibitory journey of the classical symposium that sees the troupe assemble at the after-banquet gatherings to play music and dance, listen to poetry recitals and indulge in long conversations together.
The youths are drawn from the counter-cultural groups typically seen on Venice Beach in California — hardcore punks, rollerbladers, bodybuilders and surfers, capturing Gucci's magpie method of cultural juxtaposition. The Pre-fall collection showcases a look synonymous with the brand's magnificence in a variety of pattern-heavy apparel and accessories, including items such as velvet blazers, embellished tops and skirts and a range of bold patterned and monogrammed '70s-inspired trousers.
Moreover, the Gucci App brings the campaign to life for you. A digital photo booth will enable you to place yourself in the setting of the advertising campaign on screen as well as feature unseen behind-the-scenes images and video clips from the shoot. You can unlock a discoverable story about the campaign when you download the App near a Gucci store, not forgetting scanning dedicated QR codes on Gucci store windows to access this special content.
Creative director: Alessandro Michele
Art director: Christopher Simmonds
Photographer/director: Glen Luchford
Hair stylist: Paul Hanlon
Make-up artist: Thomas De Kluyver
"White rabbit" Jefferson Airplane
Author: Grace Wing Slick
(P) 1966 Sony Music Entertainment
© Copperpenny Music / Irving Music, Inc
Italian Editor: Universal Music Italia Srl