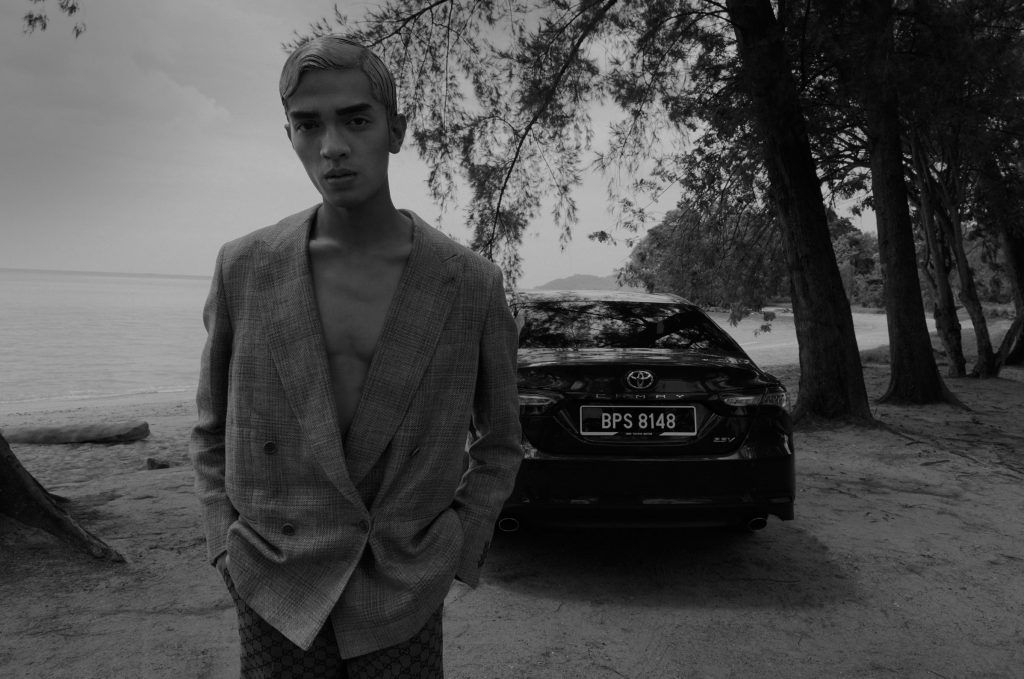 Have you met our first-ever Men's Folio Malaysia Male Model Search Winner?
Last November 2018, Mohd Al Adam was crowned the champion of #MFMYModelSearch and now he is back to front our March 2019 cover, all decked in Gucci Spring/Summer 2019.
And now he (who prefers to be called "Adam") is showing the rest of the talented young fashion models in Malaysia that they too can achieve anything they set their minds on.
At the #MFMYModelSearch 2018, where he was pitted against seven other models, each with an equally unwavering commitment and passion for the ruthless industry, Adam showed us his potential and even when he had won the contest, he is cognisant of the fact that this is just the beginning.
"I can now flex at the girls that didn't like me in high school," he jokes and shares, "Modelling is really exciting because I always get to meet new creatives and be part of their vision. And sometimes, these friendships go on to exist outside of the modelling world."
And for his Men's Folio Malaysia cover debut, he sat down with us (post-competition) to share with us what makes Adam the next star of the industry and how he thinks the Malaysian fashion scene can flourish.
When you joined, how did you think winning the contest would assist you further in a career that you have already been in for a couple of years?
For starters, I will have a bunch of new editorial photos that I can add to my portfolio. And being on the cover of such an esteemed magazine like Men's Folio will definitely increase my credibility as a model – and it will be an introduction to those who don't know who I am yet.
You aren't new to the modelling industry. How did you get into it?
My friend told me about a casting call for the BAD KL x Zakwan Anuar fashion show in 2014. It was my first casting; they made me fix my walk a couple of times; I got to walk the show and I guess that's where it all began.
What prompted you to enter the #MFMYModelSearch?
A lot of my friends were joining modelling competitions and I just thought to myself: "I'm sure I can win one." So, I did it just to challenge myself. However, when I found out I was selected, I started to feel nervous.
I wasn't sure what to expect, to be honest. I thought there was going to be scripted drama for entertainment, but that didn't happen and everyone was cool.
How did it feel when you were announced as the winner of Men's Folio's first-ever model search during our party?
I was expecting Ashton Kutcher to drop down from a helicopter and tell me that I'd been punk'd! [Laughs]
At that point in the competition, I'd already had so much fun and made some great friends that winning or not wasn't on my mind anymore. I was already really grateful and happy for the experience – but, of course – winning was just the icing on the cake.
What do you consider to be the important characteristic of a successful model?
I'd say that being a good person is first and foremost the most important characteristic. And then, of course, being passionate about fashion is a major plus. In terms of modelling itself, you need to know your angles.
In your opinion, how can the Malaysian model scene be improved?
Am I allowed to say this here? [Adam hesitates briefly] I'm going to say it anyway. For models: just remember your self-worth and that other models are your friends, not enemies.
And to everybody else: support local designers, publications, creatives and models; escape the bubble where Eurocentric notions of beauty are the gold standard, love the diverse range of Malaysian looks that we have; stop getting Instagram models to do shoots for free just because you're not smart enough to prepare a marketing budget. And to agencies: pay us on time.
And how about the Malaysian fashion scene as a whole?
To improve the Malaysian fashion scene, I think we have to be more open-minded and accepting. By that, I mean with the designs and artistry – especially the controversial and thought-provoking ones because that will make us a better society in the long run.
Apart from society having to be more accepting, the fashion industry also has to be receptive of the newcomers to maintain that competitive edge.
As a model, where do you want to be five years from now?
I don't really have any solid plans when it comes to modelling, I'm just enjoying it as it goes. But hopefully five years from now, I would've collected many accolades and established myself as a young OG [in the industry].
Finally, what are your plans after modelling?
My passion is in film, and my goal is to make movies that can make a difference in the world. So hopefully you'll see my name nominated under the "Best Director" category at the Academy Awards 10 years from now.
[Laughs] Writing is another passion of mine, and I hope I get to publish a few books before it's too late.
Read the full interview feature with Mohd Al Adam and see his full photoshoot with us in our latest Men's Folio Malaysia March 2019 issue, now out on newsstands, bookstores and online via magzter.com.
Credits:
Photography: Chintoo; Styling: Jeffrey Yan; Hair: Juno Ko; Grooming: Nu Tan; Outfit (Cover): Gucci.